Spicy, flavor-packed, and uber healthy thanks to probiotics from fermentation, kimchi is a superfood trend (thanks to its probiotic benefits) that shows no sign of slowing down.
If you've never tried kimchi, we forgive you for being wary. Spicy, sour, pickled veggies isn't what most Americans crave. But if you like sauerkraut you will probably like kimchi, and if you care about your health you should definitely give it a try: this anti-inflammatory, immune-boosting Korean staple is packed with antioxidants, vitamins, minerals, and probiotics, which are highly beneficial for the gut. Here are three authentic brands worth checking out.
SuIn Park knows her way around a kitchen. Ever since she was young, she has been fermenting with her mother who, as someone who ran a business seven days a week, appreciated the ease of throwing ingredients in a jar and letting the fermentation process take care of the rest. Park describes these experiences with her late mother as her roots (which contribute to her brand's name), and are the base of her philosophy toward her ferments. "Food is our common humanity. Feeding each other is a way to learn and appreciate one another, cultivate relationships; [food] opens the door to welcome others in," she says. A jar of her original kimchi sauce (which won the Specialty Food Association's sofi Award for best sauce in 2020) contains onion, garlic, ginger, fish sauce, and salted shrimp, all traditional ingredients in Korean kimchi paste. Park recommends adding a spoonful atop seafood, ramen, salads and more, or using it to make kimchi with your choice of vegetables. Other products in her line include cabbage kimchi kraut, kimchi olive oil, and sweet and mildly spicy kimchi almonds. Find Park at your local farmers market to stock up on some of her fresh kimchi—made with cabbage, carrots, scallions, and of course, the kimchi sauce.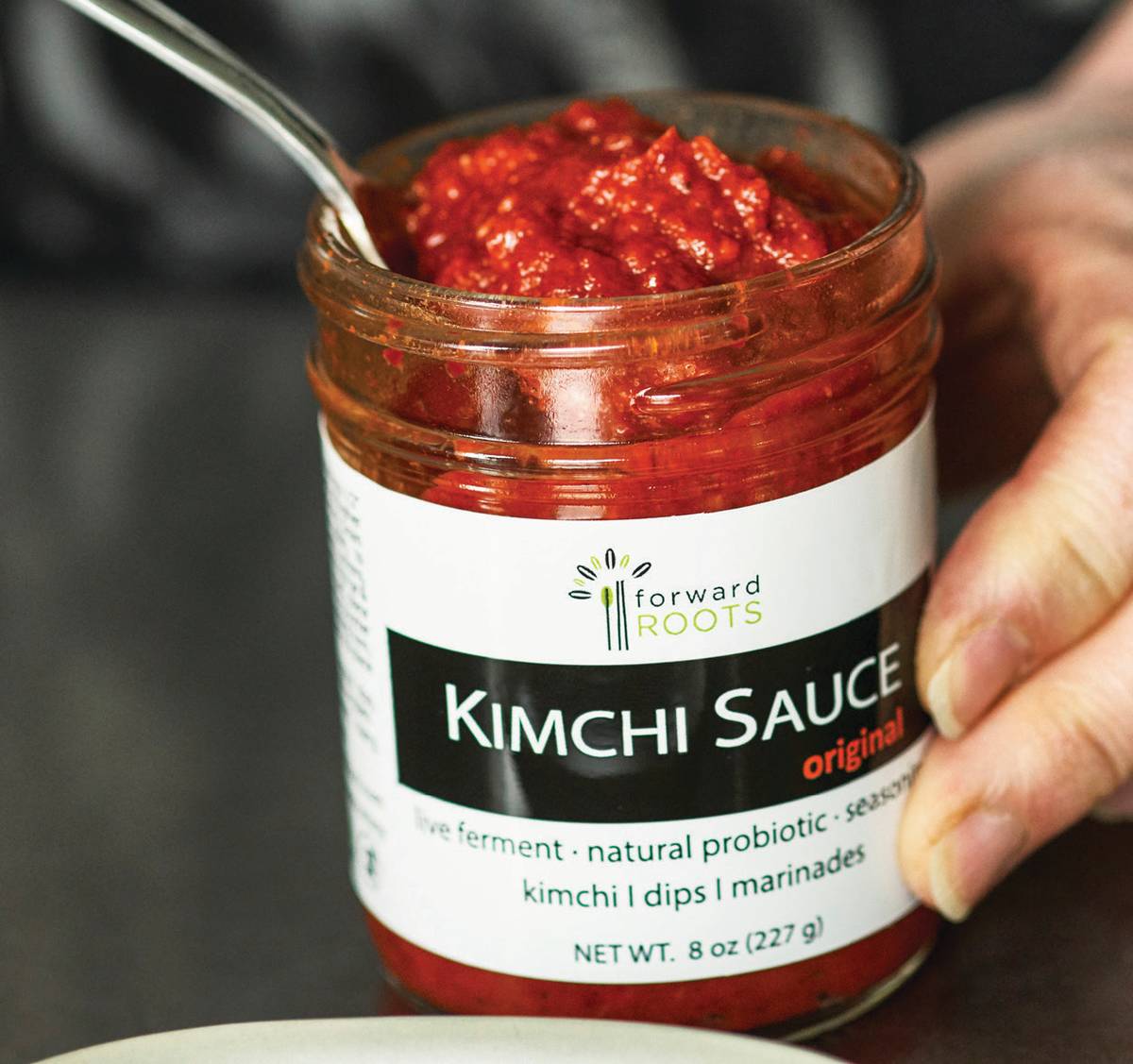 WHERE TO BUY:
Online; Pleasantville Farmers Market; Hastings Farmers Market; Irvington Farmers Market; Beacon Farmers Market; Tarrytown and Sleepy Hollow Farmers Market; Chappaqua Farmers Market; Hemlock Hill Farm, Cortlandt; Taste NY at Todd Hill, Lagrangeville
Nearly a decade ago, Cori Deans found herself diagnosed with an incurable autoimmune disease: Crohn's. Even with elective surgeries and medication, she still felt constantly sick. Fed up with feeling ill and the intolerable side effects from her medicine, Deans decided to take matters into her own hands. After doing research and learning about the gastrointestinal benefits of probiotics, she set out to repopulate her gut with good bacteria in the hopes that it would help, and it did. Deans first cut out sugar and processed foods from her diet, and soon after, began fermenting fresh vegetables that were grown locally. "I am no longer sick and am constantly wowed by the power of probiotic microbes," she says. When the hobby began yielding "too much" fermented foods, she realized that she could turn her passion into a business, thus, Small Town Cultures was born, and by 2021, could be found in health stores across the state, and Whole Foods across the nation. Sold in 12-oz. clear glass jars, Deans' raw ferments are as pretty as they are flavorful. The Turmeric Kimchi— made from cabbage, carrot, garlic, ginger, cayenne, and of course, turmeric—is a best-seller, and tastes great on top of miso bowls, eggs, or in kimchi pancakes. Also worth trying, the Wild Ramp Kimchi, with cabbage and radishes. Small Town Cultures also ferments Meyer lemons, dilly beans, cardamom beets, and more. Plus, everything on their menu is vegan and free of gluten and GMOs.
WHERE TO BUY:
Whole Foods (Chappaqua, Port Chester, White Plains); Tru Food, Nyack; Cold Spring Cheese Shop, Cold Spring; Beacon Natural, Beacon; Julian's Provisions, Gardiner; Bread Alone (Kingston, Rhinebeck); Breadfolks Bakery, Hudson
An unassuming farm stand in Roxbury might be the last place you'd expect to find authentic kimchi, but farmer Madalyn Warren and her family are here to defy your expectations. Ever since her first job peeling garlic as a child, Warren has made kimchi with her Korean mother, Ji Young Kim. In 2016, three years after establishing East Branch Farms in Roxbury, Warren began packaging and selling her Kimchee Harvest, which has become a staple at the farm. Today, the process is still a family affair. "As our mother will teach you, the tasty results in a kimchee come from the hands. You are creating an ecosystem for trillions of beneficial microbes to thrive and these tiny one-celled organisms are sensitive to your deliberate intentions," says Warren. Sold in 12-oz. jars (and half-gallons for die-hard fans), their kimchi contains onions, scallions, assorted hot peppers, crushed apples, and honey. Anything not grown at East Branch is sourced from local farms. Try the classic napa cabbage variety, or go for the unique turnip, dandelion, or sunchoke flavors that rotate seasonally. You can also book a class with Kim to create your own.
WHERE TO BUY:
East Branch Farms Farm Stand, Roxbury; Kingston Farmers Market, Kingston; Pakatakan Farmers Market, Halcottsville