­­­A restaurant's biggest ticket item is its menu. It's been carefully crafted and experimented over weeks (if not months) by its culinary creators. Food is impressionable and provokes thought—and, arguably, so does design. The best designed restaurants give clues about its ventures in cuisine and the chefs who bring it to light.
Way before a fork marries your hand at the table prepared for feasting, you've already mulled over your expectations about the restaurant. Its interior design—from its wall décor and Tetris-esque placement of tables and chairs to the lighting and precise layout—was your personal maître d'hôtel who greeted you at the door. Design and cuisine go hand-in-hand: both are there to wow you and have you come back for more. What awaits below are the region's leading restaurants in interior design, accompanied with stylistic choices and personal touches from the owners and designers themselves.
Opened: August 2020
Owners and designers: Lev Glazman and Alina Roytberg
Hailed as a design escape by critics and designers alike, The Maker Hotel is home to moody architecture, bohemian furniture, and eclectic statement pieces. When you step inside, you're transported to a vintage, Parisian wonderland. The Conservatory basks in natural light from its glass windows that provide diners with stunning views of the surrounding city. It's filled with greenery (like fiddle leaf figs and birds of paradise) and patterned fabrics that contrast the dark-toned tables and chairs.
As day turns into night, the Conservatory is turned ablaze. Enjoy chilled pea soup, duck frites with shallots and scallion jus, or heirloom grain risotto near exotic lampshades or under ceiling fixtures — some with dangling crystals. The restaurant seating flows into the Rose Room, a dining area without windows, instead decorated with blooming pink roses against a deep purple wallpaper. Find dancing blue hummingbirds throughout the walls, which are also fit with gold mirrors and wall sconces.
Our restaurant is two parts: the Conservatory and the Rose Room. We wanted to create a space that would be transformative from day into night. The light is constantly changing in the Conservatory – from the morning into the evening when it becomes more dramatic. The layers of greenery and jewel tones also create a very lush space. The Rose Room has no windows, so we wanted to bring the feeling of a rose garden into it. I wanted the atmosphere to feel airy but at the same time, very intimate and sensual. A lot of references for the design were from old Parisian conservatories, restaurants, and cafes. I also wanted it to feel very eclectic to keep in tradition with the bohemian sensibility of the hotel design.
I'm very much inspired by spaces – and how they dictate what they need to be. I love to be in a space that has history – and to ask, how can I enhance this? How do I preserve the sensibility of the space but make it more current? Through my travels, I collected a lot of memories of design details that I love. Overtime, everything starts coming together into a fuller picture – between a combination of the space itself and what I think it needs to be in order to preserve its integrity. Then I take those things that I discovered in my travels and consider how I can put the best of the best under one roof.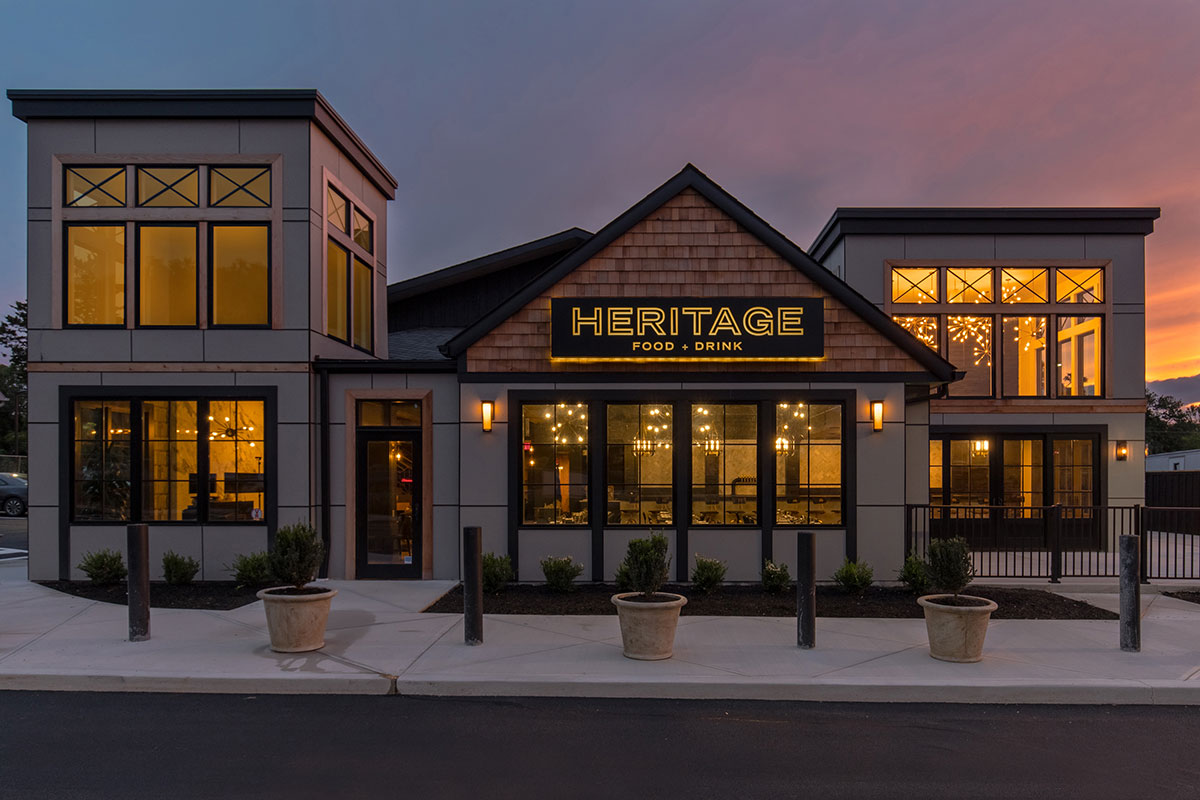 Opened: August 2017
Owner: Jesse Camac
Design firm: Baxter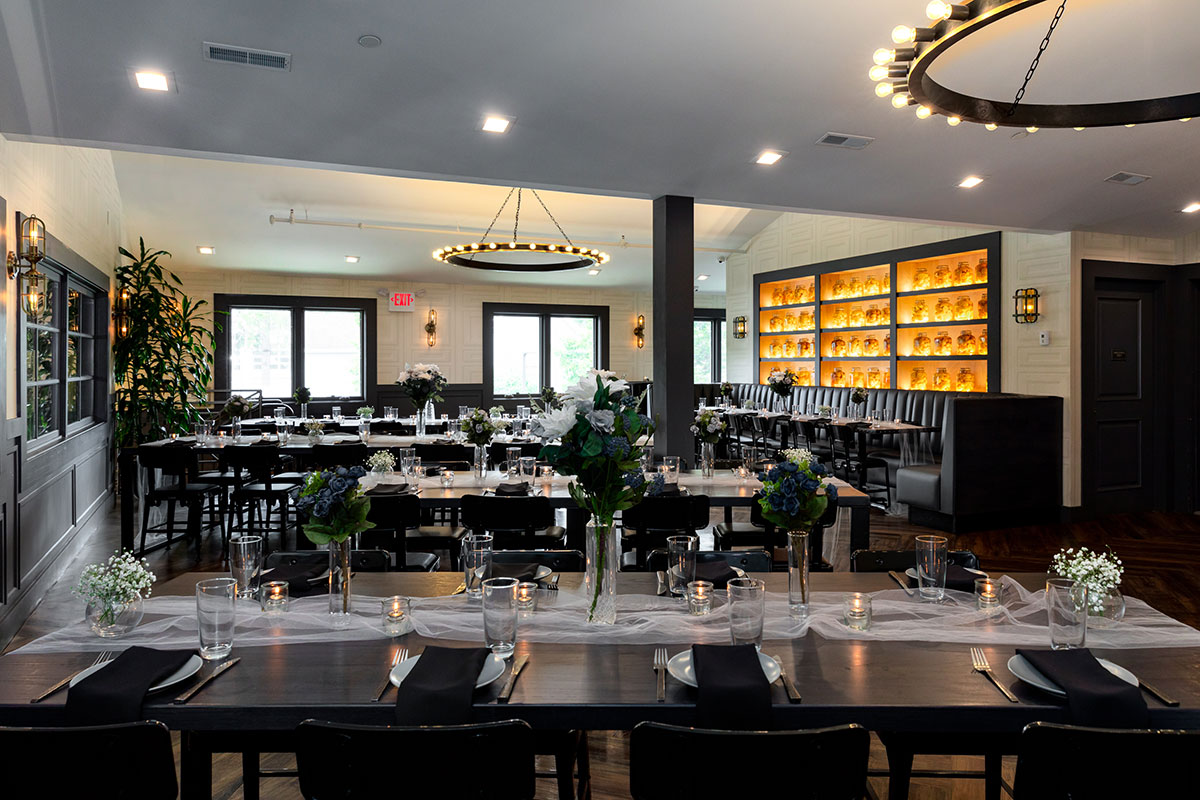 Heritage Food + Drink takes black and yellow to a whole new level. This bi-leveled, New American restaurant combines industrial design with modern flare across five distinct rooms. At the lounge, you're greeted with black leather seating, copious gold accents (the lighting, the logo, statement pieces), and weathered, chevron-patterned wood flooring. Its grandiose marbled fireplace reflects the eclectic chandeliers and light fixtures throughout the lobby.
At the bar room, caged chandeliers hang above stools, and the same marble design reappears at the base of the tabletop. The bar leads to its outdoor dining area, complete with black picnic benches and glowing lanterns. In its spacious main dining room, industrial-style tables and chairs are scattered in the center, and pleated, black booths hover in the margins. The walls are striped with gold, although they're interrupted on the right by loud and neon-decorated wall art, with homages to Jack Nicholson and Pulp Fiction, and typographical design.
The kitchen is located behind glass panels, allowing guests to watch staff prepare their meals. Upstairs, find a private events space with similar sleek furniture from below, along with backdrop walls brimming with jarred lemons and modern light fixtures.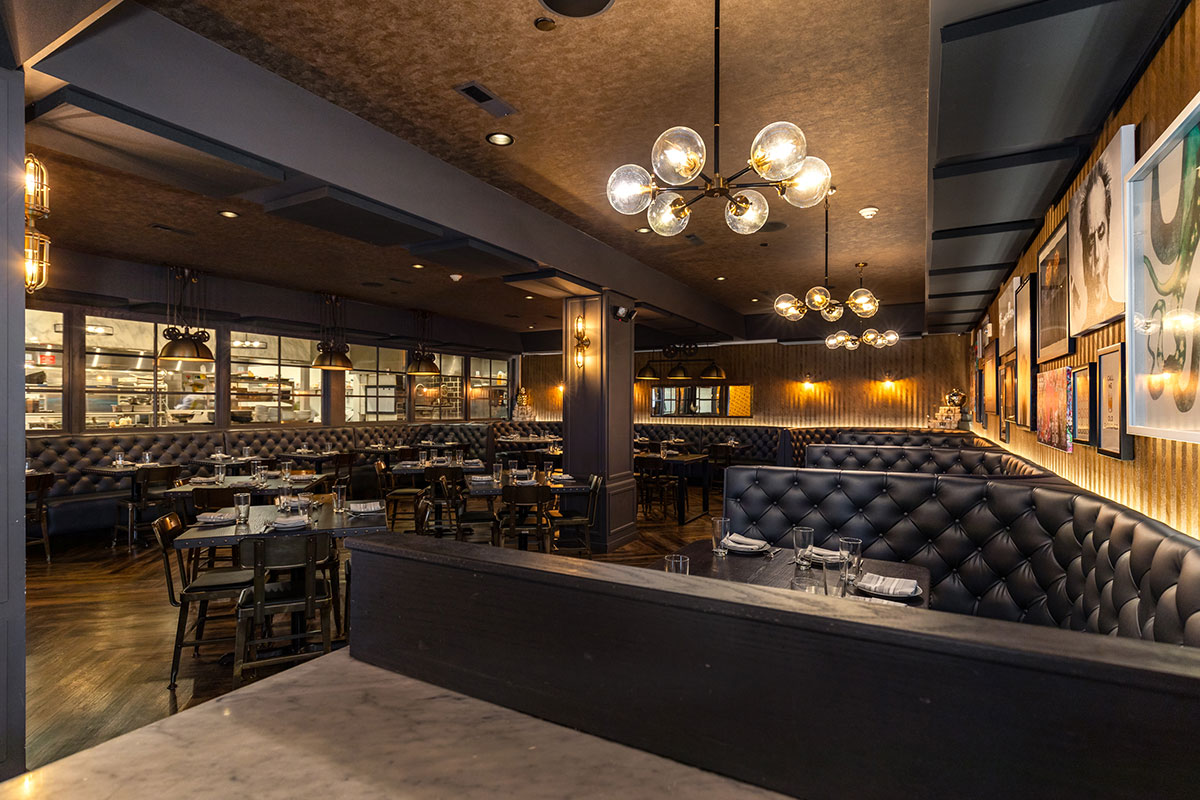 Quote from Baxter:
Heritage's design is comfortable while also using timeless materials offset by the bright branding of the restaurant. We wanted to bring an elegant design that can be appreciated by anyone who walks through the door. Heritage Food + Drink focuses on locally sourced ingredients, so we wanted to highlight the "local" aspect in our design. We utilized local vendors and manufactures throughout the design, such as lighting fixtures from Hudson Valley Lighting (@hudsonvalleylighting). Our full-scope approach allowed us to work on the design of Heritage from concept to completion. Working through budgets, planning, and finishing ensures that the project is delivered on time and in-budget while achieving a high-quality design, new to the Hudson Valley.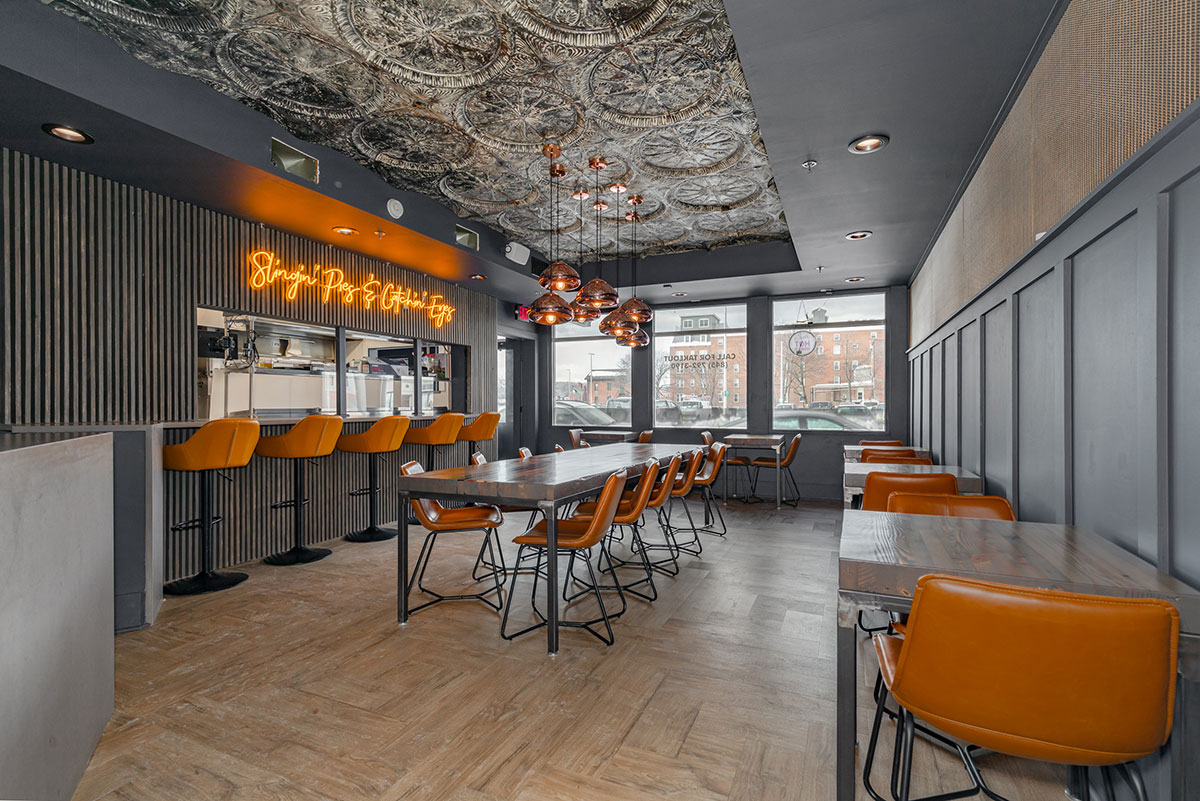 Opened: October 2020
Owner: Charlie Webb
Design firm: Baxter
Discover Detroit-style pizza in Hudson & Packard's groovy, open-concept joint. Go beyond its unassuming brick storefront for pops of deep blue and gorgeous, stained wood. First, see inside the pizza kitchen behind an opening wall of its retro logo and pastel linework. Follow the smell of dough and savory sauce to its dining area, full of yellow-backed dining chairs and custom reclaimed-wood tables sourced from the defunct Packard Automatic Plant in Detroit. Eyes are pulled to the center: A 10-seat table with continuing linework from the far wall is lit up from a copper, canopy chandelier. Above, a dark ceiling contrasts the space; it's a tine tile ceiling sourced from a neighboring project, The Academy. If dining in, customers can hop on yellow stools at the bar counter and watch pizza making in real time. A large, neon sign above the kitchen window reads "slingin' pies & catchin' eyes," adding a last punch of character and personality.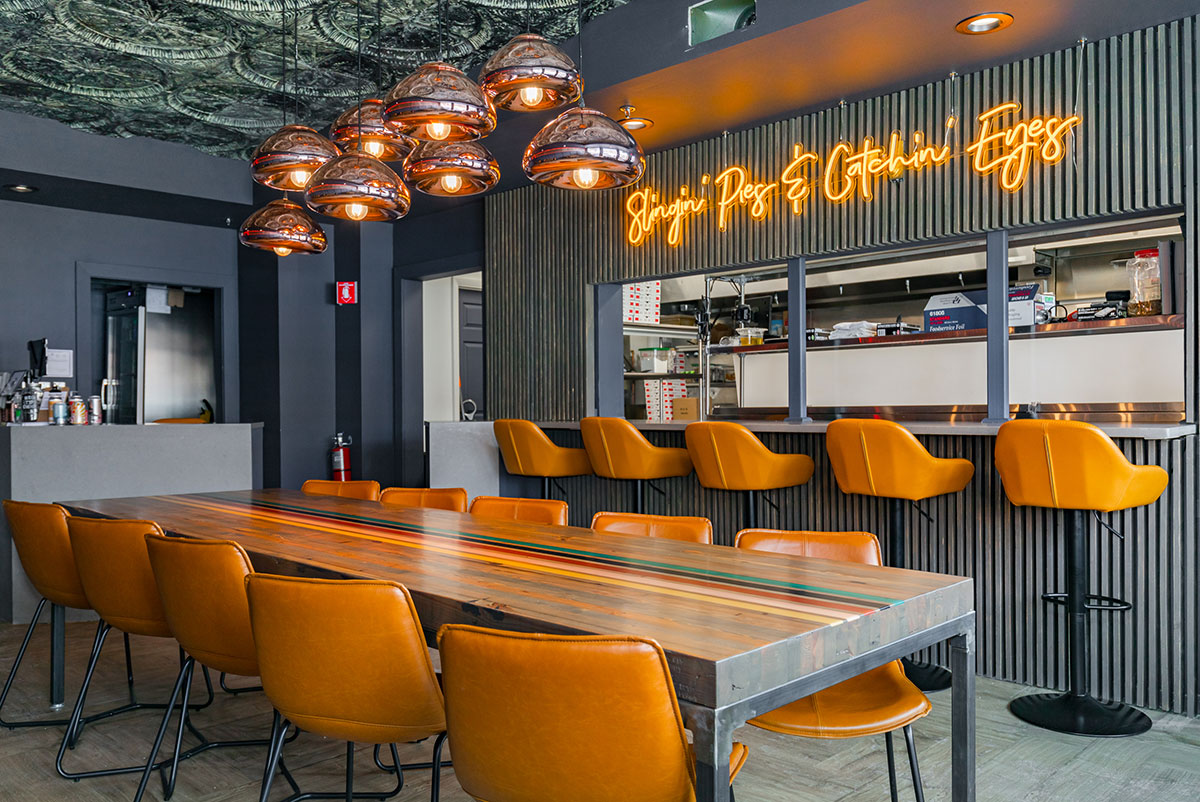 Quote from Baxter:
The branding of Hudson & Packard is very playful and vibrant, and we wanted the space to reflect that. Our goal was for the space to feel inviting, while paying homage to its origin. With Charlie's unparalleled Detroit-style pizza, we knew the space deserves a design that captures that uniqueness. The 1,200-sq-ft space was outfitted with custom millwork, back-lit metal mesh from Banker Wire; reclaimed tin ceiling tile from our neighboring project, The Academy; and accented with copper lighting. Charlie had a vision for the space to act as a neighborhood hub and encourage family-style dining.
With that in mind, the layout of the space was designed to highlight Workshop's custom reclaimed wood and steel communal table. This custom 10-seat table was locally sourced and fabricated from Detroit using reclaimed materials from the Packard factory. The bar counter allows diners to experience the Detroit-style pizza-making process while sitting under a playful neon sign, quoted from Charlie himself. Charlie was with us every step of the way, and he knew the atmosphere he wanted to achieve for his first brick & mortar location and left it up to Baxter to bring his idea to life.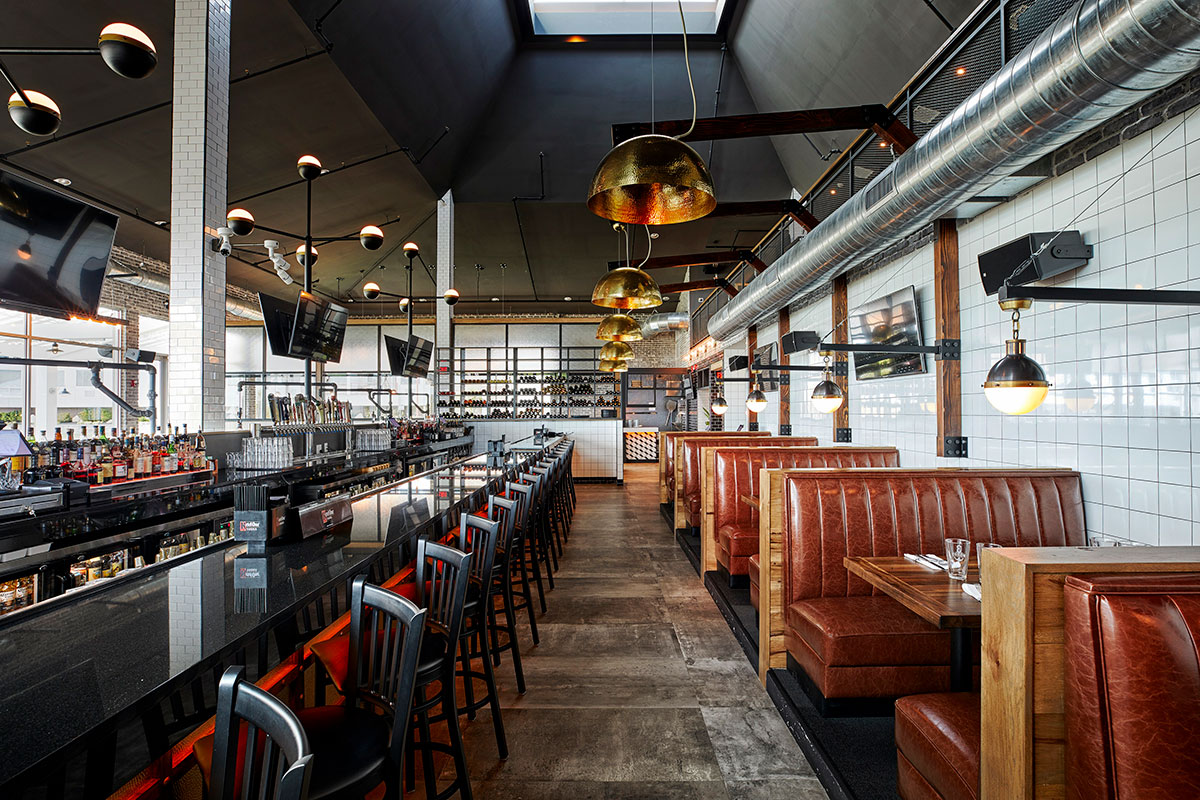 Opened: June 2017
Owner: Jeremy Casilli
Designer: Zilkz Studio
Along the Hudson River waterfront in Westchester, explore a nautical gastropub located in a formed free-standing lighthouse. 3 Westerly lets guests soak in the natural views of the river, along with refreshing beach-y design statements throughout the venue. The space is lined with white tile, and complemented with rustic wood, industrial lighting, and exposed brick. In the main dining room, tables and U-shaped booths are all bathed in natural lighting from its floor-to-ceiling windows.
A full bar breaks up the monotony of seating, with under-table lighting, bar seating, and TVs accessible from multiple vantage points. In the mezzanine, living moss walls contrast the slate gray paint; the auburn-plated booths are lit with skylights from varying ceiling fixtures. When dining above, guests have aerial views of spacious bar and seating, plus a nautical rope chandelier. The terrace is adorned with airy overhead coverage and comfortable bistro seating. Outside, enjoy bright sunset views over the Hudson River and the towering, wishbone-shaped sculpture, The Angel, in Ossining's Harbor Square.
Quote from Jeremy Casilli:
Our restaurant is a nautical gastropub with a seafood emphasis. It was designed to feel like you're sitting in Maurits Cornelis Escher's private vessel (editor's note: Escher is a Dutch graphic artist best known for his mathematical approach to woodcutting, lithographs, and mezzotints). It's an eclectic and industrial modern style restaurant. The towering 60-foot-high cupola within a massive free standing lighthouse structure is the most impressive part of the aesthetic!
Normally, we go through the layout and functionality before we start painting the canvas. First, we have schematic design — a conceptual process where look boards are presented. Material specs and fixtures get worked into the design from there. The overall cohesiveness of the concept tying into the design is established. We had many revisions prior to having a full set of plans. Once a full set of plans are established, we move into 3D renderings and custom fabrication shop drawings. And that is when the true artisans get to work.