Is this new segment an excuse for VT staff to trek around the Valley and check off our endless foodie bucket lists? You know it. But this series is also for you: readers across the region who are hoping to expand their culinary horizons, or add new spots to their Google Maps list when they visit.
We're starting off with perhaps the most simple but delicious dessert: donuts. Everyone loves donuts—there's no drama, contention, or hot takes on the treat. This past month, amid both work- and leisure-related travels, I've visited five scrumptious but completely distinct donut shops. Some you may know, some you may have never heard of… and that's OK! That's what we're here for.
Nyack
Go for: Coffee and donuts
This quaint, hip shop serves up some of the best coffee-dessert combos on the west side of the Hudson. For affordable prices, you'll find classics like glazed, sprinkles, jelly-filled, and cinnamon sugar. But the real kicker is the special and seasonal flavors such as mint chocolate chip, lemon poppyseed, orange creamsicle, and more. The staff is always experimenting, creating delights from cinnamon buns to sour cream-based donuts to everything bagel bombs. Check the shop's Instagram for the latest concoctions. I recommend ordering some java to pair—anything's good, from the iced coffee and lattes to the dirtiest of chais. This gem is frequented by locals and foodies alike—you should be fine on weekdays, but plan to arrive early on weekends or your faves might be sold out. And big news: Boxer is moving across the street into a bigger location—which means more space and more donuts.
Our order: maple bacon donut and caramel iced coffee
Warwick
Go for: Bite-sized delights
A couple of blocks from downtown Warwick, a small but mighty army of donuts awaits. Inside this celestial space (which opened in June!) is an array of out-of-this-world mini donuts ready to be devoured. Choose from specialty or regular minis like s'mores, Boston crème, Reese's pieces, cannoli, sprinkles, and more. There's even a devoted cereal selection. Seriously, there are so many flavors, we can't list them all. Or, go big with made-to-order donuts—eight fresh, delectable pastries piled high with any toppings of your choice. It's like Chipotle but for donuts… talk about innovation! Look out for festive designs during the holiday seasons, or customize your own assortment for events or parties. Don't miss out on the hot, iced, or nitro brew coffees.
Our order: apple crumble or Reese's peanut butter cup
New Paltz
Go for: Checking out the new kids on the block
New Paltz people really like the Gunks. Case in point is the newest addition to the donut scene: Gunkin (opened November 2021). We're loving this double-entendre name, BTW. Open Fri–Sun, this haunt hopes to "debunk the myth that doughnuts taste like chunks of junk. We don't do shrunk. We don't do sunk. We make funky hunks of dough that climb above the Gunks to create flavorful, magical doughnuts." Beyond the wordplay and rhymes, indulge in brioche- or sourdough-style donuts like Lemon Squeezed, Raspberry Belay, Nutella, and cranberry orange. The menu rotates monthly and sells out quick, probably because of those pesky college kids. Besides its location at the strip across from Village Grind on Main and Prospect streets, Gunkin makes appearances at New Paltz's Open Air Markets on Sundays.
Our order: pistachio sourdoughnut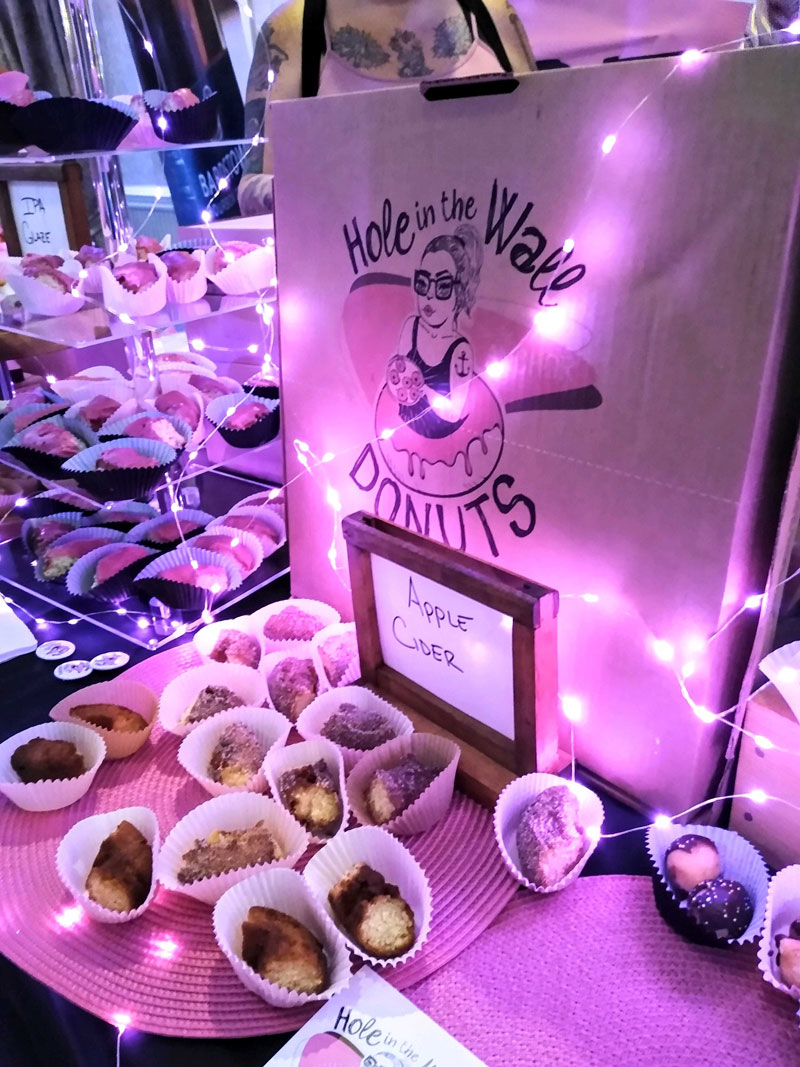 Kingston
*Temporarily closed due to staffing shortage
Go for: Mochi donuts
From the genius minds behind burger joint The Anchor, discover a whole world of outrageous concoctions. Hole in the Wall prides itself on flavors you've probably never heard of, like pistachio and cardamom, peanut butter and jelly, or white peach and ginger. It gets even bolder: go all out with a kickin' dill pickle or the boozy IPA glaze donut. This shop is checking off all the foodie boxes! Every donut is made the old-fashioned way and has a sour cream base. But what I really became hooked on was Hole in the Wall's mochi donuts. This aesthetic, conjoined donut ring is heaven on earth and is oh-so-bouncy. Its chewy texture is thanks to Japanese mochiko flour, also found in dango. Not only are they vegan and gluten-free, but you can't find mochi donuts anywhere else in the Valley.
Our order: strawberry or matcha mochi donuts
Beacon
Go for: Vegan options
With over 30,000 followers to vouch for their donuts, Peaceful Provisions is one of the biggest—and most in-demand—pastry shops in the Valley. With new fans every weekend and cult followers that followed from the brand's OG Peekskill days, get ready to rumble. Every weekend, fans gather on the corner of their shop in hopes of snacking on one (or two, or three…) of the delicious, small-batch donuts. It's like queuing up for a concert—except you get a vegan donut instead! You read that right: everything at Peaceful Provisions is 100-percent vegan, from the maple pecan and vanilla marbled donuts to lemon poppyseed twists or apple fritters. We're especially partial to any donuts that are stuffed with cream-based fillings. And if you're lucky (or stalk the shop's Instagram feed), you'll show up on a day it offers its breakfast sandwich donuts.
Our order: London fog donut (with earl grey filling) or blueberry apple fritter