These five excellent eateries rely on super-local ingredients and serve up elevated versions of everyone's favorites—plus more than a few menu surprises.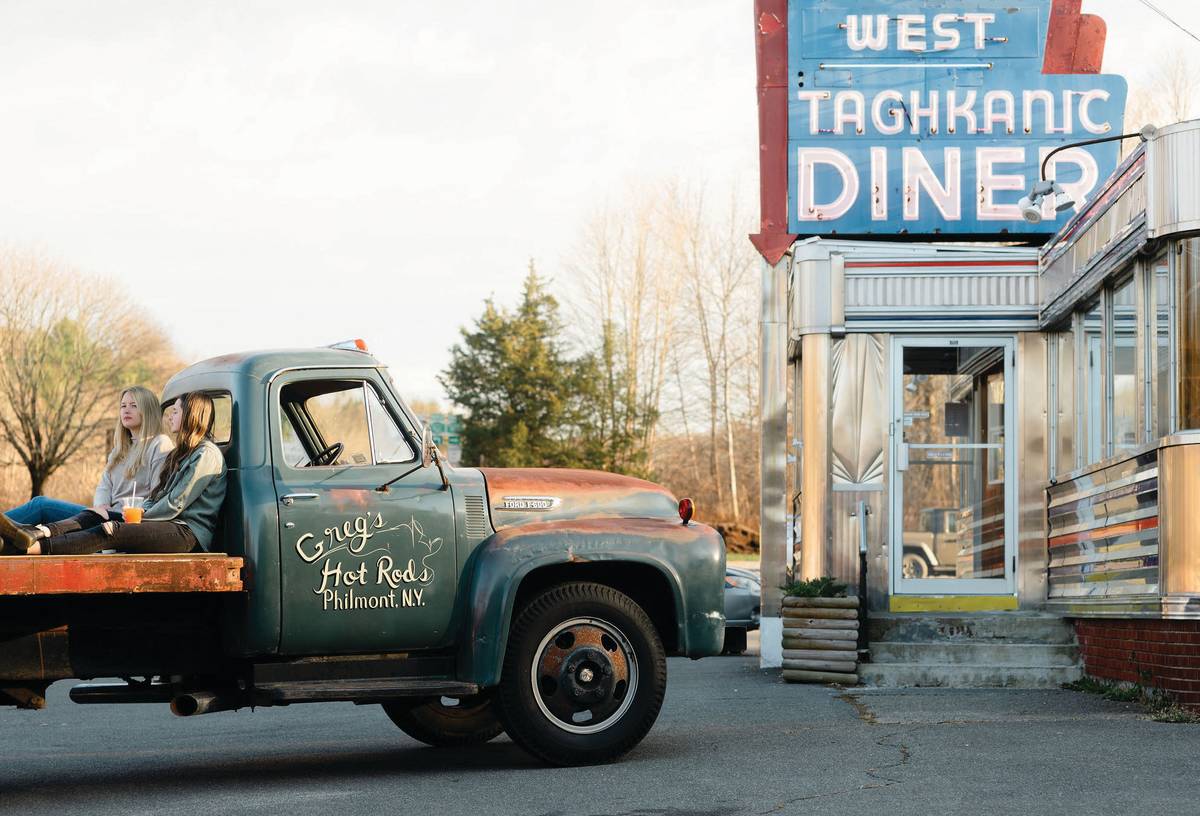 West Taghkanic Diner
After a seven-year stint as a chef in Copenhagen, Denmark, Hudson Valley native Kristopher Schram found himself stateside once again and in need of a new project. When his father told him that the West Taghkanic Diner—which opened in 1953 as a respite for weary travelers—was for sale, he knew this was a concept he could have fun with. "I've taken my 20 plus years of experience using quality ingredients and combined it with a diner's basic staples," he says. "We still have a NYC-style pastrami Reuben and a turkey club on the menu, but we also offer roasted shishito peppers and a smoked squash soup." It's all made possible by the smoker that Schram installed in his parking lot, where he crafts his own bacon, sandwich meat, and that smoked squash, among other delights. Most of the pork comes from Fat Apple Farms just up the road; the beef and turkey are sourced from spots like Northwind Farms in Tivoli; and a ton of veggies come from MX Morningstar in Hudson.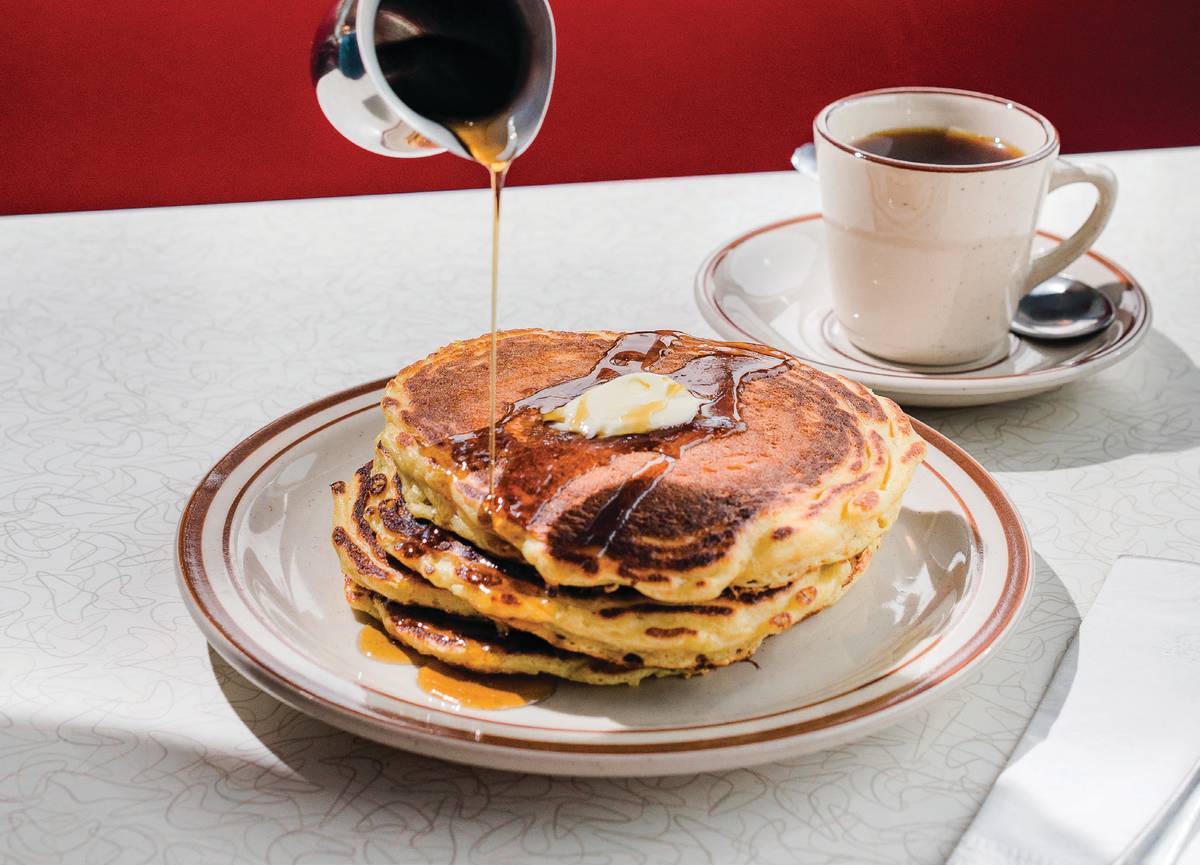 When he purchased the diner in 2018, it was in near original condition. "It's like a time capsule. 1953 was a great year for diners," says Schram. He retiled the terrazzo floors, reupholstered a few booths, and replaced the lighting but kept the integrity of the space. Customers who prefer to dine al fresco can do so amid a flower and herb garden—weather permitting—maintained by Lu-Na Blooms & Herbs, a nearby farmer. (Fresh cut bouquets are sold in season at the counter, too.) All of which lends itself to Schram's idea of upgrading the diner experience without sacrificing familiarity and comfort. "American diners started off as very minimal, with very simple home cooking, and then in the '60s and '70s diners became all about huge menus. But these days people care a lot more about what they eat and where the ingredients come from," he says. "It's coming full circle."
Ancram; 518.851.3333; wtdinerny.com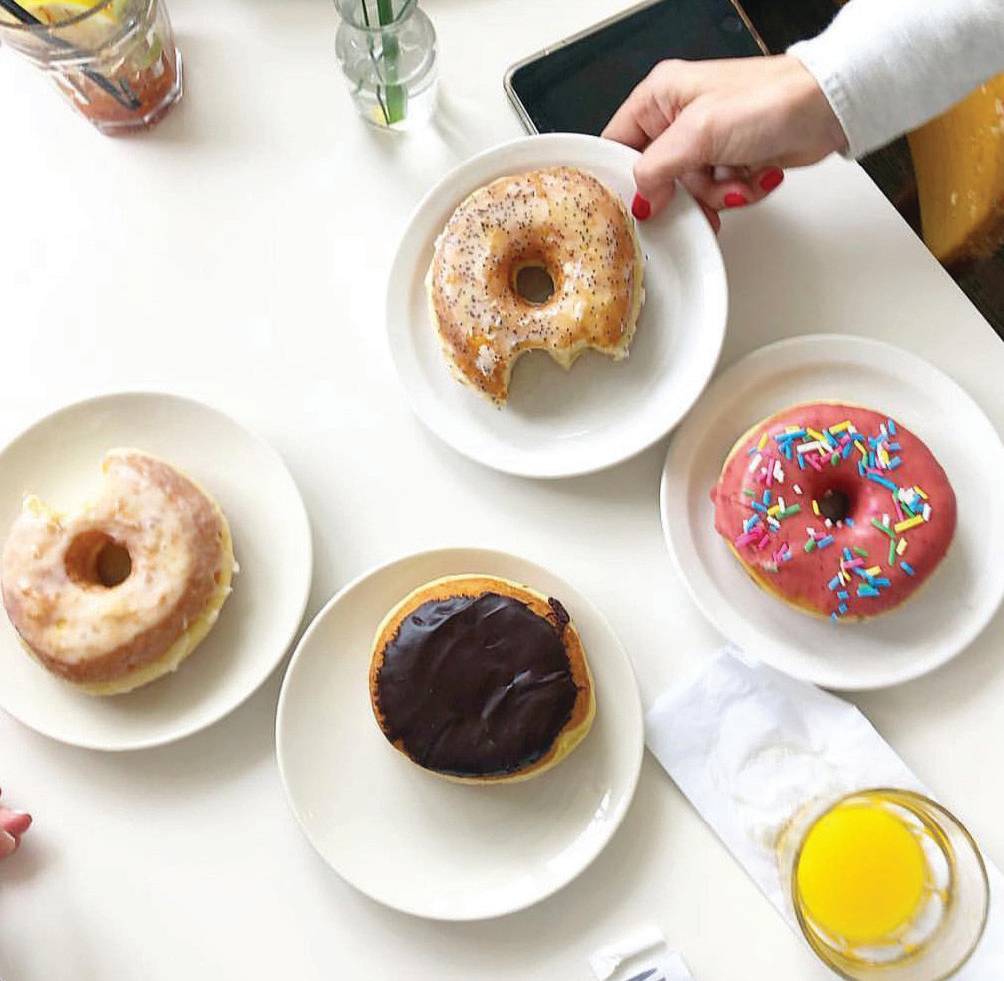 Gracie's Luncheonette
After starting a successful food truck in 2014, Ally Merritt and Andrew Spielberg—who met when they were students at the Culinary Institute of America—were ready for a brick-and-mortar space to serve up their homemade American comfort food. That dream came to fruition in 2016 when they took over the building that housed Koch's Drive-In, an area favorite since the 1950s. "Koch's diner inspired our menu; we wanted to keep our food familiar while making everything the best we can," says Merritt.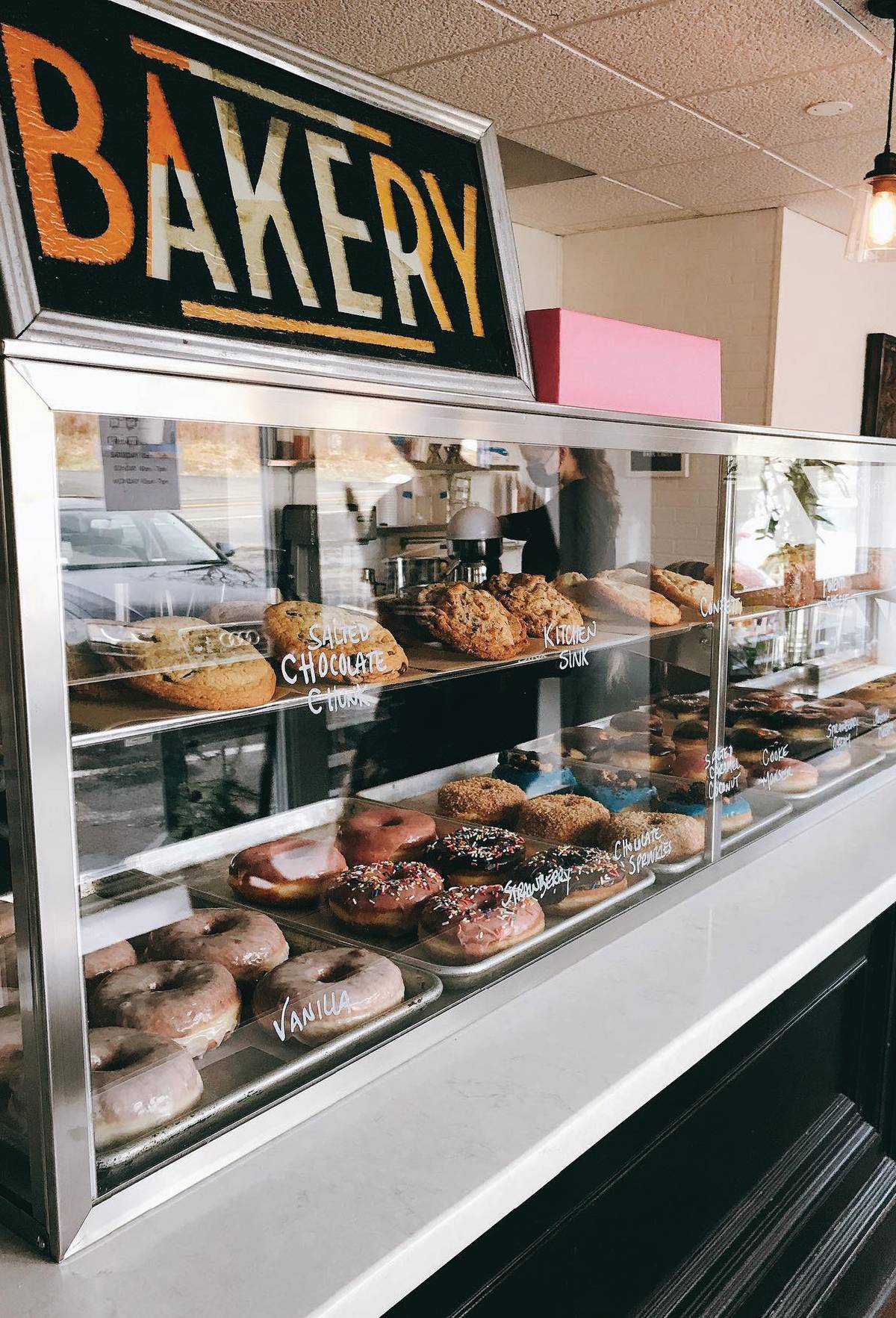 For the duo that means baking all the bread, grinding all of the meat, and even making their own American cheese. Merritt credits the Farms2Tables app, which connects farmers and wholesalers, with their ability to source locally. "When we first started out, we weren't ordering enough for most vendors, so we spent a lot of time going to different farms to pick up products," says Merritt, who purchases dairy items from Ronnybrook Farm in Pine Plains and eggs from Yellow Bell Farm in Red Hook—both of which are used to craft Gracie's delicious homemade ice cream.
Getting hungry? We highly recommend ordering the Gracie Burger, which has house-cured bacon ground right into the beef or the signature fried chicken sandwich. And along with that farm-fresh ice cream, grab a donut—the flavors change seasonally.
Leeds; 518.943.9363; graciestruckny.com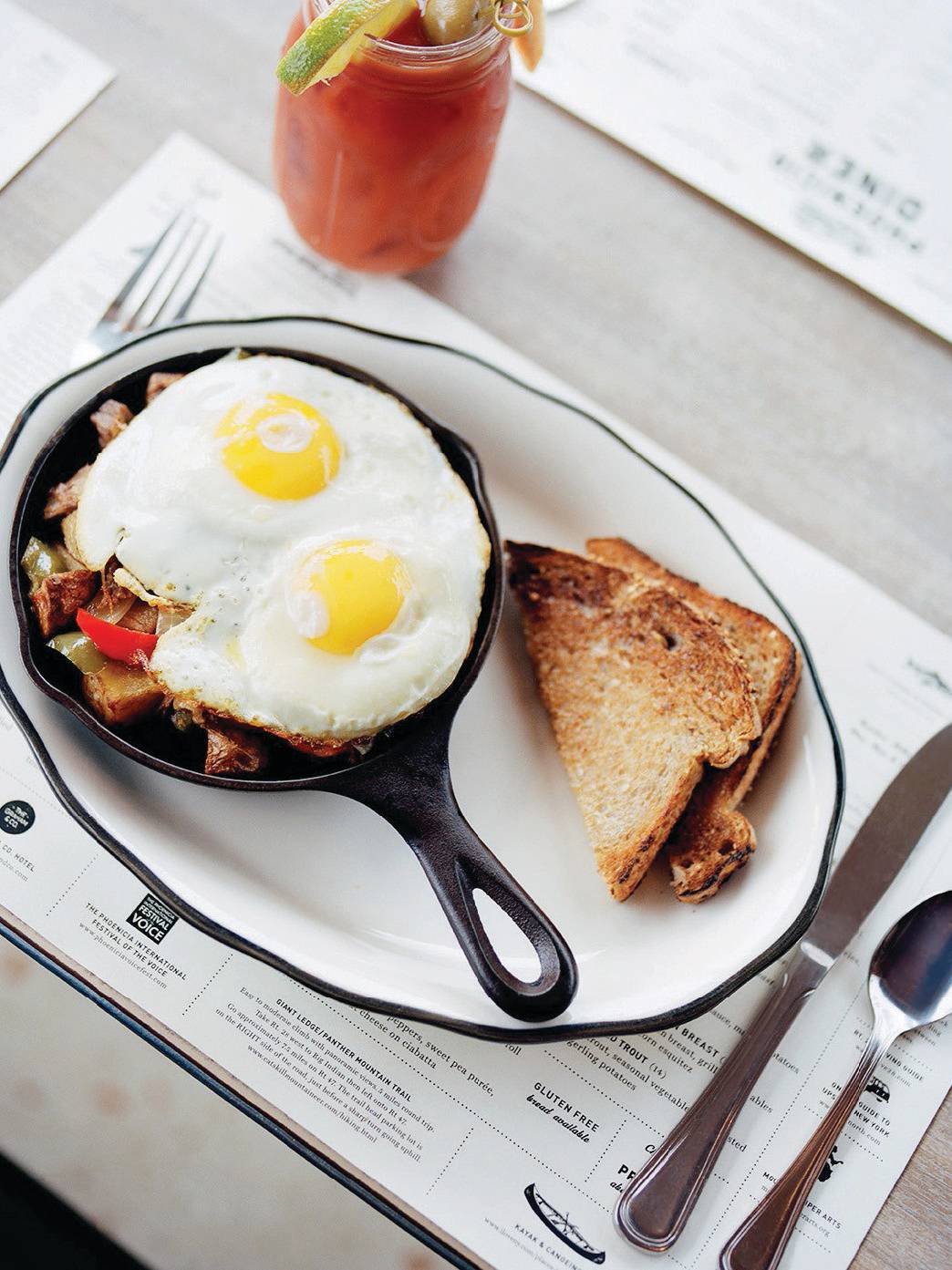 Phoenicia Diner
If you try just one menu item at the Phoenicia Diner, let it be the pancakes. "People drive hours out of their way for our pancakes," says General Manager Courtney Malsatzki of their elevated breakfast basic, which comes in both buttermilk and buckwheat varieties. "I've worked at a lot of restaurants all over the United States and I've never had a pancake as good as ours."
Situated deep in the Catskills, the Phoenicia Diner was originally built in 1962 on Long Island and was relocated to Phoenicia in the early 1980s. In 2012, Michael Cioffi, who had a weekend house in Margaretville, purchased the space and revamped the menu with an emphasis on breakfast. (Their skillets—eggs fried up with fixings like trout, chorizo, or grass-fed brisket—are also a fan favorite.)
All the sauces and dressings are homemade, and the potatoes are hand cut (which takes 40 hours a week!). The diner also serves a standout lunch, and we suggest you order a burger—the beef is sourced from Highland Hollow in Schoharie—topped simply with lettuce and tomato or make it more interesting with pimento cheese and bacon. The perfect accompaniment (beside fries of course) is their signature bourbon milkshake, made with Taconic Bourbon.
Phoenicia; 845.688.9957; phoeniciadiner.com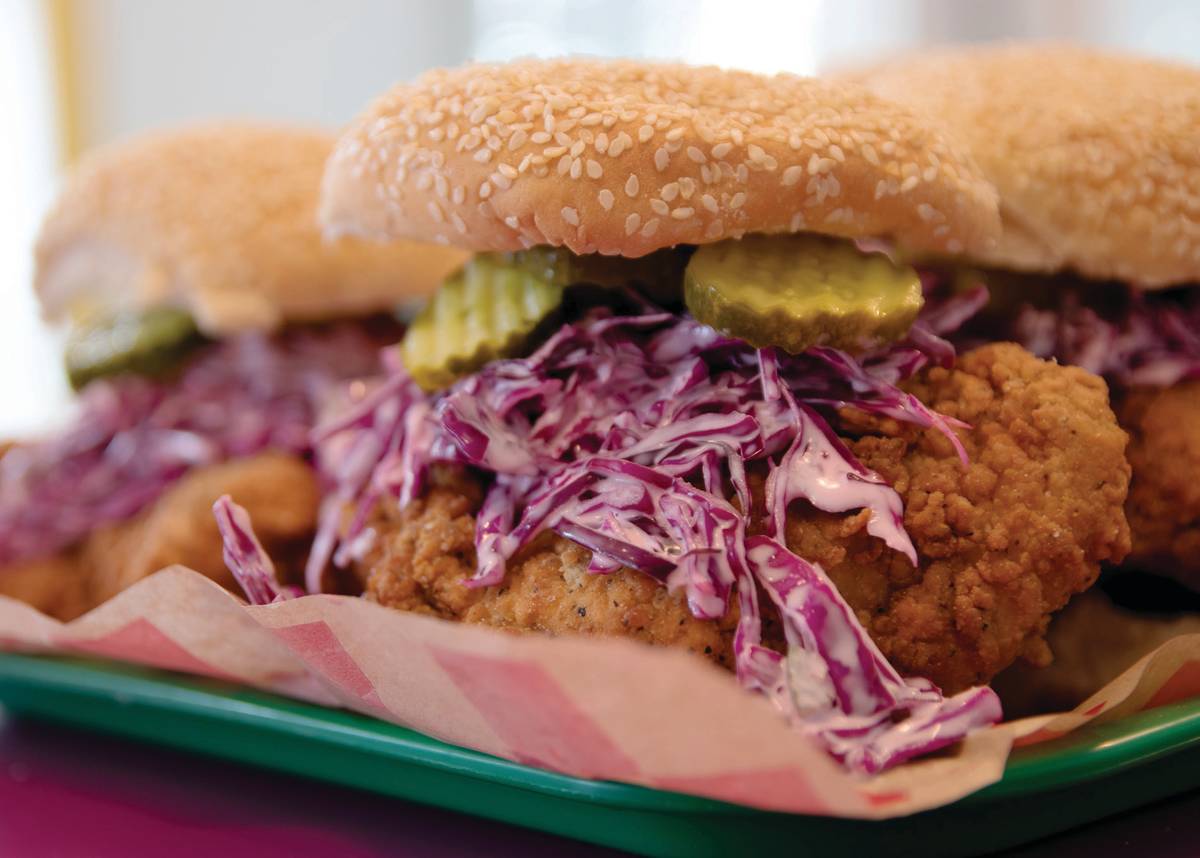 Zinnia's Dinette
The idea to open a fish fry in a field in the middle of nowhere came to Amy Lawton when the zinnias she planted in her yard to stave off the Covid blues attracted a plethora of pollinators. "I wondered, if I had a place that was as pretty as a zinnia, would the human pollinators come?" she says. "So, I opened a restaurant."
A Rhode Island native, Lawton, who was in charge of the kitchen at the former Murray's in Tivoli, knew she wanted to bring a fish-centric menu to the Hudson Valley, albeit one with affordable diner prices. Think oyster rolls, clam and chorizo stuffies, and steamers. (Not a fish fan? There are plenty of options for you too such as buttermilk fried chicken, a fried mozzarella sandwich, and classic hush puppies).
Lawton created a brightly colored, charming eatery in a space that was once home to Dutch Treat, a local favorite for years. While she places more of an emphasis on eating regionally rather than just locally (which she believes is more affordable and easier to accomplish), she does source whatever produce she doesn't grow herself from local farms such as Whistle Down and MX Morningstar in Hudson, and Honey Dog and Common Hands in Hillsdale. "I want to fill people up with delicious comfort food," she says. "Watching people eat food that I've prepared gives me joy."
Craryville; 518.325.0342; zinniasdinette.com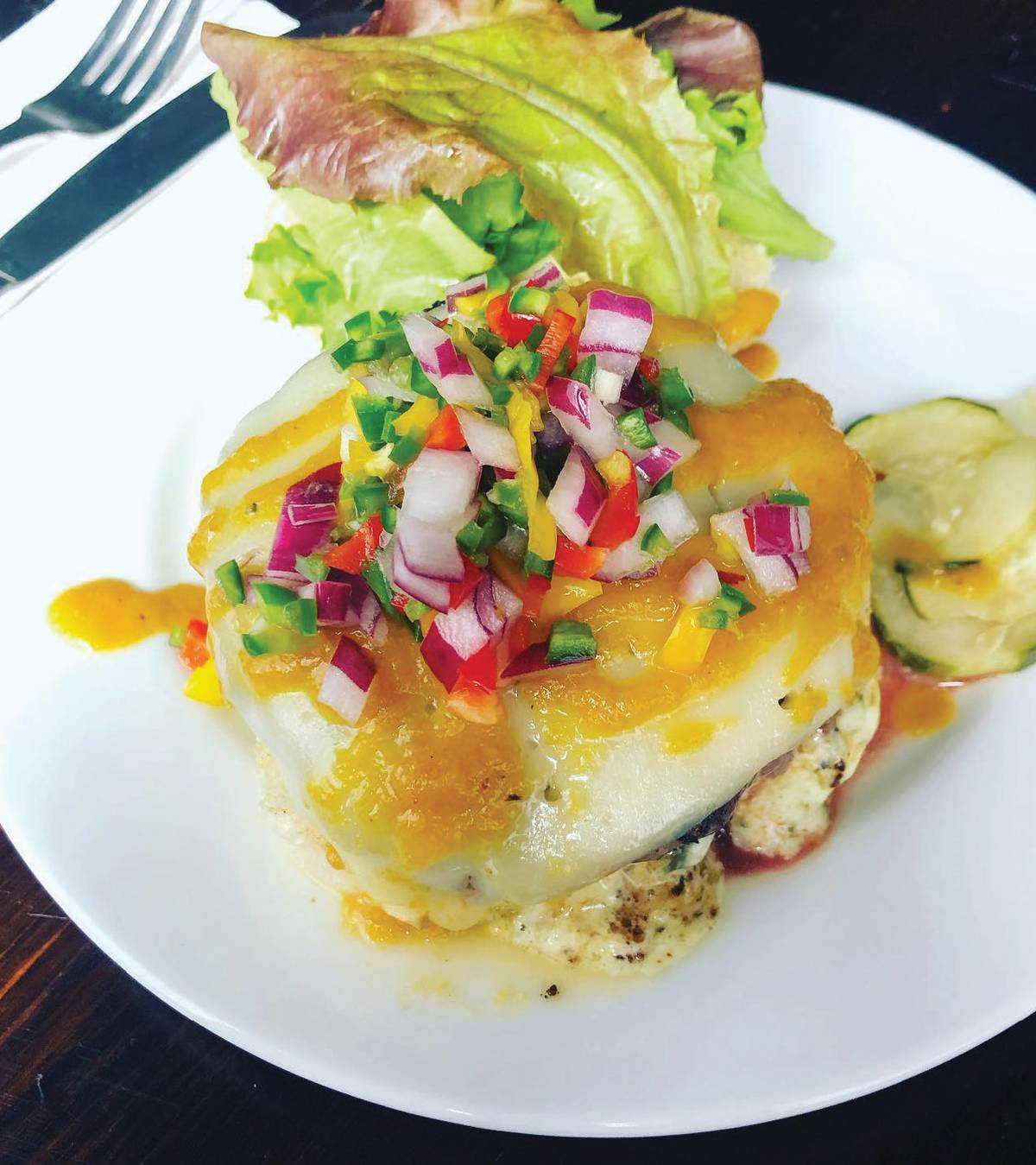 Grazin' Diner
If biting into a burger as clean as they come is important to you, Grazin' Diner is the place to go. Every ounce of beef, chicken, and pork on their menu comes directly from owners Dan and Susan Gibson's own Grazin' Angus Acres, an Animal Welfare Approved (AWA) farm where the livestock graze on grass and are never kept in barns. The proof is in the patty, which can be enjoyed paired down (The Grazin') with lettuce, tomato, and onion, or adorned with everything from bacon (The Dude) to bourbon–sautéed mushrooms (The Unburdened). They also serve excellent salads, sandwiches, and a hearty beef and bean chili (see recipe, right).
The diner's produce comes from neighboring farms including Ardith Mae Goat Farm in Stuyvesant, Common Hands Farm in Hillsdale, and The Farm at Miller's Crossing in Hudson. Their sodas are special, too, created with organic extracts. "We try to be as homemade and made to order as possible," says Landon Powell, general manager. That now extends to alcohol, as well: in October, Grazin' unveiled a newly built bar inside their 75-seat space. The cocktail menu spotlights spirits from the farm's own Unburdened Distillery, founded by the Gibsons' son, Keith, and his wife Nicole. The name is a nod to the distillery's process, which is devoid of chemicals. Wine, beer, and cider are on tap, too, all of which are sourced within New York State.
Hudson; 518,822.9323; grazinburger.com