With over a hundred county restaurants participating in this year's Hudson Valley Restaurant Week, Westchester foodies may find deciding where to dine more difficult than ever. Each one will be showcasing its signature flavors in three-course lunches for $25.95 and/or dinners for just $35.95. At those prices, how could you possibly decide?
Luckily, we've got you covered. Here are five top picks for the three-course meals you should be making reservations for this year:
76 Main St, Irvington; 914. 591.5500
The perennial Best of Westchester winner will offer a fine sampling of its flavorful menu for both lunch and dinner. The three-course menu includes starters like tikki challey — fried potato patties with chickpea stew and a sweet and sour relish — and avocado paadi chaat — floured crisps with savor yogurt, diced potatoes, garbanzo beans, avocado, and a tangy chutney. Mains include a stuffed paneer sandwich with cashew butter sauce, tandoori chicken, goan fish curry, and spicy lamb chettinad curry. Finish your meal off with coconut panna cotta or sweet and soft rasmalai cheese dumplings in a cardamom milk reduction.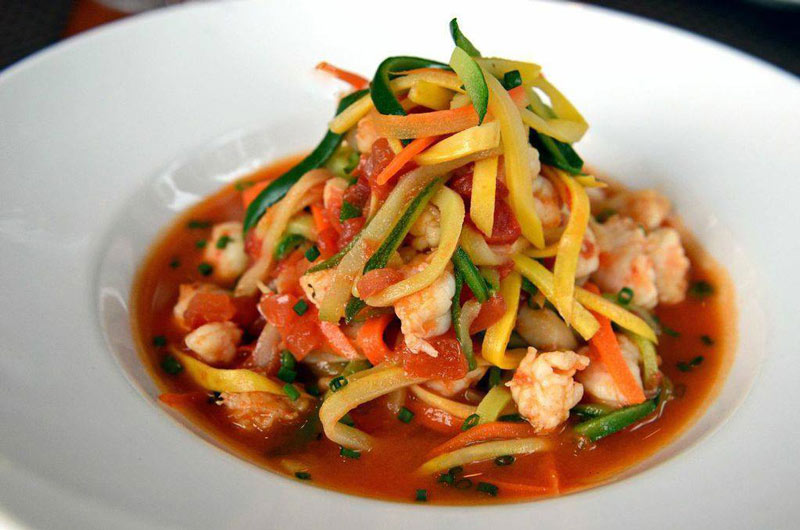 831 White Plains Rs, Scarsdale; 914.725.3450
Everyone's favorite neighborhood fish market and restaurant is showing off its seafood savvy with this year's dinner menu. Start with your choice of soup, clam chowder — New England or Manhattan — wild mussels, chopped salad, or a half-dozen Blue Point oysters. Move onto mains like Boston scrod, pan-seared skate wing, organic sesame-encrusted salmon, linguine with red clam sauce, and even seared chicken breast with mushroom risotto. End your night with a decadent ice cream sundae, silky coconut flan, or a rich flourless chocolate torte.
Tarrytown House Estate
49 E Sunnyside Ln, Tarrytown; 914.829.5454
The award-winning restaurant from celebrity chef Dale Talde is known for its modernist takes on traditional Cantonese cuisine, and its Hudson Valley Restaurant dinner menu is no exception. Starters like shaved snow peas and shrimp, pork, and mushroom dumplings blend effortlessly into roasted branzino with moo shu pancakes, black pepper beef with charred onion and holy basil, or wild mushroom noodles. Dessert spotlights mochi waffles with ice cream and green tea tiramisu with passionfruit mascarpone. Bonus: Grab an order of the house's famed crab fried rice for the table as an add-on!
887 Yonkers Ave, Yonkers; 914.423.3300
Celebrating its 25th anniversary this year, the classically adorned Italian ristorante has put together a prix fixe dinner that perfectly encapsulates the tastes of Italy that have inspired an entire generation of Westchester diners. Choose from appetizers like soup or salad, fried calamari, baked clams, roasted pepper caprese, or savory meatballs with whipped ricotta. Mains are even more mouthwatering: your choice of stuffed rigatoni Bolognese, grilled pork chop, chicken scarpariella, veal saltimbocca, flounder Francese, and even a tender eight-ounce filet mignon. Dessert will be an even tougher decision: gelato, classic New York cheesecake, Belgian chocolate mousse and cream, or fresh, house-made cannoli.
50 Gedney Way, White Plains; 914.949.0978
Serving up classic American fare since 1932, Sam's of Gedney Way knows a thing or two about leaving its customers stuffed and happy. Start off with crispy Korean-spiced cauliflower bites, mussels and frites, a baby arugula and goat cheese salad, or a "Snack-utier" plate of favorite house appetizers. Entrées include matzah-crusted chicken Milanese, simple and elegant cacio e pepe linguini with gulf shrimp, grilled maitake mushroom with arrowhead cabbage, and meatloaf with Sam's nitro barbecue sauce. Dessert couldn't be more classic with warm chocolate chip cookies and a cereal milk shot, but for something lighter there's no going wrong with local strawberries and shortbread with whipped cream.