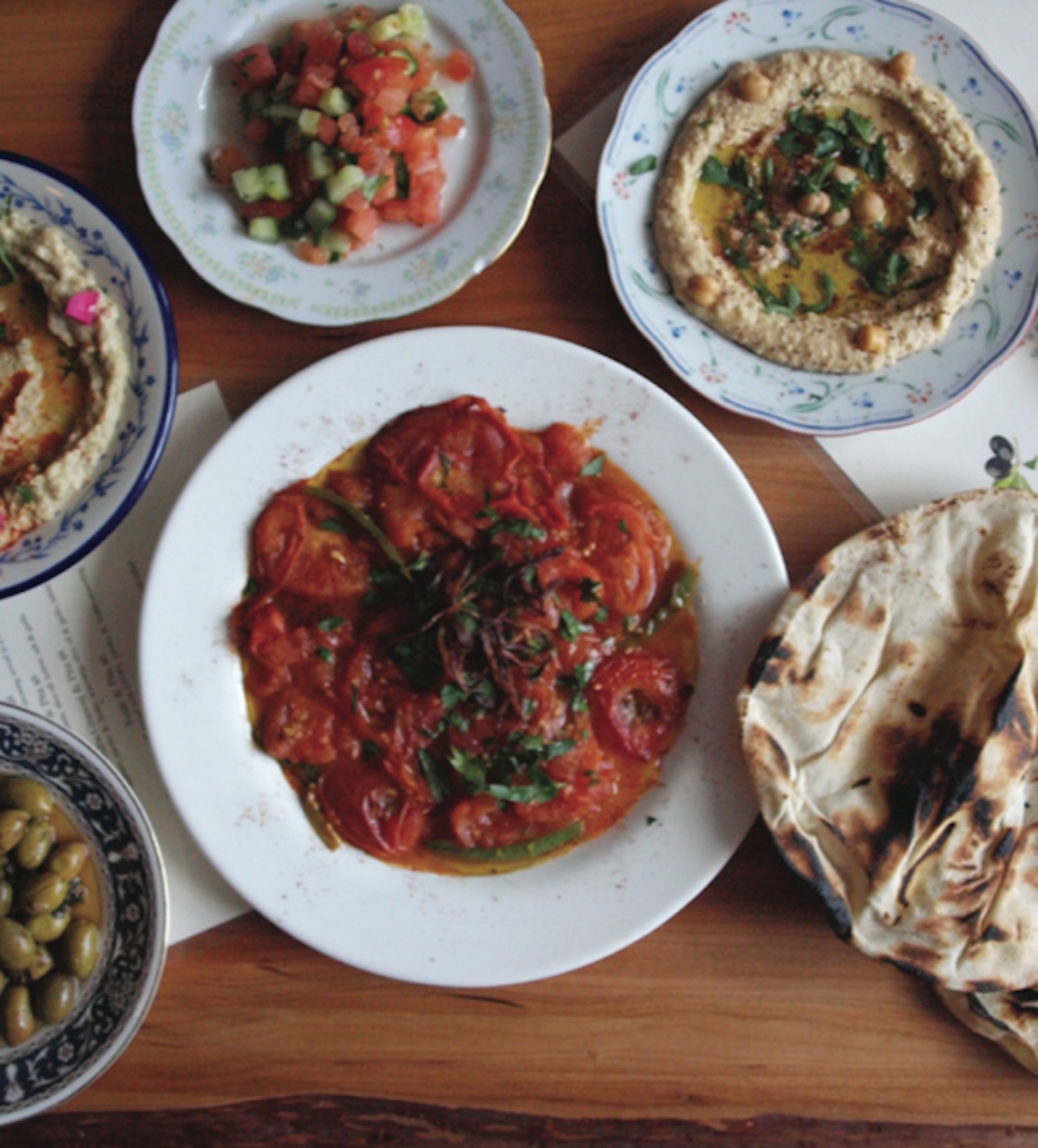 KAMEL AND LENA JAMAL, owners of Tito Santana, Beacon Bread Company and Angelina's Restaurant & Pizzeria, have opened a fourth restaurant, this time featuring authentic Middle Eastern cuisine. The tiny restaurant, on Main Street in Beacon, draws on Lena's Palestinian background and Kamel's Jordanian roots. The menu includes a variety of vegan salads and dips (including hummus and baba ghanouj); heartier options range from beef and lamb shawarma to five kebab varieties. The most popular item on the menu, futur ("breakfast" in Arabic), features a classic spread—hummus, foule, baba ghanouj, falafel, pickled turnips, tomato and cucumber and a palate cleanser of olive oil and zatar. "Everything is influenced by family," Kamel explains. "Everything's influenced by how we eat breakfast, and how we get together when we get together."
Almost every aspect of the restaurant has been designed or sourced in Beacon: Jessica Wickham of Wickham Solid Wood Studio designed the hand-hewn tables; a local artisan forged the custom-designed, engraved wooden bench stretching the length of the restaurant. Kamel says they have only one requirement When they start sourcing eggs: "It has to be from Beacon."
Ziatun
244 Main St, Beacon
(845) 765-8268
ziatun.com
Wed-Mon 11am–9pm
---
OWNED BY A Hudson Valley restaurant veteran, Essie's is elegant enough for fine dining, yet casual enough to enjoy drinks with close friends. Head chef/owner and CIA grad Brandon Walker spent years gaining experience in restaurants like TriBeca Grill, Oceana and the Park Avenue Cafe, which he used at Panzur Restaurant in Tivoli and as executive chef at Poughkeepsie's Nic L Inn Wine Cellar. At Essie's, the Brooklyn native produces dishes that explore all the savory comfort of American food, with the added flair of global influences—Caribbean, French, Spanish—gained through his extensive travels. This shows up in dishes like grit croquettes with garlic aioli, chicken and dumplings, sweet-and-sour braised collard greens, and monkfish.
Essie's Restaurant
14 Mount Carmel Place
Poughkeepsie, NY 12601
(845) 452-7181
essiesrestaurantpk.com
Lunch Tue-Sat noon–4pm; Dinner Tue-Sat 5:30–10:30pm
---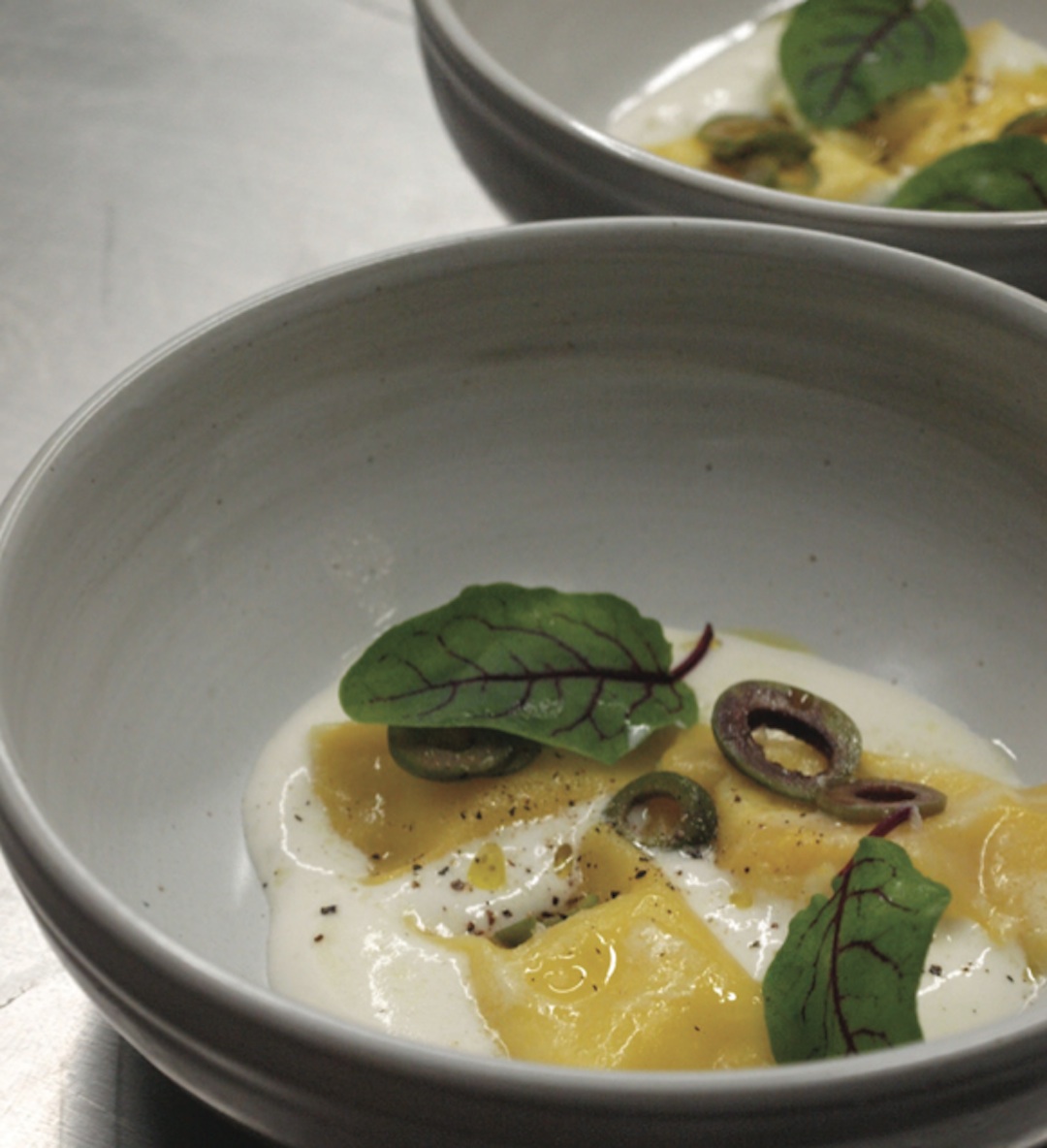 THIS MAY BE Cornwall native Michael Kelly's first restaurant, but he's no stranger to the kitchen—his resume includes stints at the Bouchon Bakery, with Gordon Ramsay at the London Hotel, and at the Michelin Star-rated Bâtard, a James Beard Award-winning restaurant he helped open with Markus Glocker. Nonetheless, "I always knew I wanted to come back to the Hudson Valley," Kelly says. "I've always been a huge follower of mid-turn-of-the-century architecture and rediscovering Newburgh as this city that was always there but you didn't really pay attention to." When a location became available across the street from Washington's Headquarters, Kelly jumped at the opportunity—he opened the 56-seat French/American eatery at the end of June.
In lieu of traditional a la carte or prix fixe menus, "We're selling courses instead of individual items," Kelly explains. "It simplifies things for the consumer." Two courses cost $36; three are $49; four are $61. First courses include French staples like vichyssoise and chicken liver mousse; house-made pastas are featured in the second and third courses—dishes include coriander tagliatelle with duck confit, cilantro and chicharrón (fried pork belly), and pan-seared octopus with maque choux (a Louisiana succotash) farro and asparagus. Desserts (the fourth course) include hazelnut madeleines with praline ice cream and a variety of crème brulée.
Kelly hopes the cuisine will appeal to both locals and visitors. "There's a small list of really great restaurants in the Hudson Valley—and we want to be on it," he notes.
Liberty Street Bistro
97 Liberty St, Newburgh
(845) 562-3900
libertystreetbistro.com
Sun-Mon 5–9pm, Thu-Sat 5–10pm
---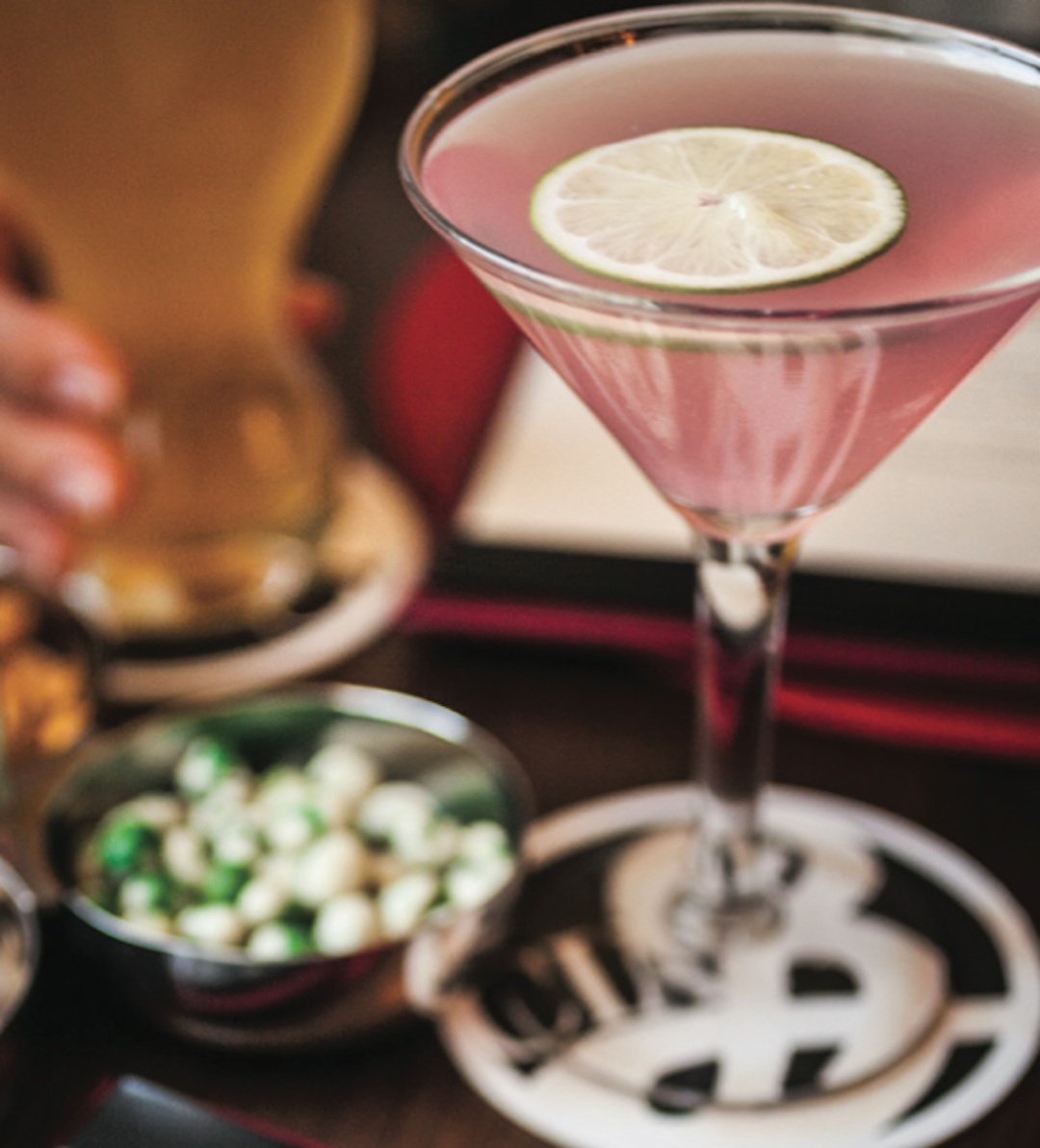 RESERVATIONS TYPICALLY fill up far in advance for the CIA restaurants, but the newest restaurant there features a casual menu you won't have to wait weeks to sample. American Bounty, one of the institute's flagship restaurants, has spawned The Tavern at American Bounty, which features a no-reservation policy designed to serve both visitors and students alike, says Tom Betterbid, CIA Food and Beverage Coordinator. "In the [CIA] restaurants, there really isn't a place between 1 and 6 where people can get food to eat," he notes. Menu options range from an artisanal Hudson Valley cheese plate and a changing variety of soups and salads, to The Tavern Cheddar Burger and CIA Wit Beer mussels. The beer list features brews produced by The Brewery at the CIA, including Cleaver IPA, Mise en Place Wit and a seasonal Oktoberfest-themed beer.
The Tavern at American Bounty
Culinary Institute of America
1946 Rt 9, Hyde Park
(845) 451-1011
americanbountyrestaurant.com
Tue-Sat 11:30am–close
---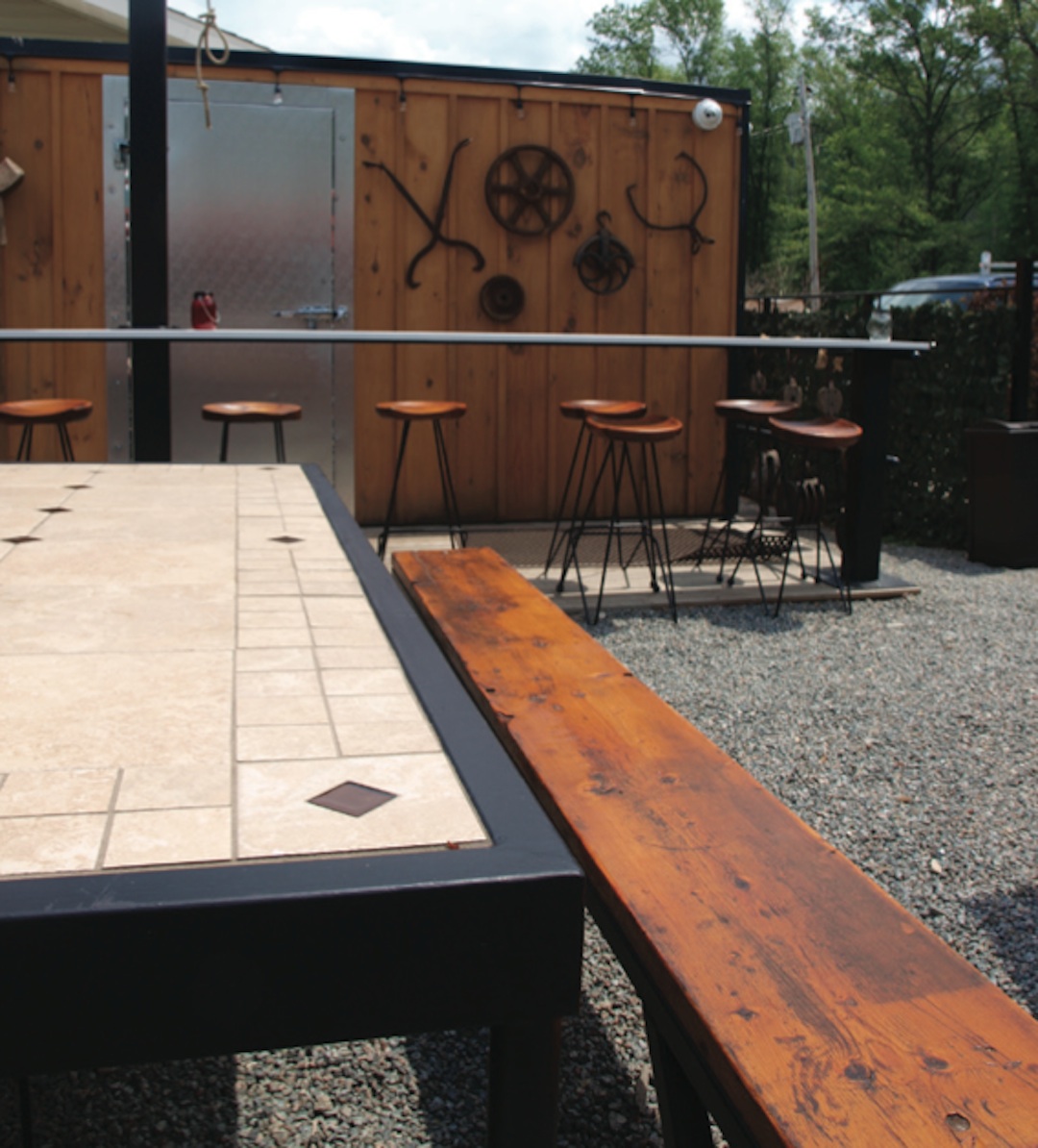 RIVERVIEW OWNERS Jim and Lori Ely traded in white tablecloths for hardwood benches, aging barrels and rustic 1700s décor with their latest venture, a 400-seat seasonal restaurant and catering space adjacent to Fishkill Golf. Historically a Revolutionary War encampment, the outdoor dining area includes a full bar, a service kitchen and two dining tents with long, biergarten-style tables. Inside, a collection of antiques rings the dining area. "You could spend all day just looking at different documents from West Point," Lori says.
Not quite Southern, The Yankee stays true to its name with a revolutionary take on traditional barbecue. "It's not like western Texas barbecue," Jim says. "We may add a little smoky flavor to some things, but nothing's smoked for 12 to 15 hours." The menu takes a traditional backyard barbecue approach to hot dogs, brisket, burgers, bratwurst and pulled pork, and applies global influence—they become grilled German bratwurst, Vietnamese bahn mi hot dogs, Swiss burgers with wild mushrooms or Texas-style beef brisket. There's a range of Mexican options (including fish, steak and vegetable tacos, plus handmade pork tamales) and alternative American dishes (arugula salad with watermelon, feta and basil vinaigrette, and veggie burgers with Napa slaw and spicy pepper aioli) alongside a rotating list of 20 draft and 17 canned brews.
The Yankee
387 Rt 9, Fishkill
(845) 202-7384
theyankeebbq.com
Tue-Sun noon–10 through the fall
---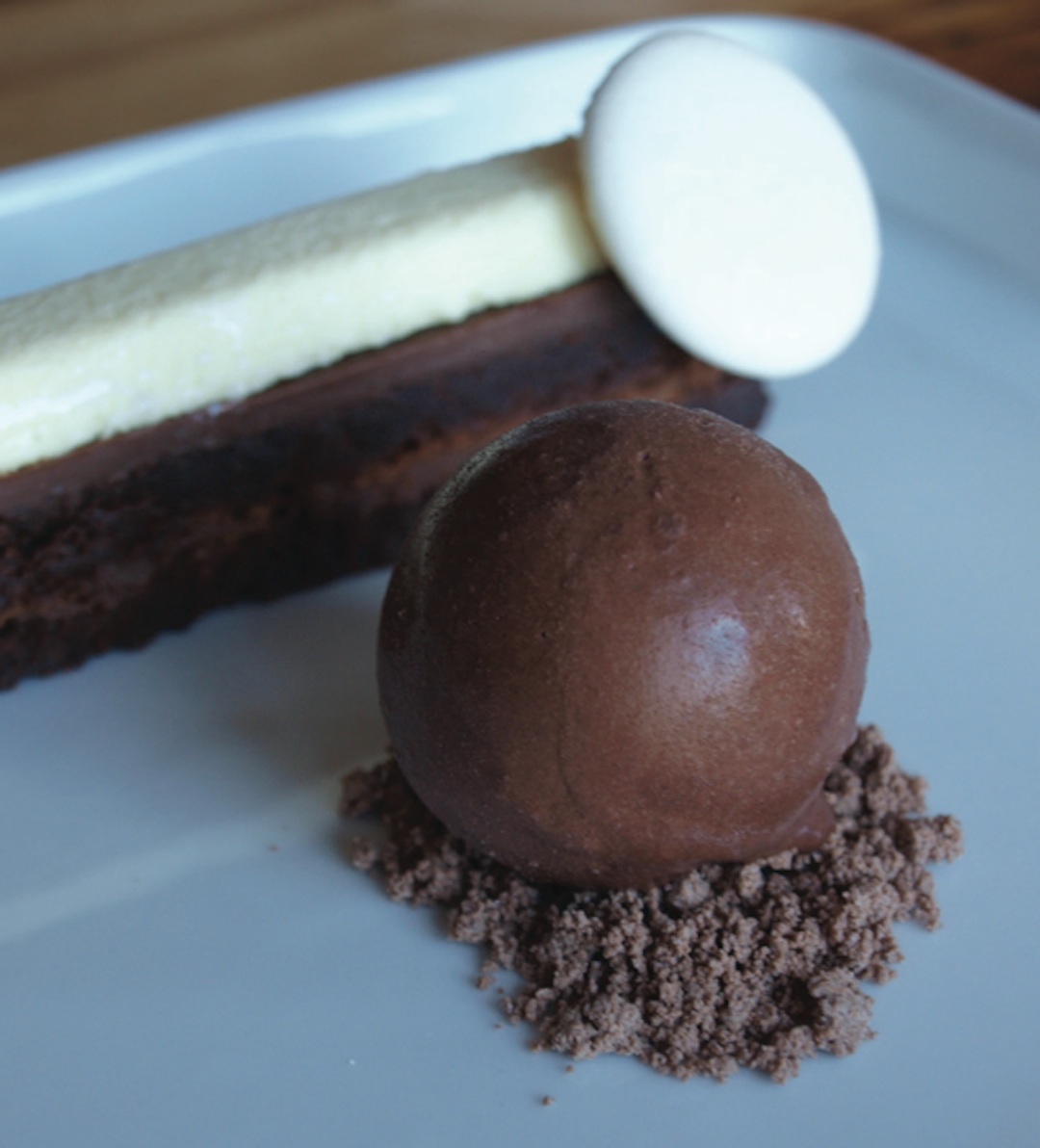 OWNERS DAWN AND Isaac Hershko bring updated—and upscaled—small plates to Nyack. Chef Moshe Grundman (formerly at Oceana) calls on his Israeli roots to prepare a menu of eye-catching dishes inside the eclectic space that seats 300. Sample house-made falafel and fresh pasta made to order and note the unique details in the food (from the visually stunning octopus carpaccio to the perfectly crafted French macaroons) and the deco (from the antique wooden tables to the eclectic flatware and plating). It's global cuisine, high-energy city-style dining at upstate prices (dishes average about $10) with a wine list to match. Live music and jazz add to the vibe.
Sixty 5 on Main
65 Main St., Nyack
(845) 358-5200
sixty5onmain.com
Tue-Thu 5–10pm, Fri-Sat 5–11pm, Sun 4–9pm