In the Hudson Valley, we're lucky to have easy access to farms, artisan producers, craft beverages, and to the restaurants and shops that take full advantage of them. Yet some towns have more than their fair share of exceptional places to eat, drink, and shop. From our favorite cities for a beer-fueled road trip to Kingston's new food business boom, these destinations are packed with culinary gems that keep us coming back for more.
– Beacon & Poughkeepsie –
Double down on the Valley's craft beer scene by stringing together stops at some of its best breweries and beer-obsessed restaurants.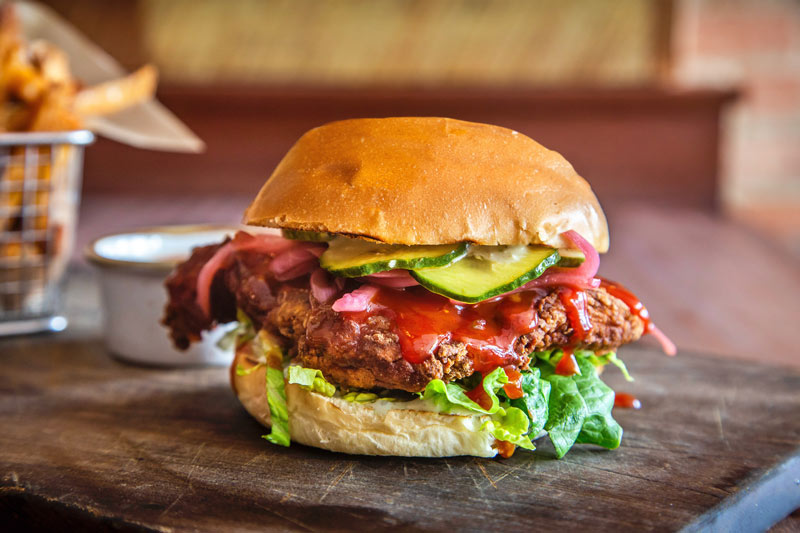 Start a craft-beer road trip in Beacon at Melzingah Tap House, where the 22-deep, mostly NYS tap list is available in half-pint pours. Pair your chosen suds with the buttermilk fried chicken sandwich with pungent, creamy, miso-blue cheese and spicy KFC sauce.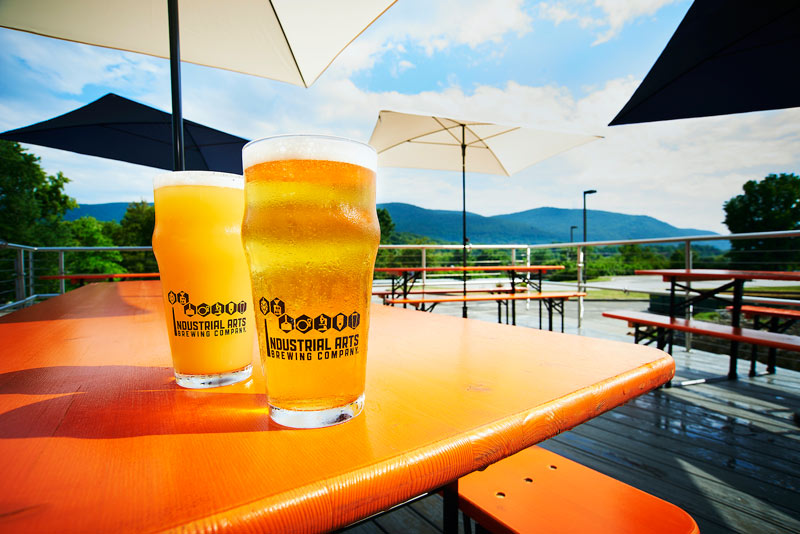 The new branch of Industrial Arts Brewing Company (with picturesque Mount Beacon views) is expected to open its full-service taproom this spring. Quench your thirst with a variety of styles, not just its popular IPAs. Pilsners, pale ales, lagers, and blondes make regular appearances in the rotation. In normal times, Hudson Valley Brewery is an ideal spot to spend a few hours drinking the entire tap list. Unfortunately, it's takeaway only right now. Grab your phone, and order four-packs or bottles of their mouthwateringly sour IPAs for quick pick-up.
Next, head north to Poughkeepsie. First stop, Plan Bee Farm Brewery for their funky farmhouse ales. Grab a pour, find a seat, relax to sounds of live music, and then walk the property to admire (and maybe IG story) the goats and chickens.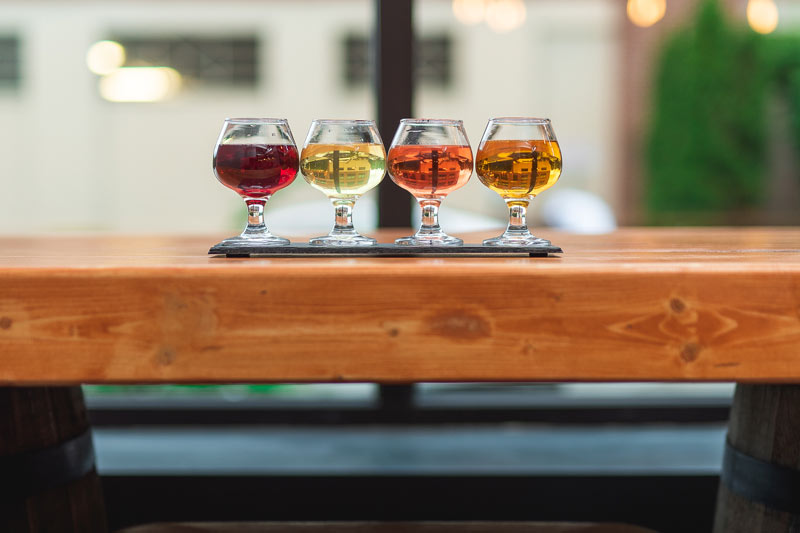 After, drop by Zeus Brewing Company. On a nice day, hit the rooftop for views and European-style brews, such as Belgian ales and Vienna lagers, in addition to sours, stouts, porters, and unfiltered IPAs. Post-pints, make a sweet switch from beer to small-batch honey wines at Slate Point Meadery next door. Dry-hopped selections will remind you of a session IPA; don't forget to grab some bottles or cans for carryout.
If you've got room for another round and some dinner, snag a table at Mill House Brewing Company. A flight of five, four-ounce pours is the best way to sample MHBC's repertoire, and the full-service restaurant has a large, beer-friendly menu, including solid wood-fired pizzas and the burgers. If they're offering Szechuan specials during your visit, they're a must-order every time.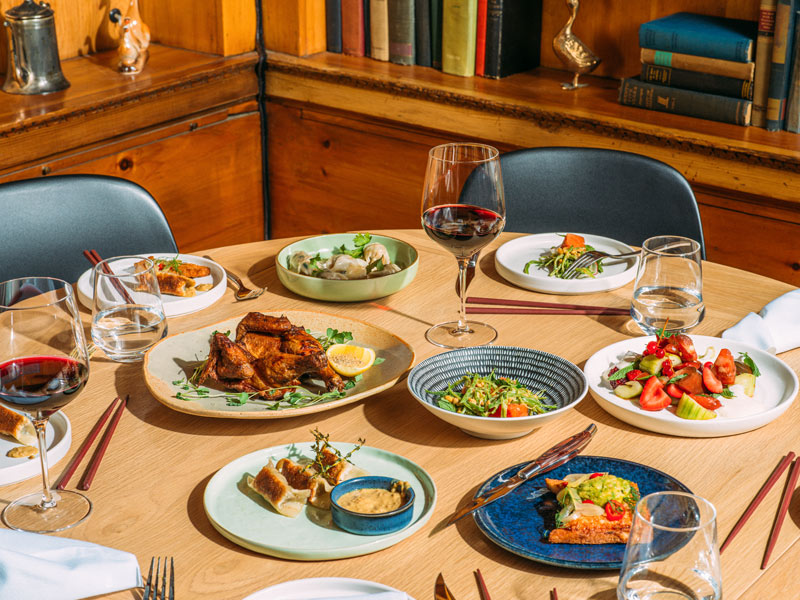 – Tarrytown –
Dubbed one of "America's Prettiest Towns," this Westchester community is also one of its most delicious.
In a turbulent year for the restaurant industry, Westchester resident and former Esquire editor Jeff Gordinier named just 23 restaurants to his 2020 "Best New Restaurants in America" list. Among them was Goosefeather at Tarrytown House Estate. The press was well-deserved — celebrity chef Dale Talde's modern ode to Hong Kong cuisine yields delicious dishes, like dry-aged beef dumplings, Berkshire pork char siu, and Cantonese Maine lobster — but it's hardly the Rivertown's only culinary treasure.
Overlooking the Hudson River and Cuomo Bridge, RiverMarket Bar & Kitchen is part farm-driven restaurant (Mangalista pork charcuterie and Hemlock Hill pasture-raised Bolognese, for example), part innovative cocktail bar, and part market, featuring products from Hudson Valley purveyors. Also embracing the market-cum-restaurant concept is Mint Premium Foods, where the selection skews more international, with barrels of imported Mediterranean olives, olive oils, chocolates, and uber-popular caramelized-onion cheddar. Across the street, Sweet Grass Grill builds its largely vegan and/or gluten-free menu on a foundation of local farm partners, including Blooming Hill Farm, Common Hands, Wild Hive, Ronnybrook, and Fable Farms.
On Saturdays, the TaSH Farmers Market — one of Westchester's best — sets up at Patriots Park. Emphasis is on producers within a 100-mile radius who employ organic and sustainable practices, and since the pandemic began last spring, select producers now offer pre-order and curbside pick-up.
Open since 2003, Coffee Labs Roasters is another Tarrytown institution. A certified green business, the shop roasts what it calls "relationship coffees" — made with sustainably sourced, direct-trade beans from farms where owners Mike and Alicia Love have built in-person relationships — seven days a week.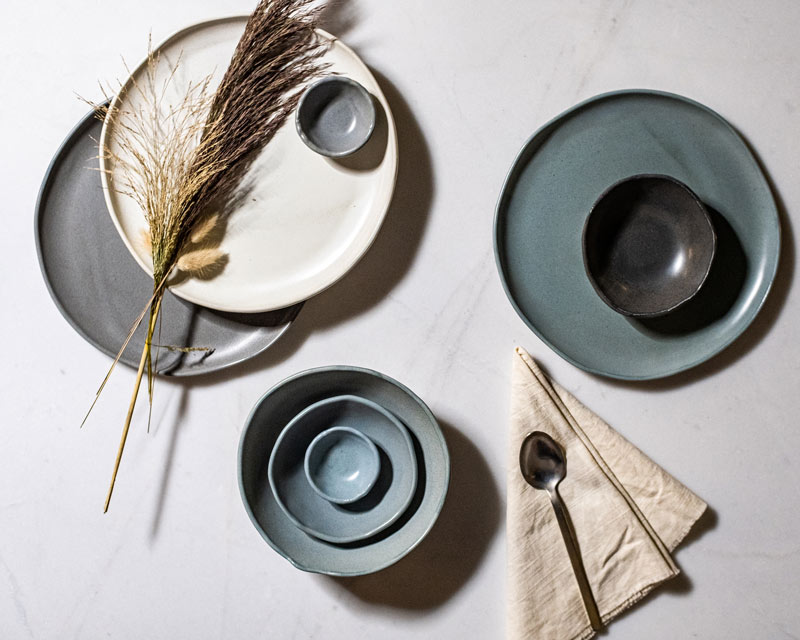 Newer to town is Makers Central, a shared workspace for local craftspeople. The community-minded concept goes beyond room to mold clay, carve wood, and forge knives; members also share business advice and a network of support professionals. Just outside, hidden gem pop-up bakery The Hudson Oven recently erected a new bread cabinet. Part of its new subscription model, loyal customers can now sign up for monthly shares of sourdough loaves for contactless pick-up.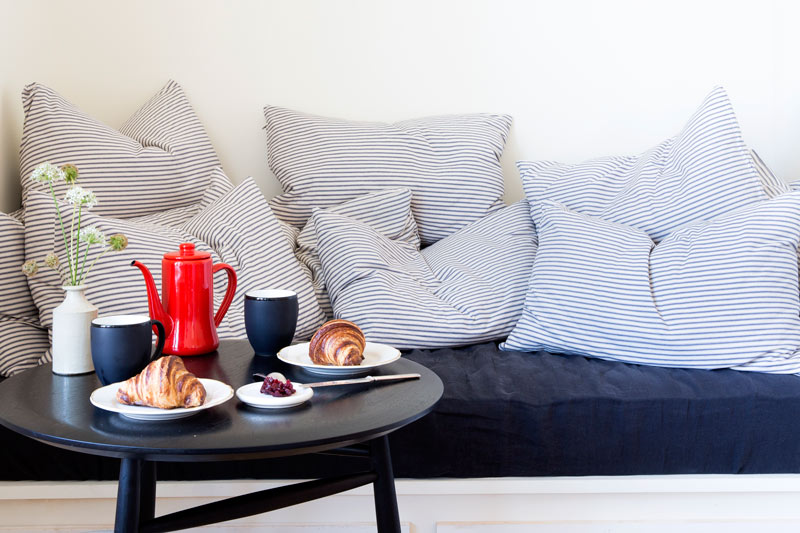 – Hudson –
Out-of-towners and locals alike find more than their fair share of culinary riches in this trend-driven city. Here's how we'd experience it all.
Only dishing out baked goods Friday–Monday, there's often a line at Breadfolks, which opened on Warren Street in 2020. Inside, shelves are lined with organic, naturally fermented breads and European-style pastries, like sugary baklava cruffins, orange-cardamom buns, cannelés, and flaky kouign-amann. Weekends are also a good time to rise and shine for brunch at Rivertown Lodge, where instead of eggs Benedict, you can dine on spent grain biscuits with cultured butter, herb-packed kuku sabzi, a Calabrian chili and fontina BEC, or a puffy Dutch baby with ricotta and maple.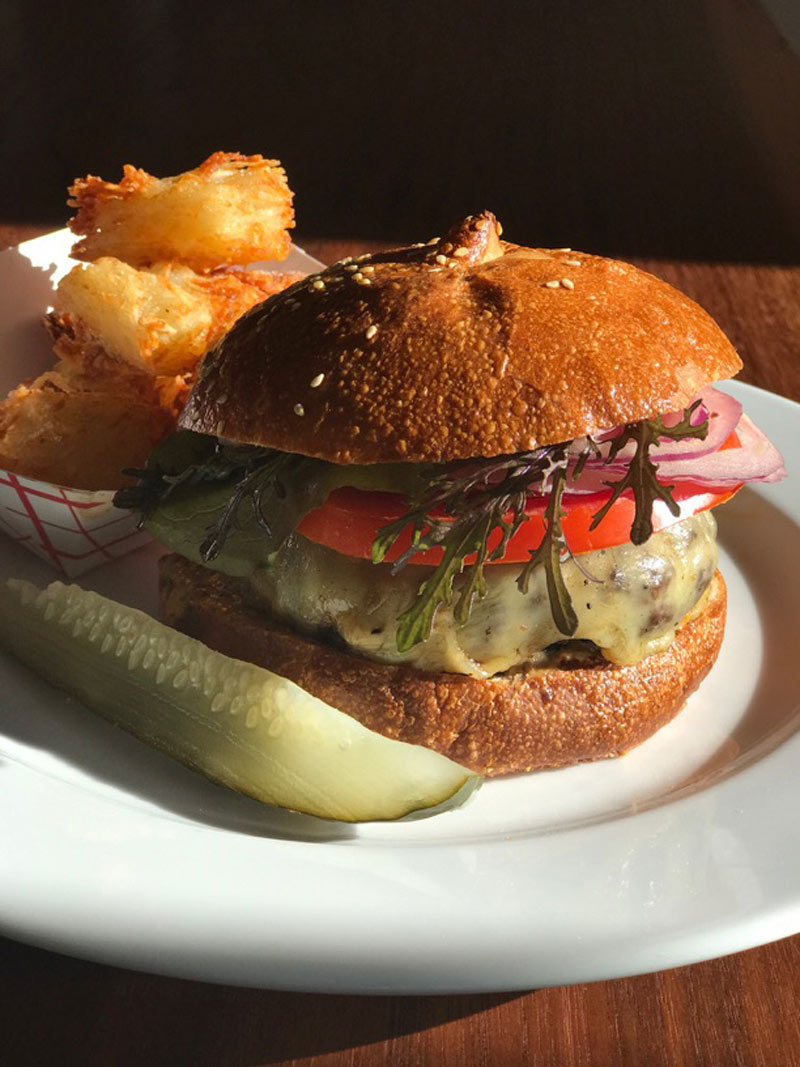 Though the exterior looks like your typical greasy spoon, Grazin' slings impeccably sourced diner burgers. Owners Dan and Susan Gibson raise their own grass-fed-and-finished Black Angus beef on a nearby farm to build juicy patties with in-season toppings and perfect, hand-cut organic fries. At New American Swoon Kitchenbar, the menu — spice-rubbed skirt steak, local vegetable risotto, grilled pork chops — changes with the bounty of nearby farms. Owners Jeff and Nina Gimmel also operate French Le Perche with a similar ethos and the added bonus of an on-site wood-burning bakery.
A wood-burning oven is also the foundation at Oak Pizzeria Napoletana, where naturally leavened pies come in two forms: puffy-edged Neapolitan and thick-and-airy Roman squares. To meet increased demand for to-go options, part of the space is now a salumeria, offering house-made spreads (ember-roasted eggplant, onion jam), roasted vegetables, and cured meats.
Taking up residence in the former Fish & Game space is Feast & Floret. Part flower market and part Italian restaurant, it's less taxidermy décor and more tagliatelle Bolognese, truffled egg toast, and bitter chicory salad with apple, gorgonzola, and hazelnuts. At the other end of Warren Street, Hudson Food Studio transforms seasonal ingredients from local producers into Southeast Asian-style plates, inspired by Chef David Chicane's travels to Vietnam. Order the roasted Brussels sprouts with nam sla aioli, the hoisin-miso Berkshire pork belly, and whatever ramen or pho is on offer that day, and thank us later.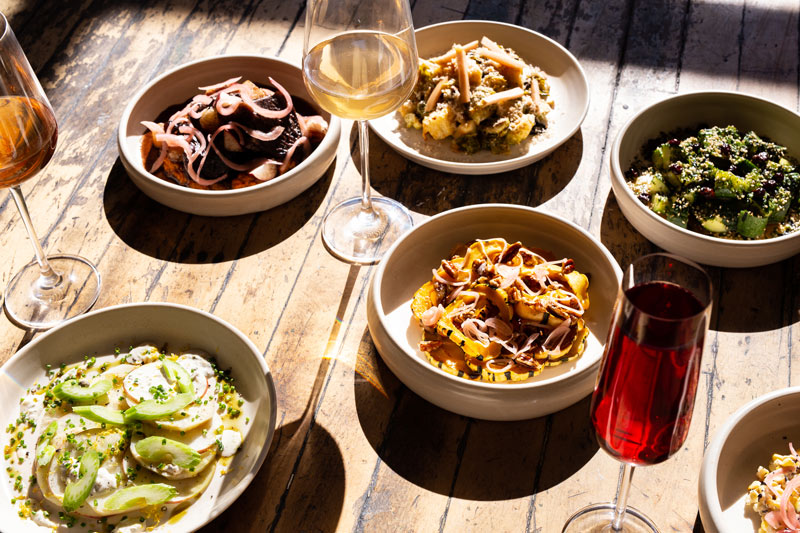 Throw a stone and you're likely to hit a restaurant or bar where the wine list skews organic, biodynamic, and minimal intervention. Tiny Sonder is the city's latest natural wine bar. Trust the three-person team to pour you a glass of something exciting (Catalonian skin-contact wine or chilled reds, perhaps) to pair with chef/owner Daniel Bagnall's impressively complex cooking, like delicata squash with burnt-garlic aioli. Lawrence Park has an extensive by-the-glass list, with more than 20 selections, plus beers from some of the Valley's best breweries, including Suarez and Equilibrium.
Want to take home a few bottles? Grapefruit Wines is a new natural wine shop from the owners of Kitty's, where you can pick up wines, spirits, ciders, and amari or sign up for a monthly subscription.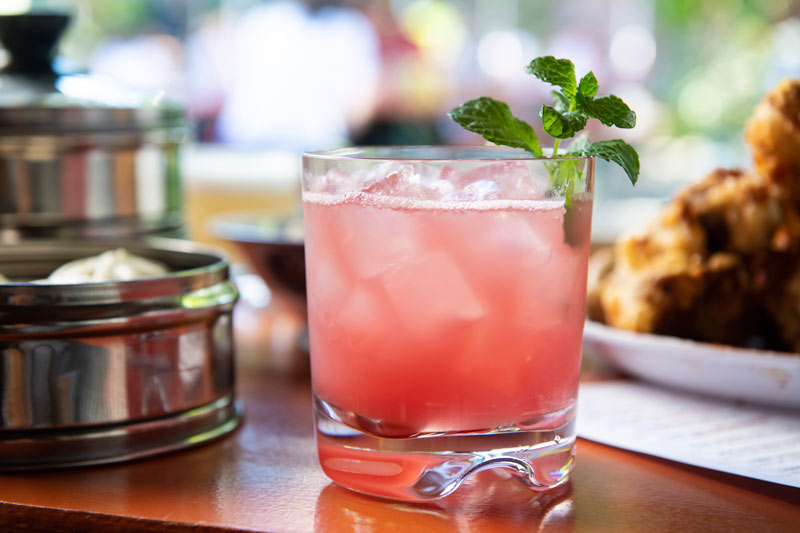 For something a little stiffer, Wm. Farmer and Sons is our favorite spot to grab a drink in Hudson. The anything-but Standard Cocktails list features original creations, like the Royal Navy Old Fashioned; adapted recipes from vintage cocktail tomes; and drinks, like the bourbon-based Bodega Buck, inspired by contemporary bars with serious cocktail cred. At Backbar, the outdoor courtyard is the ultimate warm-weather hang thanks in part to its playful slushie cocktails. Pair a Where There's Smoke (mezcal, chili Aperol, smoked agave, and lime) with some of Zak Pelaccio's shareable, Malaysian-inspired plates, including spicy dan dan noodles, cured pork bao, and beet laab.
For lovers of all things cheese and charcuterie, there's maybe no better shop in the Valley than Talbott & Arding. Alongside European favorites like crystalline Gouda and silky prosciutto di Parma, owners Kate Arding and Mona Talbott make a point to stock delicious delicacies from the Hudson Valley, including Churchtown Dairy and Four Fat Fowl cheeses, Jacüterie salami, and Catsmo smoked salmon. Round out your order with some of the shop's prepared foods, from house-made artichoke-lemon spread and duck rillettes to chicken pot pie and New England clam chowder.
Prefer soft scarves to soft cheeses? Fluff Alpaca shears its own small herd for its line of super-cozy, sustainable, alpaca fiber throws and shawls. Another favorite is Flowerkraut, a quirky little flower shop that offers locally-sourced-when-possible floral arrangements — and a variety of fermented probiotic foods, like sauerkraut, hot sauce, and kimchi.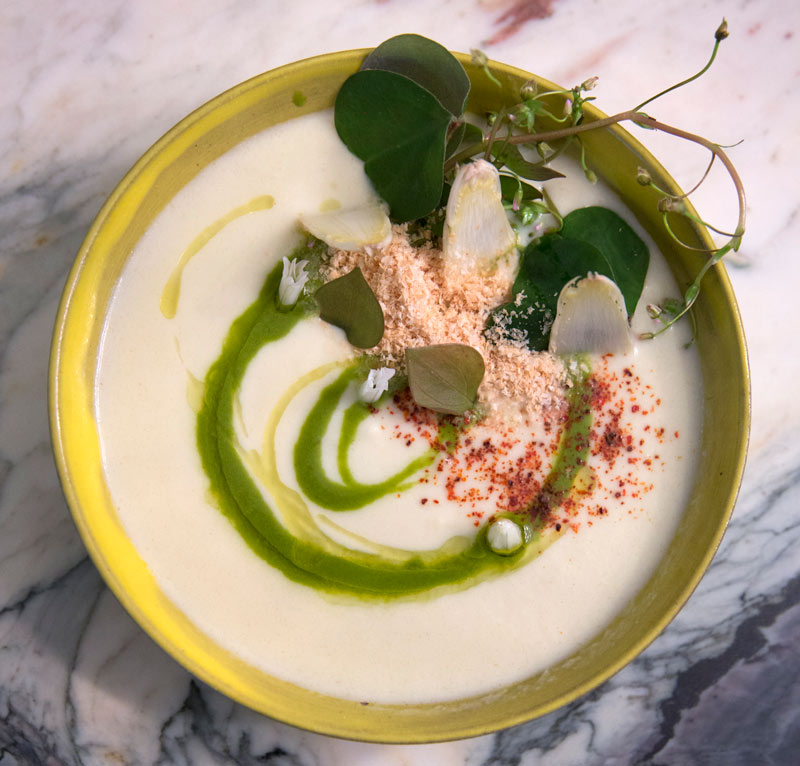 – Tivoli –
Small though this Dutchess village may be, it's big on delicious destinations, from fine-dining restaurants to family farms.
For a tiny village of just over 1,000 residents, Tivoli eats well. The adorable little downtown is anchored by Hotel Tivoli and The Corner, its Mediterranean-inspired restaurant with an inviting wraparound porch. Chef Devon Gilroy's own Tivoli Mushrooms make frequent appearances on the menu, and artist-owners Brice and Helen Marden's Plane Meadow Farm provides much of the produce. Next door is the colorful Fortunes Ice Cream with seasonally inspired flavors like buttermilk peach and fig honey balsamic, plus perennial favorites, including darkest chocolate and golden milk.
GioBatta Alimentari is both a welcoming restaurant and a market. Chef-owner Francesco Buitoni — yes, of that Buitoni family — crafts house-made pasta, crisp focaccia, a superb kale salad with pine nuts and pecorino, and so much more. Tivoli General has well-edited grocery items, take-away salads and sandwiches, along with their famed Tivoli-made baguettes, country levain sourdough, and treats like Blood Orange Olive Oil Cake.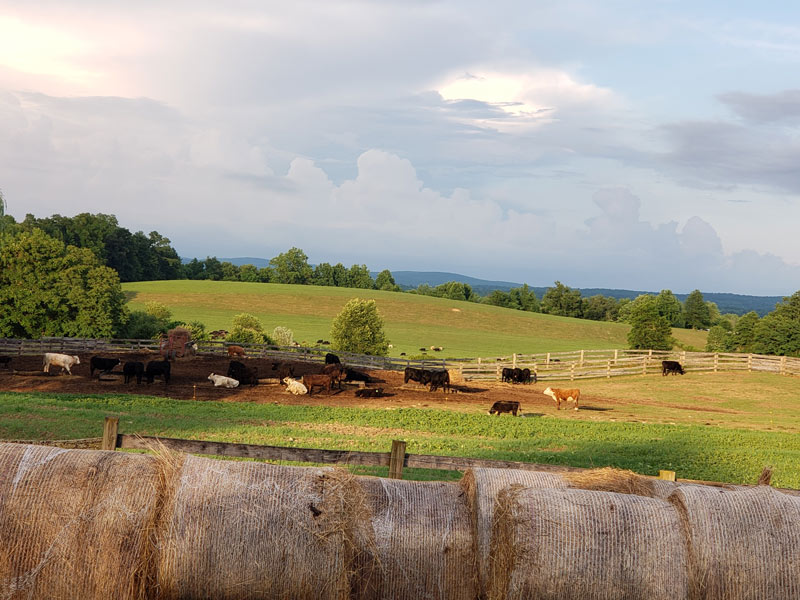 Just outside town, there's family-owned Northwind Farms, where antibiotic- and hormone-free poultry and meats have been raised since 1982. Drive in and choose from all-natural, grass-fed beef, plus pork, chicken, turkey, lamb, smoked meats, and other specialties depending on the time of year. Popular Mead Orchards spans the seasons with pick-your-own strawberries, sweet and tart cherries, blueberries, peaches, and apples.
Another local gem is Upstate Farms NY. For many years, they delivered Hudson Valley produce (their own and from other farms that met their exacting standards) to Manhattan's finest restaurants. Since COVID-19, they have been offering Farm Boxes to area residents, with the option to add on local honey, cheeses, dairy, maple syrup, and more. Full of delicious surprises, orders can be picked up on weekends at the farm.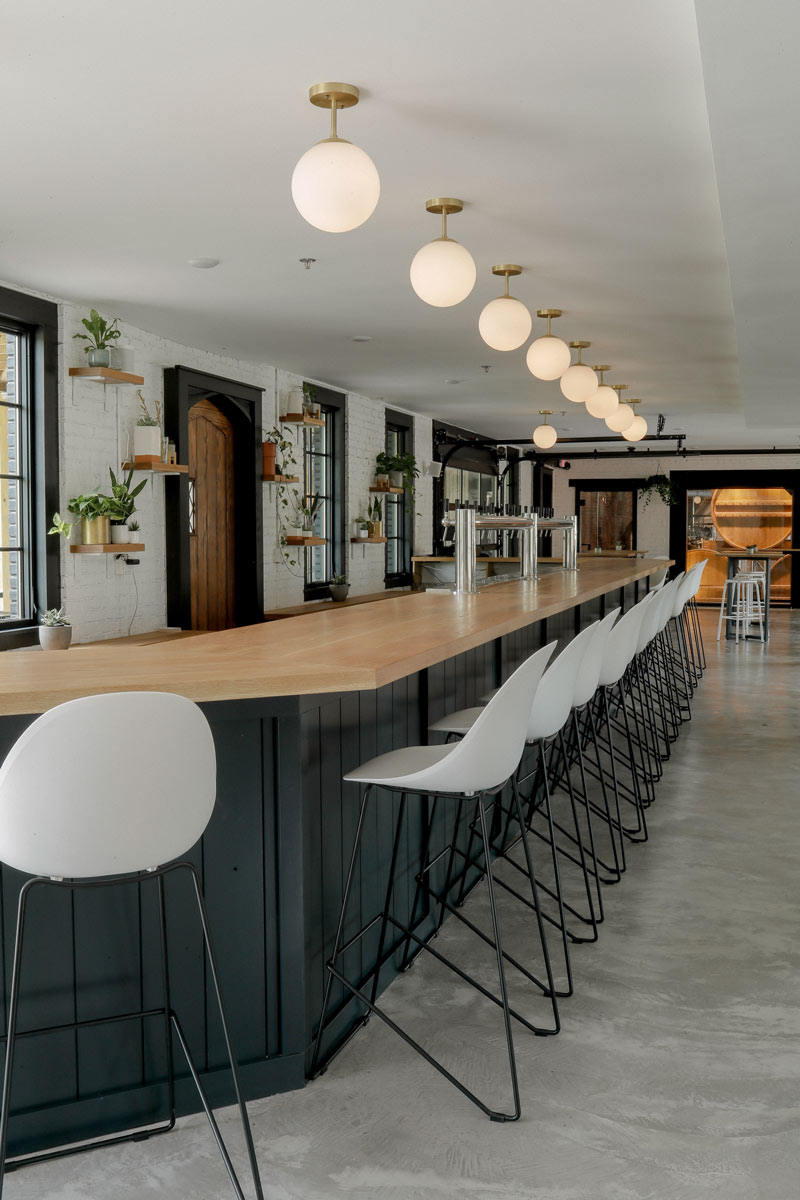 – Warwick –
The Black Dirt Region's rich soil inspires businesses to take their cues from the bounty of the land.
Using the surrounding elements to deliver the highest quality food and drink seems to be standard practice in Warwick. At Black Dirt Distillery, the fertile soil of its namesake region is the impetus for its small-batch spirits, including its award-winning Black Dirt Bourbon, made with Black Dirt-grown corn and aged for a minimum of three years. Drowned Lands also dials into the region's specific terroir, allowing seasonal microflora to influence the brewing process for its experimental IPAs, table beers, and farmhouse ales. In addition to its wines and spirits, including sour cherry cordial and pear liqueur, Warwick Valley Winery & Distillery is also home to Doc's Cider, the oldest operating cidery in NYS, which crafts more than a dozen canned ciders from 65 varieties of heirloom and modern apples.
Local breweries, cideries, and wineries feature heavily on the beverage program at The Grange, where the farm-to-table menu rotates frequently to accommodate what's available from regional producers, like Hudson Valley Cattle Company, Lowland Farm, and Pennings. The on-site market is full of local goodies, including honey, eggs, Tonjes Farm Dairy cheeses, and house-made sauces, dressings, and condiments. At Fannie's, owners Brittney Hiller and Stephanie J. Roth pride themselves on incorporating locally sourced ingredients in homemade dishes, like house-made organic corn crêpes with black bean purée, fried local eggs, and J&A Farm salsa.
Family-owned Noble Pies bakes sweet and savory pies — Black Dirt chocolate cream, Will You Marry Me Cherry, and Hudson Valley apple — using 100-year-old heirloom recipes from owner Leslie Noble's grandmother, sustainable Northeast-milled flour, and grass-fed Catskills butter.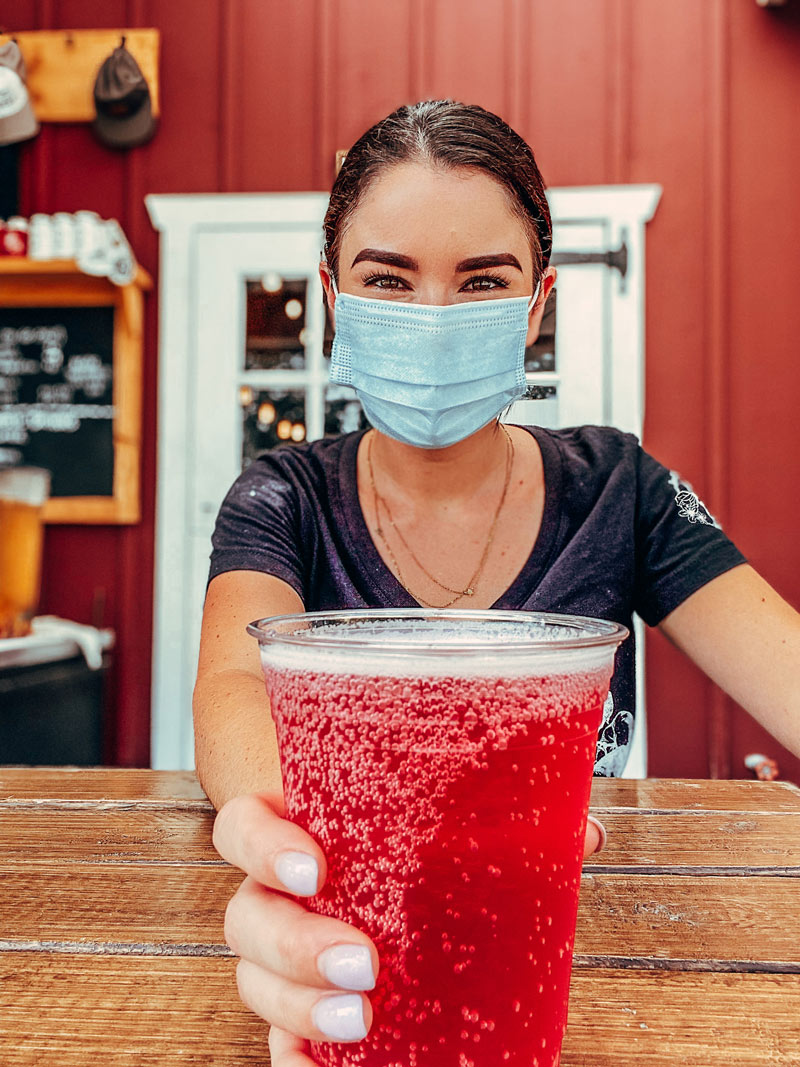 Situated on more than 50 acres, Pennings Farm's orchard boasts more than 20 varieties of apples for fall u-pick, and the on-site market churns out hot apple cider donuts year-round. Since 2015, the property has also been home to Pennings Farm Cidery, where the regular rotation includes a dozen ciders on tap, including maple-vanilla, Bourbon cyser, and electric pink ginger beet.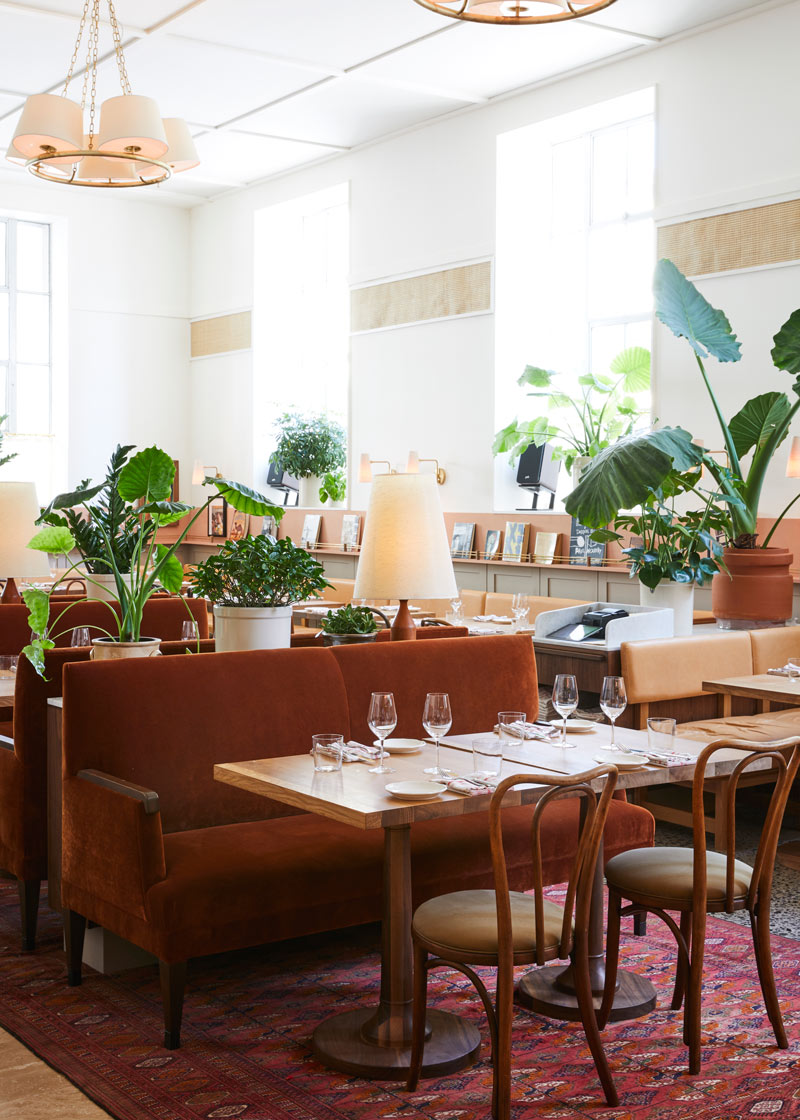 – Kingston –
In a year that shuttered many restaurants, the Kingston food-and-drink community saw an unexpected spike in creative, delicious, new business.
"Since we opened, a lot has changed in Kingston — especially since the arrival of the pandemic," explains Anthony Stromoski, co-owner of Rough Draft Bar & Books. He and his wife, Amanda, opened the independent bookstore-meets-craft-beer-bar in 2017, and have watched Kingston transform into one of the Valley's most vibrant dining destinations. Though they've had to pivot to a pick-up and delivery model due to COVID, they've managed to remain open. But not all Kingston businesses have been so lucky. "We've unfortunately lost some beloved places, including Elephant, Duo Bistro, Alebrijes, and Crown," says Stromoski. "But, [we've also] gained some new favorites."
In the past year, Kingston has seen a surprising boom of new food-and-drink businesses. There's Tortilla Taco Bar, which opened in the Rondout neighborhood in June, with an emphasis on house-made tortillas and deep-fried vampiros tacos. First Capital Poké Bar opened in Uptown, as did Gráinne, housed in the former Duo space, where chefs Christine Campbell and Jennifer Cruz turn out plates like chimichurri-rubbed local skirt steak, cassoulet, and house-made pastries, including whoopie pies, cinnamon buns, macarons, and more.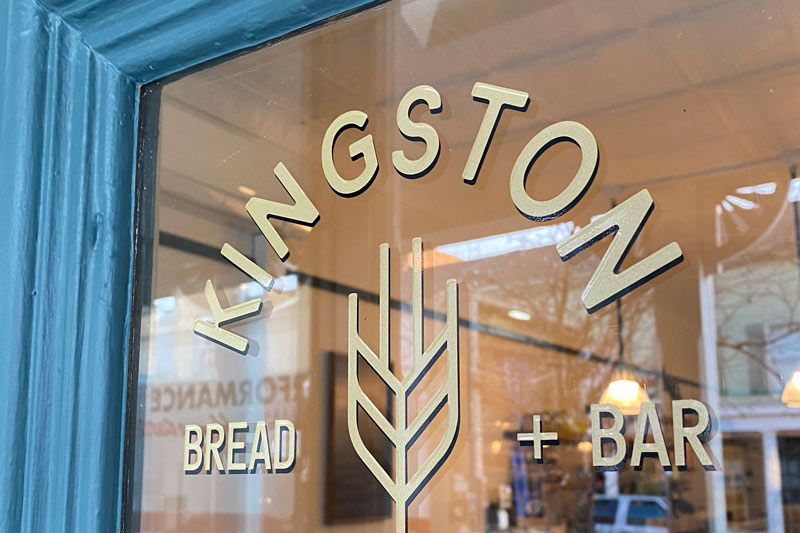 Another anticipated opening was Kingston Bread + Bar, co-owned by the Stromoskis. "We started as a pop-up and weekly community-supported bread pick-up over three years ago, and then expanded to a brick-and-mortar in February 2020," says chef/owner Aaron Quint, whose passion for artisanal baking yields crusty loaves and shatteringly crisp croissants. "We had grand ambitions of being an all-day bar and restaurant, but had to pivot during the pandemic to keep our staff and customers safe." Currently, the 16-tap bar only pours draft beers for growler fills and loyal patrons wait in line for hand-rolled bagels, naturally leavened sourdough, daily sandwiches, and fudgy-centered chocolate chip cookies to-go.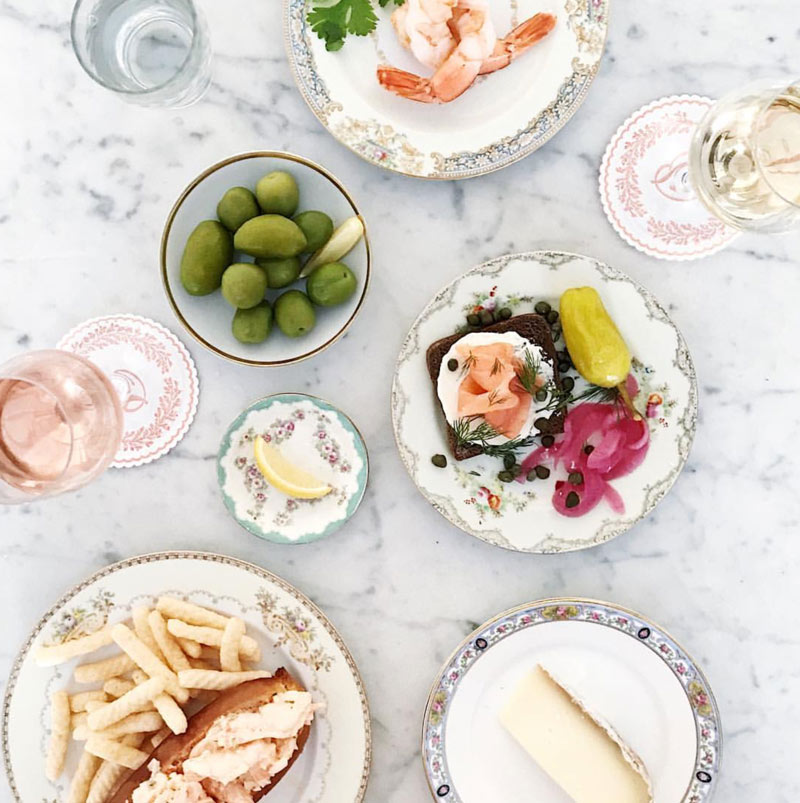 "What's incredible is that now, within the city of Kingston, I can get locally sourced meats from a really thoughtful butcher. I could walk down the hill from my store to get an amber wine from Georgia poured by the glass at Brunette, or walk up the hill to Lis Bar to get an incredibly curated beverage program," espouses Michael Drapkin. In 2013, when Drapkin opened Kingston Wine Co., it was one of the Valley's first destinations dedicated to natural wines. Today, just in Kingston, there are several businesses with an emphasis on wines that are produced organically, biodynamically, and/or without mechanical intervention. "It feels like every four or five months in the past years, a really new and wonderful business has opened up," says Drapkin.
That's particularly true in Midtown, where 2020 brought big news. In February, the James Beard Foundation announced the semi-finalists for its Best Chef: New York State award. Among the honorees was Albert "Sammy" Bartley, whose tiny Jamaican joint, Top Taste, turns out tender oxtails, fragrant curry goat, crisp fried chicken, jerk pork, and more.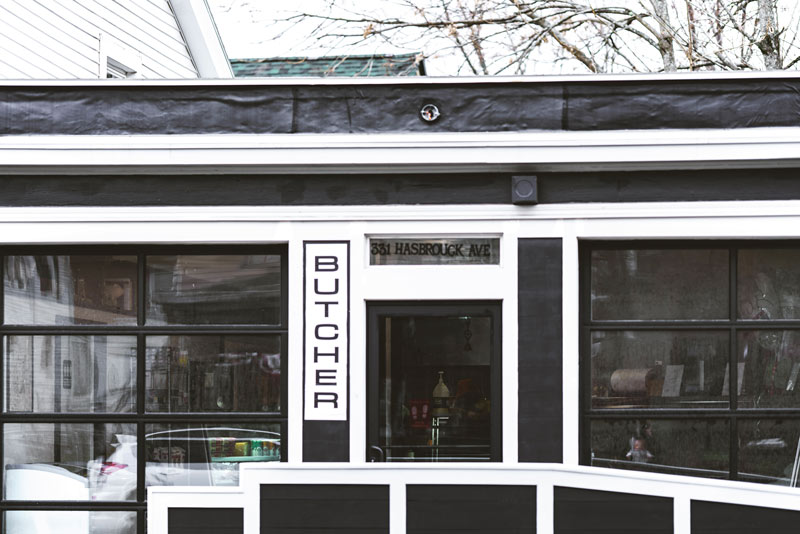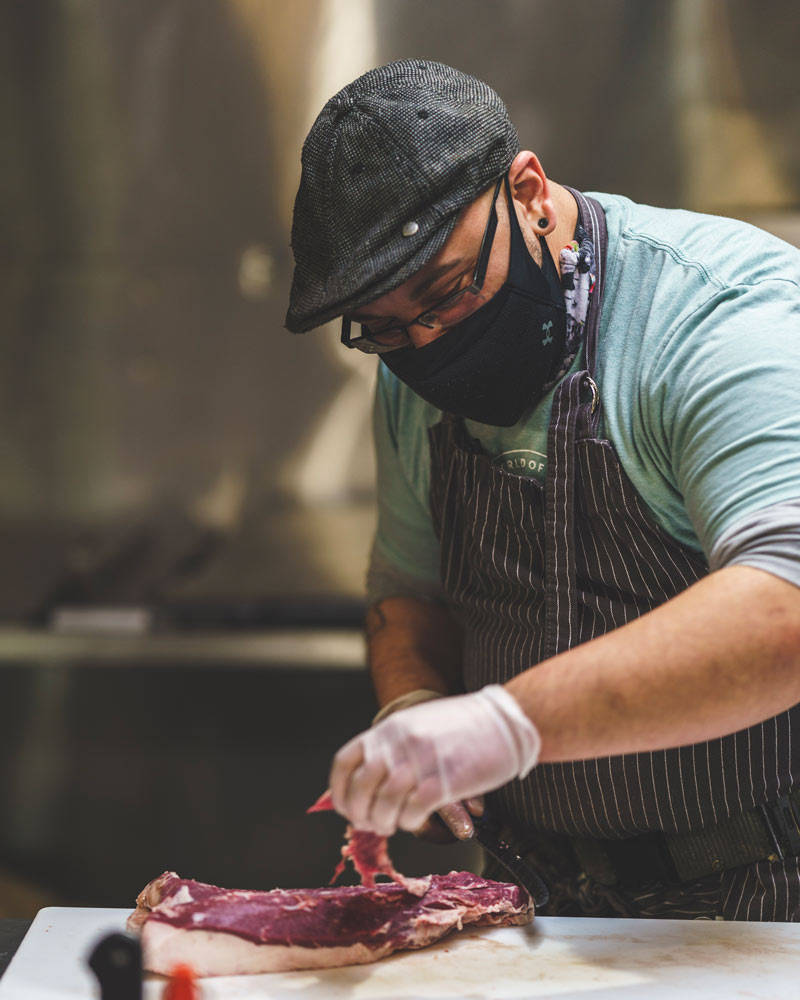 The neighborhood also saw a spate of openings during the pandemic. Fleischer's alum Stefano Diaz opened The Meat Wagon, a whole-animal butcher shop with a focus on pasture-raised and grass-fed animals, and eclectic Lunch Nightly blends the craft-butcher concept with a restaurant, sandwich shop, and natural wine program. In March 2020, Chef Ozlem Oguzcan-Cranston and her husband, a Kingston native, opened Masa Midtown on Broadway, a brick-and-mortar extension of their Mediterranean and Turkish catering company. Since the pandemic began, they have had to pivot from an event space to offering take out. "So many people have expressed their happiness about Turkish food finally being in Kingston. Some are familiar with the cuisine, and others have never tried it but are very open to new flavors," she says. "The most exciting thing about the food scene here is that you really get to know the people behind the businesses and their stories. There's a real connection between the businesses and the community."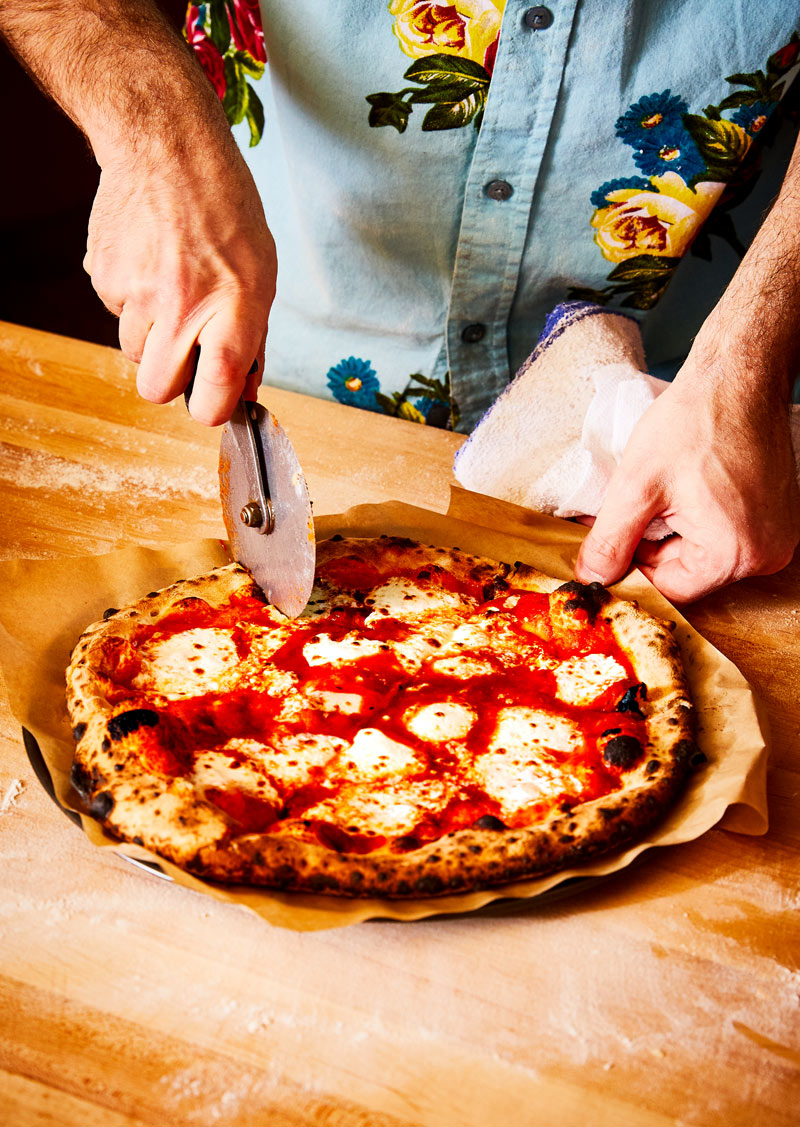 One new opening, however, seems to have made the biggest impact. In July 2019, the first rooms opened at Hotel Kinsley, a new hotel by developers Charles Blaichman and Michael Barry, which will ultimately span four Uptown buildings with a planned 42 rooms. The on-site restaurant, led by NYC restaurateur Taavo Somer with a menu developed in consultation with Zak Pelaccio, was the year's most anticipated opening. And, in January 2020, Somer launched Lola Pizza, featuring another Pelaccio-created menu, serving wood-fired pizza — get the smoked brisket pie with caramelized shallots and taleggio — pastas, and a build-your-own soft serve menu.
"It's undeniable that Hotel Kinsley and its affiliated bars and restaurants have had a huge effect on the volume of visitors to Uptown, and have created a sense of excitement and demand for upscale food and drink options," says Rough Draft's Stromoski.
What's next? Hopefully, more new business. "It's encouraging," says Drapkin. "As a consumer, a fellow business owner, and a resident in the area, it's an incredibly hopeful message…a reminder that entrepreneurial spirit and drive can't be contained, even during a pandemic."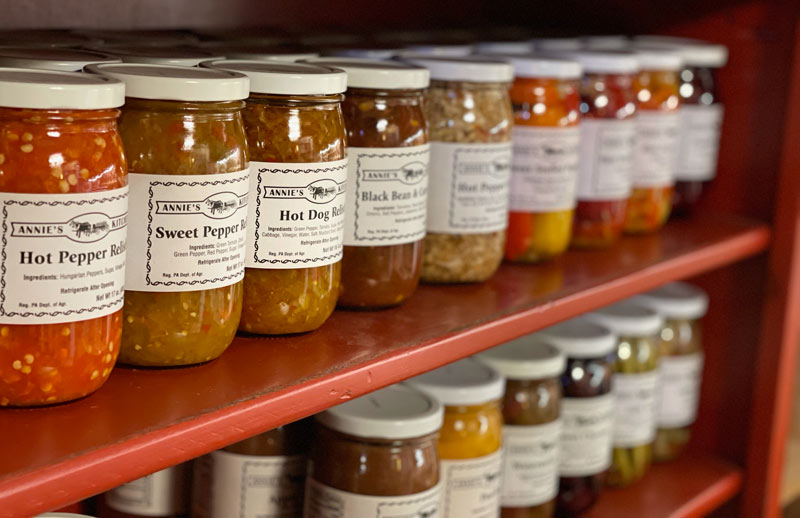 – Cold Spring –
Drawing on the wellspring of area farms, creameries, and artisan producers, the charming village of Cold Spring offers an eclectic collection of enticing spots for foodies.
At Cold Spring Coffeehouse, it's not just the coffee, sourced from Stacks Roaster in Albany, that shines. Pastries, made fresh each day at 4 a.m. with Farmer Ground Flour and local ingredients, frequently sell out; fortunately, pre-orders are welcome. Try the everything bagel pretzel stuffed with cream cheese or a gluten-free roasted garlic and Gruyère biscuit. Vegan croissant Fridays — vanilla matcha, yum! — began in January.
Hudson Hils Café and Market is a bustling breakfast and lunch spot, originally planned as a prepared foods café with some seating, that has drawn crowds on Main Street since 2009. Owner and classically trained chef Bob Hayes and his wife, Hilary, source much locally. The menu matches the casual farmhouse feel, with all-day breakfast, including the popular shirred eggs, salads, sandwiches, and light fare. Hayes also bakes cakes, pies, and gluten-free bread in-house for pick-up or pre-order.
Mismatched wooden shelving houses hundreds of spices in eco-friendly packaging at Spice Revolution, a funky spice shop-cum-bakery owned by former sous and pastry chef LJ Fastiggi. She sources near and far (thyme from the Berkshires, salt from Australia) from farms that are organic and fair-trade certified for small-batch, non-irradiated spices, coffees, and teas, which are cleaner and fresher. Delectable cookies, pies, and savory tarts are baked using local ingredients.
Jars of regionally made homespun condiments, including relishes, jams, honeys, hot sauces, pickles, and even pickled eggs, fill Country Kitchen at The Shoppes, a cozy room in The Shoppes on Main Street. Pick up a jar of Annie's Kitchen plum preserves, still made in two-gallon batches by the grandson of the company's namesake, and check out Awesome Country's marinades, mustards, and colorfully named salsas like Bottom of the Swamp Mud.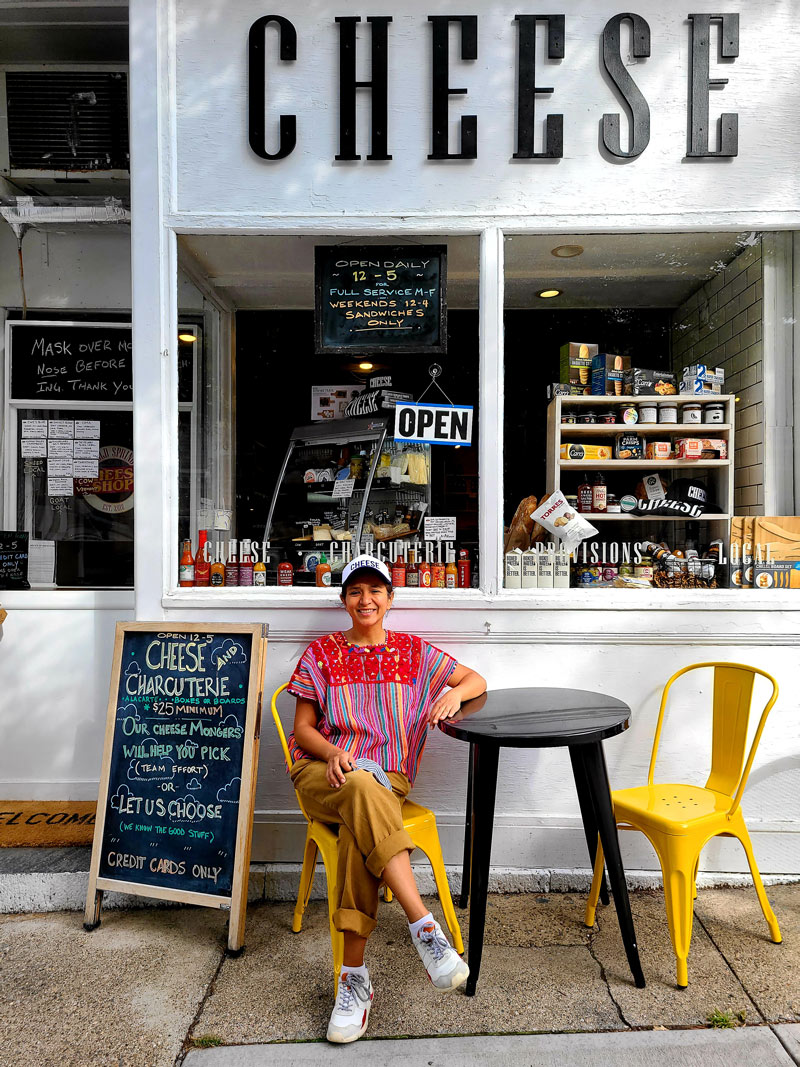 Across the street is Cold Spring Cheese Shop. Owner Timothy Haskell, a theatrical director, designed this appealing gourmet cheese, charcuterie, and provision shop as an immersive experience for cheese lovers. Open since July 2018, the shop emphasizes Hudson Valley and New York State products from both well- and little-known producers (think Churchtown Dairy and R&G Cheesemakers). Sandwiches and cheese boards are composed by helpful staff, who will even FaceTime with you to create a custom basket.
Also nearby is Barber and Brew, just the kind of quirky establishment at home in Cold Spring. Here, you can get a haircut in hunter green, leather-backed chairs while sipping a craft beer. In non-COVID times (currently, cans and crowlers are available to-go), settle into the bar, a gorgeous space of brick, gleaming wood, and a scalloped marble backsplash, where, despite there being no full liquor license, non-beer drinkers can enjoy soju cocktails.
Lines out the door and down the porch steps are a regular occurrence at Moo Moo's Creamery, a popular ice cream shop with views of the Hudson River. Ice creams, including sugar-free scoops, are made fresh daily from owner Alexei Katsetos' prized family recipes, which use the best available ingredients whenever possible. Sixteen choices are offered from the 75-flavor menu at any given time, ranging from chocolate chip to Guinness chocolate-covered pretzel to caramel cashew.
Chris Pascarella and wife Lisa Hall, who enjoyed stocking their freezer with whole-animal shares, were surprised more Hudson Valley residents did not buy local meat from butcher shops. They opened Marbled Meat Shop in 2014 to sell well-sourced meat, using whole-animal butchery practices. Pascarella practices Old World-style seam butchery, offering popular and lesser known, less expensive cuts like Denver steaks. There's also game, seafood, and prepared foods made in-house that help the shop use all parts of the animal. The shop is located on Route 9, sandwiched between Cold Spring Coffee Pantry and Vera's Marketplace.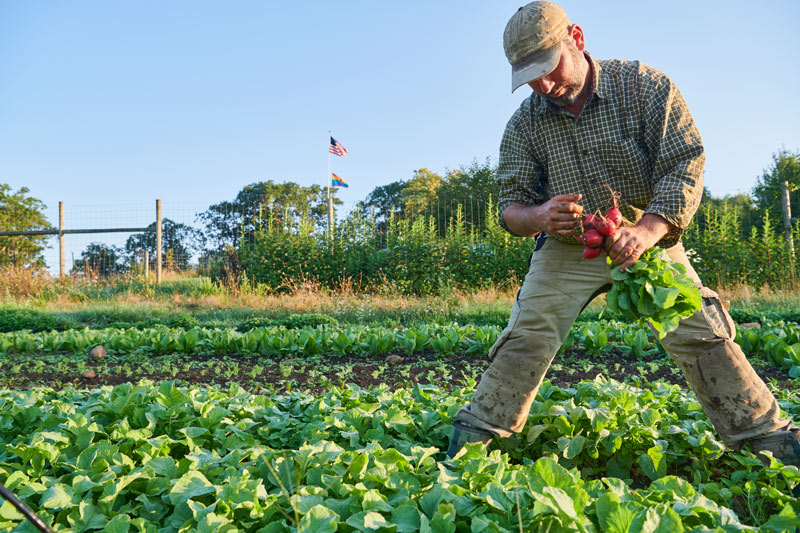 A gem whose work is nationally recognized, Glynwood Center for Regional Food & Farming has practiced regenerative agriculture since 1993 to ensure farming and a healthy regional food system thrive in the Hudson Valley. The 225-acre center (about five miles from Main Street) offers a wealth of programs to train and support farmers, farms, and local agricultural businesses, and creates coalitions among farming communities. The Cider Project has helped cultivate a flourishing hard cider industry in the state, while racial justice initiatives are being instituted to promote equity in food and farming. Though public programming this year is scaled back due to COVID, you can join their CSA or shop at the farm store.