PASCALE LEDRAOULEC IS NO STRANGER to kitchens. A former restaurant critic for the New York Daily News, the author of American Pie: Slices of Life (and Pie) from America's Back Roads (Harper Perennial, 2003), and now manager of the Hastings, Irvington, Chappaqua and Phelps Hospital Farmers' Markets, she knows a little about food and how to prepare it. So when she said "kitchen renovation," there was bound to be serious business afoot, like maybe an induction range, custom cabinets, double oven, wine cooler…
Think again.
All LeDraoulec really wanted was a little more room and a little more function.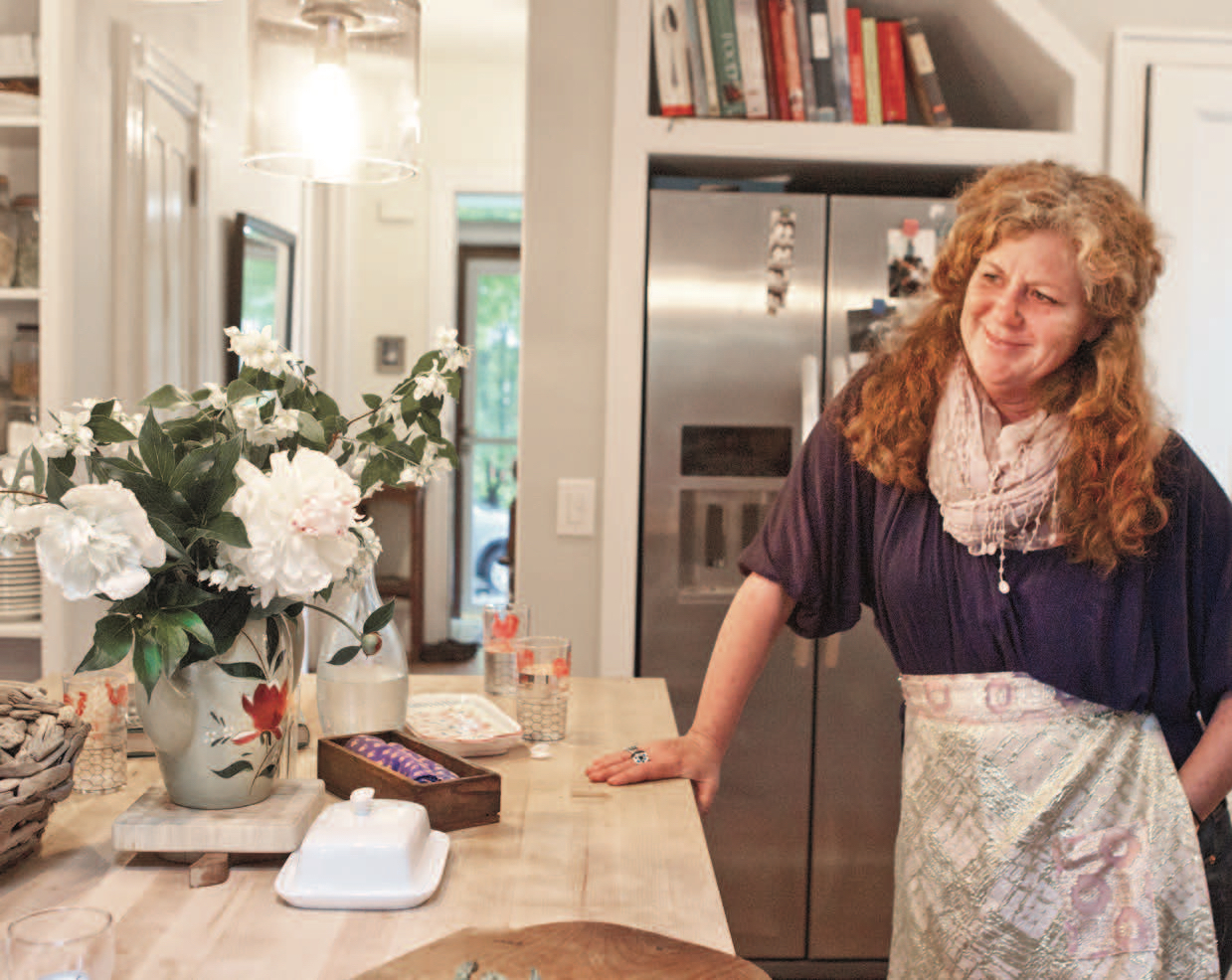 "I've cooked in tiny kitchens and it's not the size of the kitchen, but it's the functionality of the kitchen," she says. "The old kitchen used to be a closet—the fridge came out to here (it wasn't counter-depth). I had a tiny butcher block on legs—only yay big—all my cooking for eight years was on that tiny butcher block. It was so tight. You should have seen the light I had—fluorescent tubing. We all looked pale and green, like we'd all eaten bad oysters."​
LeDraoulec lives with her two daughters, Mina, 9, and Sabine, 7, in a modest but good-size home amid identical structures on a cozy block in Hastings-on-Hudson. Odd-sized rooms with a myriad of doorways in the 1896 structure offered few obvious solutions to the space problem. There was a bright, open living/dining area, but short of completely removing a wall between the kitchen and dining room and thereby opening the floor plan, LeDraoulec felt hamstrung as well as cramped.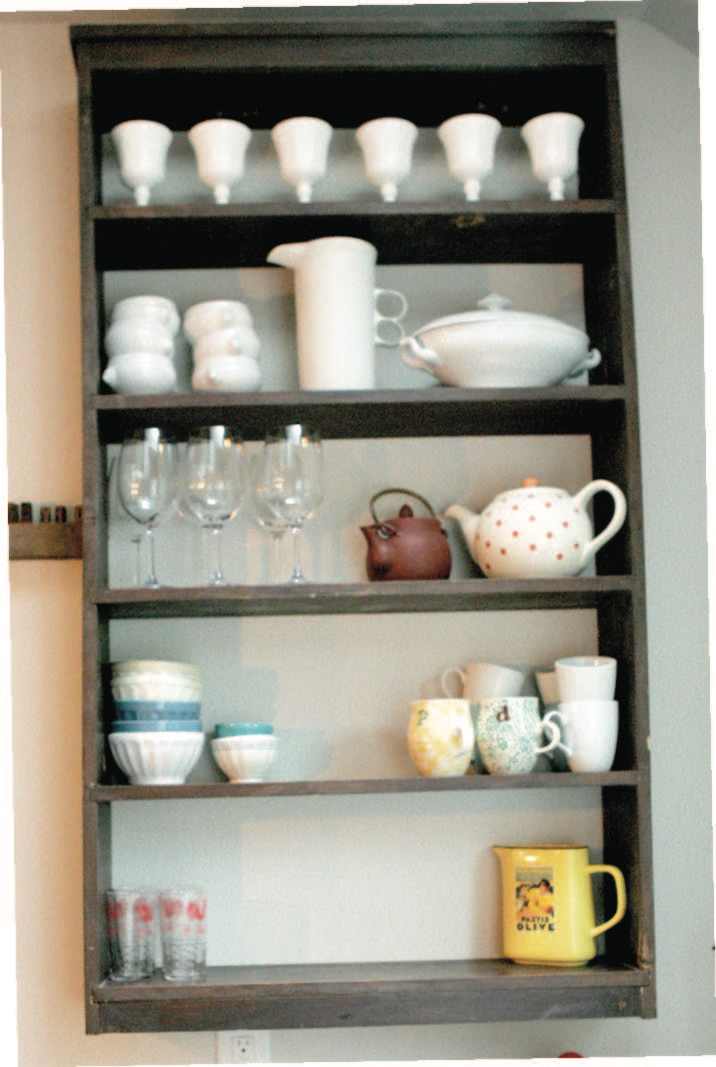 "My other friends are going for a more modern look, opening entire walls and making walls of built-in cabinets, which is lovely in their homes," she says. "Part of my resis­tance to opening up to the dining room was that I didn't want to make it look like a mid-century modern ranch. I wanted to stay faithful—that's why I didn't open it all the way."
Anyone with a passion for cooking and family knows that the kitchen tends to be the nexus of the house, the social center, a place for bonding and even healing. So, after eight years of living with a kitchen where she couldn't open the refrigerator and sneeze at the same time, LeDraoulec set out to do what seemed simple: "I wanted to be able to be in the kitchen with the girls, talk to them and do their homework while I'm cooking." Then reality intruded.
"The layout was so bizarre," she recalls. "I had this door here, this window here, a window here, a window here, the door here, a door here, then this weird door and a door here and a door here. I had so many friends who are architects come over, trying to figure out how to lay it out without taking down any walls. I didn't think I could afford to take down a wall. One architect friend said, 'Your kitchen keeps me up at night.'"
LeDraoulec settled on a somewhat radical solution to the creative problem: "We purged—90 percent of it. We chose to gut and then decide."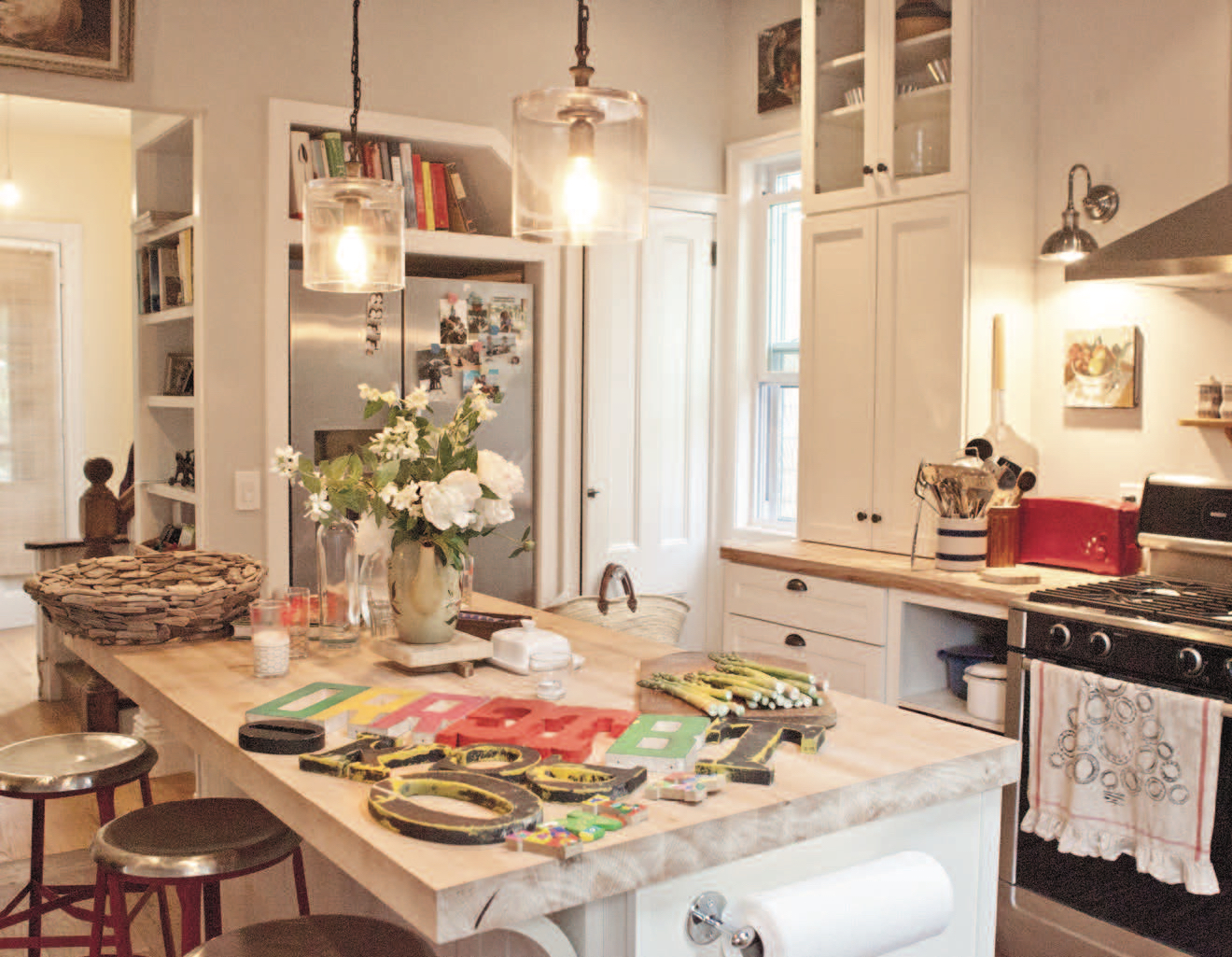 It's not what most kitchen designers recommend, but it kept their options open—for three somewhat taxing months. "I'm just spatially challenged—when I looked at [a plan] on paper I just couldn't see it," LeDraoulec says. "My friend Molly is a big believer in 3D, so she would take painter's tape and outline a cabinet on the wall, put x-marks for glass. One day you came into this empty space and there was blue tape everywhere. We put cardboard boxes for the island—she said, 'Don't approximate. Give me a cardboard box that's as big as this thing.' So we fashioned an island out of boxes. It was her idea. That was brilliant."
In the end, it took an architect to help her find the way to a completely functional kitchen. It meant tearing down walls. An old mud room off the back of the kitchen had to go—the wall opened to expand the kitchen and provide visual access to the backyard. An old beam sourced from a neighbor's basement was installed to support the opening. It fit the bill, and because LeDraoulec insisted it be left exposed, it helped set the tone for the entire project: A blend of the old and the new.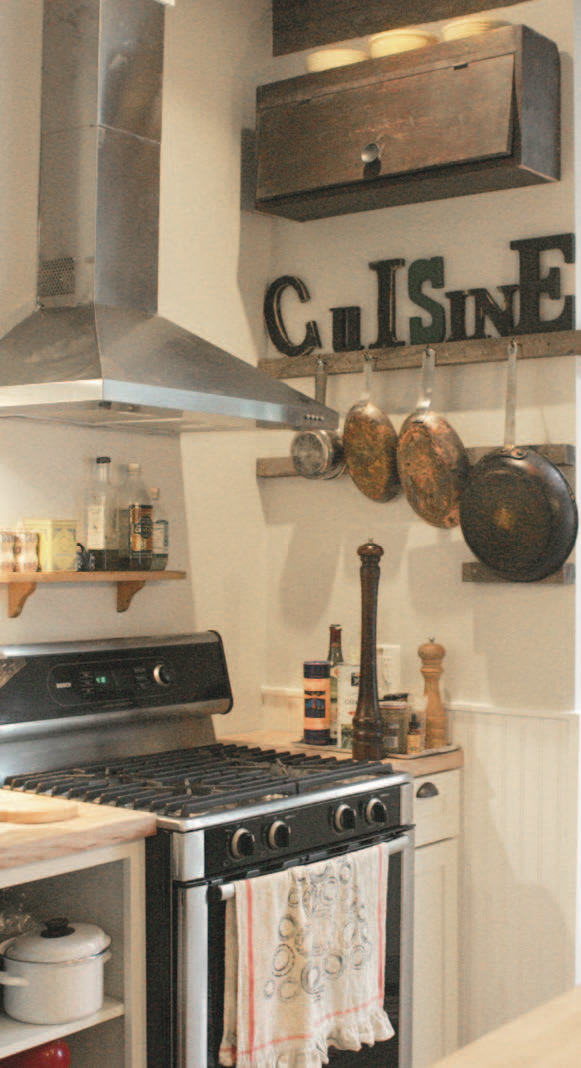 ​LeDraoulec admits she's always had a knack for "picking"—re-purposing items found on the street. The new kitchen gave her an opportunity for turning those castaways into gems. An old bookcase she salvaged was cut open and hung from above; it now stores glassware (milk glasses and bowls are low, within a child's reach; wine glasses and serviceware up higher.) An old wooden garden cart is doing second service as a two-level pet-feeding station (cats up, dog down). Three strips of worn wood hung simply on the wall became a country chic pot rack—from which hang cherished copper pots bestowed by her father. At the very top on display are the celebrated mixing bowls collected as she made her way cross-country writing American Pie. "I opted for some cabinets open. I like that. It makes me happy to see my Kitchenaid. It makes me smile. I love my bowls I don't want to hide them. Funny—the carpenter installing the cabinets said, 'Where's the door? Where's the door?' He couldn't believe I wanted it open."
LeDraoulec scoured sales and shopped for efficiency and economy. ("These are Home Depot cabinets—they're the kind that have pullouts and have soft closes. If you do Home Depot I suggest you wait until they have their sale—three times a year they have a huge sale. The lighting fixtures are from the clearance section of the Sundance catalog. I had to get a new dishwasher, so I got a $500 Whirlpool and it works better than my Bosch ever did and it's ten times quieter. Kitchenaid side-by-side fridge. Ikea hood—it's a little loud, but I've never had one before so I have nothing to compare it to. When we cooked fish we'd smell it for a week. This is a huge improvement.") The Bosch range stayed ("It's perfectly fine").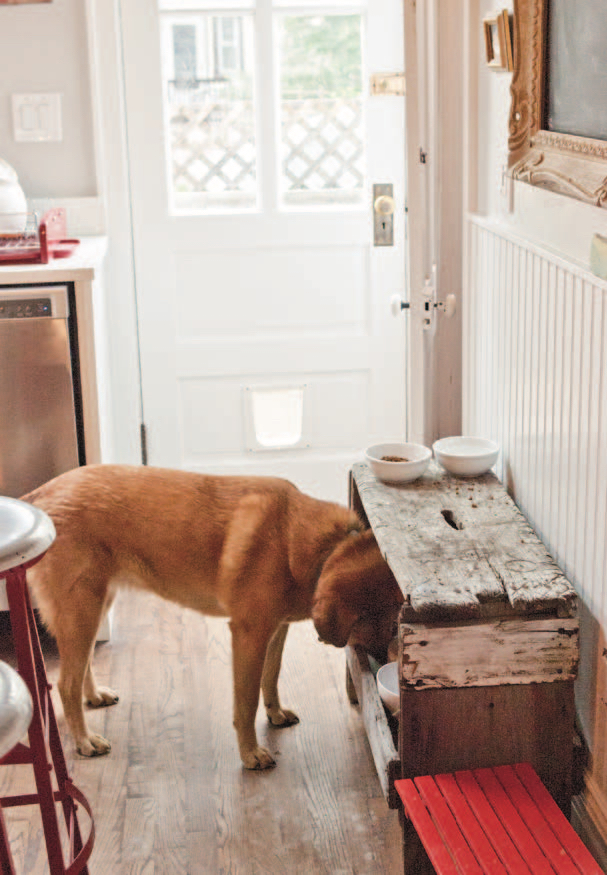 Along the way, she found her inner self, and it was French Country. "I couldn't help myself. It was beyond my control. But that's what inspired me. I like blending the old and the new. What really appeals to me is what's worn and has a patina—something that has been lived in. I didn't want a French country kitchen, and now I have sort-of-a French country kitchen." Even the ubiquitous kitchen message board—a section of wall painted with chalkboard paint defined by an ornate frame ("found on Euclid Avenue—in the trash"), fits the tone, announcing the date and the day's menu in French.
Overall, the kitchen project took five months from demolition to completion: roughly a week of demo, three months of living in a bare box and two months of construc­tion. The result? "The kitchen transformed our lives. The first night we could actually sit here we started talking about all sorts of things," LeDraoulec says, with daughter Mina confirming each sentence. "Last night I had two girlfriends over for dinner, and I said, shall we move into the living room? They said no—we had dinner and sat in here for four hours. This is what cooking should be. Everybody gets to cook, and now I have choppers and helpers and I just have company when I'm cooking more than anything. It's exactly what I had hoped for."
Seven-year-old Sabine is equally happy with the new room, though less effusive. Asked what the hardest part of the process was, she replies, "Waiting." And the best part? "When it was finished."