OVER THE YEARS, STISSING HOUSE, in the tiny town of Pine Plains, has served as an inn, tavern, restaurant, bawdyhouse and biker bar. Today, it's once again a restaurant, now owned by Michel Jean and his wife, Patricia. A native of Provence, Jean went to culinary school in Nice and worked in Morocco, on cruise ships and in ski resorts before settling in New York City, where he worked as a maitre'd for nightclub impresario Regine, and where he met Patricia, who was working at a small, private club owned by Igor Cassini.
Mark Strausman opened Agriturismo, a casual country restaurant serving his Italian-inspired cuisine, in Pine Plains in 2010. Strausman, who famously got his start in the food business selling peanuts at Shea Stadium, is justifiably revered for his work with restaurateur Pino Luongo at Coco Pazzo on Manhattan's Upper East Side and Sapore di Mare in East Hampton. He opened his own restaurant, Campagna, in the Flatiron District; today he is the executive chef at Fred's at Barneys in New York (with an outpost in Chicago).
The great trumpet player Wynton Marsalis once said, "Whenever you face a man who's playing your instrument, there's a competition." In Pine Plains, chefs Michel Jean and Mark Strausman play the same instrument—in this case, a stove.
Michel and Patricia married and returned to France to run a small bistro in Provence. Although Michel was happy to be back in the kitchen, the couple soon realized that they missed the heady energy of New York City, so they came back—Patricia to Le Club, a small, private club owned by Igor Cassini (who wrote a syndicated gossip column under the pseudonym Cholly Knickerbocker) and frequented by his brother Oleg (Jacqueline Kennedy's couturier when she was First Lady), and Michel to the front of the house, first at River Cafe, then at Le Cirque.
When the couple felt ready to open their own restaurant (and Michel was ready to return to the kitchen), they looked for spaces uptown even though they lived downtown. The proprietor of an English pub (and their landlord to-be), suggested that they consider opening in SoHo. Patricia thought that was nuts, to put it bluntly, because the character of Manhattan in the 1980s was exactly opposite of what it is now and "all of our [potential] customers were uptown."
Nevertheless, when Michel and Patricia saw the space way downtown, they fell in love with it, especially the backyard garden with a fountain—great for parties. They painted over the red and black lacquer that seemed to be everywhere with sunny yellow and mounted sconces filled with dried flowers. At the time, the only restaurants serving French food in New York were serving haute cuisine at haughty outposts like Le Grenouille and Lutece. Theirs, Provence, was the first casual French bistro in the city and after they opened (fittingly, on Bastille Day), Patricia remembers, "We were amazed at how many people were willing to come downtown." A two-star review in The New York Times, followed shortly after. For the next 20 years, Jean served Provencal food that restaurant critic Bryan Miller called "as rousing and fresh as a Mediterranean dawn."
Fast-forward two decades: The Jeans, who've had a weekend farmhouse in Pine Plains for 22 years, bought the ailing Stissing House in 2007; Michel took over the kitchen two years ago.
Conversationally, Jean floats between French and English, whether his conversation partner knows French or not. "He talks to my parents in French, too, and they have no idea what he's saying," Patricia explains later. "He loves to talk—once you get him started he'll never stop," she laughs. Asked about the restaurant, Jean says, "I only know about butter and olive oil. You'll have to ask my wife."
While other restaurants flaunt their farm-to-table bona fides, the Jeans just do it because it feels right and because it links them to the culture of the Hudson Valley. Among local purveyors, Patricia reserves a special shout-out for the "kids at Amazing Real Live Food Company" for their "incredible" cheeses. "They make a Gruyere that rivals Switzerland," she says. On his cheese plate, Jean serves Amazing Real Live cheeses alongside those of nearby Hudson Valley stalwart, Coach Farm. Patricia also praises Herondale Farm's "incredible organic lamb and sausages and unbelievably good chickens," along with "all the good stuff—produce, lamb and pork" they get from Jack Banning at Black Sheep Hill Farm. Jack and Michel went to "Pig School" a few years ago and learned to cure their own hams. (Patricia gave the class to Michel as a birthday gift, thus providing an answer to the age-old question, "What do you give a French chef who has everything?").
Stissing House is a quintessential American tavern, serving a traditional French menu augmented with New American, New French and sometimes Asian specials. With its rustic, beamed ceilings and welcoming fireplaces, it's the perfect place to enjoy French winter classics like coq au vin, braised short ribs, choucroute (a stick-to-your-ribs Alsatian mélange of sausages, potatoes and sauerkraut), garlicky escargot, plump mussels with white wine, thyme and shallots, and steamed crabs with an apple cider and herb-spiked butter. Oh, and don't even think about trying to avoid the kitchen's baguettes.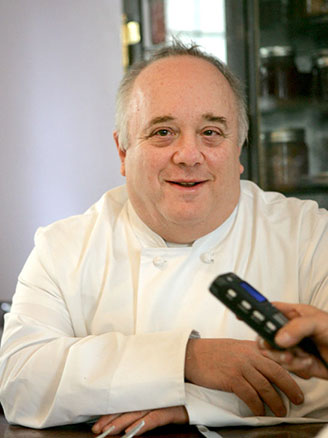 When a chef who's running an extremely successful enterprise in Manhattan decides to decamp for weekends in tiny Pine Plains, it begs the question, "Why Pine Plains?"
"I don't understand everyone's aversion to Pine Plains," Strausman bristles. "I didn't think it was the Bubonic plague of the world." (It might have been easier discussing the virtues of being a vegan with Anthony Bourdain, who calls vegans "the Hezbollah splinter faction of vegetarians," whom he deems "the enemy of everything good and decent in the human spirit.") But Strausman soon mellows and even seems to warm to the subject. "I just don't really see it like that—Pine Plains is a cute town and, for me, with these [local] ingredients, I'm like a kid in a candy store. Really, it's like Charlie and the Chocolate Factory and I'm Willie Wonka."
He sees the venture in Pine Plains as a good business decision. "Look at a map," he says. "Pine Plains is 20 minutes from Millbrook, Copake, Rhinebeck and Red Hook. It's 25 minutes from Amenia and Lakeville, Connecticut. People with houses in Chatham, the Berkshires and Hillsdale meet friends on the way up on the weekend, or they have a house in Connecticut and they stop here on their way back to the city. This is like a little Paradise Lost—it's the same town as Ronnybrook Dairy and Coach Farm. Dutch Spirits distillery just opened up, and then there's Hillrock, making bourbon in Ancram."
The restaurant is something he's always dreamed of doing, Strausman notes. "It's fun and exciting. My concept was to open up a great restaurant in the country—not a three Michelin-starred restaurant. I lived in Europe for four years and I've gone back at least 40 times. I love driving through the hills of Tuscany or France. You come upon this really cute little restaurant, it's family-run and the food is simple, great country cooking."
To a Queens-raised city boy, Pine Plains came as a revelation. "It's seriously agricultural around here—farm vehicles, tractor trailers come right through the center of town," he says. "Unlike 98 percent of the chefs in America who purchase for a menu, I purchase the ingredients first and then write the menu. Ask the staff—sometimes they don't get the menu until five minutes before we open."
Still, opening Agriturismo hasn't been a walk (or drive) in the park, Strausman admits. (He was astounded by one thing: how hard it is to get someone to drive 20 minutes for dinner.) But the word is out, and business keeps getting better. "I still believe in the concept," he says. "This year, I believe in it more than ever." He's canning and pickling this year so guests can take jars of homemade tomato sauce and pickled peppers back to the city, or, as more locals discover it, back to their Hudson Valley homes.
Strausman recently cooked a Taste of the Hudson Valley dinner at the James Beard House in the city. The menu ("A 'greatest hits' of what's going on this time of year," he says) reads like an attendance sheet for a meeting of local purveyors. There's chicken liver mousse from Northwind Farms' chickens; Josef Meiller Farm's lamb and brisket; deviled eggs from Dashing Star Farm's pasture-raised heritage eggs; Tuscan-style soup with bread and Silamar Farm onions, topped with aged Sprout Creek Farm cheese; Wild Hive Farm soft polenta with Cream Hill veal Bolognese; orecchiette with local greens, garlic and Mountain Products Smokehouse Italian sausage; ricotti gnudi made with Coach Farm goat's milk ricotta; and, to top it off, Hudson Valley pear-apple crumble with Ronnybrook Farm's vanilla ice cream. If there's a better advertisement for living in the Hudson Valley, it hasn't been written.
Strausman also is a big fan of the cheeses from Arethusa Farm and Dairy, in neighboring Litchfield, Connecticut. (Arethusa is owned by George Malkemus and Anthony Yurgatis, the president and vice president of Manolo Blahnik in North and South America.) Strausman uses two cheeses from Arethusa Dairy in his evil, but delicious, (five) cheese fondue scrambled eggs: To Arethusa's Tapping Reeve (a rich, creamy "colonial New England-style cheese") and Crybaby (a nutty-flavored Alpine cheese), he adds Coach Farm goat cheese, Berkshire Blue ("My favorite blue cheese") and Parmesan. Just looking at it will clog your arteries. ("Yeah, that one's a little rough," he sighs.)
Still, it's worth a 15-mile walk in the country for Agriturismo's Eggs Campagna, a hearty peasant dish of spicy, garlicky tomato sauce dotted with two baked eggs and thin slices of garlic bread. Other revelations include fresh pasta with wild porcini mushrooms; local fall squash with leeks and Parmesan cheese; and airy ricotta dumplings with pumpkin, Ronnybrook butter and cheese. For pate fans, Strausman makes his own country pate with local pork and liver. It's prepared "true charcuterie-style in a bain marie until 160 degrees."
Michel Jean and Mark Strausman are very different chefs doing very different food in very different environments. And both do what they do very, very well. To compare the two would be like comparing Dizzy Gillespie and Miles Davis. Yet, despite the many differences, these two city-chefs-turned-country-chefs share at least two things in common: They're both working at the stove in their kitchens, not supervising staff (that, in itself, is extraordinary in this era of celebrity chefs and culinary empires). The second thing? Both agree that Pine Plains could use a movie theater.
Life is filled with eternal questions. Maryanne or Ginger? Yankees or Mets? French or Italian? Thanks to Michel Jean and Mark Strausman, diners in Pine Plains don't have to choose and they can't lose.
Why Pine Plains? Why not?