THE WORD SQUASH COMES from the Narragansett Indian word meaning "a green thing eaten raw." While some are indeed green skinned (and can be eaten raw), the broad category commonly labeled summer squash actually contains hundreds of varieties that come in dozens of different shapes and colors, from the ubiquitous green zucchini to the Black Beauty and the speckled, bulbous cousa.
Whether a quaint, scalloped-edged pattypan or a comical crookneck, commercial summer squashes have two things in common—they are in season during the summer and they are harvested when they are immature and before the rind hardens, giving them a tender, edible exterior.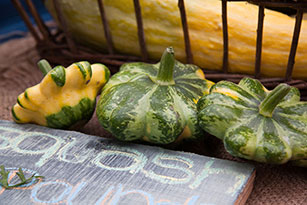 Although most of us think of squash as a vegetable, it's actually a fruit, more closely related to watermelon than to broccoli. Squash belongs to the genus cucurbita, native to the Andes and Mesoamerica, and they were long cultivated in the Americas before being brought to Europe during The Columbian Exchange of the fifteenth and sixteenth centuries. They are a good source of vitamins A and C; some of the vibrantly yellow varieties are particularly high in antioxidants, beta-carotene and lutein, which may help prevent the onset of cataracts.
In the garden, summer squash is a prolific producer when given good sunlight and plenty of water. They can be planted in spring, but squash likes warm soil and is sensitive to frost, so seeds shouldn't be sown too early. "Squash doesn't like cold weather," explains Gail Hepworth, co-owner of Hepworth Farms in Milton; she suggests home gardeners might have greater success growing summer squash by germinating the plants indoors before planting outside. "We start them in the greenhouse," she explains, "then move them out into the field when the conditions are more suitable." Hepworth grows more than 15 varieties of squash on the farm, each with a unique shape or color and flavor nuance, but she uses the familiar green zucchini as a baseline for comparison. "Just like with eggplant, it's difficult to put into words because they're all different, but they also have similarities," she says. "The yellow zucchini has a softer edge and is very buttery, while the Magda is comparatively delicate and mildly nutty in flavor. The Zephyr is also unusually delicate, with a buttery, nutty flavor."
The spherical shape of varieties like Eight Ball and Lucky Eight can do double or triple duty at the dinner table—they can contribute seasonal flavor to a variety of dishes on the menu while being a part of a colorful seasonal centerpiece. Cut off the tops and scoop out the insides, and you've created a bowl to serve soup, or to roast with tasty stuffing.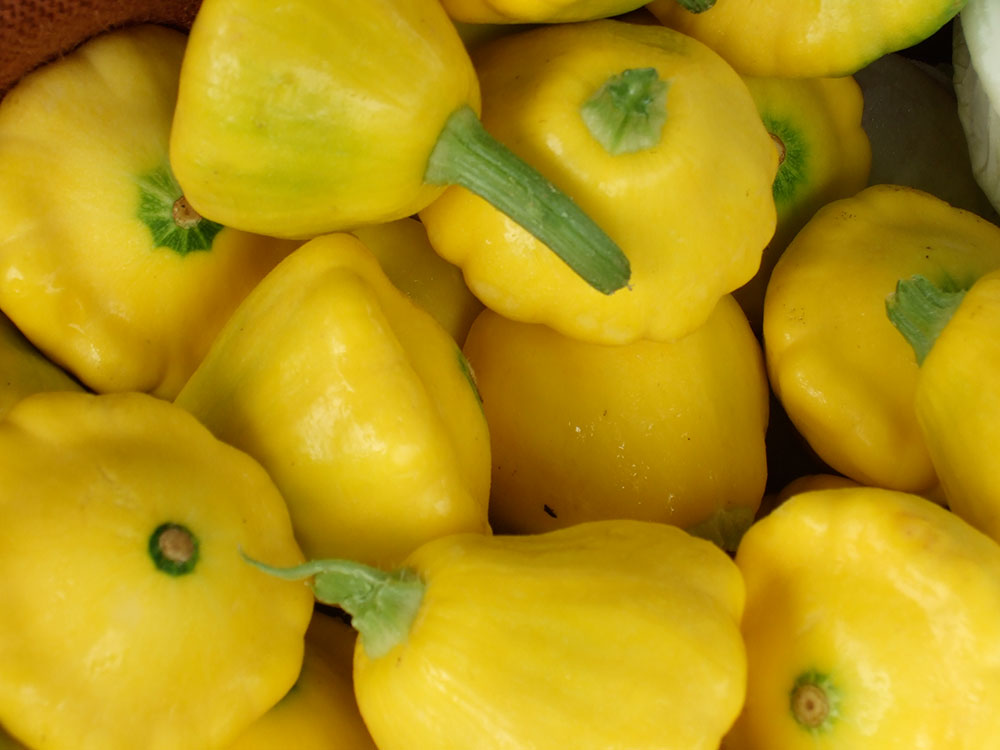 When it comes time to harvest squash, size matters. Many squash can grow to be arm's length, though they tend to become bland, develop hard seeds and tough skin as they mature. To preserve that delicate, sweet flavor, smaller is better. But because summer squash is picked as an immature fruit, it can be quite delicate, easily damaged and scarred. "In a lot of ways, they are more delicate than eggs," Hepworth says, suggesting they be handled using the "two-finger rule," handling them as little as possible to preserve their shiny, naturally glistening skin. Additionally, summer squashes are highly perishable, with a shelf-life of only one to two weeks, and they are easily damaged when exposed to low temperatures. The recommended storage range is 41 ̊F to 50 ̊F.
Luckily, there are lots of ways to use summer squash in the kitchen. They are versatile and their tender flesh and skin makes cooking quick and easy. Squashes can be incorporated into vegetarian casseroles and curries, added to a quick stir-fry, marinated and grilled, or grated raw as an addition into a fresh, seasonal salad—quick, dry cooking methods are best . Some varieties of squash also produce edible flowers. Bblossoms are typically served fried—as a crunchy and salty starter or side—a sure crowd-pleaser, but the flowers can also be cut into a thin chiffonade to be served over pasta or risotto, or incorporated into soups.
Ed Kowalski, chef/owner of Crave restaurant in Poughkeepsie, likes to serve pattypan squash and baby zucchini with fish on his summer menu. "We halve the squash, sear it on one side and then season with salt. We pair it with a white, firm-flesh fish and finish the squash with a Spanish olive oil and fresh herbs."
Chef James Haurey at The Grange in Warwick grows several varieties of summer squash on the restaurant's four-acre farm, including pattypan, zucchini and Lebanese squash. "You handle each variety a little differently. They have lots of similarities, but there are nuances," Haurey says. He stresses the importance of "keeping it simple" when cooking summer squash. "It makes for a light appetizer, and the flavor really comes out from cooking and caramelizing it slightly," he adds. "When you caramelize and add some color, it really bursts with flavor."
Chef Emma Rose Chudkowski, of A Tavola Trattoria in New Paltz, replaces zucchini for noodles in a fresh take on traditional carbonara. "Julienning zucchini is a fabulous way to incorporate squash into your favorite pasta dish," she says. "Since the squash is so thinly sliced, you still get the same presentation—but it's gluten free and has a nice healthy crunch.