IT MIGHT SEEM UNLIKELY THAT offering fresh-cut meat 24 hours a day, 7 days a week in quality-controlled vending machines would be the dream of a former vegan and vegetarian. But, as the owners of Applestone Meat Company, Joshua and Jessica Applestone made that dream come true.
"It's a creative industry—it's the Wild West in some ways," Joshua says. "I basically challenge myself every day to push boundaries, follow creative impulses and work to create spaces where people can explore food in unexpected ways."
 The couple founded Fleisher's Grass-Fed & Organic Meats in Kingston in 2004. After a successful 10-year run, out of which came an influential book, The Butcher's Guide to Well-Raised Meat: How to Buy, Cut, and Cook Great Beef, Lamb, Pork, Poultry, and More (Clarkson Potter, 2011; $25 hardcover), the couple closed Fleisher's. "I was doing a lot of thinking about where the sustainable food movement was headed," Joshua says. "I realized accessibility is the [key to] making good food choices—the hours during which a store is open often define whether people have access to what's inside. I wanted to open that up."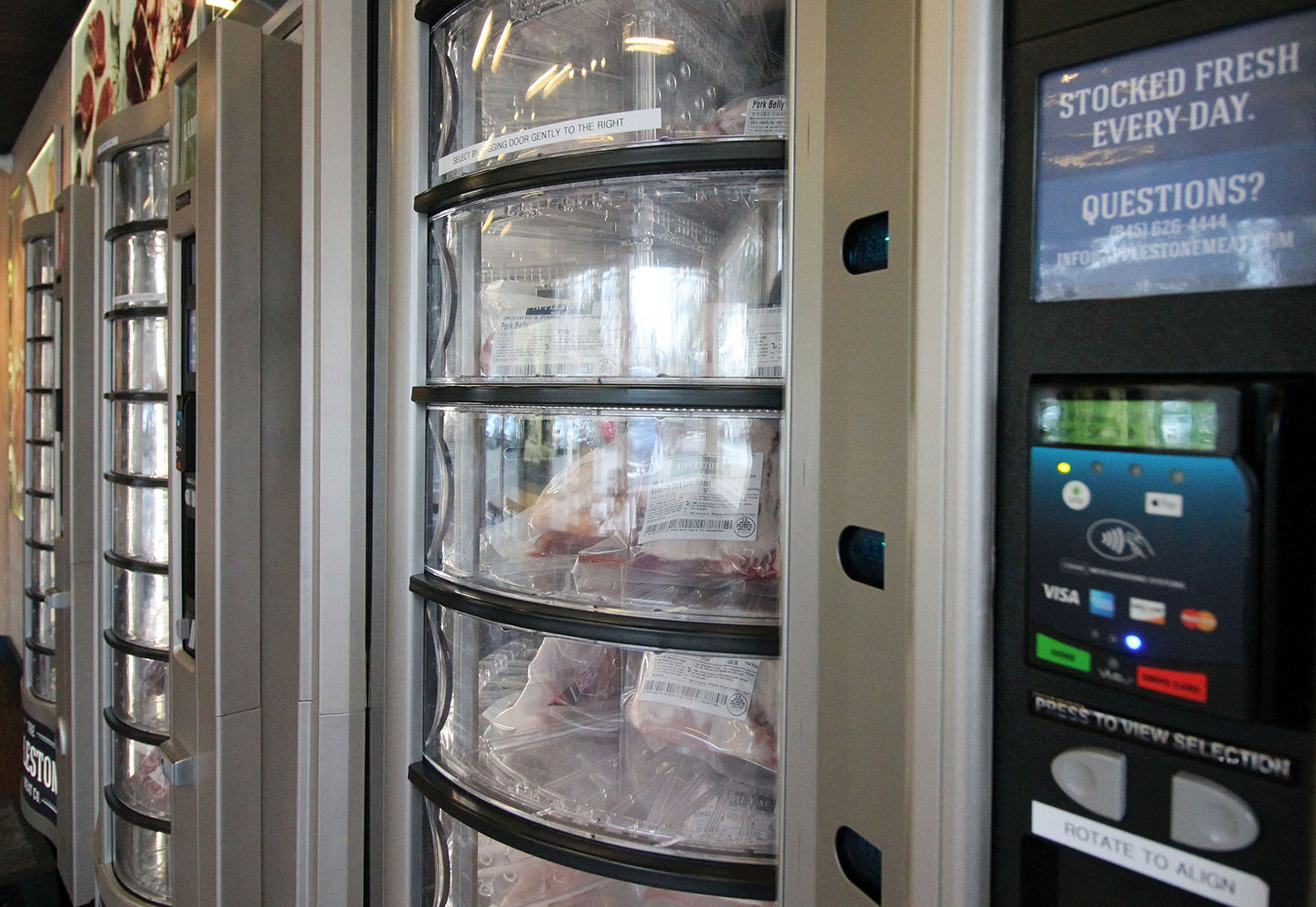 The vending machine idea grew from fond childhood memories of the Horn & Hardart Automat in New York City and his desire to create an alternative, low-price retail structure for quality meat. "I was thinking about the Automat and how much fun that was as a kid," he says. "It really made a lot of sense. Once that model clicked, I saw 

what it could do and I wanted it to be everywhere. [It] was such an unexpected hit that we really had to renegotiate our own goals and framework." The Applestones opened their first self-serve meat vending machine outlet in Accord (Ulster County) in 2016, followed in 2017 by an expanded shop in Stone Ridge, where customers also can pick up online orders.
The machines are stocked fresh daily, just like a butcher case. Food safety is ensured by refrigeration, reduced-oxygen packaging, temperature controls, minimal handling, complete control of a local supply chain, and tight sanitation practices. Raw meat such as steaks and chops, and even ground meat, can remain in the machine for a week at maximum; processed goods, such as hot dogs, might stay for two weeks. "Everything we sell could actually safely stay in the machines–or your fridge–for a month, [but] we prefer a shorter shelf life for the sake of quality," Applestone says. Pork and lamb are sourced from a pool of small, local farms; beef comes from Josef Meiller (Pine Plains). All Applestone meat is raised without hormones or antibiotics.
The Applestones plan to expand their product line to include poultry, deli meats and other ready-to-eat products. Summer plans include a community "grill park" outside the Stone Ridge shop. "The 'grill park' at Stone Ridge is our top priority. We're very eager to create [a] beautiful, public space for our community, where they can come and cook and eat together."