Serves 1 or 2
Ingredients
1 quart Thompson's Cider Mill apple cider juice from 2 freshly squeezed lemons
1/4 cinnamon stick
1/4 ounce fresh ginger (about 1 tablespoon, roughly chopped)
6 fresh, chilled Cotuit oysters
Method
Place all ingredients in a medium pot over medium-high heat. Bring mixture to a boil.
Reduce heat and simmer until contents reduce by half.
Remove from heat, strain mixture and let cool.
To make a smooth sorbet, freeze the reduced cider in an ice cream maker. For an icier granita, pour the liquid into a stainless-steel container and freeze.
To serve, use a melon-baller to scoop the frozen sorbet onto each shucked oyster.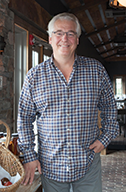 The way RiverMarket owner Glenn Vogt tells it, the idea of topping oysters with sorbet wasn't much of a stretch. "We wanted to bring fall in the Hudson Valley to these oysters," he explains. "Fall" takes the form of sorbet: a mulled, reduced, cider version using juice from Thompson's Cider Mill in Croton-on-Hudson, not far from Vogt's Tarrytown restaurant. The oysters are sweet but briny Cotuits, harvested around Cape Cod. "The supplier comes here straight from the dock, stopping at only a couple of other restaurants on the way," Vogt says. A warm preparation, featuring aged Gouda from Byebrook Farm in the Catskills, also is a hit.