Family-owned Crepini produced 40 million of the crepes it touts as healthy alternatives to bread and wraps at its cramped, "maxed out" Brooklyn facility last year.
Now, it has increased its space by a third by securing new quarters at the iPark84 development in East Fishkill. By the time all of its equipment is installed, the company's production capacity will soar to 300 million crepes per year.
Meanwhile, another family firm, vegetarian organic food titan Amy's Kitchen, is constructing a 389,000 sq ft facility in Goshen that will help it serve the 60 percent of its customers in the eastern part of the country. Among the area's attractions are its superior road network and capable workforce.
Amy's predicts it will begin making food at Goshen in 2021, where the kitchen will help support Amy's new product innovations.
Crepini and Amy's are examples of a new face of manufacturing in the Hudson Valley, one that it is fully visible on local supermarket shelves.
According to the New York State Labor Department, food manufacturing is classified as a "significant" job creator in the region. Preliminary figures show that there were an average of 7,300 jobs in the sector in 2018, a 52 percent increase since 2009 and 17 percent of the region's entire manufacturing employment. Amy's Kitchen expects to add more than 600 jobs when the kitchen is fully up and running, while Crepini estimates a payroll at full production of 105 employees.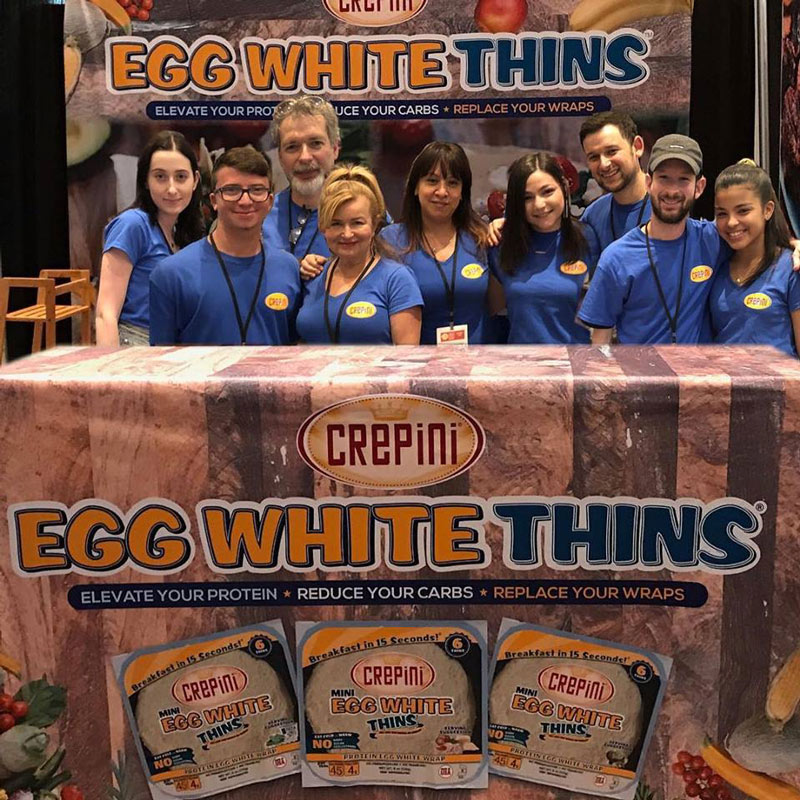 Photo by Crepini LLC/Lisa Scholnik
Crepini and Amy's are not the only food manufacturing companies in the region that have consumers clamoring for their products.
Café Spice, which makes a popular line of prepackaged Indian food, indicated last year that it would spend $10 million to expand its New Windsor factory. And Sarah Lee, executive director of the Dutchess County Industrial Development Agency and CEO of Think Dutchess Alliance for Business, says Café Spice has signed a contract to lease space in Beacon. The company plans to add 150 jobs in five years.
Other recent expansions among food manufacturers include BFY's PopCorners in Middletown and Liberty as well as Sfoglini Pasta in West Coxsackie.
Much of the demand for new varieties of manufactured food has been driven by health and environmental concerns. More and more consumers shop for food with ingredients that are organic, non-genetically modified and gluten free. Millennials in particular "demand good food," says Paula Rimer, cofounder of Crepini.
She and her husband, Eric Shkolnik, were born in the Soviet Union. They emigrated at the age of 10, met in college and ran a successful computer consulting business for 20 years. When that business changed, they decided "to bring crepes into every American home." They established Crepini in 2007, drawing on family fare and fusing the French crepe with the Russian blini.
When Andy Berliner and his wife, Rachel, established Amy's Kitchen in 1987, its natural vegetarian products were confined to health food stores. Today, the company has three manufacturing facilities in California, Idaho, and Oregon — which he says more resemble real kitchens.
With revenues of more than $500 million, it is "wildly successful," Berliner said. Because natural food has become so popular, the company is ideally positioned to meet the needs of the growing market.
Let's hope it continues to grow.