Few periods of the year are more ideal for indulging in sweet, crunchy cookies than the holidays. The Hudson Valley is home to a myriad of talented bakers, each with their own particular style.
For instance, there's Belegrina Kafenio & Bakery in Fishkill. This women-owned business brings a taste of Greece to Dutchess County. It's the ideal destination for locals with a sweet tooth to find something new to fill their cookie jars.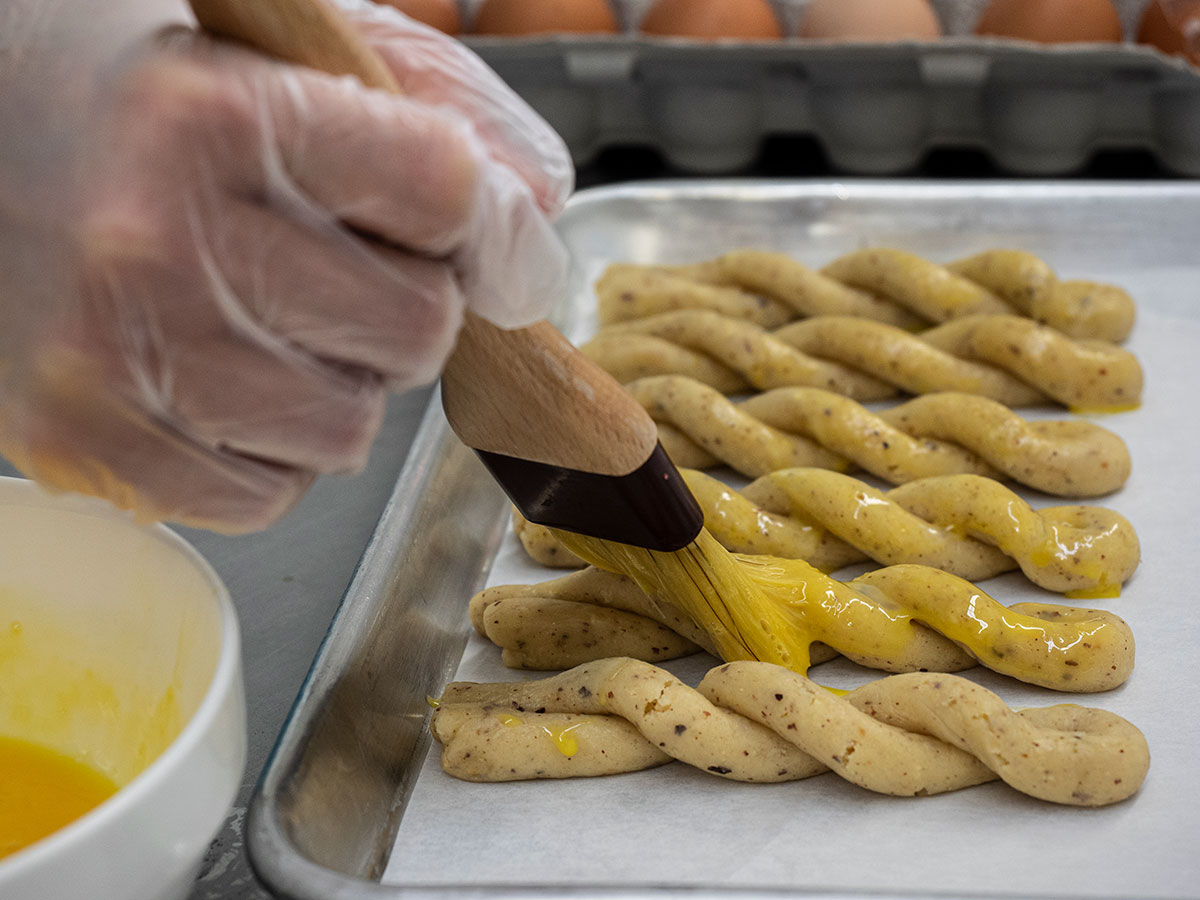 It all started with a dinner, more than 20 years ago. Niki Pagones-Quinn, co-founder of Belegrina Bakery, recalls the very beginning of her journey with co-founder Candace "Candy" Baker. They lived across the street from one another, and Quinn invited her friend over for an Easter feast.
"To tell you the truth, my parents were very focused on their children being Americanized and living the 'American dream.' We were raised completed bilingual," Quinn recalls. However, her mother kept generations-old Greek recipes alive. This was a boon for Baker, who had never experienced authentic Greek treats like baklava, fenekia, and kourembiedes before.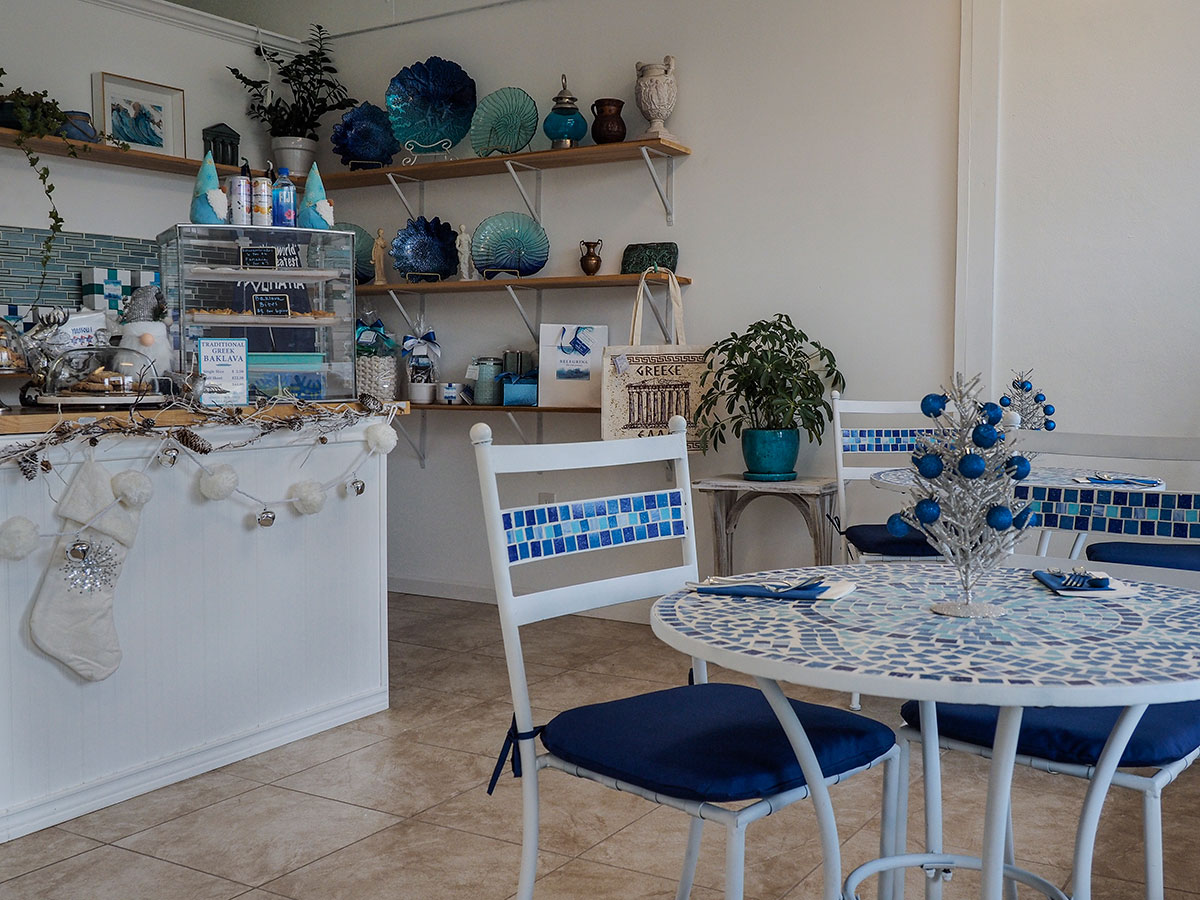 One item from the spread of sweets in particular was a spark of inspiration for Quinn and Baker: the koulourakia (known at Belegrina Bakery as "stirs.") These delicious butter biscuits were slightly crunchy on the outside while quite soft and tender inside. Stirs slightly resembled biscotti, another Mediterranean cookie. However, they weren't dry, hard, or crumbly the way the Italian treat tends to be. This realization became the model for a new business, bringing long-overlooked Greek desserts to a new market. The slogan for the treats? "Better than biscotti."
Quinn and Baker worked out of their home kitchens before facing a big expansion. It quickly became impossible to keep up with the demand for stirs without a commercial space. Plus, unexpected challenges sidelined the business for many years.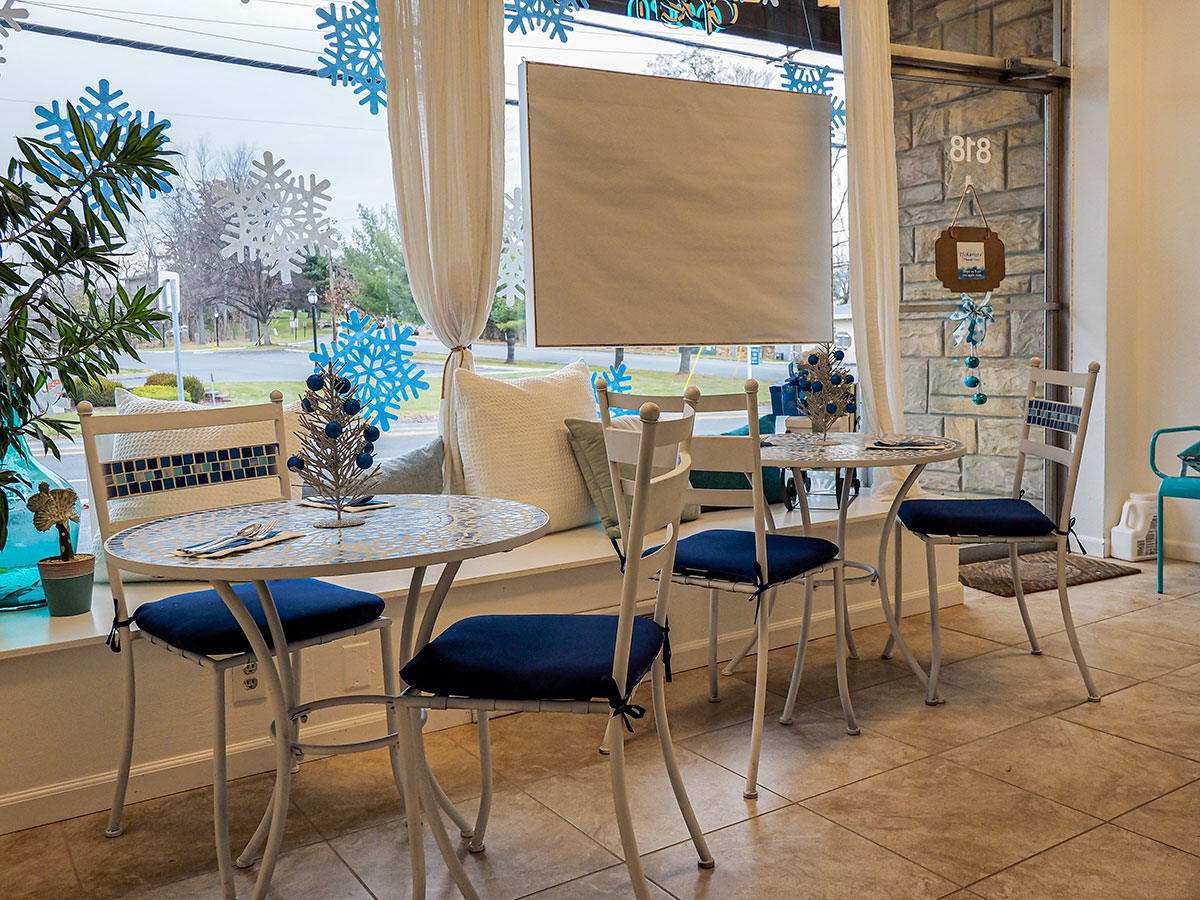 Luckily, the two reconnected in 2019 with renewed vigor and creativity, officially launching Belegrina Bakery. The name honors Belegrina Beach, a breathtaking destination on Greece's Chrissi Island.
"In fact, we use the original recipe for stirs from the first business. And, we were inspired to dip them in chocolate, creating the chocolate-dipped biscuit that launched us," Quinn says. Fellow Fishkill business owner Terry Craft (Alps Sweet Shop) helped Belegrina master tempering and dipping the stirs.
Now, Belegrina Kafenio & Bakery bakes an entire assortment of stirs and other pastries, preserving the legacy and tradition of Greek desserts. The shop reminds visitors of the pristine waters of the Aegean Sea. Turquois, aquamarine, and other soothing ocean shades gave inspiration for Belegrina's calming colors. Neutral white walls evoke soft sands.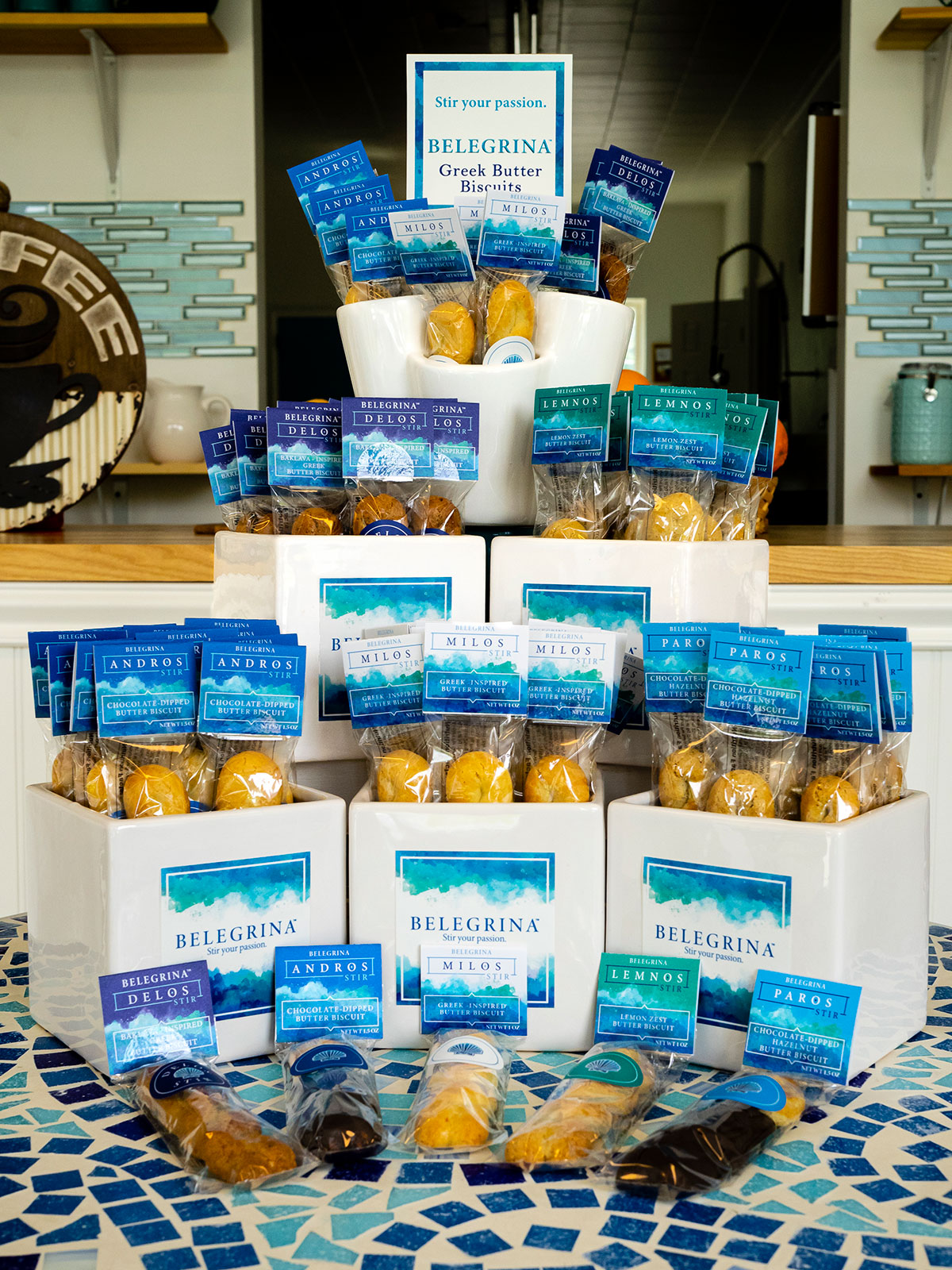 The duo work as small-batch bakers, making everything by hand. Each day, Belegrina's Culinary Institute of America-educated pastry chef preps high-quality ingredients for bakes. Roasted hazelnuts and almonds provide an excellent crunch to select sweets. Tangy zest from citrus fruits brighten certain treats, while chocolate-dipped cookies are treated with rich, Peters Burgundy dark chocolate.
Each variety of stir takes its name from a different Greek island. For instance, Delos, the mythical birthplace of Apollo and Artemis, lends its name to a baklava-flavored stir. Earthy walnut-cinnamon notes shine when paired with the solid-yet-springy texture of stirs.
Andros and Paros signify chocolate-dipped stirs (with the latter containing hazelnut), while lemon-zested stirs are dubbed Lemnos. Lemnos are especially tasty when paired with a calming tea. Popular tourist destination and volcanic island Milos lends its name to the original Belegrina stir.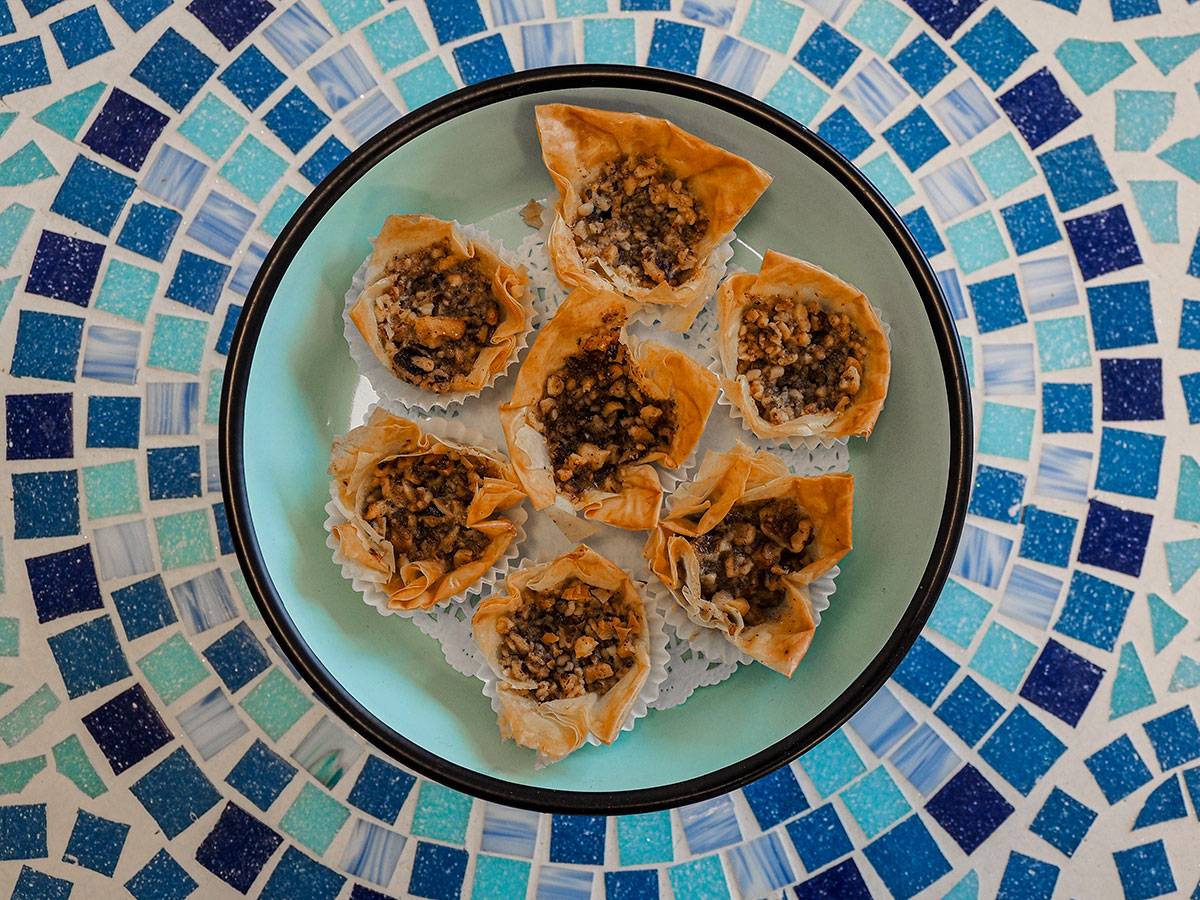 Belegrina also serves fenekia (honey cookies), kourembeides (almond butter biscuits dusted with powdered sugar), and baklava bites. Less traditional Greek goodies include scones, muffins, and other specials. As Quinn and co. look to expand Belegina's offerings, they turn away from sweets.
"We are adding savories first of the year such as spanakopita, which is filo filled with a delicious spinach mixture, and tiropita, which is filo filled with Greek cheeses. Tzatziki, which is a Greek yogurt spread prepared with dill and garlic, [is another new offering]," Quinn says.
Belegrina's beautiful gift boxes, which are available for purchase in-store and online, make for a meaningful present. Opt for the stirs sampler for a first-timer, then pick their favorite on your next visit. The baked delights are sold all over the Hudson Valley, including at Trax and Bank Square in Beacon, Café 40 in Poughkeepsie, Olive U! in Fishkill, Adams Fairacre Farms, and more.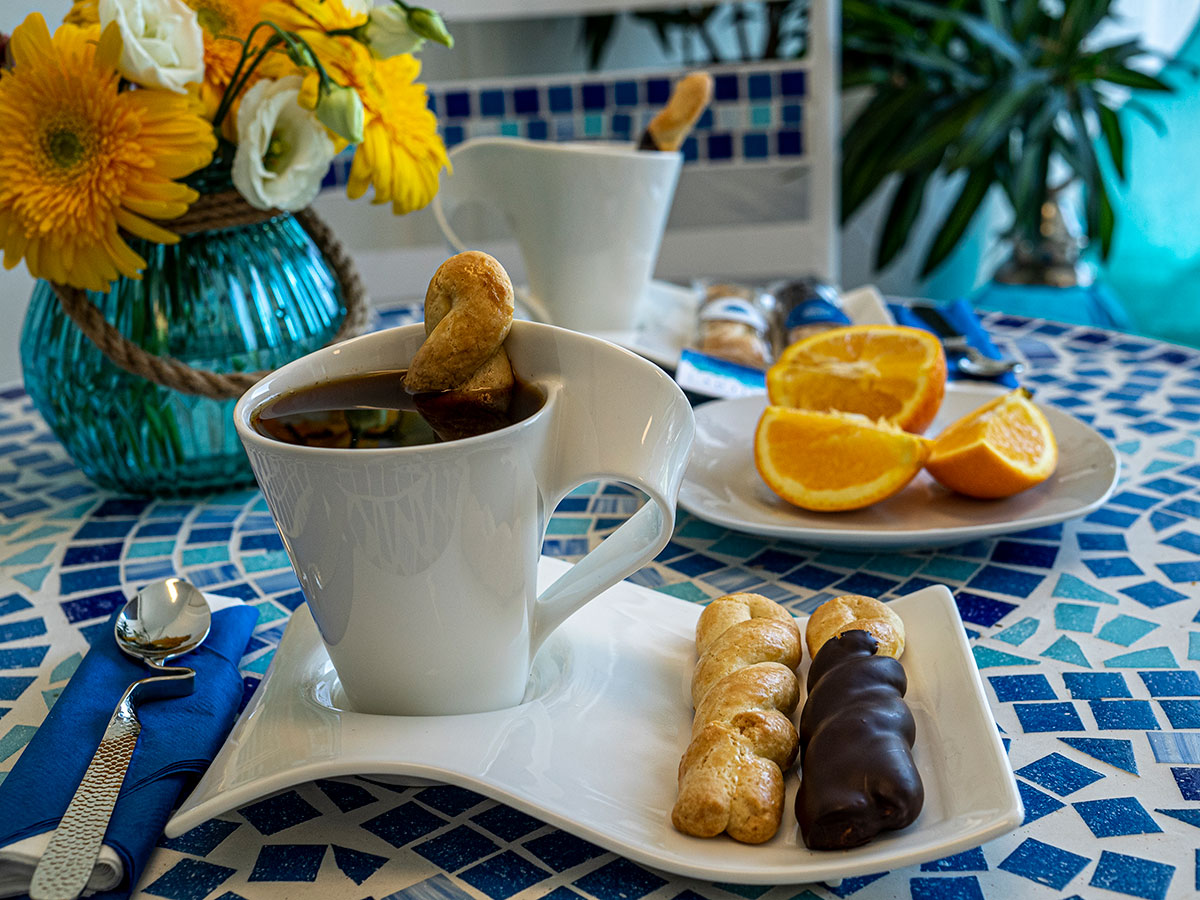 Stop into the bakery, located just opposite town hall, for soothing sips of coffee or tea with a few fresh stirs. Plus, the team often stocks the store with favorite Greek ingredients, kitchenware, and baking products for customers to use at home.