Ingredients
Apple cake
1 cup golden raisins
1/3 cup Hudson Valley Baby Bourbon
1 cup dried apple rings cut in 1/2
1/2 cup granulated sugar
2 cups unbleached all- purpose flour, sifted
1 1/2 teaspoons baking soda
1/8 teaspoon salt
3/4 teaspoon ground cinnamon
1/2 teaspoon freshly grated nutmeg
1/8 teaspoon ground cloves
1 1/2 cups tightly packed dark brown sugar
2 large farm eggs, lightly beaten
1 cup unsalted Cabot butter, melted and cooled
3/4 cup coarsely chopped pecans, toasted
2 medium Northern Spy apples, peeled, cut into 1/2-inch pieces
Additional unsalted butter, at room temperature, for greasing the pan
Brown sugar-bourbon sauce
1/3 cup unsalted butter, cut into small pieces
1 cup tightly packed dark brown sugar
1/3 cup granulated sugar
2/3 cup Ronnybrook heavy cream
2 1/2 tablespoons Hudson Baby Bourbon
Makes about 2 1/4 cups
Method
For the cake
Preheat the oven to 325˚F.
In a small saucepan, heat the bourbon until hot but not boiling. Add the raisins.
Take off the heat, add the dried apple slices and soak until the bourbon has cooled. Drain the raisins and dried apple, set aside and save the bourbon.
Butter a 9-inch by 13-inch pan and line the bottom and the two long sides with a sheet of parchment paper, letting the paper hang over the edges by an inch or so. Lightly butter the paper.
Sift together flour, baking soda, salt, cinnamon, nutmeg and cloves into a small bowl and set aside.
In the bowl of a stand mixer fitted with the paddle attachment, beat the eggs, then add both sugars, beating at medium speed until thickened and pale, about 2 minutes.
Add the cooled melted butter to the bowl and fold in the dry ingredients from step 4.
Add the dried fruit-and-bourbon mixture, chopped pecans, and diced fresh apple and quickly fold them into the batter.
Scrape the batter into the prepared pan and set in the center of the oven. Bake at 325˚F for 70 to 90 minutes, or until the center springs back when lightly touched and the cake begins to pull away from the sides of the pan.
Remove the pan from the oven, transfer to a wire rack and let cool.
Serve warm or at room temperature with softly whipped cream and brown sugar-bourbon sauce.
For the brown sugar-bourbon sauce
Combine the butter, sugars and cream in a small, heavy bottomed saucepan.
Stir this mixture over low heat until the sugar dissolves, then increase the heat and bring to gentle boil, stirring constantly. Cook 5 more minutes.
Remove pan from the heat and stir in the bourbon.
Serve immediately, or cool to room temperature.
Sauce may be covered and refrigerated until needed, up to 3 days. Rewarm in a saucepan over low heat, stirring constantly.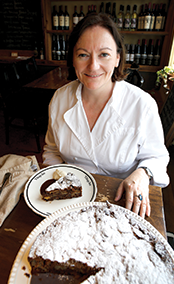 Using both dried and fresh Northern Spy apples, Chef Agnes Devereux of the Village Tea Room in New Paltz transforms the traditional pairing of apples and bourbon into a flavorful fall cake. The dense, chewy bite of the bourbon-soaked dried apples compliments the tenderly baked North Spies. Pecans add delightful bites of warm, nutty flavor, and the raisins—also soaked in bourbon—are tiny shots of boozy sweetness. The brown sugar tops the cake with the complex and mildly bitter taste of molasses combined with butter and cream. "It combines all the flavors your want to be eating in the fall," Devereux says. The cake is served with a dark brown-sugar bourbon sauce using Tuthilltown's Hudson Baby Bourbon. She recommends pairing the cake with a thimble of bourbon, or a dry, European-style hard cider.