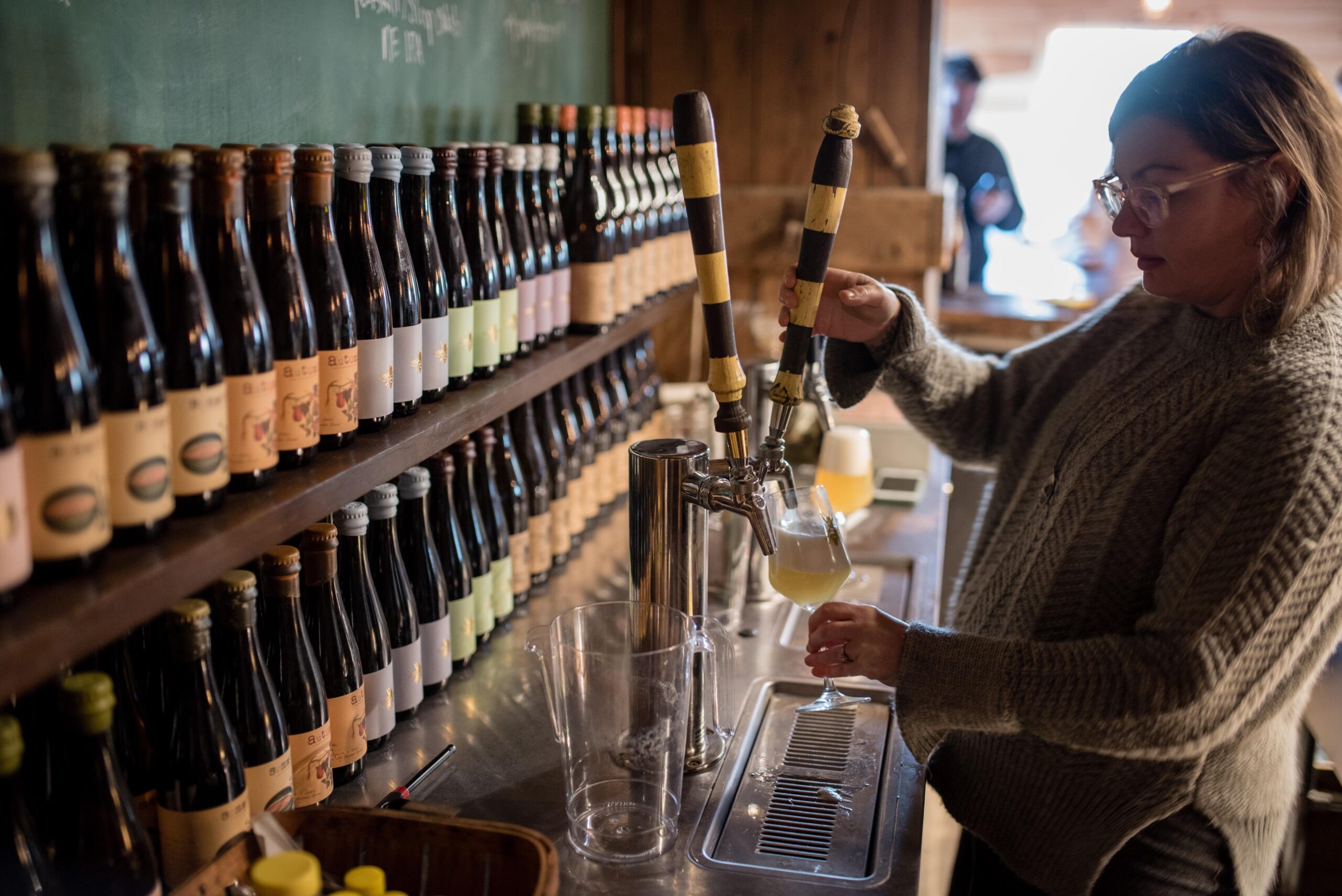 A local brewery might have been their professional "plan B," but for Evan and Emily Watson, sustainability was always plan A for their Poughkeepsie business, Plan Bee Farm Brewery. The Watson's farm paved way for an "agriculturally-sourced brewery" by sourcing 100% of their ingredients from either local New York farms or by growing the ingredients at their own farm, including, for example, honey from their onsite beehives. In fact, even the yeast for the Plan Bee beers is sourced from their own raw honey – every sip is pure, local New York.
Whatever the season's harvest may yield gets transformed into refreshing, tasty beers. With every seasonal ingredient, the brewery, founded in 2013, maintains the purity of what it means to be local. The commitment to local ingredients not only supports nearby businesses and ensures top-notch products, but also reduces the business' carbon footprint. Now, the Watson's are taking their dream of a 100% sustainable brewery a step further with Community Solar.
"We wanted to find a way to support clean energy and further our sustainability mission," says co-owner Emily Watson. "We wanted to go solar with rooftop panels, but our structures didn't qualify. When we learned there was a roofless solar option right in the area, it made sense. We would be supporting clean power, from a local solar farm; exactly what we're about."
Plan Bee joined the NRG Community Solar program in October 2018. With Community Solar, residents and businesses can subscribe to a share of an off-site solar farm. NRG Community Solar has over 15 farms in development in the region, including New York State's largest Community Solar Farm, located in Minisink, NY. Plan Bee has been placed on NRG's Underhill Solar Farm in Poughkeepsie, NY.
The Underhill Solar Farm is a natural fit for Plan Bee. Not only is it in their community (you can actually see the Community Solar farm from the brewery), but the project is also a pollinator-friendly Community Solar farm that is built with native plants to benefit bees, and aid the agricultural production of local businesses, just like Plan Bee. Located on nearly 20 acres of land, Underhill will generate an estimated 3.87 MW of power a year, enough to offset the greenhouse gas emissions of a car driving over 9 million miles, or from Poughkeepsie to San Francisco — over 3,000 times. The solar farm is expected to begin generating solar power in early 2019.
"We're really happy that we get to be part of this local effort," says Emily Watson. "We didn't know much about Community Solar, but it turned out to offer a lot of conveniences for us. And it helped to understand how it could make a difference on our utility costs, too."
When a subscriber joins their local Community Solar farm, they receive credits on their utility bill for the solar energy produced by their share of the farm. The credits are automatically applied to their Orange & Rockland or Central Hudson Gas & Electric bills, and help offset existing electricity charges.
"We designed the program to help residents and businesses save over time," says Krishna Patel, Director at NRG Community Solar. "We assign them to a portion of the solar farm that makes sense for their property, and have created a rate structure that helps make reducing electricity costs possible, while they receive clean solar power."
But it's local partnerships that NRG Community Solar is most proud of.
"Local businesses like Plan Bee Farm Brewery are at the core of the communities we want to create," says Patel. "We want to bring people together who believe in what the Hudson Valley's energy future can be — cleaner, and more sustainable, with a lower dependence on fossil fuels."
The Underhill farm is almost sold out, and space is filling up on the other Hudson Valley solar farms in development. To learn more about Community Solar and get information about how to join your local solar farm, call 1.888.372.1631or visit NRGcommunitysolar.com/partner.