The easy and seasonal recipe by Molly Baz, former food editor and Rhinebeck native, features a unique take on bruschetta that's simple to prepare.
Valley Table recommendations are objective, unbiased, and curated by the editorial team. If you buy something through our links, we may earn an affiliate commission at no cost to you.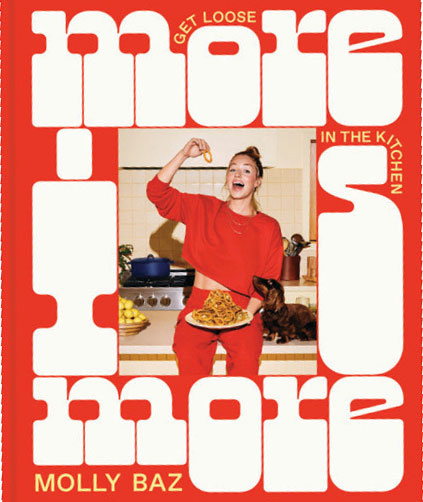 Chef and food writer Molly Baz has fine-tuned having fun in the kitchen. After a five-year stint as a food editor and video host at Bon Appétit, the Rhinebeck native began developing her own recipes full-time. In 2021, she released her first cookbook, Cook This Book, to much acclaim and earned a spot on the New York Times bestseller list. This fall, she's back with More is More: Get Loose in the Kitchen, another inventive, full-of-personality cookbook packed with easy, flavorful, and yes fun, recipes.
If you're like me, you may associate bruschetta with watery, flavorless versions passed around a party. What if we made bruschetta with only the plumpest, juiciest, sweetest summer tomatoes? Here we're using Sungold tomatoes at the peak of their late-summer ripeness, spooned over a tangy swoosh of cottage cheese. Fried garlic chips and basil top it off, and suddenly it's the bruschetta we deserved all along.
Bring Back Bruschetta
Ingredients
Produce

4 garlic cloves

¾ pound Sungold or cherry tomatoes

1 small bunch of basil and/or chives

Dairy

½ cup full-fat cottage cheese

Pantry

Extra-virgin olive oil

Kosher salt

Any grape-based vinegar, such as red, white, balsamic, or sherry

Sugar

Red pepper flakes

2 (1-inch-thick) crusty, sturdy bread slices
Directions
Fry the Garlic
Thinly slice 3 garlic cloves.
Line a plate with paper towels.
In a large nonstick skillet, combine the sliced garlic with several glugs of olive oil—the garlic should be swimming in a shallow pool of it—and set it over medium heat. Cook, stirring to separate the slices, until just lightly golden brown (watch closely, they burn very easily), 3 to 4 minutes. Transfer to the paper-towel-lined plate with a slotted spoon to drain. Season lightly with salt. Don't discard the oil in the skillet! We'll get into that shortly.
Marinate the Tomatoes
Cut ¾ pound Sungold tomatoes in half. Toss in a medium bowl with a splash of vinegar, a few big glugs of olive oil, a big pinch each of salt and sugar, and some red pepper flakes to taste. Taste and adjust the seasoning to your liking.
Chop or tear 1 small bunch of basil and toss through the tomatoes.

Fry the Bread
Place 2 (1-inch-thick) crusty bread slices in the garlic oil remaining in the skillet and set over medium heat. Cook until deeply golden brown and fried to a crisp on both sides, flipping once, about 6 minutes total.
Transfer the toasts to a cutting board and rub all over with the remaining whole garlic clove—the craggy nature of the bread will act as an abrasive to grate the garlic. Season with salt.
Assemble
Cut each toast in half. Spoon some of the tomato juices over the toasts.
Schmear a big spoonful of cottage cheese on each toast. Spoon the tomatoes over the top and garnish with the fried garlic and a drizzle of olive oil.
---
Related: Asparagus Bruschetta Extravaganza