WHERE WAS SANTA CLAUS born? It sounds like a trick question ("Who is buried in Grant's tomb?") but actually it's a relevant question for our area because, rather than being born at the North Pole, as some might expect, Santa was born right here in the Hudson Valley in the fertile imagination of author Washington Irving.
Irving, of Scottish-English descendent, grew up in New York City, surrounded by descendants of Dutch settlers who celebrated the Feast of Saint Nicholas on December 6. In keeping with a centuries-old tradition, Dutch children placed their shos or stockings by the chimney the night before and in the morning found them filled with gifts, candies and other goodies if they had been good. Naughty children found the roe (switches) instead.
Nothing is certain about the real St. Nicholas. His legend may have grown from tales of the lives of several bishops by that name. According to tradition, he was a fourth-century bishop of Myra who became associated with anonymous gift giving. A patron saint of sailors, who brought his cult via sea routes from eastern to western Europe, he was celebrated in the Low Countries, and was often the main character of miracle plays performed in town centers.
"Those plays turned him into a popular folk hero," writes Dr. Elisabeth Paling Funk in her upcoming book on Washington Irving and the Dutch heritage. Funk notes that though Saint Nicholas continued to be venerated as a Catholic saint elsewhere, in the Low Countries he became a folk hero–the main reason why, even during the Reformation, the celebration could not be eradicated. Government and the Reformed Church certainly tried to do so, butt he secular celebration of the day of his death on December 6 had become an integral part of Dutch family life.
It was Washington Irving, in the beginning of the nineteenth century, who took the celebrated Dutch figure and changed the thin, tall and stern Nicholas to our rotund, short and jolly Santa Claus.
"He changed him from a bishop into a seventeenth-century, well-fed Dutch farmer of the Hudson Valley, clad in several layers of breeches, smoking a clay pipe," Funk says. In his famous 1823 poem, "A Visit from Saint Nicholas," Clement Moore took the transformation process one stop further and made Saint Nicholas part of the secular American Christmas festivities. Others later adopted the image and amplified the portrait into what, for better or worse, what we see today.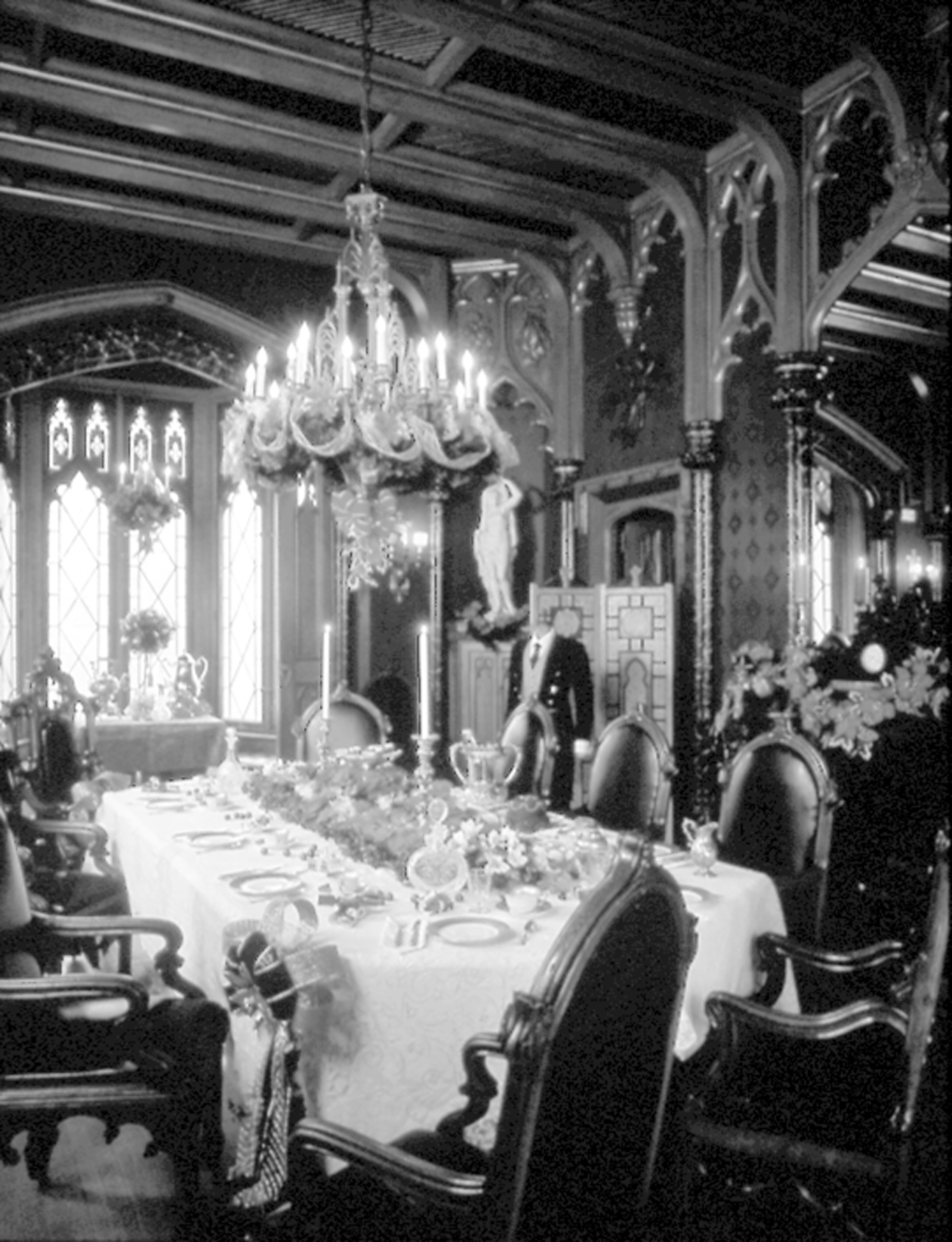 If we need further proof that the Dutch settlers brought their celebratory customs with them, we can find it in the archives of the valley's historic house museums, such as Van Rennsselaers' Cherry Hill, in Albany, or the Van Cortlandt's manor, in Croton-on-Hudson. Scrapbooks and hand-written recipe books, passed down from generation to generation, often contain, among other Dutch favorites, recipes for "hard gingerbread," a typical Saint Nicholas Day treat. This cookie often was made in carved wooden molds–we know a modern version as "windmill cookies." Crisp and buttery, they are flavored with the spices of Dutch seafarers would bgring from a former colony, the Dutch East Indies (now Indonesia).
Irving's work of 1809 and Clement Moore's subsequent poem, first published in a Troy newspaper, as well as influences from abroad (especially from Germany and Victorian England), contributed to an increased emphasis on the secular celebration of Christmas. The now-customary activities such as tree decorating, gift giving, visits by Santa Claus and elaborate feasts became part of the holiday.
In the Hudson Valley, this change apparently was gradual. A New Paltz Christmas in the mid-nineteenth century was still a solemn religious celebration. In 1840, for example, Dr. L. B. Phinney's diary relates his attendance at the Episcopal Church on Christmas Eve and Christmas Day:
The inside of the Church was tastefully adorned with evergreens, and around the inside of the galleries was this sentence taken from The LX chapter, 13 verse of Isaiah: "The glory of Lebanon shall come unto thee, the fir-tree, the pine-tree, and the box together, to beautify the place of my sanctuary; and I will make the place of my feet glorious" in large green letters. The church was crowded: there must have been at least six hundred persons present. The service ended, a solemn silence pervaded the vast assembly, while the Choir chanted the hymn previous to the sermon: "Shout the glad tidings, exultingly sing Jerusalem triumphs, Messiah is kind."
Dr. Phinney attended church again on Christmas morning and "heard a very good sermon. The remainder of the day we spent as a holy day."
Phinney's diary is part of a trove of information left by another ethnic group, the French Huguenots, who arrived in the valley in the later part of the seventeenth century. They first settled in what is now the town of Hurley of Ulster County; in 1677, twelve families acquired a patent from Governor Andros for nearly 40,000 acres of land that had been purchased from Esopus Indians.
The following spring, the twelve families ("patentees") settled an area along the Wallkill river. First they build log cabins, but by 1692 they started building the stone houses we see today on Huguenot Street in New Paltz–now referred to as the "oldest street in America."
The Huguenots left a wealth of records of daily life in the Hudson Valley, including scrapbooks and recipe books. These contain such goodies as French corn muffins (a sweet version made with more wheat flour than corn meal); a dense Hasbrouck coconut cake; and an 1822 "receipt for French loaf cake." The French loaf cake recipe tends to vary from family to family. For some it is a rich pound cake made with the juice and rind of a lemon; other recipes call for adding a pound of fruit and a "gill of wine and brandy." (Another scrapbook explains that a gill equals 4 tablespoons.)
By the time Olana, the spectacular Hudson Valley home of painter Frederic Edwin Church, was completed in 1891, the custom of a secular Christmas feast was firmly in place. Among Church's papers was the following menu for eight, clipped along with its recipes from the New York newspaper The World. While we are not certain the meal was served precisely this way at Church's Moorish villa outside of Hudson, Columbia County, the menu gives us a clear picture of what a formal Christmas dinner at the end of the last century may have been:
Pureé of chicken with cream (chicken broth thickened with a white sauce and filled with chicken meat)
Spanish mackerel served with cucumbers and boiled potatoes (split mackerel, broiled and served with a butter sauce flavored with parsley, lemon juice, salt and pepper)
Vol au vent a le Financire with haricots flageolets (puff pastry raised pie filled with sweetbreads, mushrooms, cocks' combs and truffles, served with small kidney beans)
Roman punch (iced palate cleanser of lemon and rum)
Roast goose à la Chippolata (roast goose garnished with braised chestnuts, little glazed onions, diced breast of pork and chipolata sausages)
Chicory salad with capon of garlic ("capon of garlic" is a clove of garlic rubbed on a thin slice of bread, used for flavoring the salad)
Plum pudding.
It is a heavy meal, worthy of a holiday.
Lavish entertaining at Olana was not limited to Christmas time, however. Writer Susan Hale, a frequent visitor to the mansion, remarks that "Exquisite flowers arranged only by Mrs. Church are always at the table, and every plate and pitcher and napkin is chosen for its beauty or prettyness [sic]." Guests also could expect to find themselves in illustrious company. Miss Grace King, a frequent visitor from New Orleans, shared her welcome reception at Olana with Charles Dudley Warner, the American editor and essayist, and with Samuel Clemens, better known as Mark Twain.
Hale marveled about the hospitality: "The Church's live entirely on the Southern fashion–great abundance of everything on the table. How did I enjoy the curried chicken they had! I noticed that instead of cutting their snapbeans the length way they cut theirs across, making little squares of them."
Of another occasion she writes, "Such a nice supper was prepared for the Blacks [the name of the guests of honor]: boiled chicken, green peas, new corn, potatoes, wild berries and cream and cake–all the curious old silver things on the table & napkins with open-work hem stitching and the big silver candelabras with best candles!–I would have felt better if they had just take[n] off the pretty napkins, but we were too elegant for that."
Of all the historic sites in the Hudson Valley, Lynhdhurst, in Tarrytown, Westchester County, has the most elaborate documentation of Christmases past. Its well-kept butler journals, spanning the years that Anna, Duchess of Talleyrand-Perigord, owned Lyndhurt, record yearly Christmas dinners of the twentieth century.
For example, the menu of Thursday, December 25, 1952, includes tomato juice, grapefruit halves and onion soup as first courses; brook trout, roasted turkey with chestnut stuffing, cranberry sauce, giblet gravy, prime rib roast beef, potatoes "Chauteau" [sic], glazed yams, string beans, mixed green salad; as the main courses; and a dessert of La Bûche de Noël and ice cream, assorted fresh fruits and grapes, assorted nuts, and after-dinner mints. The Duchess and her one guest arrived for dinner at 6:30 and left at 11:40.
If this menu seems opulent for a dinner for two, consider the butler's enry for the previous year, which notes that "table and dining room [were] beautifully decorated for the occasion," and ends with the wistful note, "Madame Duchess did not come on account of bad roads for driving." As she grew older and more and infirm, the journals more often contain that melancholy sentence: "Madame Duchess did not come."
However, on December 25, 1966, she did entertain her private detective and his wife for dinner. Their daughter, Elizabeth Sherrill, of Chappaqua, still remembers visiting the estate with her husband during the Christmas season. She told me, "Lyndhurst was beautifully decorated with swags of greens and banks of poinsetta." But what impressed her most was tht for five people two turkeys were served–the butler and footman placed one at each end of the table. The birds looked uncarved, and Mrs. Sherrill remembers wondering how long it would take to carve them. But both servants, "as if they were performing a dance," pulled back the skin to reveal a fully carved bird underneath. "It took us quite a few tries to learn how to do this, but for some years we always served our turkey that way," she recalls.
To get the true flavor of Hudson Valley Christmases gone by, try my adaptations of three old recipes: The typical Dutch Saint Nicholas cookie, spiced hard gingerbread squares called speculaas brokken; Roman punch, the favorite Victorian party drink or palate cleanser; and a "Good Holiday Cake" from the Lyndhurst files.
The recipes span three centuries–just right for a celebration of the last Christmas of our century.