THROW A COUPLE OF YOUNG HUDSON VALLEY chefs into a hip and thriving food scene and something delicious is bound to happen. Richard Parente, chef and co-owner of Clock Tower Grill, in Brewster, and Eric Gabrynowicz, executive chef and partner at Restaurant North, in Armonk, traveled to Austin, Texas, in January to participate in Austin's Indie Chefs Week.
The five-night event featured 30 chefs from various food regions around the country. Each night showcased a different group of chefs offering a seven- to eight-course, prix fixe menu, each course created by a different chef. The format allowed chefs to share their ideas and creations with each other and to collaboratively plate the meal. The week ended with a grand finale dinner involving all chefs melding their various techniques, tastes and ideas to create a 15-course meal.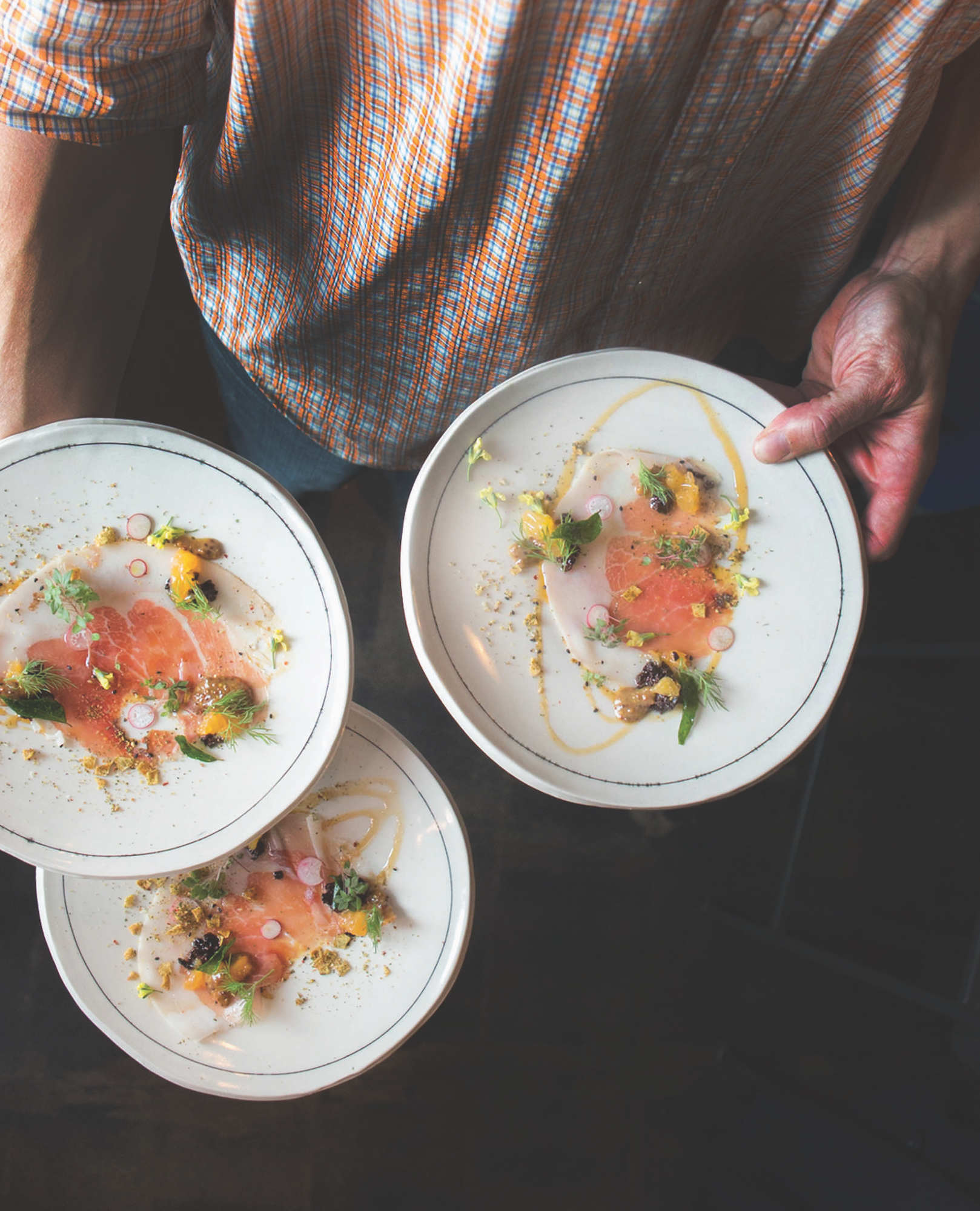 The event was conceived as a way to create a dialogue between chefs and to facilitate a unique, face-to-face meeting of chefs from all across the country that would allow them to come together, cook, share ideas and inspire each other. "When it was all over, I sat down to reflect on the week and never could have imagined the amount I learned," Gabrynowicz says. "Chef life is always an ongoing learning process, but this was different. It was brilliant."
Event participants were encouraged to bring regional specialty items from their area, and the two Hudson Valley chefs delivered. Parente and Gabrynowicz brought local ingredients to the table and showcased their Hudson Valley style and pride. "It was great, because we could really make what we wanted. We collaborated via email thread and then executed the dishes collaboratively, in person," Parente explains, admitting that the collaboration involved equal amounts partying and cooking.
Parente got involved with Indie Chefs Week through event founder Ned Elliot, chef/co-owner of Austin's culinary hot spot, Foreign & Domestic, and Parente's former CIA roommate. Elliot's 47-seat restaurant hosted the event and provided an intimate and exclusive atmosphere. "January, right after the holidays, was a perfect time of year to recharge and be with so many like-minded people," Parente notes. "We really had a chance to interact with guests–it really got me re-excited to get back to my restaurant and make great food."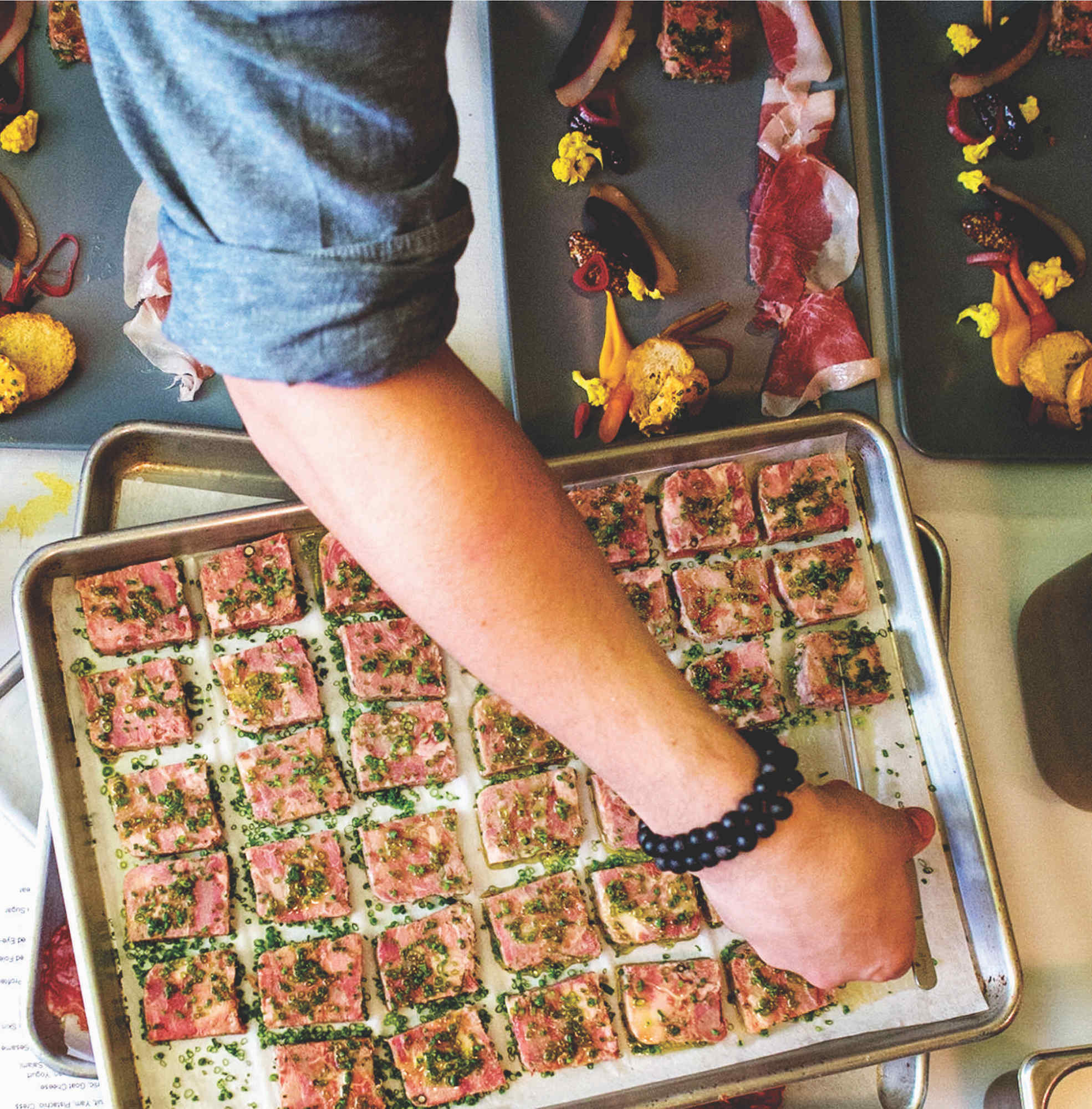 For the finale, Parente collaborated with San Antonio chef Steve McHugh to create a dish that featured lamb prepared two ways: HcHugh brought a Southern flare to the dish of barbecued lamb with hominy and quail egg; Parente took a different approach, transforming the lamb into a tartare made from the lamb's heart, served with mustard seed caviar and garnished with shaved, cured lamb tongue, which offered a light smokiness and salty bite. The flavors of the dish certainly showcased Parente's approach to food, but it also shone a spotlight home. "I thought it would be fun to bring all of my ingredients from the Hudson Valley," says Parente, who brought his lamb from Evans & Evans Farm in Andes (Delaware County).
"It was great to see chefs from around the country speak of the Hudson Valley fondly," Gabrynowicz admits. Products and names like Hudson Valley Foie Gras and Sprout Creek Farm that have gained national recognition have helped put the Hudson Valley on the culinary map, as have its rich history and diversity in food and agriculture. "Dairies, orchards and the river are huge parts of how most chefs view the Hudson Valley," he says.
Gabrynowicz featured Crown Maple syrup in his apples-and-bacon appetizer that was served with lemon and fennel. The salty bacon was rendered to crisp, while the apples were roasted, intensifying their flavor. For acidity and a touch of sweetness, the dish was finished with citrus zest, lemon juice and maple syrup. For his second dish, Gabrynowicz used Peconic (Long Island) Bay Scallops with grapefruit, yam, cress and quinoa cracker. Gabrynowicz describes the dish as "bright and powerful," with a sweet-and-sour umami profile. "It was important for us to showcase who we are and what we do at Restaurant North," he notes. "We feel both of these dishes exemplified that."