WHILE MOST INDUSTRIES CAN ONLY DREAM about triple-digit growth, one segment of the Hudson Valley economy—craft beverages—has grown to a degree rarely seen in any sector. One segment of the craft beverage industry—hard cider—has seen significant growth in the region, jumping 167 percent in only six years, from only two in 2010 to 26 today. (Statewide, the number of hard cider producers has gone from five to 90 in the same period, according to state figures.) Part of the reason for the dramatic growth in cider production here and elsewhere is, of course, the changing demographics of the drinking population and what their preferences are. The current population of drinkers in their 20s and 30s actually drinks more cider and orders more cider-based cocktails than their predecessors did. Combine that interest with a new generation of farmers and orchardists and relaxed regulations for farm-based production, and you've got the makings of a revitalized industry.
At least some of the current interest and growth in the region's hard cider industry can be attributed to the efforts of Glynwood, an agriculture-focused non-profit based in Cold Spring. In 2010, Glynwood established Cider Week, an annual event designed to raise public awareness and appreciation of cider and to bring farm-based producers and industry professionals together to share information. Glynwood also established the New York Cider Association (now an independent group), and continues to encourage farm-based cider production, focusing its efforts in the Hudson Valley, where cider is poised to become a signature product.
On the production side, a new generation of farmers and orchardists has been a major factor in revitalizing the industry. A good example of this "new blood" is Josh Morgenthau. Shortly after finishing college, Morgenthau returned to Fishkill Farms, in Hopewell Junction (Dutchess County), where his family has been farming and growing apples since 1913. Morgenthau quickly began to take an active role in managing the farm, planting new orchards, and turning it into one of the region's most successful farm operations. In the process, Morgenthau studied the history of the region and researched historic texts on New York apples. In the reinvigorated orchards he eventually planted heirloom varieties, including Newtown Pippin, Esopus Spitzenburg and Northern Spy, and, as he continued to experiment with cidermaking, he planted more cider-friendly, bittersweet apple varieties that offered higher tannins, including Dabinett, Yarlington Mill, Porter's Perfection, Ashmead's Kernel and Hyslop Crab.
It sounds romantic—this small, micro‑production—but it's masochistic.
Eventually, Morgenthau created the Treasury Cider label (a tribute to the farm's founder, Henry Morgenthau, Jr., who served as Secretary of the Treasury under President Franklin D. Roosevelt), and released his first commercial cider using Fishkill Farms apples in 2015.
The secret weapon to successful cider, Morgenthau claims, is its terroir. Using a winemaker's philosophy, he notes how well certain varieties of apples reflect the character of the land and climate and create beverages with honest complexity.
There are, in fact, a number of similarities between the region's wine and cider industries, so much so that it sometimes is difficult to shift focus. The steadfast Elizabeth Ryan, of Breezy Hill Orchard in Staatsburg (Dutchess County), has been one of the stalwarts when it comes to promoting cider in the region. Her Hudson Valley Farmhouse Cider started in 1996 was among the first commercially available ciders produced in the Hudson Valley.
"We had an enormous amount of trouble getting a wine writer to cover cider," she recalls, though now, "fine cider is more strongly positioned, more so than ever before." Utilizing the knowledge she's gained from numerous trips abroad that informed her spirit as much as her cidermaking prowess, Ryan relied heavily on the historical nature of cider to develop, her line of hard ciders. Her business has grown steadily over the years; she recently purchased Stone Ridge Orchards (Ulster County) and acquired a new property in Milton.
Ryan admits, though, that there are challenges facing the industry. "It's still hard to get traction in the market," she says, noting many small cideries can't compete with the volume or sales quotas of larger brands, which can make finding and maintaining commercial distribution difficult.
Additionally, Ryan stresses the need for continued consumer education. "The consumer is still not aware of the distinction between fine, craft cider and more mass-produced versions," she says, explaining that blending apple varieties yields a more balanced and complex cider than one made from concentrate. The next step, she says, will be to have consumers experience fine cider with local food, much the way it is enjoyed in Europe.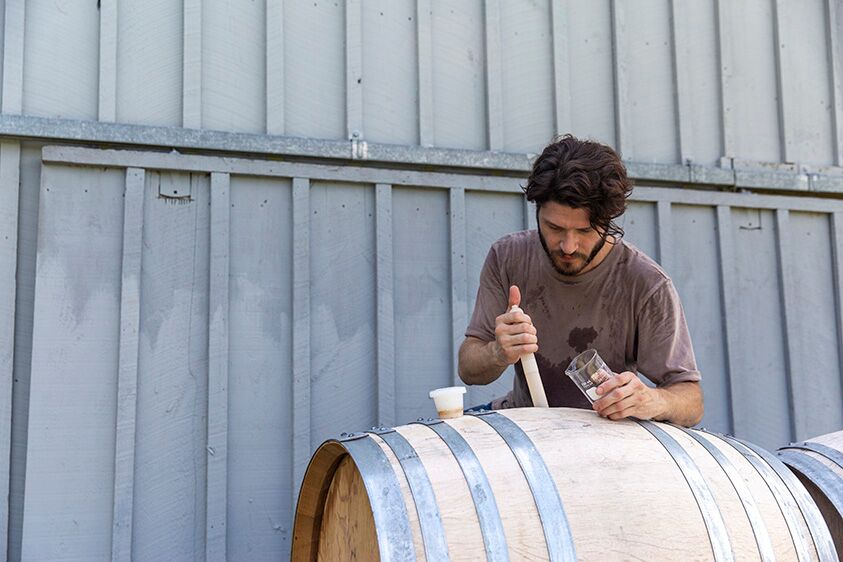 Leif Sundström, of Sundström Cider, previously was a winemaker in Oregon and later represented a premier wine portfolio for an importer and distributor in New York. The idea of making cider took shape when he worked with Johannes Leitz in the Rheingau region of Germany. Unlike Morgenthau and Ryan, however, Sundström owned neither an orchard where he could grow fruit, nor space where he could set up production. But he was coaxed into producing his first ciders in early December 2013 by two friends who covered some of the start-up costs and offered space for production. Sundström initially sourced fruit from Samascott Orchards, in Kinderhook, which grows 72 apple varieties, including some heirlooms.
Sundström's first bottlings were quick sellouts, and he reinvested in more fruit every year while diversifying his sources. His fifth release debuts this fall. "It sounds romantic and all—this small, micro-production—but it's masochistic," he admits. His biggest release to date will be just 300 cases, all likely to be bought up quickly by restaurants such as Blue Hill at Stone Barns or retail shops throughout the state.
Sundström's ciders are among the most lively, especially his blended Sponti bottling. All his sparkling ciders are bottled using what he calls the "rural method," akin to the méthode ancestrale (where wines begin fermentation in the tank and finish in the bottle). His still cider, produced from a single apple variety (Ashmead's Kernel), drinks like a fine white wine at a fraction of the cost.
In order to achieve his 3,000- to 5,000-case goal, however, Sundström knows he'll have to put down roots. In addition to buying apples from various sources, Sundström has been operating as an Alternating Proprietorship, setting up his own equipment in leased space for production and bottling. He's also looking to invest in large wood barrels and other tools to improve the quality of his product.
Diversity of production methods and variety of cider styles are among the factors that make regional hard ciders so exciting and interesting. While some makers, like Sundström, focus on European rural methods, others, like Metal House Cider, in Esopus (Ulster County), use more traditional methods. Kimberly Kae and husband Matt DiFrancesco began experimenting with the apples harvested from their property in pies, apple sauce and cider. They soon found that their poorly pruned, unattended trees produced apples that made splendid still cider. They decided to commercially produce sparkling cider using a traditional method that requires the sediment left from fermentation and aging to be removed from each bottle by hand. Metal House will release a pét-nat, or pétillant naturel-style cider this year.
The next chapter for local hard cider is coming clearly into focus.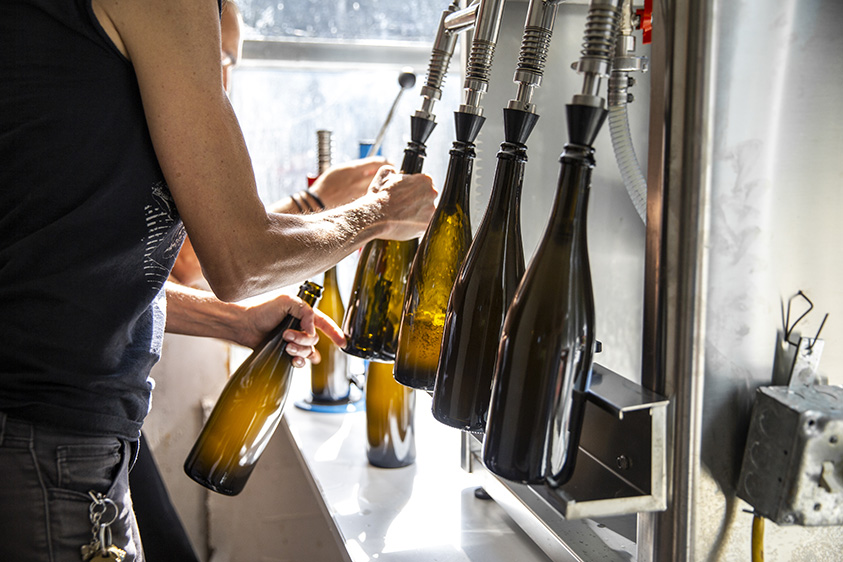 Metal House Cider's first release was a tour de force, reminiscent of a quality blanc de blancs sparkling wine rather than a kitchen experiment with apples. Kae is convinced the quality is in the fruit. "We didn't want to make anything we didn't want to drink," Kae recalls. "Our untreated varieties here at home were yielding a much more interesting cider than if they were those same varieties conventionally produced." This realization led to a search for similar sources—after some research, she found the owner of an old farm just two miles away and negotiated a deal to revitalize his historic orchard. They are now tending and trying to bring back to life more than 900 100-year-old trees, and though the payoff may not come for some time, they're learning to love the work.
Perhaps the biggest change to the region's cider production was the opening of Angry Orchard Cidery in Walden (Orange County) in 2015. Far from being a craft-size operation, this industry giant, owned by Boston Beer Company, dominates the national cider market. The company has been open about the use of concentrate, sweeteners and other products in its high-volume cider production—admittedly techniques that do not conform to the ideals of craft cider.
However, head cidermaker Ryan Burk explains the company had looked all over the Northeast and settled on the Hudson Valley because "it was important to be in a place where apples had a history." The company planted 18 acres of cider apples for production purposes, though currently the bulk of the local fruit comes from partner-grower Jeff Crist, of Crist Brothers Orchards (founded in 1883). Burk works with growers throughout the country and abroad, collaborating with other cideries to create new tastes or buying fruit (from Normandy, for example) for special bottlings.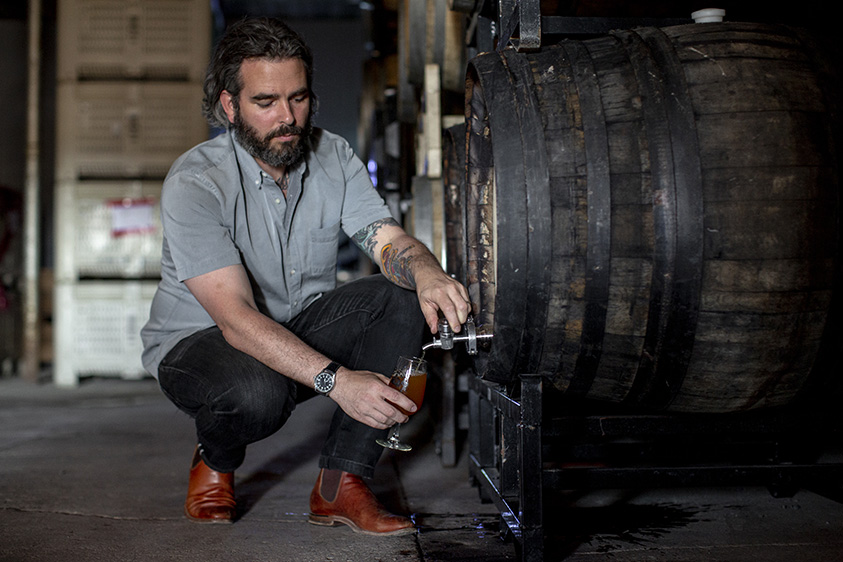 Burk says his ciders are "an homage to the people, the places, and the dinners we've had in these places." Hoping to help define "American cider," Angry Orchard is working with Glynwood to promote cider and to provide opportunities for cidermakers to learn from their Old World counterparts through enrichment trips to important European cider-producing regions. Ultimately, the hope of both Burk and others in the region is that Angry Orchard can stimulate consumer interest so that all producers in the area will benefit from increased cider tourism and a more acute understanding of the product.
With that in mind, discussions are underway about creating a cider "mark of distinction." Akin to the DOP system in Asturias, Spain (a world-class cider region), the mark would set New York (the top cider-producing state in the nation) ciders apart from others via a defined and regulated set of rules, likely defining specific growing areas and/or the apples used in production. Still in the early phases, the designation is expected to take shape over the coming years. "This would be a multi-step process," admits Jenn Smith, Executive Director of the New York Cider Association.
Another consumer-driven initiative is a "dryness scale"—a far more difficult undertaking with cider than, say, with Riesling: The complexities of cider—its residual sugar, acidity and tannins—requires a more nuanced evaluation of its perceived sweetness than is needed even for wine.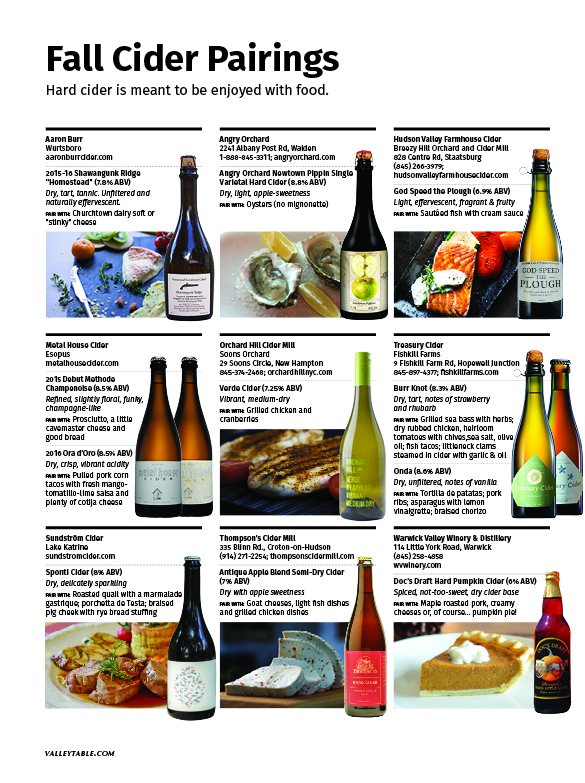 So, the next chapter for local hard cider is coming clearly into focus. Attracting new drinkers, moving existing fans beyond seasonal consumption, and introducing diners to the joys of pairing cider with food are key to the continued growth of the industry. But as Josh Morgenthau says, "More and more I'm convinced cider will have a place alongside beer and wine at the table." An entire regional industry is banking on it.
Breezy Hill Orchard
828 Centre Rd, Staatsburg
(845) 266-3979; breezyhillorchard.com
Fishkill Farms
9 Fishkill Farm Rd, Hopewell Junction
(845) 897-4377; fishkillfarm.com; treasurycider.com
Angry Orchard
2241 Albany Post Rd, Walden
(888) 845-3311; angryorchard.com
Sundström Cider
Lake Katrine
sundstromcider.com
Metal House Cider
Esopus
metalhousecider.com