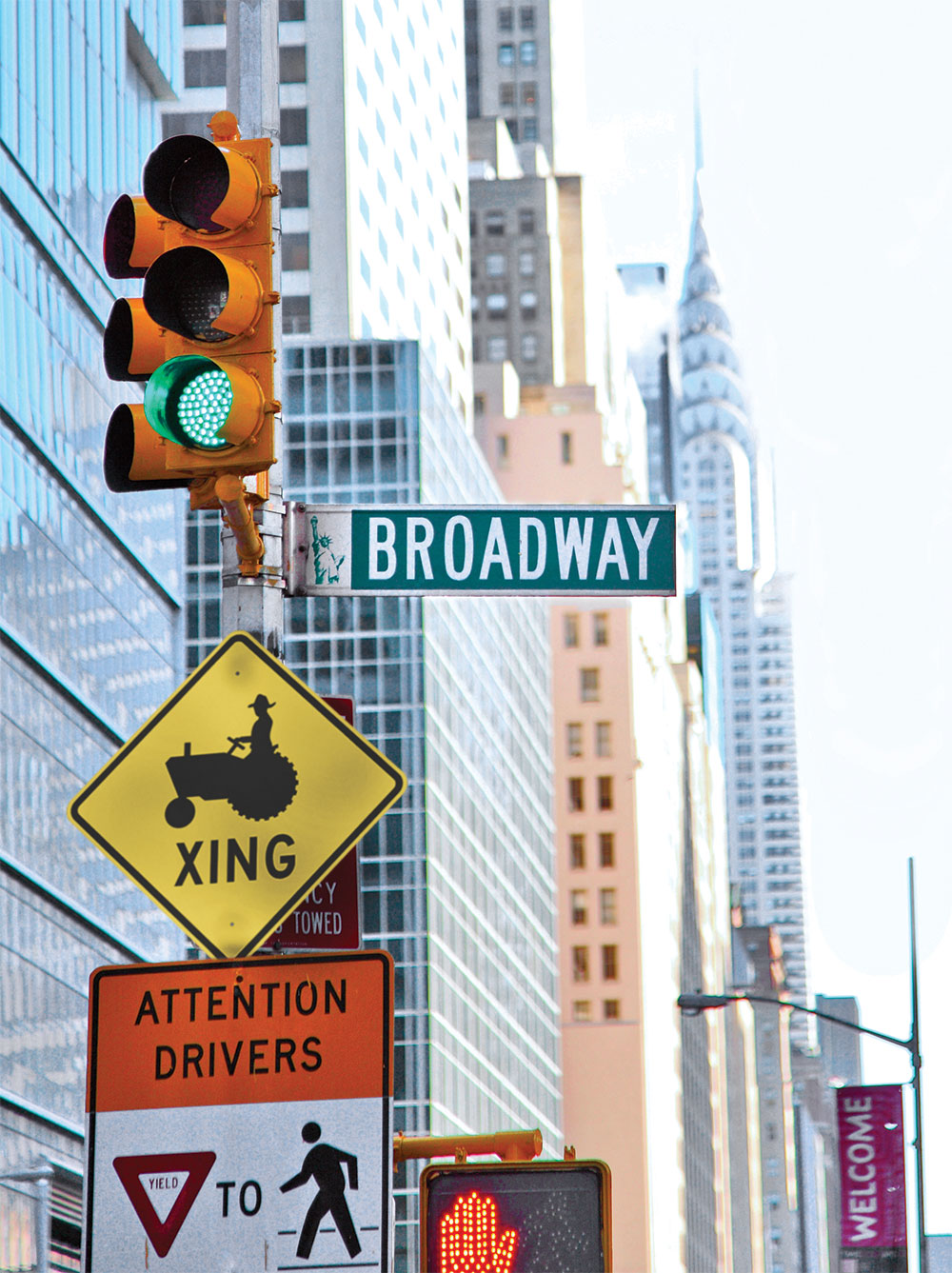 IN MARCH OF THIS YEAR, I was invited to be a speaker and panelist at an Urban Agriculture Conference hosted by the Horticultural Society of New York. At first, I was hesitant to accept the invitation because I know very little about urban farming, and, to be honest, have never given it much thought. I've always thought of farming as something that goes on in the open fields and pastureland of the countryside, not in backyards behind Manhattan brownstones or on vacant lots in the Bronx.
At the same time, I'm not unaware that there is a very real urban farming movement in progress and that it has gained a fair amount of traction over the past several years. It would have been hard not to notice some of the substantial attention it has received in the media. I'd read articles on urban farms and food production in The New York Times, the New Yorker and the Atlantic. Some of these articles were written both by and about Annie Novak, who had worked on our farm in 2005 (ours was the first farm she worked on). I knew Annie as a strong, smart, high energy, delightful person and I was always pleased and a little proud to see the attention and recognition she was receiving with her Eagle Street Rooftop Farm in Brooklyn.
Still, I've had my doubts about the long-term viability and potential for "urban farms" to produce significant amounts of food. The conference organizer, George Pisegna, was highly persuasive and insisted that voices from beyond the urban farming community were also needed. And, of course, a day in New York City, if somewhat daunting to a country fellow, is always stimulating.
The first thing that struck me when I arrived at the New York Horticultural Society's offices on West 37th Street in Manhattan, was my minority status: Almost all the attendees and presenters were a lot younger than me and a majority of them were women—not something I would generally shy away from, but I expected a more staid and middle-aged crowd. What I discovered instead was a very large quotient of youthful energy, knowledge and enthusiasm. As the first presentation of the day got underway—it was given by Severine von Tscharner Fleming, director of the Greenhorns—I realized that I was in for an education.
The Greenhorns are a national, grassroots group of young farmer and gardener activists. Their members are well educated and largely, though not exclusively, female. Their goal is to recruit, promote and support young farmers, and work toward building sustainable, accountable, and local food systems.
The Greenhorns have a weekly radio show on the Heritage Radio Network, a wiki-based resource guide for beginning farmers, and their own popular blog. They've already produced a documentary film and have a guidebook for beginning farmers in the works. Severine noted that in 2010 alone, her group hosted 37 events in 20 states, focusing on education and empowerment and finding ways to overcome the barriers that young farmers face, such as learning the trade, and gaining access to land and capital. The Greenhorns don't shy away from the nitty gritty of small-scale, diversified farming— they've offered workshops on such subjects as knife sharpening and butchering.
We heard from Jane Hodge, who works for Just Food, a New York City-based organization that since 1995 has grappled with issues pertaining to hunger, nutrition, food justice and the survival of small, regional farms. Just Food works on several fronts developing and supporting community gardens and urban farming, promoting community supported agriculture ventures in underserved neighborhoods, and linking rural farmers to new urban marketing opportunities. They also work to bring fresh, locally grown food to soup kitchens and food pantries throughout the city.
As director of Just Food's new Farm School program, Hodge oversees an ambitious effort to teach young city residents of all economic, social and racial backgrounds how to produce at least some of their own food. The school offers several short courses, ranging from one to six weeks in length, and a full 2-year certificate program. The program seeks to foster greater self reliance and community values and encourage better eating habits.
Another speaker was Jeremy Smith, author of Growing a Garden City [Skyhorse, 2010; $24.95], who gave compelling accounts of how urban and local food initiatives can transform peoples' lives. While photographs from his book displayed on a screen behind him, Smith told about a drug-addicted teenage girl, a single mother and a homeless shelter chef who found community, meaning, and a kind of redemption when they rolled up their sleeves and started growing food. The smiles on the faces of these individuals, and others, told the story as well as Smith's words. Getting one's hands in the soil and helping things grow can offer a reprieve to those in need, and have highly therapeutic results.
As the day unfolded, I began to get the message, loud and clear.
Karen Washington, of the New York City Community Garden Coalition, reminded us that community gardens existed in her neighborhood, the Bronx, long before the current urban agriculture phenomenon began to occur. She talked about how earlier generations of black residents gardened more out of necessity than out of any desire to reform the nation's agricultural system. (When you live in a part of town ill-served by grocery stores and supermarkets, tending your own garden is one of the few ways to get decent, fresh food—still the case for many people throughout America today.)
As manager of the Urban Food Systems Program for New York State Department of Agriculture and Markets, Christina Grace coordinates efforts among various agencies to promote community gardens and urban farms throughout New York City. The Farm to School Program, which works to bring fresh, locally grown food into schools, and the Garden to Cafeteria Program, which teaches students to grow food in school gardens for use in their own cafeterias, provide a great opportunity to involve and inform students about where food comes from and the role it plays in their health and wellbeing. For example, John Bowne High School in Flushing, Queens, operates a four-acre farm complete with field crops, an orchard, its own green­house and an assortment of livestock, including chickens, goats, rabbits and even alpacas. Apparently, many students from this unique New York City school go on to pursue careers in agriculture.
Jack Algiere is the vegetable farm manager at the Stone Barns Center for Food and Agriculture in Pocantico Hills. He traced the various agricultural paths he has journeyed down, from his parents' farm in Rhode Island, to his present position at Stone Barns, and how they have shaped his philosophy of farming. He emphasized the importance of diversity and an ecological approach to farming that seeks to balance the needs of land, plants, animals and humans.
Our government has failed to work in any significant way toward bringing us more healthful food.
When my turn to speak came, I told the audience that most of the members of my generation (that is, already collecting Social Security), at some point along the way bought into the myth that the industrial food system in America had reached such a state of excellence and efficiency that it was almost another wonder of the world, and that there was no valid reason to question it. At least that's what we were told by the big agribusinesses and their government underwriters. To question the myth seem­ed silly, almost unpatriotic, especially in a world with so many other pressing issues—wars, over-population, the commnist menace, loss of species, nuclear weapons, TV sitcoms. After all, for most of our lives, the food we'd been consuming was plentiful and relatively inexpensive, and it looked good, especially in its glossy packaging. What more did we need to know? What more could we ask for?
Today, of course, many young people want to know more about how their food is produced, and, at the same time, want something better. They want food that is not only plentiful and looks good, but also tastes good and is good for our bodies and our planet.
I lamented that, despite Michelle Obama's healthy food initiative and her organic garden on the White House lawn, our government has failed to work in any significant way toward bringing us more healthful food. The forces that influence and largely control Washing­ton, it would seem, are so per­suasive that they are able to overcome the popular interest and the popular will. My arguments? First, one need only cite the USDA's recent approval of Monsanto's Roundup-Ready alfalfa, a techno-crop that no one really wants, except Monsanto. For them, it's a good thing—they'll sell more of their herbicide, Roundup, and tighten their control and owner­ship of the nation's food supply. But it's not good for farmers, consumers or the environment, and it will almost certainly lead to the (possibly irreversible) contamination of non-GMO and organic hay crops, no small thing if you want to continue eating the meat of animals that consume hay.
Second, recent federal budget—cutting proposals would drastically slash funding for sustainable agriculture programs and research, as well as programs that reward farmers for environmental stewardship, while leaving intact $5 billion per year in subsidies to the growers of commodity crops like corn, soy and wheat—payments that go out year after year, regardless of need. The commodity crops are mostly used in processed foods and animal feed and, because they are subsidized, they are cheap. In the marketplace, this gives them (and the big companies that use them) an unfair advantage over growers of fresh fruits and vegetables.
As I walked away from the conference to have dinner with my wife and some friends in their apartment on the 57th floor of a high-rise building on Manhattan's West Side, it was clear to me that urban agriculture is alive and well. Despite doubts I might have had, this endeavor is not likely to go away soon. Yes, it produces nutritious food (more than I had thought) but, perhaps more importantly, urban gardens and agriculture provide an opportunity to engage people of all shades and stripes in the age-old, elemental process of tending plants and animals. Sustainable farming practices, the importance of community, connect­ing with nature, environmental steward­ship, health, nutrition, and food justice, all can take root on a plot of land, whatever its size, when people come together to make things grow.
It is not only sovereigns and dictators who can take away our freedoms—an agricultural autocracy can do the job just as well. And that, it seems to me, is the condition we find ourselves in. The dominant food system in America is corporatized, industrialized, and monopolized beyond recognition.
Perhaps even worse, the seeds it sows are increasingly patented and therefore beyond the public domain. This food system is abusive to both land and animals, and ultimately to the people it feeds, for it spews forth an endless stream of over-processed, over-sweeten­ed, over-hydrogenated pro­ducts that leave our bodies under-nourished and our appetites barely satisfied. Every day this rapacious corporate machine sends legions more of us down the road to obesity, diabetes, heart disease and general ill health—all in the name of global capitalism, which seeks only to expand its market and amass greater wealth.
We need something better.
Something better is what many people are working to achieve. A quiet and distinctly non-violent revolution is underway, especially among our nation's youth: The resurgence of small farms, local food movements and community gardens all across this land of ours are grass-roots attempts to reclaim some measure of control over the most essential things in our lives—food, health and community. I am now convinced that urban agriculture, in all its forms, is a vital player in this cause.