ON A LATE SPRING DAY at McEnroe Organic Farm in Millerton, students from Manhattan's Columbia Secondary School stand huddled over rows of vibrant organic strawberry plants. "This is the BEST strawberry I've ever eaten!" exclaims the first student to take a bite, and echoes of agreement fill the crowd. Earlier, back in their urban classroom, the students learned the benefits of fresh and local food–now it comes to life as they pop just-ripened berries off the stem at the farm.
Well known in the valley for its retail produce, meats, soil and compost, McEnroe Organic Farm is one of New York State's oldest and most diverse NOFA-certified organic farms. As leaders in the local and sustainable food movement, owner Ray McEnroe and his son Erich have offered educational programs on- and off-farm since 2007. Whether catering to visitors from distant urban centers or from a neighboring rural school district, McEnroe offers a variety of farm tours, school programs and demos to teach students at all levels about organic gardening, farming and composting.
We're teaching garden-scale vegetable practices in the school garden, and farm-scale food production through tours and visits to McEnroe Farm.
McEnroe Farm Education Program Manager Annie Bossange leads the educational programs on the farm, and she also works with local students and teens to maintain the Webutuck School Garden and North East Community Center Garden, both in Amenia. Each winter, students gather with the education staff at a McEnroe greenhouse to start plants for the upcoming season, learning about the soil mixes produced at the farm, organic seeds and planting techniques. They return weekly to water the seedlings and transport sprouted plants into larger pots.
Now in their eighth season, the gardens have grown to include 80 raised beds. Students from grades 4 through 12 work on the gardens during the school day, after school and during the summer to harvest produce for the school cafeteria and food pantries (and they can also bring some home).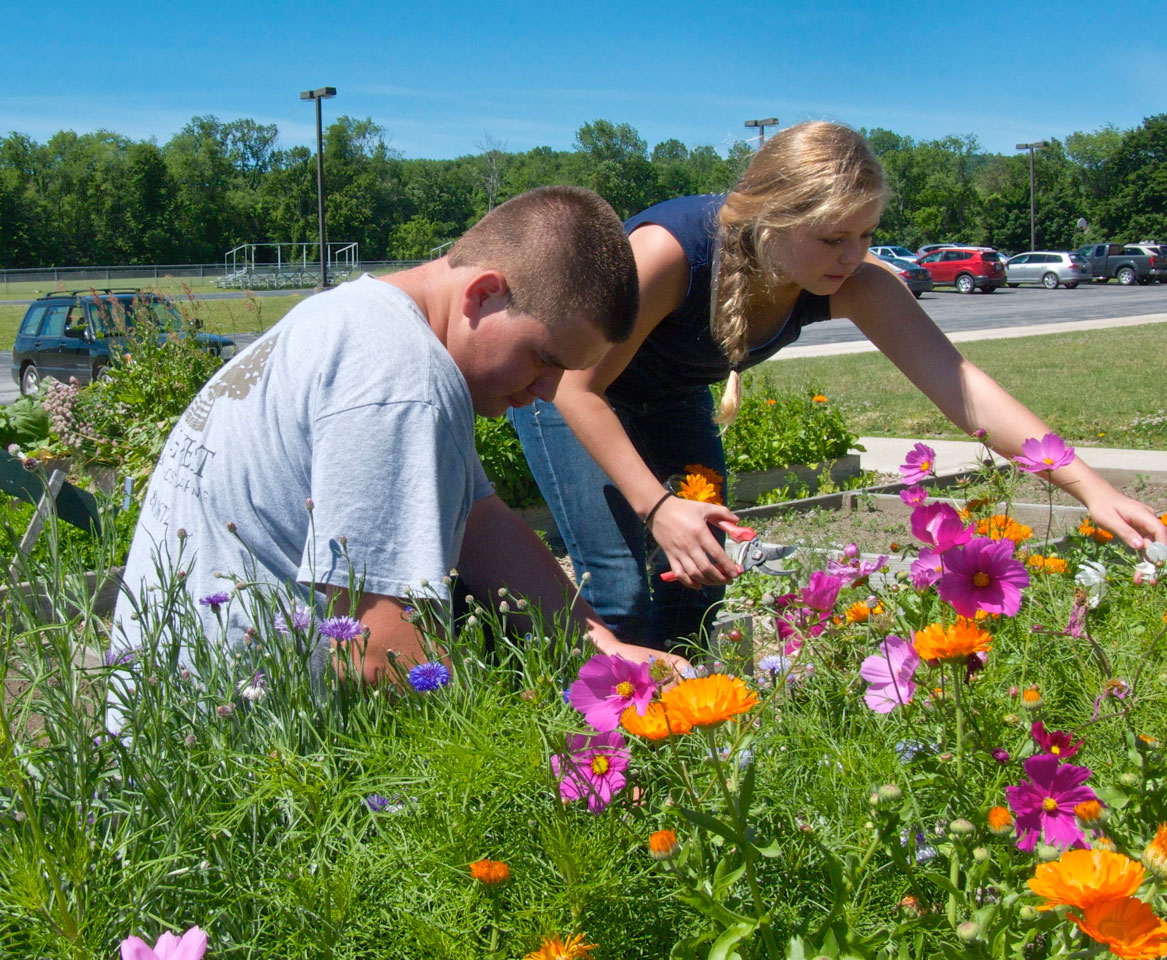 In addition to planting starts and caring for the plants through the season, students also learn about composting organic matter from the garden and the school's cafeteria. "We have an amazing opportunity to expose Webutuck students to different parts of the food system," Bossange adds. "We're teaching garden-scale vegetable practices in the school garden, and farm-scale food production through tours and visits to McEnroe Farm."
For those not directly involved in the school gardening program, a farm tour covers a brief history of the farm as well as the basic principles and practices of organic farming. Groups visit greenhouses, livestock barns and the compost facility, then can opt for an educational workshop focused on seed starting, compost mixing, seed saving and seasonal pick-your-own, followed by a lunch made from produce and meats grown and raised on the farm. Groups also can walk through the self-guided "Discovery Garden," where eight interpretive plaques along the walk explain the organic agricultural methods displayed, alongside pastures of piglets and chicken enclosures.
Student or bus-tour visitor, farm tour or class project, McEnroe Organic Farm is one classroom where you never have to just sit still at your desk and raise your hand to ask a question.