SPENDING A COLD WINTER DAY out in the snow and ice practically demands a steaming mug of hot cocoa. The common, store-bought packets may do for some in a pinch, but master chocolatiers in the Hudson Valley have something much more decadent and delicious to offer: a rich elixir called "sipping chocolate."
Typically made from ground chocolate mixed with hot milk or cream, sipping chocolate is hot cocoa times 10. Since the chocolate component is so rich and concentrated, sipping chocolate is usually served in small quantities, like an espresso. A few local artisan chocolatiers now offer their own versions of this winter treat.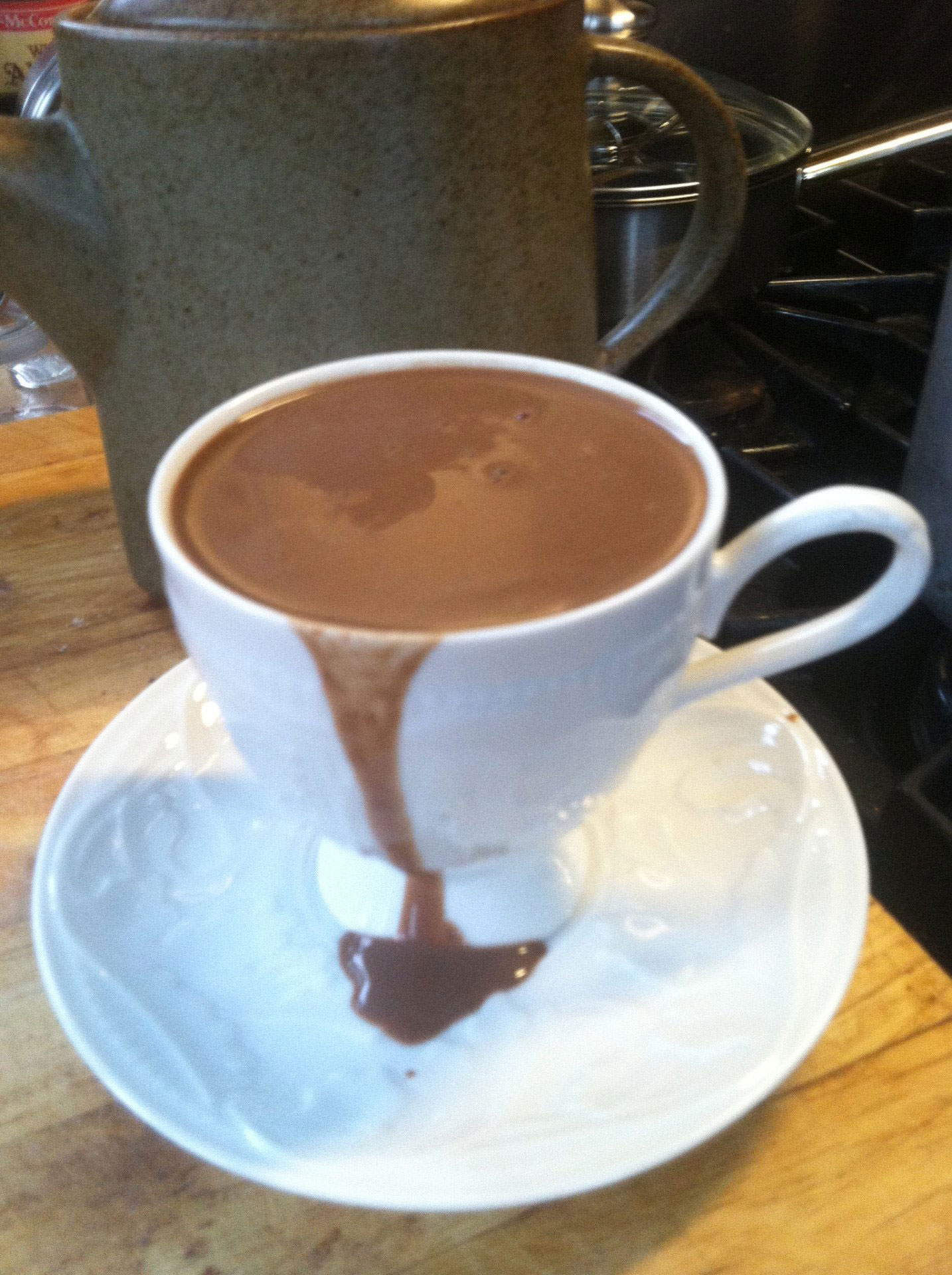 Oliver Kita, owner of Oliver Kita Fine Confections in Rhinebeck, describes his sipping chocolate as "luxurious"—a description earned by its 54 percent dark ground cocoa content, giving it a rich and robust flavor. "Our sipping chocolate mix is very dark and dramatic," Kita says. "At our retail store, we serve a fresh homemade version of it that is essentially liquid chocolate—very thick and very rich, similar to what one would order from a European cafe." Kita also offers the mix at the store's retail location and online ($10.25/8-ounce pouch).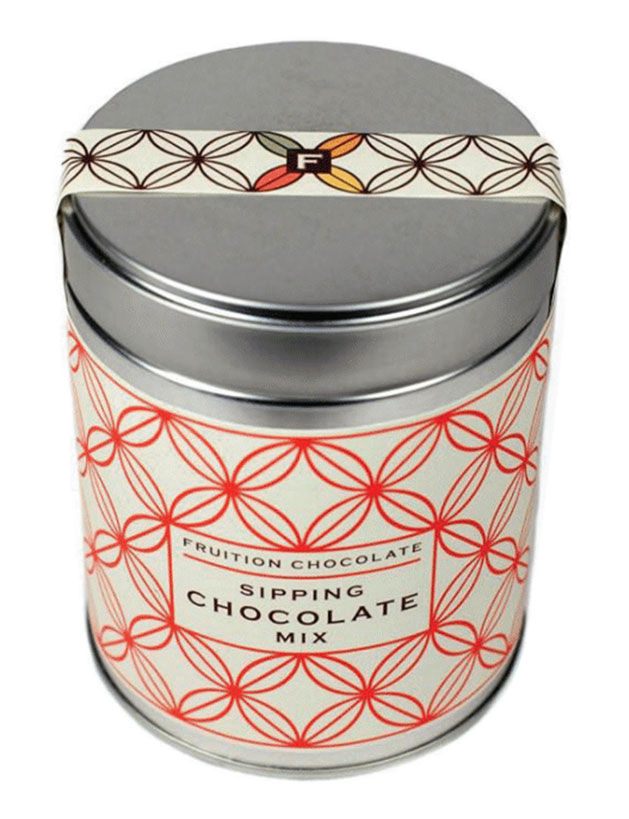 Fruition Chocolate, in Shokan (Ulster County), uses a blend of roasted Peruvian and Dominican cocoa beans, cane sugar and sea salt in its sipping chocolate mix. Owner Bryan Graham notes, "Most hot chocolate mixes are made from cocoa powder, [from which] most cocoa butter is pressed out; our mixes are based on full chocolate—no cocoa butter is removed—which makes it creamier without adding any milk ingredients. We wanted it to be accessible to people who are vegan or allergic to dairy." During the holiday season, specialty flavors are available, including mint, orange spice and malted milk. The mix ($21.95/12-ounce tin) is available at the Fruition store in Woodstock and online.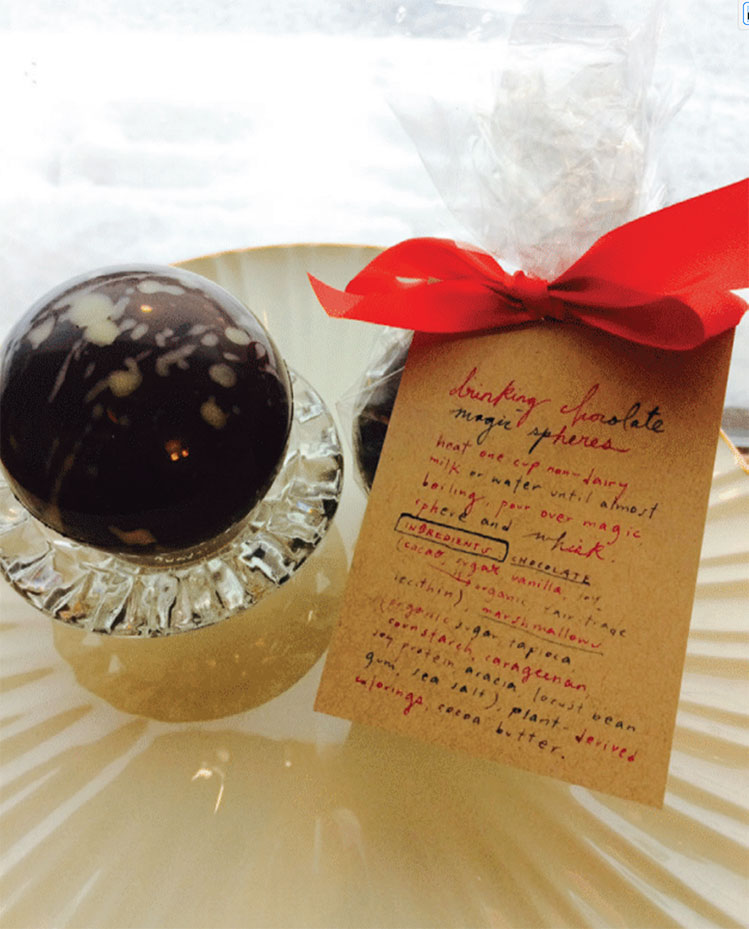 ​Lagusta's Luscious, a Fair Trade vegan chocolate company in New Paltz, offers multiple ways to get your sipping chocolate this winter. The first is the company's signature drinking chocolate mix ($10/7-ounce jar), which comes in two varieties: original (organic, Fair Trade semisweet chocolate with sugar), and spicy (the original blend with less sugar, mild ancho chiles, canela Mexican cinnamon and vanilla).
"At home, you can control the intensity of the drink by using more or less mixed with hot almond milk," owner Lagusta Yearwood says. "We also serve a super-rich homemade sipping chocolate at the shop and our cafe (Commissary) down the street. It's made with the same amount of chocolate ganache that goes into ve of our truffles." It's topped with vegan whipped cream and vegan marshmallows.
At the shop, Yearwood also offers a fun option: the "magic drinking chocolate sphere" ($6.50). Pour a cup of heated non-dairy milk over the round chocolate ball, whisk and voila!—a rich chocolate experience, complete with vegan mini marshmallows that appear as the drink liquefies.