HERE IN THE HUDSON VALLEY and across the country, thousands of vacant city lots, once breeding grounds for crime or illegal dumping sites, are being reclaimed by a new breed: urban farmers who cultivate fresh food, healthier communities and green, open space. Activists, environmentalists or just plain good folks, they're bringing people together and beautifying blighted neighborhoods while nourishing bodies and souls.
First Lady Michelle Obama's White House garden and a downturned economy may have sparked the nationwide interest in urban farming. In Orange County, Lloyd "Decora" Saniford planted the first seeds for growing community gardens when he launched "The People's Garden" on a vacant lot in Newburgh owned by Mount Saint Mary College, where he was a student.
Inspired by a 2008 article about Saniford and the 16 families who were growing their own vegetables, herbs, fruits and flowers, Jim Delaune, Executive Director of Orange County Land Trust, in Middletown, studied the benefits of community gardens: They not only make vacant urban land productive by providing healthful, low-cost food, they engage city residents in land conservation and stewardship. Here was "an opportunity to reach out to a group of residents that the Land Trust, with its focus on protecting the county's farms and larger tracts of natural lands, had largely ignored," Delaune says.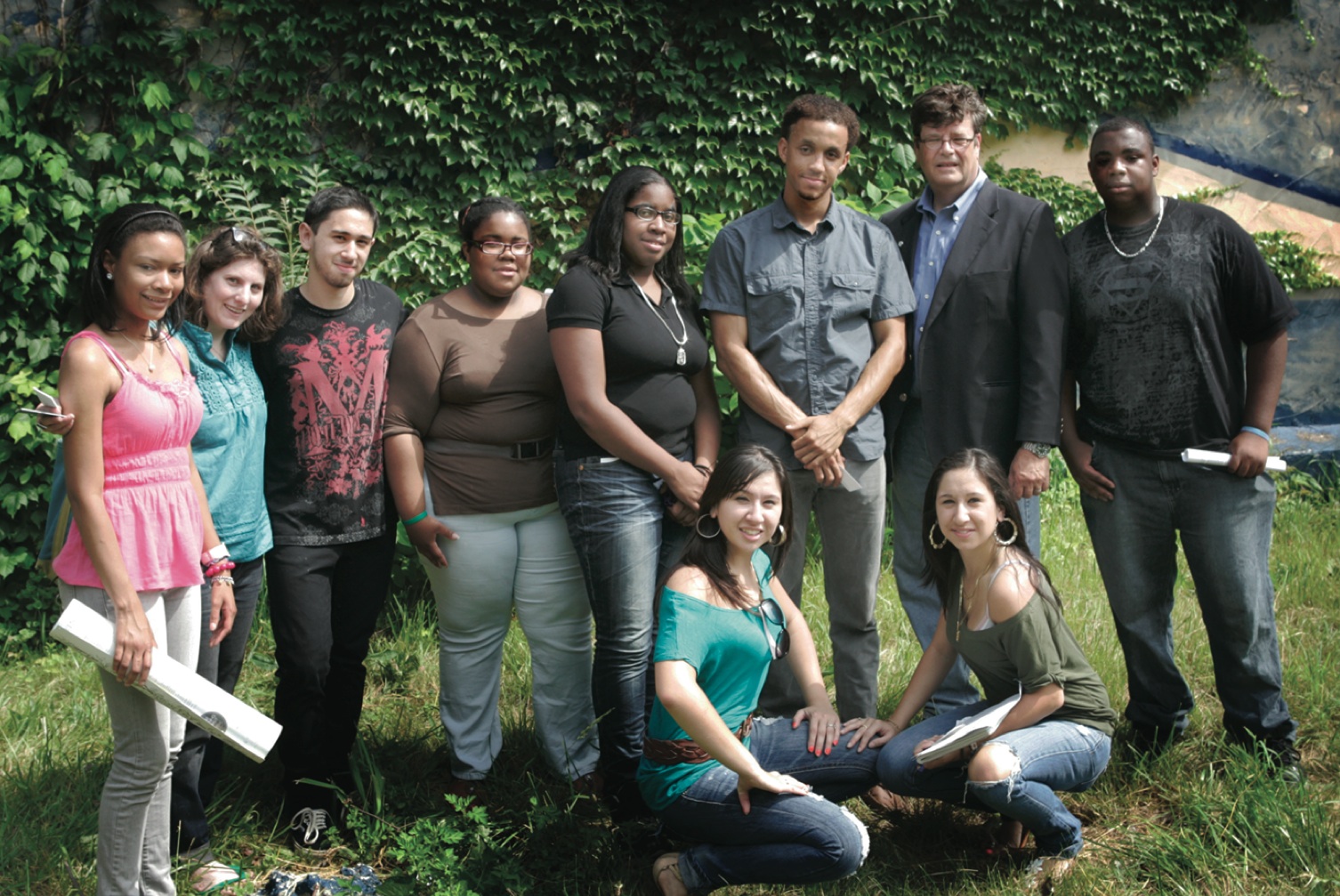 ​Delaune encouraged his board of directors to support Saniford's project, as well as other new urban farmers who were interested in similar projects. The board agreed to donate $400 for tools, supplies and a shed. Last spring, the Land Trust led an effort to make additional improvements to The People's Garden and to reach out in other distressed areas in Newburgh, Middletown and Port Jervis. The group raised $81,000 in grants and contributions for community garden projects and received organic seeds as well as volunteer work hours. More than 125 garden plots were made available to gardeners in the three cities.
"La Vida Garden," in Newburgh, the first of the gardens to open, is coordinated by the recently formed Urban Farmers League, a youth-run organization of teens ranging in age from 13 to 17, who are dedicated to growing and distributing organic fruits and vegetables to low-income families and individuals and to educating the city's young people about the benefits of growing and eating locally grown food. The group holds workshops and events at the garden, including movie and open mic nights to allow "youth and community members to express themselves."
Across the river in Dutchess County, The Green Teen Community Gardening Program in Beacon, The Poughkeepsie Farm Project and the new Fall Kill Partnership Gardens are all part of the urban agriculture movement, helping to create a more equitable food system by improving access to fresh food for people living in cities. Many American cities, large and small, have been dubbed "food deserts" because residents have limited access to the fruits and vegetables needed to maintain optimum health. Supermarkets and specialty food stores that once lined city main streets closed or moved with more affluent populations to the suburbs.
"Poughkeepsie has a vibrant, diverse community—all kinds of wonderful people come together here who might not talk to each other on the street," says Heather Wernimont, Fall Kill Partnership Gardens coordinator.
Located in the center of the city close to more than 20 social service agencies, Fall Kill Partnership Gardens occupies the former Green Teen garden space that closed last fall because of county budget cuts. This season, the gardens supported 29 gardeners and two local teen groups. "This is a 100 percent community-driven effort," Wernimont says. The gardens have received some support from local businesses, including Adams Fairacre Farms (which contributed toward a permanent fence) and the Hunger Action Group at Vassar College (which supported an irrigation system). Shabazz Jackson of Greenway Environmental Services is providing educational programs and assistance in building a composting system.
Wernimont, the first in five generations of farmers who chose not to take up farming, grew up in Iowa. "I was surrounded by soybeans and corn and very detached from my food," Wernimont says. "Food was a raw material." The Fall Kill Gardens brought her full circle.
The urban farmers of Fall Kill Partnership Gardens communally care for strawberries, raspberries, grapes, a peach tree, a pear tree and a small plot of perennials. They've harvested a large crop of garlic, from which they hope to cultivate more "green dollars" to fund the cost of a permanent fence.