Located beside Callicoon Hills, a resort hotel in Callicoon Center, the restaurant celebrates local ingredients and seasonal flavors.
Some of the best restaurants are hidden inside hotels. (Don't believe us? Check out this guide.) In Sullivan County, Conover Club is one of those restaurants.
The eatery is connected, both literally and figuratively, to Callicoon Hills, a welcoming resort hotel in Callicoon Center. Just as the hotel embraces the nostalgic allure of Catskills resort culture, so too does the restaurant, which invites both guests and local diners to take a seat in its comforting, elegant interior.
At Conover Club, which opened in May 2021, the focus is local in all things. The restaurant draws its name from the Conover, a wingless dry fly that has been cast on Catskills streams for decades. In an area in which fly fishing thrives, it only made sense to lean into the pastime.
"When coming up with a name for the restaurant, we wanted to aim at 'keeping it local,'" explains Conover Club Executive Chef Jean Paul Medina. The chef, who joined the restaurant prior to its opening in February 2021, has more than a little experience when it comes to fine dining and farm-to-table cuisine. After getting his start at the French Culinary Institute in Manhattan, he honed his skills at acclaimed restaurants like the Michelin-starred BLT Fish, BLT Steak, Washington Market Tavern, and L'Apicio, the latter which won "Best New Restaurant" from Bravo TV during Medina's tenure there.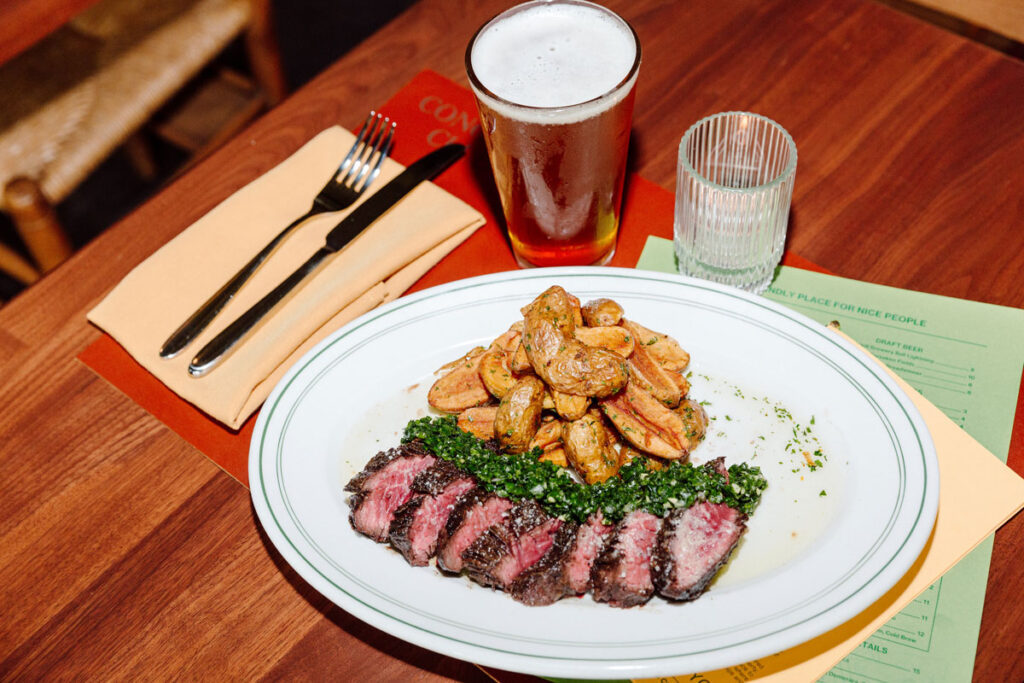 Yet when a desire to forge a stronger connection with purveyors struck, Medina said goodbye to the New York City restaurant scene to help open The DeBruce in Livingston Manor in 2017. In 2018, that restaurant earned a place on Esquire's "Best New Restaurants" list. After that, Medina served as Executive Chef at The North Branch Inn restaurant before joining the team at Conover Club, located just down the road.
Dining at Conover Club
When asked to describe the food program at Conover Club, Medina notes that it is "simple and approachable new American cuisine, done right." And indeed, it is. The menu draws heavy inspiration from seasonal ingredients and local producers, who power the bulk of the dishes. Medina aims to source from the restaurant's neighbors as often as possible, since the quality of the meats and produce is hard to beat.
"Our area has some of the best farmers' markets, so why go further?" he says. "Everything is seasonal and reflective of what you see going on outside."
During the winter months, an emphasis on cozy, comforting food takes precedence. With the wings, for instance, Medina cures and confits them before deep-frying them and tossing them in a blanket of chili lime hot honey sauce. The hunter's pie and venison Scotch eggs are equally homey and use red stag sourced a mile away at Halloran Farm. Pro tip: Don't skip out on the brunch offerings, either. The bagel sandwich may look like a simple listing on the menu, but what arrives on your plate is more like a mountain of breakfast goodness than a basic BEC.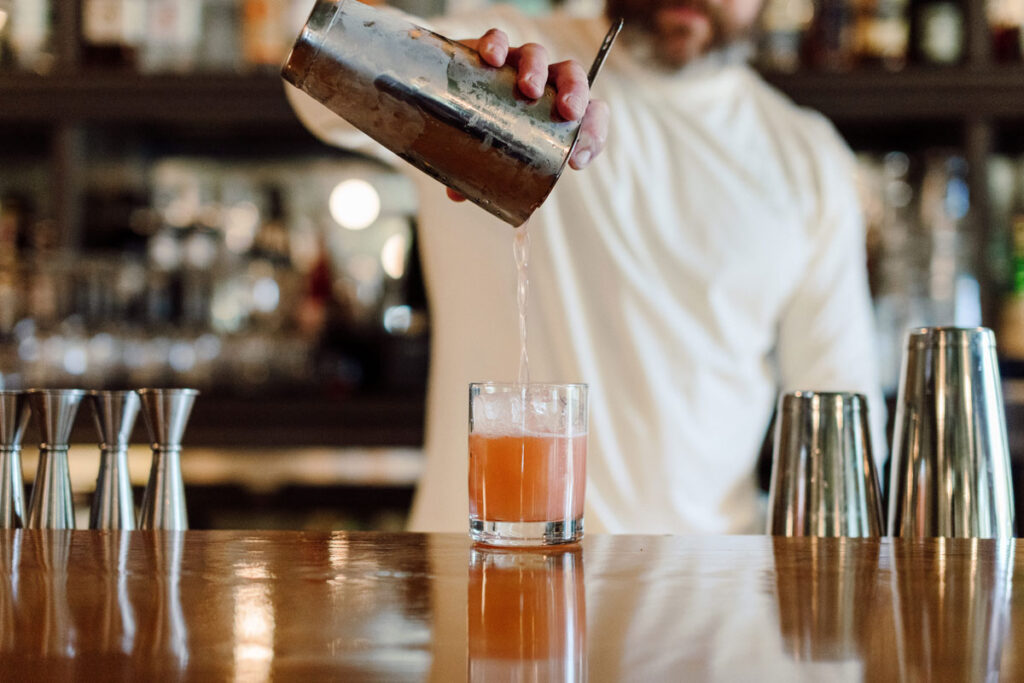 And then there's the bar program. The farm-to-table ethos that pervades the restaurant extends to the bar, with cocktails celebrating local and seasonal flavors as often as possible.
"In the spring/summer, our drinks are named after other fly-fishing lures," Medina explains. "In the fall/winter, we name them after popular hiking trails, all representative of where we are."
Keeping in line with seasonality, Conover Club has also made a name for itself with its unique, themed dinner offerings. Perhaps the most popular of all is the yearly Offal Dinner, an upscale and elegant event that occurs around Halloween and spotlights — you guessed it — all those animal parts you might not normally consider eating.
"I focus on cuts of animals and parts of vegetables that are usually discarded or considered garbage and design a nine-course tasting menu around them, influenced by my Colombian heritage, the Catskills, and traditional methods and recipes," Medina notes. For him, dinners such as this are an important way to spark conversation about food waste and sustainable practices in the industry.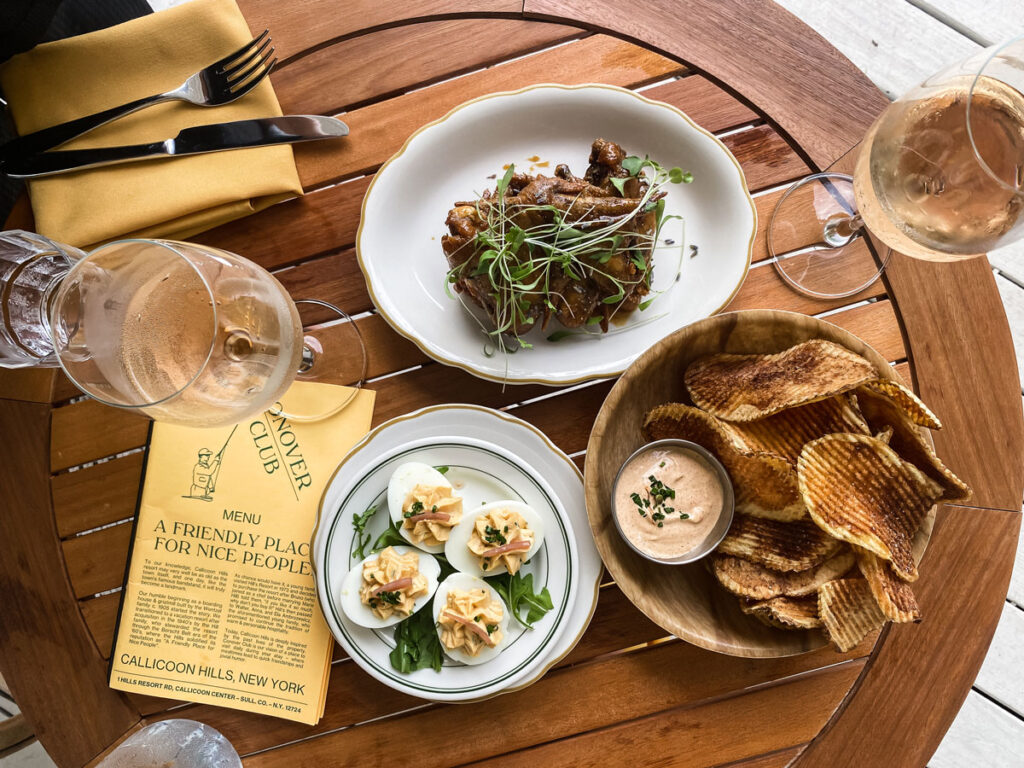 "The top restaurants in the world now lean more heavily than ever on plant-based trends, especially in the name of sustainability," he observes. "While I don't disagree with plant-based trends, I also realize that there are many farmers that raise their animals in a sustainable way and appreciate life and quality over quantity of product."
If the sold-out success of the Offal Dinner is any indication, Medina certainly seems to be onto something. And, of course, he's only getting started.
"Taking it as it comes has always been the road to our success," he says. "We face our challenges as they come, adapt accordingly, and make the best with what we can. It keeps us sharp and guarantees that our guests are walking away with the best experience possible, and not just a typical cookie-cutter type of experience. You get 100 percent of us, our skills, and the best product available."
P.S. Want to check out Conover Club for yourself? The eatery is participating in Hudson Valley Restaurant Week's spring 2023 edition, which runs March 20 to April 2.
Conover Club
1 Hills Resort Rd, Callicoon Center