IT'S HARD TO PINPOINT exactly when early humans learned how to control fire for cooking food, but many anthropologists say it was about 600,000 years ago. One thing is for certain: Chefs working today in the Hudson Valley continue to improve on the process, and by all accounts, customers are, well, hot for it.
"I don't know if it is in our DNA or part of umami, [but] there is a primal taste we have [for food cooked with fire]," says Waldy Malouf, senior director of food and beverage operations at the Culinary Institute of America (CIA) in Hyde Park. "It is the reason why a grilled hot dog tastes better than a boiled hot dog. We experience this in our system."
Malouf knows fire. In the early 1990s, he opened the Hudson River Club, and later Beacon Restaurant & Bar, both in Manhattan. In addition to creating a cuisine that celebrated the food grown and produced in the Hudson Valley, Malouf was one of the first chefs on the East Coast to bring live fire back into the commercial kitchen. Some people were making pizza and flatbreads in wood-burning ovens, but Malouf's restaurants roasted meats and vegetables and grilled fish in them, too.
Early in his career, Malouf visited Spain and Argentina, where chefs regularly cooked using wood fire. "I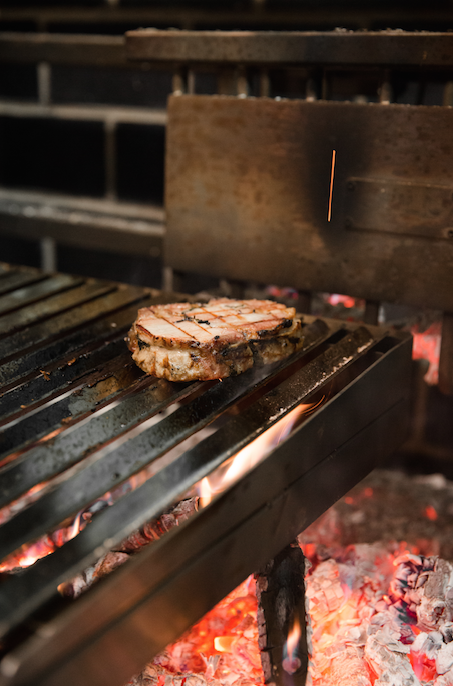 sort of fell in love with it," he recalls. "In countries like Japan, Korea, Spain and Italy, they cook with live fire regularly, and in California, more people were doing it. It was an unusual thing for us to do in New York at that time. I just brought it back a little more."
Cooking with live fire "is very much a trend these days," Malouf says. "It is not really easy because you have to commit to it, to learn how to use it in a commercial setting." Because restaurants need different exhaust and fire-suppression systems, "It is a little more expensive than cooking with gas, and more expensive to set up," he adds.
At the Heritage Food + Drink, which opened in August in Wappingers Falls, 40 percent of the entrées are prepared on a 12-foot, custom-made, open-fire grill in the 250-seat restaurant, which also uses outside grills and smokes some of its food. "We do a lot of slow cooking on the grill, like Southern pulled pork," says Executive Chef Shawn Burnette. "All our steaks, lobster and whole trout boned out are cooked on the grill. What I would really love, at some point in the future, is to expand the [inside grill]."
Burnette is no stranger to cooking with fire. His background includes the acclaimed Husk in Charleston, South Carolina, and Butterfield at Hasbrouck House in Stone Ridge, where he brought back the property's smokehouse. "I've been learning how to cook over fire for the past six years, since I used a wood oven, smoker and open pit at Husk," he says. "We used the embers to cook, too, and we do that here. The color of the embers is the temperature of the fire. Like in a colonial hearth, we cook in cast iron and put the cast iron into the embers. I do a twist on pimento cheese, and prepare it in cast-iron pan. I put it into the firebox of the smoker," he says.
Nick DiBona, chef/owner of Madison Kitchen in Larchmont, employs live fire in different ways. A smoker at the restaurant is used to prepare lamb lollipops, which are served with mushroom purée and parsley oil. Every Wednesday, DiBona roasts a pig over charcoa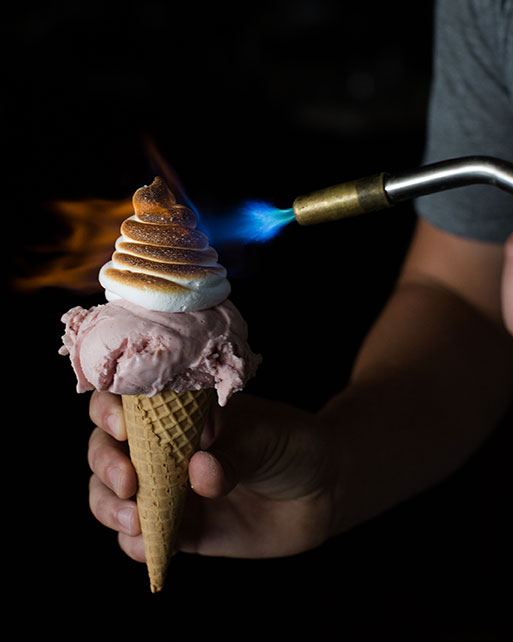 l at the restaurant, and his signature ice cream is served in what he calls Bona style: "We scoop ice cream, make an indentation on the top, fill with homemade meringue and hit it with a blow torch—it's a twist on a baked Alaska," he says. Di Bona also has a food truck that he uses to sell the ice cream at Brooklyn Flea + Smorgasburg and at private events; the ice cream also is available at his restaurant.
Chef Andrew Chase grew up "all over the world," but returned to the United States to earn a degree from the CIA. His wife is from Munich, Germany, and together they've worked at catering, organic farming and in a bakery in Germany. When they settled in Columbia County, they started selling a German-French specialty, flammkuchen (tarte flambée) from a food truck outfitted with a wood-fired brick oven. With their cream base, fresh herbs, and toppings—such as Berkshire bacon lardons, thin-sliced red onions and Gruyere, guajillo-braised pork shoulder, chipotle, caramelized onions and fresh mozzarella—the wood-fired flatbreads were a hit. The oven also was used to cook the meats and vegetables used as the toppings.
Fire and smoke should be treated as a final ingredient in a dish.
The Chases recently sold their food truck and moved into a brick-and-mortar restaurant, the Flammerie in Kinderhook. Much of the European-inspired menu is cooked in the restaurant's wood-fired oven, a Belforno with a 36-inch hearth. "About half of the menu comes out of that oven—flammkuchen, raclette, spätzle, veggies, bacon, pork belly and whole fish," Chase says. His favorite dish is pork belly. "It is something very special. First a very long braise, then let it cool, then flash sear in the oven. We are serving it right now over sweet potato and parsnip purée with a mustard jus."
Because wood-fired ovens can get very hot (600 to 700 degrees Fahrenheit) and cook food very quickly, it is an art to use use them properly, Malouf notes. Indeed, there's more to building a fire than just lighting a match to some kindling. The wood used will have a significant effect on the temperature, longevity and character of the fire—and the nature of the aromatic hydrocarbons released from the wood when it burns can influence the taste of the food, as well. "The char adds another level of flavor to food," Malouf says. "Fire and smoke should be treated as a final ingredient in a dish." Malouf favors oak, maple and apple, which "really doesn't flavor food like apples, but it is a nice, lighter smoke." For a hot-burning oven, he recommends using mesquite chips and chunks.
Hardwood is de rigueur for most cooking fires, and in the Hudson Valley, apple, oak and maple help define the region's terroir. The wood-fired oven used at the Flammerie "cooks so quickly that the food won't pick up flavor from the wood," Chase says, so he looks for high BTU-producing wood—cherry, maple and oak. Burnette makes his own charcoal from apple wood sourced from restaurant owner Jesse Camac's family orchard in Milton. "We are really lucky—we get the wood when they trim the trees," Burnette says, noting that he also buys white oak barrel staves from a whiskey-making friend. "I combine [apple] with aged white oak—that is my Southern heritage. You get the aromatics, the intense heat and the smoke of the white oak and a little whiskey essence."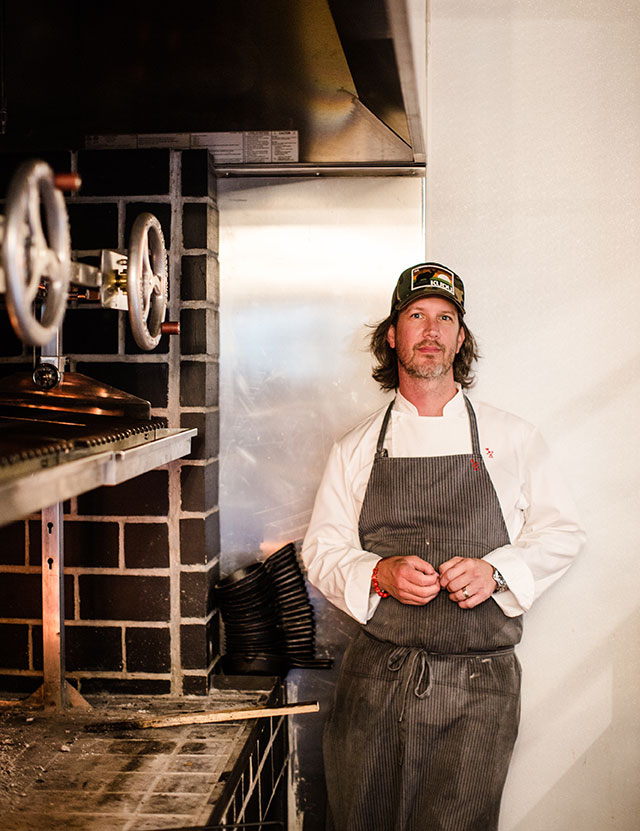 In fact, Burnette says, he loves the whole process. "Fire is deep in my cooking," he says. "I like the randomness of fire; I love the dance of it—and I like to smell like smoke. I get to experience the entire cooking process." Burnette likes to use his restaurant's grill as a teaching tool. "I like to keep the cooks focused. The fire makes them pay attention. I can teach them scientific principles using fire, like, this happened to the steak and here is why and how you can keep it from happening again."
Malouf teaches wood-fire cooking at the CIA's various campuses around the country. He also cooks using fire at his Dutchess County home and plans to build a wood-burning oven. (His favorite fire-cooked dish? "Oysters roasted in a wood-burning oven, with a beurre blanc," he says. "We've found the smoke flavor adheres to the fat better than anything else. You almost smoke the butter.")
For the chefs, though, the time, learning, expense and preparation necessary to successfully cook using live fire are worth it. "It really takes a lot of time to get a feeling for the temperature—you have to figure out a system," Chase says. "There are different areas of the oven—some have higher temperatures—and you have to decide where is the steak spot, where do the flatbreads go. You don't want the area cooking the flatbreads to get too cool, or they will stick. It is really interesting to work with something that almost feels alive."
FIRE AND PIZZA
Pizzeria Posto in Rhinebeck serves "the best pizza in Dutchess County," because chef/owner Patrick Amedeo "treats his wood-fired oven with a huge amount of respect," says CIA senior director of food and beverage operations Waldy Malouf. "He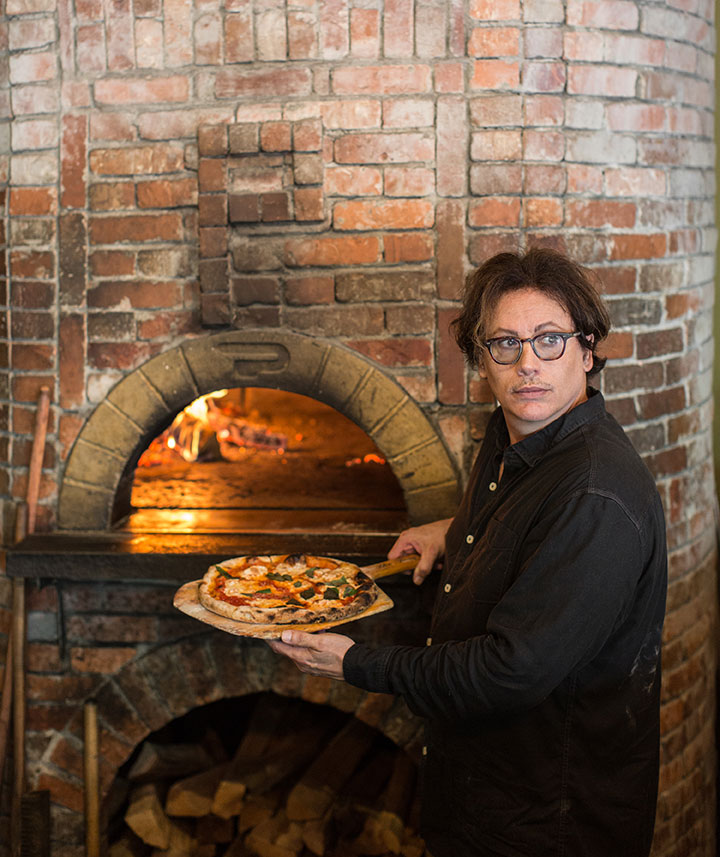 knows how to work it. It is an example of the correct and good use of a wood-burning oven. He is very passionate about it."
Amedeo has been cooking pizza in wood-fired ovens for almost 10 years. "We have no other cooking equipment in the pizzeria," Amedeo notes. "We cook everything that's on our menu in our oven." His oven was made in Modena, Italy, shipped to Rhinebeck and fabricated in place. "The dome of my oven is a little higher in dimension, which slows the bake and caramelizes the crust more," Amedeo says. "I am not looking to cook the pizza in 90 seconds like some Neapolitan ovens—that only creates a soupy, soggy crust. When we initially put a pie in, we stay away from fire to allow the pizza to develop lift, then slowly spin and relocate. We are constantly moving and shifting to areas of the oven floor. Once a pie goes in, you can't walk away—you must be on it constantly. It is truly an artisan way of cooking."