The explosion in local craft beverages in the past few years has had ramifications in other industries, as well. Farmers, coopers, packagers and distributors are busy keeping up with demands from emerging producers.
Currently, more and more brewers and cider makers are marketing their products in aluminum cans, which not only allows for a fresher product, it also helps retail visibility and makes it easier to reach a wider customer base than if distribution was limited to kegs or even bottles.
Beer cans, introduced in 1935, originally were made of steel (yes, they rusted), and they had an image problem from the git-go: Canned beer was generally regarded as lower-quality and cheaper than the bottled varieties. But that began to change in 2001, when a Colorado craft brewery began canning its beer. The word "trendy" is nothing if not a definition of how craft brewers now consider aluminum cans.
The use of cans has opened up opportunities for another segment of the community to hop on the craft beverage bandwagon: the artists and designers whose talents and skills are showcased on those gleaming aluminum cylinders that now crowd the shelves of supermarkets, convenience stores and specialty outlets throughout the region.
Aside from the textbook requirement of brand identity and recognition, the art and design of an aluminum beverage can must meet several challenges not usually present in other print or display media. The can usually sits on a shelf surrounded by dozens of similar objects, and it must be recognizable from various distances and angles. The can's cylindrical shape means the design must accommodate 360˚ views. And there is the medium itself: Should the design utilize the gleaming metallic aluminum of the can or cover it up?
Industrial Arts Brewing Company, Hudson Valley Brewing Company and Graft Cidery are regional producers who put "craft" both inside and outside of their canned beer and cider. Their design and artistic philosophies represent different (and unique and successful) approaches to meeting the challenges presented by the medium. Have a look (and have a sip or two while you're at it).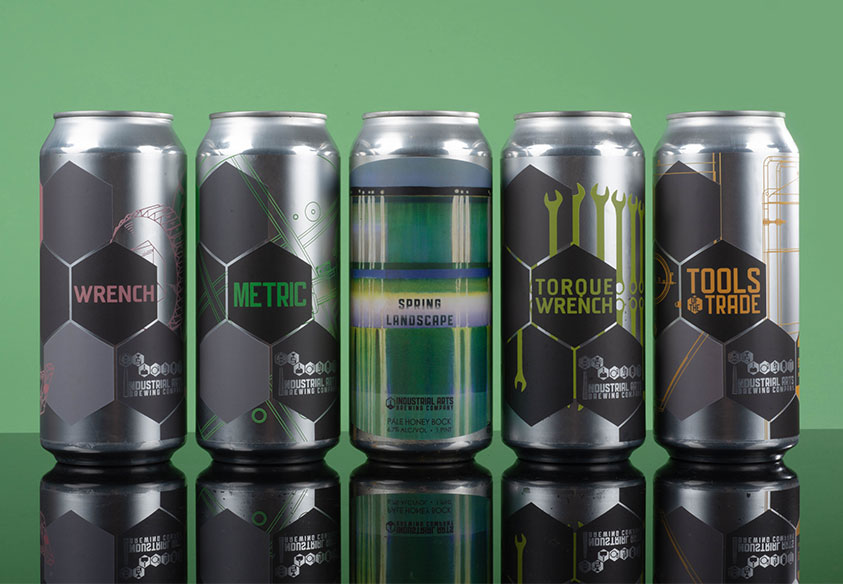 Industrial Arts Brewing Co.
My background in brewing science comes in handy in the development of the labels—it becomes a challenge to translate heady technical concepts into something the average consumer can relate to. The market has changed substantially even in the three short years that we've been open. Now, in addition to standing out on a shelf with 20 other brands, it needs to look good on social media.
For our core beers, my inspiration was the various and detailed blueprints of our build-out. I was so fascinated by the level of detail; they also reflected our commitment to state-of-the-art technology that many small breweries can only dream of.
The idea behind the metallic is to emphasize the package—we want customers to embrace drinking their beer from a can, which best preserves the lush hop notes we work so hard to capture. The colors reference the ethos of each brand. For example, Metric Pils is a bright spring green, representing the crisp, herbal notes in our classic unfiltered lager. Wrench is a play on the color referred to in pop culture as "millennial pink." Both the color and the beer are aligned in their awareness of their popularity but also their irresistible draw.
The Landscapes series is designed to highlight New York agriculture, feature the work of a prominent local artist, benefit various nonprofit organizations and demonstrate our love of traditional lagers. We worked with artist Ursula Schneider, who has lived in the Hudson Valley for decades. She captures a lot of what we want to convey: the importance of place and to pay attention to what each season has to offer. I wanted to preserve her paintings as much as possible on the label so I kept it simple and clean. —Sofia Barbaresco, General Manager
Industrial Arts Brewing Company
55 W Railroad Ave #25, Garnerville
(845) 942-8776; industrialartsbrewing.com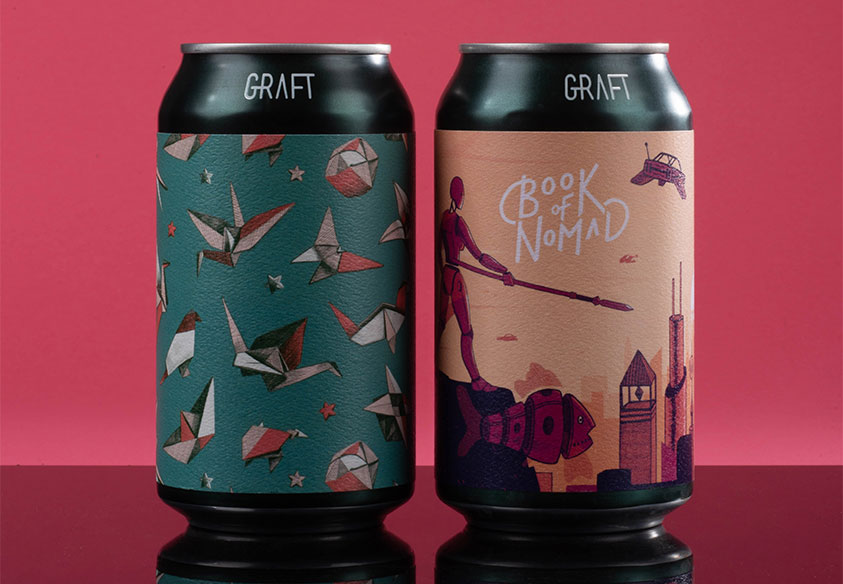 Graft Cidery
The Graft art style [by artist/illustrator Caleb Luke Lin] is colorful, lighthearted and gender-neutral—we wanted to break from tradition and bring a "cool factor" to label design. There were too many cider labels with your grandfather or bearded hipsters on them.
We have three different labels in the season, one each month, each part of the story arc of The Book of Nomad, a seasonally rotating short story series. Our core cider lines follow the travels of Nomad, an explorer, through a fantasy 1920s-style world. His exploration parallels drinkers trying our wild and flavorful sour ciders.
Outside of our core lineup, we have three high-end lines, each with its own art theme. Cloud City is our hop/Dreamsicle cider line, made from a rotating lineup of fruit, hops, as well as vanilla and milk sugar. The labels are set in sci-fi cities that are part of the Cloud Empire, featured in The Book of Nomad. Shared Universe is our collaborative cider series—we work with other breweries, wineries and cideries from around the world. This has seen the creation of a dual-labeled cider-wine hybrid that we did with Revel Cider out of Ontario, and an epic Newburgh Brewery character fighting Godzilla in the Hudson River. The labels are no holds barred, anything goes. —Kyle Sherrer, Owner
Graft Cidery
218 Ann St, Newburgh
(410) 967-1926; graftcidery.com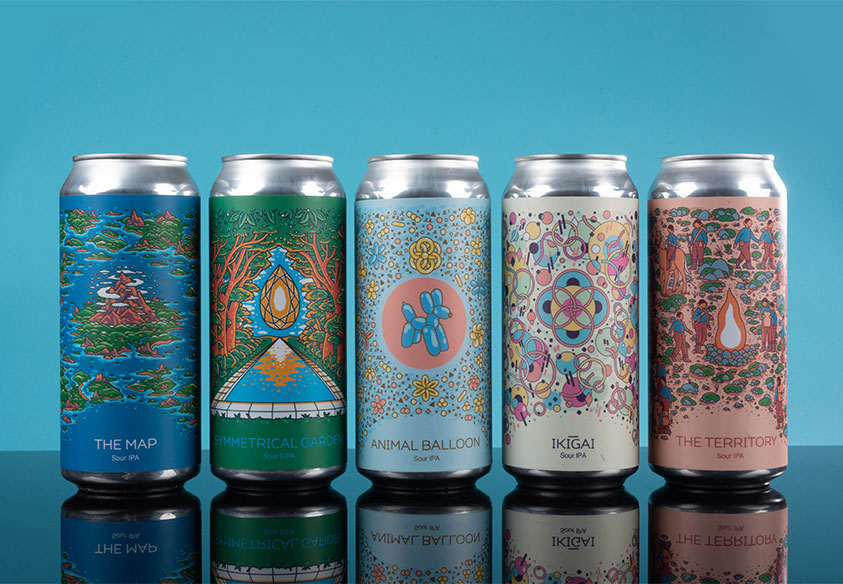 Hudson Valley Brewery
We're interested in using our product as a medium for telling the story of our lives, both as individuals and as a company. My partners Michael Renganeschi and John Anthony Gargiulo and I bring new concepts—usually inspired by books we've read, spanning mythology, fantasy, science fiction, and so on—to our art department meeting each week. Once we've workshopped these ideas, our illustrator, Evan M. Cohen, brings them to life. His illustrations are applied to a broad range of products, including cans and bottles, glassware, clothing and whatever other cool stuff our graphic designer can imagine.
Once we've got the products in house, our marketing director and photographer put together a roll-out plan for social media, pictures for Instagram, the blog for our website, etc. Our general manager is involved throughout this process, facilitating the development of special projects and making sure everything comes together the right way and on schedule.
Even though we've all got separate roles and responsibilities, our process is very much collaborative. It wouldn't be nearly as special or compelling if we weren't working together as a team. —Jason Synan, Co-owner
Hudson Valley Brewery
7 Main St, Beacon
(845) 218-9156; hudsonvalleybrewery.com