Off the top of your head, do you know anyone who would turn down a charcuterie board? (We'll wait…we already know the answer.) The majority of the foodie population would graciously munch on a heaping plate or two or three of this beloved assortment. To friends and board masters who bring this meat and cheese goodness (or veggie-filled, if that's your thing) to any party, get together, or function: we tip our hats to you. And to those looking to become charcuterie chefs, look no further.
First, let's rewind a bit. The term "charcuterie" is a bit nuanced as it's lost its original meaning over time. It's of French origin and refers to a type of cuisine dedicated to the preparation of cured meat. We're talking bacon, sausage, confit, ham—anything from a pig, really. So now you can see how the non-Francophone world took the word "charcuterie" and just rolled with it. Typical linguistic imperialism.
Nowadays, charcuterie refers to something much more than just meat. In general, it's an ensemble of cured meats, cheeses, fruits, vegetables, nuts and grains, breads, accoutrements like honey and olives, and textural dips such as jams, preserves, purees, and compotes. You can add all or just a handful of ingredients—charcuterie prep is pretty lax.
Charcuterie has evolved into so much more, especially with the introduction of "pandemic pastimes." We've seen the culmination of themed and artistic board plating, hashtag movements, and much more in the professional world. Seeing as there's so much room for creativity, variation, and personal flair, it's no surprise that charcuterie practically has its own fandom on social media platforms.
One such charcuterie stan is Deanna La Mela, a Beacon resident and Marist graduate who provides insight on how to start an autumnal board—and which ingredients to stock it up with.
Meet Deanna La Mela — the Face Behind Board in Beacon
La Mela made the move from New York City to Beacon at the tail end of 2020. She works as an operations manager, but her real passions are rooted in charcuterie and Italian heritage, thanks to her two Nonnas (grandmothers in Italian). In February 2021, she started Board in Beacon (we love a good pun) to showcase aesthetic, traditional charcuterie boards with an Italian twist.
All of her boards were given fitting Italian names and feature meats, cheeses, and spreads sourced from the country. Beaconites and nearby residents can place an order for delivery and choose from the Piccolo (self-care Italian style), Amore (date night), Verdure (healthier take on charcuterie), and Rustico (family-style). If you're looking for something customized, La Mela welcomes it! She even sells wooden board add-ons to inspire customers to dabble in charcuterie-making themselves.
Speaking of cheffing up your own board, La Mela whipped up two autumnal boards for The Valley Table readers to use as a reference for their next shindig or picnic in the Hudson Valley. We'll start with her method and provide an ingredients list (which is completely up to interpretation…remember, charcuterie is fluid!).
Method: Autumnal Charcuterie Board Styling
"Creating a charcuterie board can be a little overwhelming because there are so many options," La Mela says. "So, to create the perfect board, I like to start with a theme in mind." Before you head out, solidify your board plans—are you doing holiday, paleo, gluten-free, seasonal, etc.? This will serve as a guide when you stroll throughout the grocery store. In this case, we're going for an autumnal vibe.
La Mela likes to choose three different types of cheese to offer a variety of flavors, shapes, and sizes. "It's important that a charcuterie board has texture, as this will make it visually appealing." Cut your cheeses in different styles (cutting drunken goat cheese into large triangles to make a river down the center of the board, or forming uneven hunks of Grana Padano). Place those cheeses down first on the board.
Meats are next. "You truly can't go wrong with cured meats on your board, as long as you're going to a quality deli," she explains. Her staples are prosciutto di Parma and Genoa salami. Most meats don't emulate the same color, so La Mela suggests to lay each meat a different way: 1) roll a piece of salami and continue wrapping it until it fits into a small bowl, then fan it out like a rose; and 2) fold prosciutto like an accordion so it can rest against the edge of the board or be adjacent to a complimenting hard cheese (read: Parmigiano Reggiano).
Onto fillers! Those are your fruits, vegetables, crackers, or bread. La Mela prefers seedy crackers, like JoJo Bites, and sprinkles some plain or flavored crackers throughout to make a balanced assortment. For fruit, apples, grapes, and pears are your friends, "but of course, you can add whatever fruits you like best." Sensing a theme?
To fill up the remaining nooks and crannies, turn to cornichons, olives, nuts (pistachios, walnuts), and spreads or dips (fig and honey are king). This step is as simple as funneling the accoutrements into the empty pockets on the board. There's no real rhyme or reason. La Mela recommends garnishing with fresh thyme or rosemary, along with serving tools, to give the board a final pop.
Now that you're a charcuterie wizard and know all the ins and outs—use the two autumnal boards below as inspiration: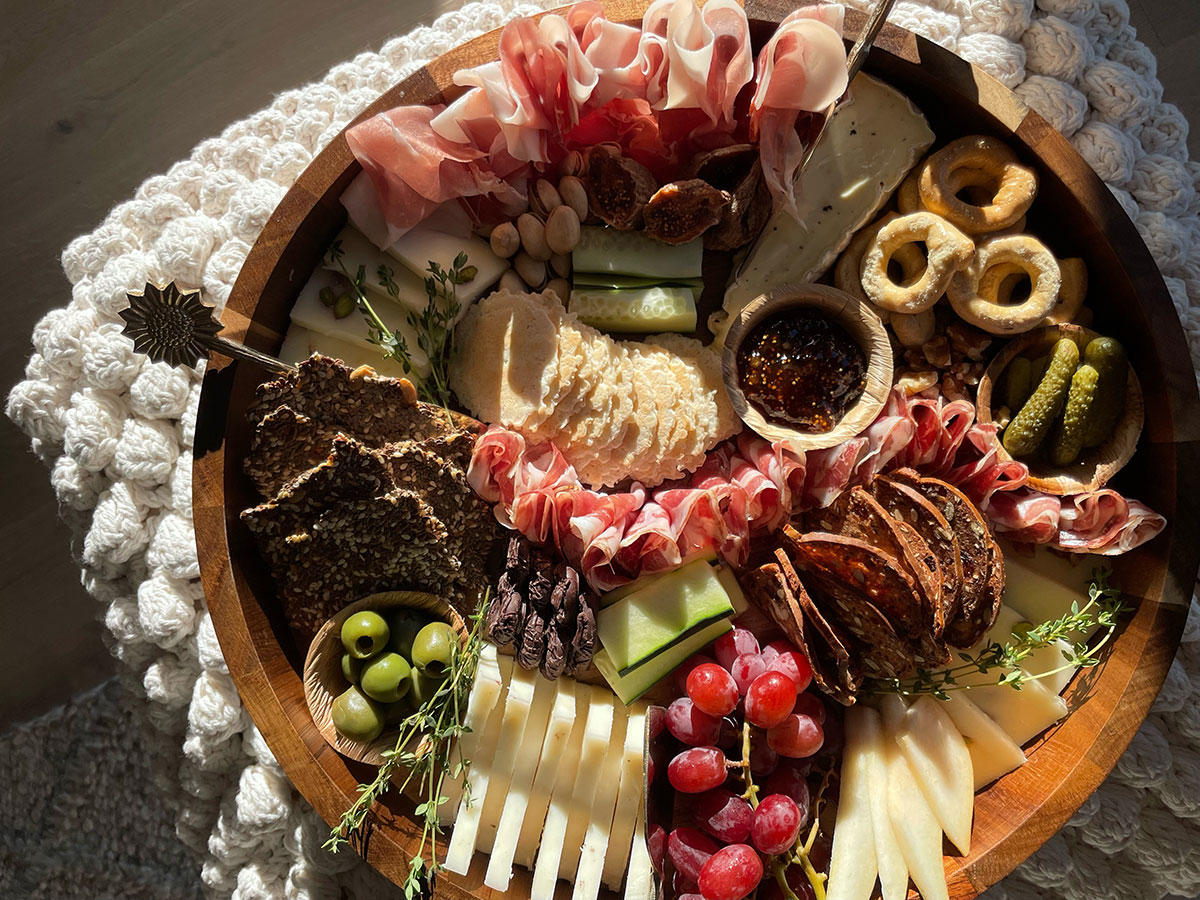 Ingredients:
Meat
· Prosciutto di Parma
· Capocollo
Cheese
· Pecorino with pistachio
· Drunken Goat
· d'Affinois with truffle
Filler
· Cucumbers
· Dried figs
· Red grapes
· Green olives
· Bosc pear
· Pistachios
· Walnuts
· Cornichons
· Dark chocolate-covered pretzels
· 34 Degrees sesame crisps
· Raincoast Crisps cranberry and hazelnut crackers
· JoJo Bites crackers
· Taralli with rosemary and fennel
· Fig spread
Garnish
· Fresh thyme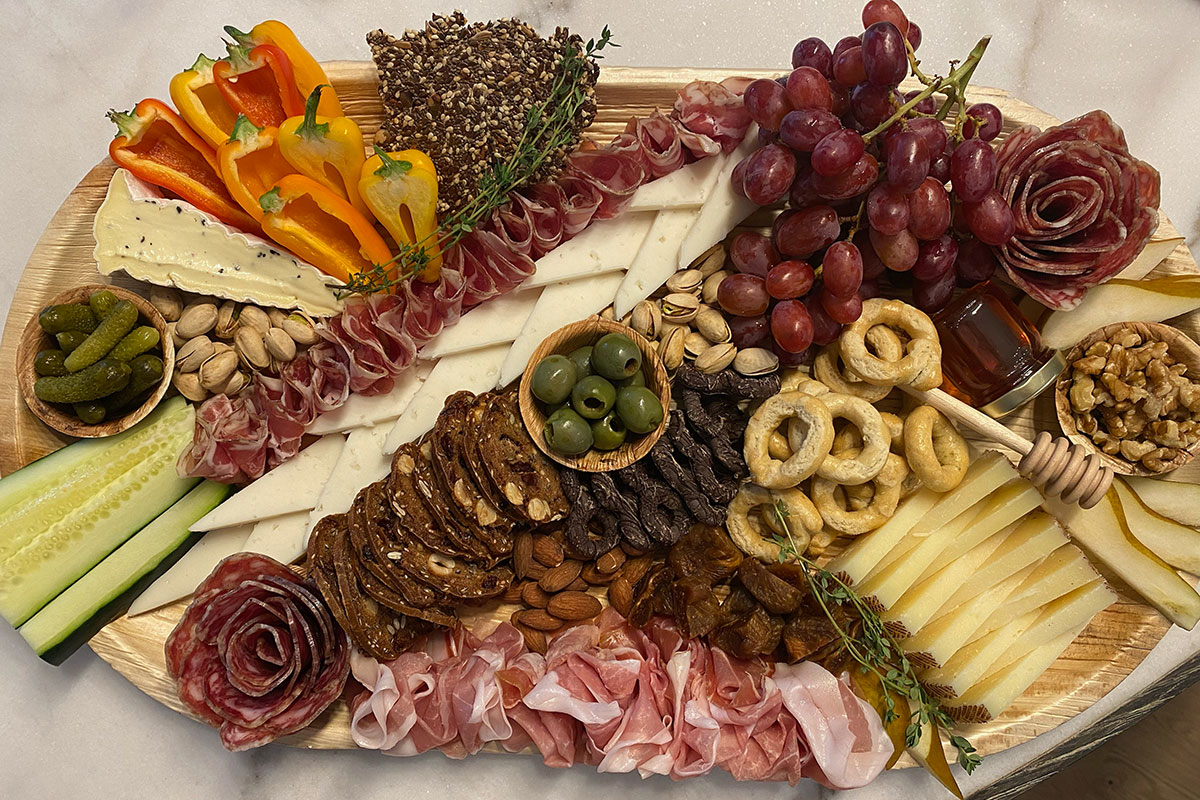 Ingredients:
Meat
· Prosciutto di Parma
· Capocollo
· Salami
Cheese
· d'Affinois with truffle
· Drunken Goat
· Six month-aged Manchego
Fillers
· Cucumbers
· Mini sweet peppers
· Dried figs
· Red grapes
· Green olives
· Bosc pear
· Pistachios
· Walnuts
· Almonds
· Cornichons
· Dark chocolate-covered pretzels
· 34 Degrees sesame crisps
· Raincoast Crisps cranberry and hazelnut crackers
· JoJo Bites crackers
· Honey with dipper
Garnish
· Fresh thyme