If you visited the Postage Inn before it closed in 2021, the Route 32 locale is now nearly unrecognizable. Since Madi Taylor and Luke Peters took over last October, the interior has been overhauled: The husband-and-wife team traded carpeting and beige walls for bold black-and-white marble floors, deep green paint, whimsical wallpaper, and warm lighting fixtures to create a proper home for Darlings, the Valley's newest Southern-inspired eatery.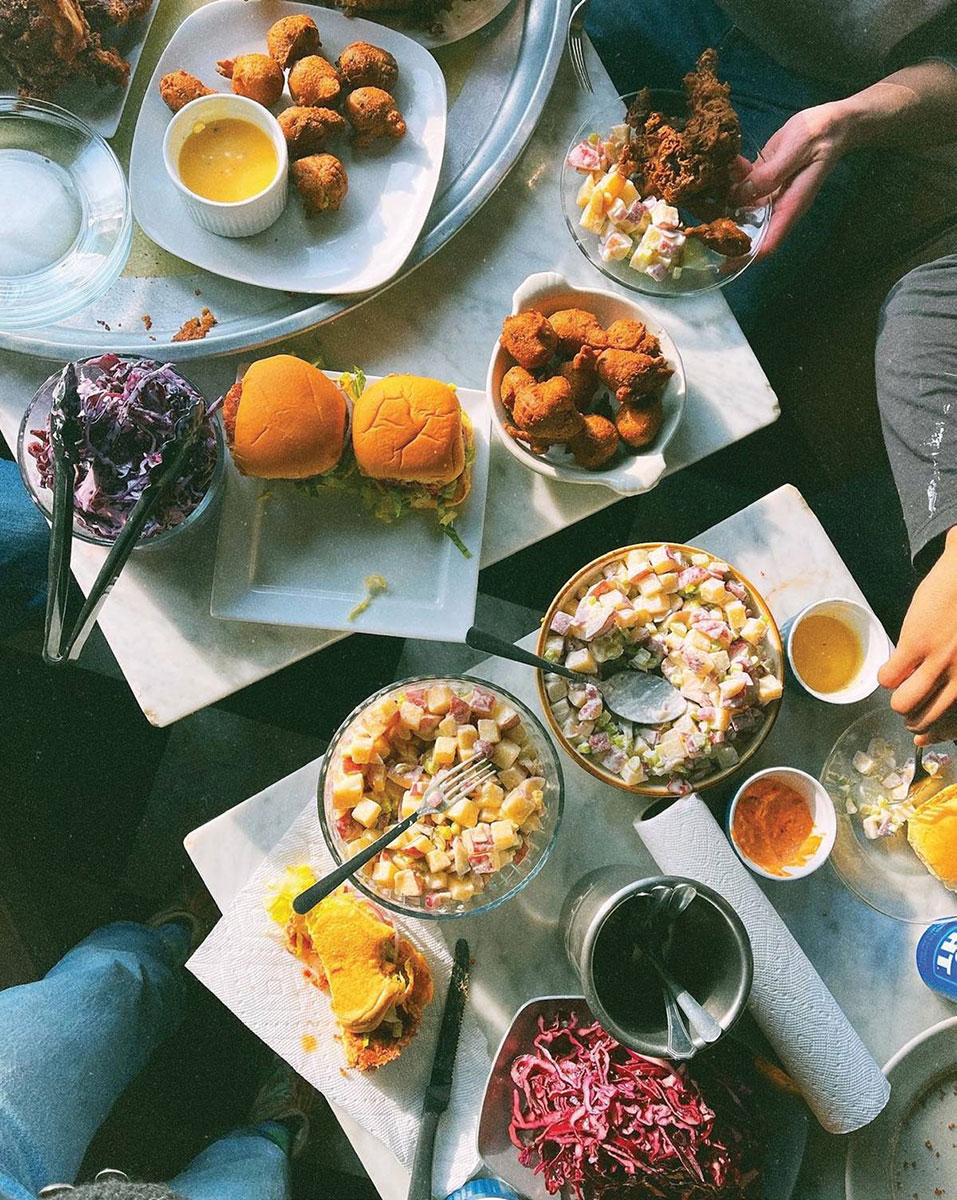 Although their Instagram describes Darlings as "Huckleberry's big little sister," the restaurant took a very different route from New Paltz's cozy craft bar, owned by the Peters' business partners Julie Dabbs-Simkiss and Billy Simkiss. Paying homage to the team's southern roots (Taylor is from South Carolina, Dabbs-Simkiss hails from Alabama, and head chefs John Embree—aka Kingston meat smoker "Jingle John"—and Chris Hotsch are from Arkansas and spent time cooking in Louisiana, respectively), the menu was built on meat and three-style cuisine, meaning mains are served with a choice of three sides. Order crispy fried chicken, oyster mushrooms, or catfish, and fill the rest of your plate with an assortment of smoked veggies, oysters, trout dip, and of course, mac 'n' cheese.
Reflecting more Southern inspiration, the fruit- and floral-forward cocktail menu (with drinks conceived by Lauren Kincheloe of Kingston's Stockade Tavern and Darlings bartender Kyle Miller) brings the bright colors and kitschy vibes of Myrtle Beach to the jewel-toned interior. Sip on a red Velvet Cowboy—gin, cocci americano, hibiscus, and orange blossom—or the salted watermelon and cucumber Baby Mel while relaxing in the dining room's plush armchairs or taking a seat at the vibrant pink picnic benches out back. If you're a beer or wine person, don't worry, they have those too: their taps dispense an array from local craft varieties to national favorites.
With such a large space (3,700 sq. ft. indoors, plus a gravel outdoor area) Darlings has plenty of room to host events. A few in the works include regular appearances from the new Kingston pop-up show RS/VP. Taylor says the emphasis is on fun: the staff is there to provide customers with elevated service—Southern hospitality, if you will—but the rest is up to them. "We hope to provide a roadhouse vibe for everyone to enjoy, without the rooms for rent and gambling. Just a local neighborhood joint where you can choose your own adventure."
838 NY Route 32, Tillson
darlingsny.com