Croatian
Dubrovnik
New Rochelle
Grape vines climb a wall on the north side of the yard. Neatly arranged rows of tomatoes, lavender, rosemary, mint, zucchini, and basil cross the backyard decorated with a fountain and white benches.
Chef Anthony Selendic could be harvesting basil for use in his restaurant kitchen in Europe, but he's really in the backyard of Dubrovnik restaurant on Main Street in New Rochelle.
Inside, server Berci Nagy, has a giant serving tray on his shoulder, walking round the dining room and presenting the freshest looking filets and whole fish to guests.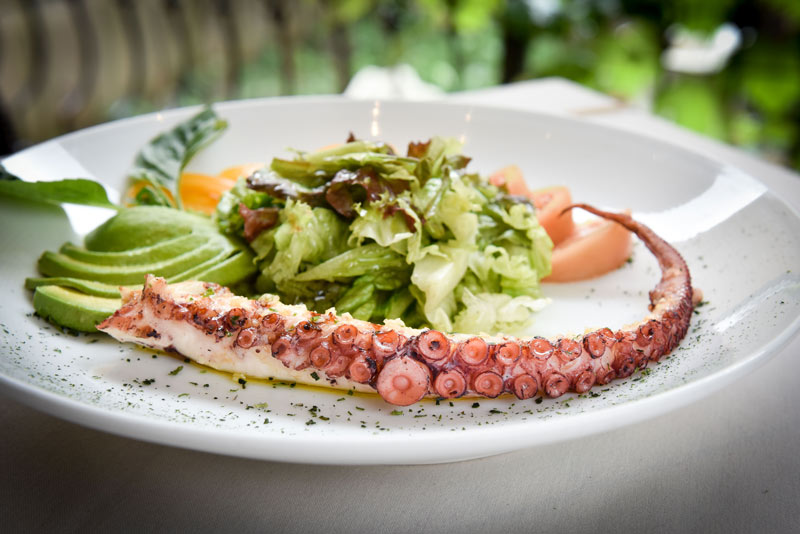 The skate, tuna belly, John Dory, golden snapper, branzino, and orada have frequent flyer miles. They were caught in the Mediterranean, flown to JFK, transported to the fish market in the Bronx, picked up at 3 a.m. and brought to the restaurant for diners that day.
The fish are grilled in a wood-burning oven in the backyard. Simple prep of olive oil, pepper, garlic and parsley, and sea salt ("We only use sea salt," says restaurant manager Nada Bernic.) and served immediately for you to pick apart with a refreshing glass of Croatian Posip wine, made from a grape found only on the island of Korcula.
Owner Zeljko Tomic is passionate about food; fishing is his pastime, and his passion for sharing the best of Croatian cuisine started as a kid, working in his family's bed and breakfast.
Tomic relies on the tastes and flavors he grew up with and imports a local Croatian sheep cheese called paski sir and his own olive oil and wine from his vineyard in Croatia.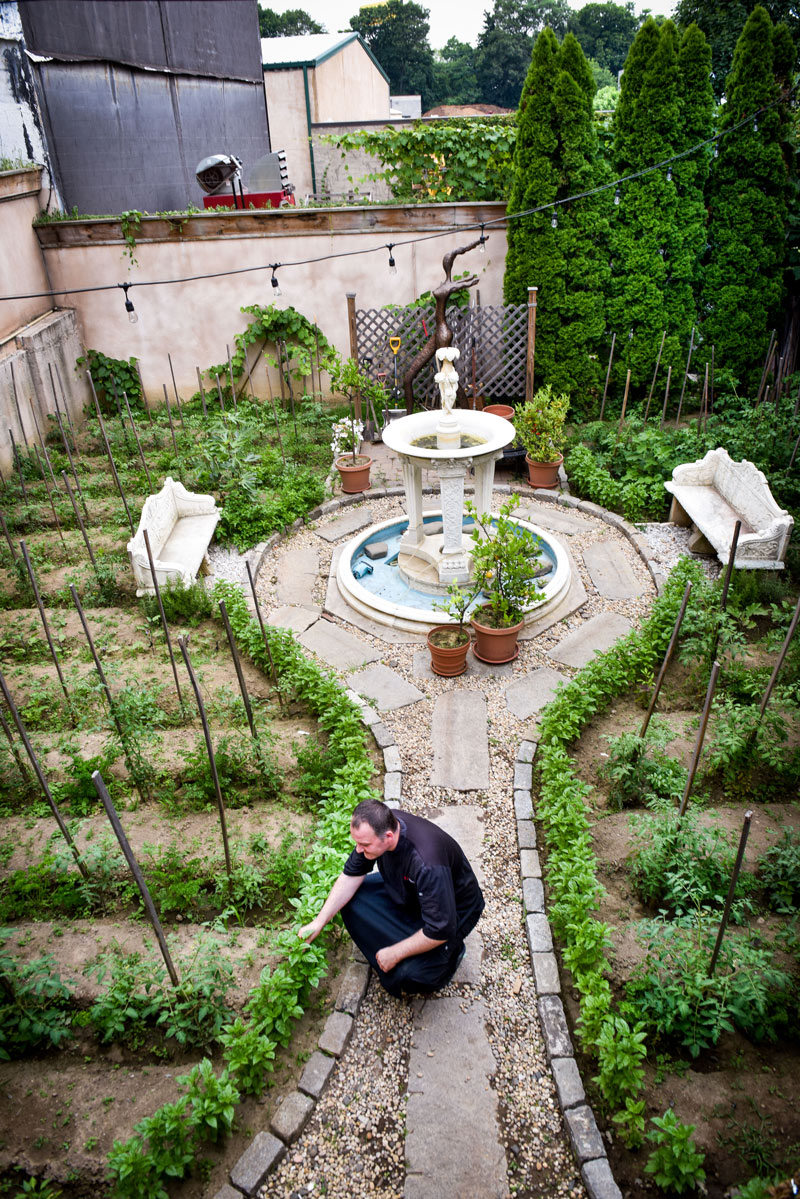 "The chef and owner are very particular. We won't serve anything we wouldn't serve our kids," says Bernic.
With a reputation for healthy, fresh, clean food, the restaurant has attracted guests from near and far. "Diners regularly come from Long Island and New Jersey and occasionally from Boston," says Bernic, adding, "There are Croats from California. When they visit New York, [they] come here for dinner."
Among the favorites is octopus, poached and grilled on the open fire outside, served with a refreshing mixed salad and avocado.
But you really shouldn't leave Dubrovnik without the grilled catch of the day. No matter which fish you choose from the platter, the inside is light and moist and the outside is crisp and smoky, a result of the cedar planks used in the wood-burning oven.
It's healthy eating. Food that is good for you but loaded with tastes that will fill your stomach and taste buds.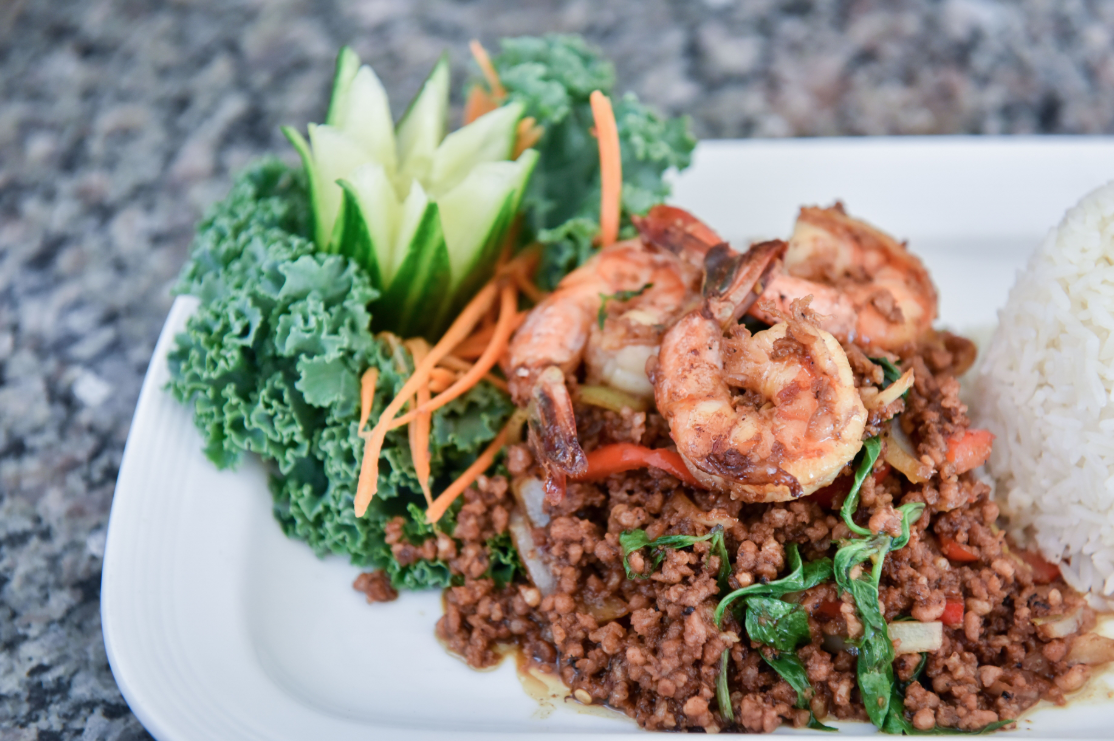 Thai
Thailicious
Poughkeepsie
Food and love seem to go together. Fill your stomach, feed your soul.
He was a civilian military engineer in Bangkok on R&R from Afghanistan. She was a car salesperson, selling cars in a mall.
She spoke no English. He spoke no Thai.
"I knew she was very beautiful," he recalls. "What sank the hook was her cooking."
A fiancée visa, a move halfway around the world, a wedding ceremony on the waterfront in Cold Spring and five kids later, Muntanaporn and Jeff Boisvert, now run the Thailicious food truck and restaurant.
Muntanaporn had always wanted to open a restaurant, but high startup costs and steep overhead kept them at bay. Jeff suggested a food truck, while Muntanaporn worked at another Thai restaurant in the meantime.
In February 2018, she gave in and the couple purchased a used Snap-on Tool truck with 180,000 miles on it.
Ironically, they found an Afghani man in Queens, who custom built their mobile kitchen and the truck made its debut last summer at Jellystone Campground's Food Truck Roundup in Gardiner.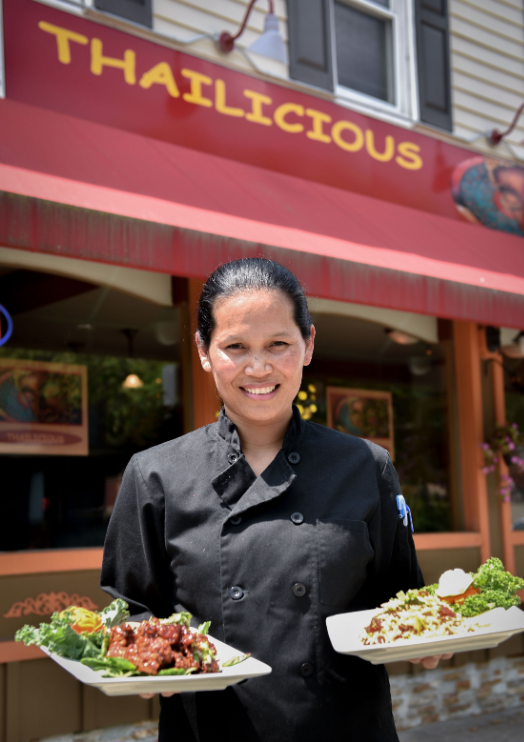 The truck now regularly parks in Fishkill (go to facebook.com/thailiciouscatering for a schedule). Only a year after starting their mobile business, Muntanaporn's dream became a reality when they opened Thailicious restaurant near Vassar Hospital in Poughkeepsie.
Once or twice a month, the couple motor down to Jackson Heights in Queens to grab supplies that are difficult to come by in the Hudson Valley. They load up on Asian noodles, canned goods, spices, and vegetables. "The rear of the truck is sagging all the way up the Taconic," says Jeff.
One ingredient they don't have to import from Queens is Thai basil, which has small, dark, pointed leaves and a licorice flavor, a distinctly different taste than the sweet basil more commonly used in most pesto.
"We use so much that we convinced a local restaurant supply store to import it from Thailand and to stock it for us," he says.
The lunch specials are amazing at Thailicious. Try the pad krapow, which is made in a sizzling wok with ground pork, onions, red pepper, Thai basil, oyster sauce, and jasmine rice; or the spicy Thai wings, which are deep fried, topped with a spicy and flavorful sauce, and then cooked in a wok for added crunch.
Thailicious is waiting on its liquor license, but the couple has a plan once it's approved. "We're going to feature only local wines, local breweries, and Asian beers," Jeff explains, then turns to greet a doctor picking up a Thai iced tea on a humid summer afternoon.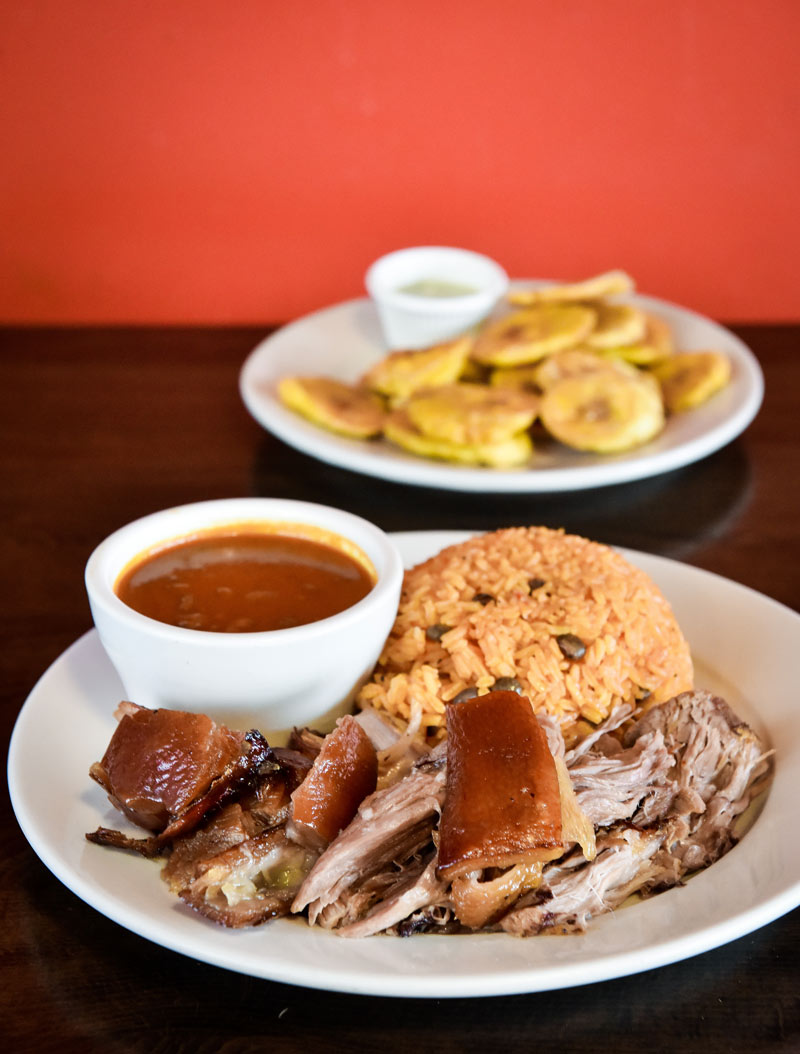 Latin
Mina's Spanish Kitchen
Monroe & New Windsor
Martha and Luis Veras admit they didn't know anything about restaurants when they opened Mina's Spanish Kitchen in 2007.
When the couple moved from Brooklyn to Orange County, just days before the attack on 9/11, "There were not a lot of Hispanic people in Monroe," says Luis. (He is Dominican; Martha is Ecuadorian.) "We were looking for Spanish food for dinner and we couldn't find any."
Sitting at a table at the their second restaurant in New Windsor, Luis recalls that they ignored all sage and sound advice. "We had a couple of cousins who owned restaurants in New York City," he explains, "and they said, 'Think about it twice.'"
A friend told them about a Mexican restaurant that was going out of business. "We talked to the owner on Thursday and by Sunday we decided we were going through with it.
"I started in the front and Mina started in the back, in the kitchen, doing what she does best," says Luis.
Their Monroe restaurant, at 730 sq ft, offered the young couple very little space. "During the first year we were closed every Sunday, and every Sunday we thought we weren't opening up again on Monday."
"Americans only knew Mexican food," he says. "They didn't know pernil or oxtail." (Typical dishes in Puerto Rican and Dominican cuisine, respectively.)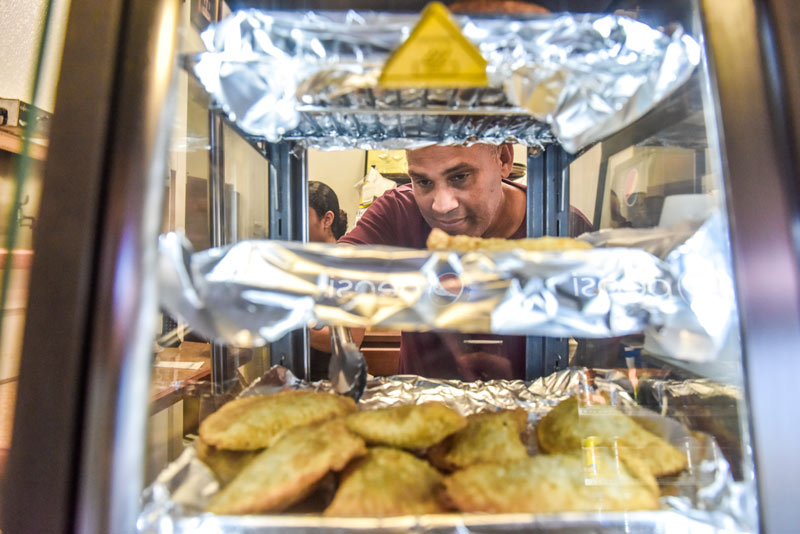 They made trips to the Bronx in an old Chevy Astrovan every Saturday to pick up ingredients.
The couples' two restaurants now employ a total of 17 people. Martha, who is known as "Mina" since a godson couldn't pronounce the Spanish word "Madrena" (godmother), is teaching the next generation of chefs in her restaurants' kitchens.
One of them, Mario Alvarado, started as a dishwasher at the Monroe restaurant when he was 16 years old. Today, the 27-year-old is the chef, arriving hours before the 11 a.m. opening to make meals that reflect Mina's cooking, which takes pieces of Dominican, Cuban, and Colombian flavors and creates a mouth-watering fusion of tastes.
The couple found their other chef, Javier Dalmasi, through an ad they placed in a Spanish language newspaper. Both Alvarado and Dalmasi labor in their hot kitchens making staples such as rice and salsa (verde and roja), as well as their most popular dish, mofongo, which consists of fried green plantains that are mashed in a wooden pilón, and smothered in their equally popular mojito sauce.
"People come from all over the Hudson Valley for the mojito sauce," says Luis. "They put it on everything."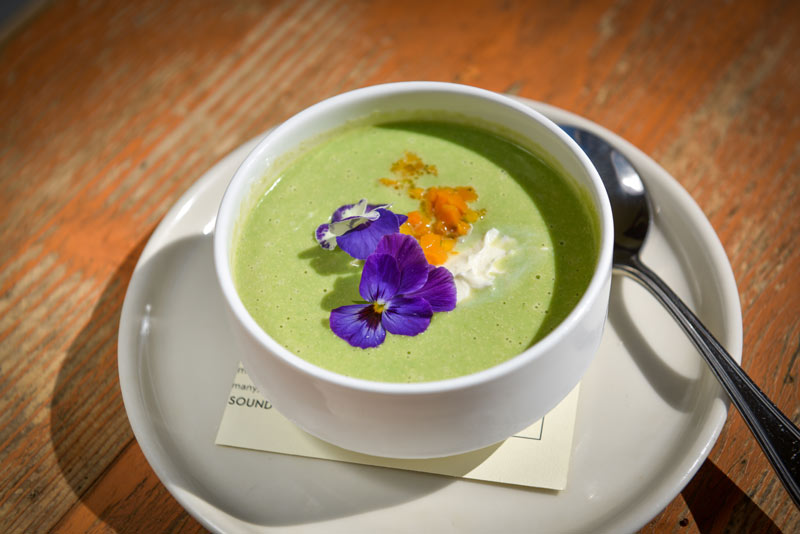 German
Mountain Brauhaus
Gardiner
One-year-old August Ruoff has the comfortable swagger of a toddler who has just learned to walk upright.
He's tottering around the bar area of Mountain Brauhaus in Gardiner, on the wonderful wooden floor where his aunt and dad once roller skated as little kids more than 25 years ago.
August keeps going to a stack of menus, pulls them out of a rack and heads over to the tables, presenting them to a guest, as he's seen his mom, Veronica Ruoff, and many other relatives do since great-grandfather Emil opened The Sugar Bowl in 1955.
Today, the third generation of the founding family is at the helm and the fourth generation is bussing tables at the popular restaurant. It's a true family affair, from the flowers out front grown by Aunt Karin to the Wiener Schnitzel in the kitchen, cooked by Uncle Kevin.
Originally opened as a burger joint, the restaurant shifted its menu thanks to an influx of German chefs who added some of their favorite dishes and the requests for old world food from nearby German dairy farmers and apple orchard owners. The name Mountain Brauhaus was coined in 1963.
Chef Kevin Casey married into the family 16 years ago. He took over the kitchen full time in 2004, and started a gradual shift that took a light approach to traditionally rich German cuisine.
Believe it or not, there are vegan, vegetarian, and gluten-free options right next to the uber popular sauerbraten and schnitzel.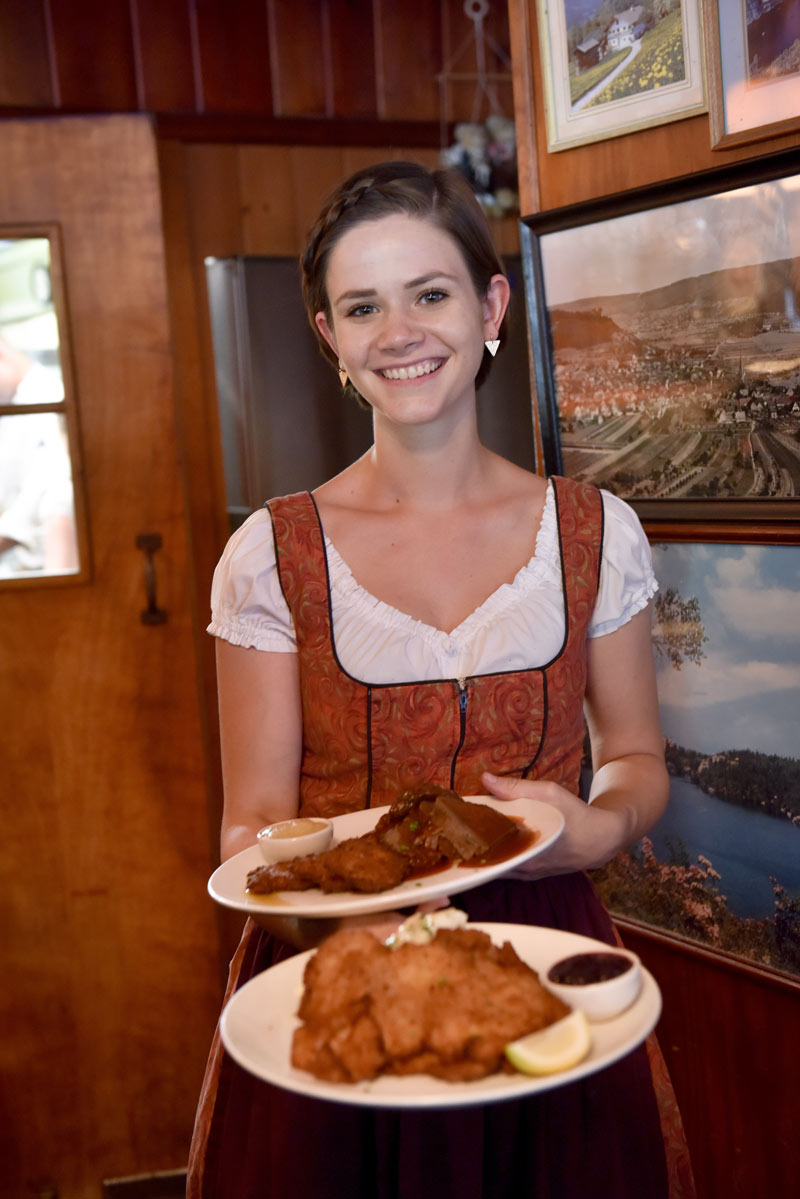 Casey's vegetarian chilled pea soup with crème fraîche, local mint, honey, and carrots and the featured salad of local baby greens, white balsamic goji berries, goat gouda cheese, and other fresh veggies with a ginger citrus vinaigrette are both delicious and refreshing on a hot summer day.
Casey makes a point of always including local produce like snap peas, green beans, apples, and carrots. Pork, goat, duck eggs, and flowers come from Glenerie Farms, run by Karin Ruoff Skalla and her husband Dennis (also relatives).
Local brews, spirits, and wines are on the menu, and Veronica designs featured cocktails, inspired by fresh, local flavors. Regardless of the local selection, there are always four German and four rotating craft beers on tap.
But the majority of the 400-500 people a day on weekends are there for the German standards done exceedingly well. The crowd comprises an interesting mix of locals, climbers, and skydivers. (Tip: The quietest times are weekday afternoons.)
But that long wait for a table is part of the whole Mountain Brauhaus experience. "People make friends waiting for a table outside or inside at the bar'" says Ruoff.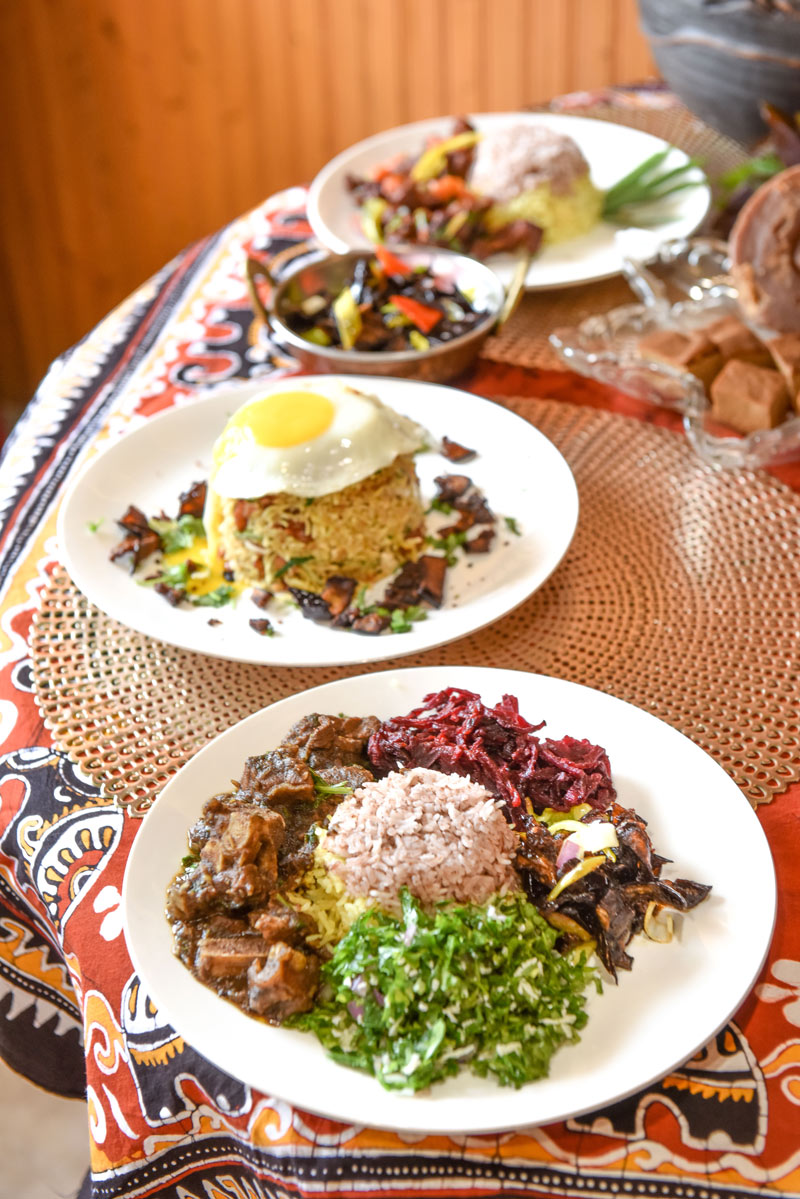 Sri Lankan
Red Pepper Diner
Wappingers Falls
Saman Munaweera was off on Sundays and Mondays from his job as a chef at the Dubai Mission to the United Nations, when the desire to open his own restaurant took over.
He and his wife, Thanuja Liyanage, loaded son Loshitha and daughter Denithi into their Nissan Maxima and headed west.
And north.
And east and south.
For two years the family drove from Staten Island to Syracuse, from Connecticut to New Jersey in search of a venue to open a business. Their quest paid off when they found an old Spanish restaurant in the shadow of Dutchess Stadium.
In 2014, the Sri Lankan native opened the Red Pepper Diner, serving what Saman called "American Cuisine." The formally trained chef flipped burgers, grilled steaks, made salads and crème brulee.
About three years ago, they introduced Sri Lankan spices like cinnamon, nutmeg, coriander, chile, cardamom, pandam leaves, and goraka to Hudson Valley palates. It was a bold move at the time, as the only native Sri Lankans nearby were a local dentist and a heart surgeon.
They became famous for the Red Pepper Chef's Burger with seven spices to add a "little bit of flavor."
Shortly after, Red Pepper rolled out the Friday night gluten-free, dairy-free, and sugar free buffet and became all Sri Lankan, all the time.
While you can order a la carte, the buffet is the bargain of the century, offering three grains, three proteins, four vegetables, salad, dessert, fruit, and the signature string hoppers for less than $20.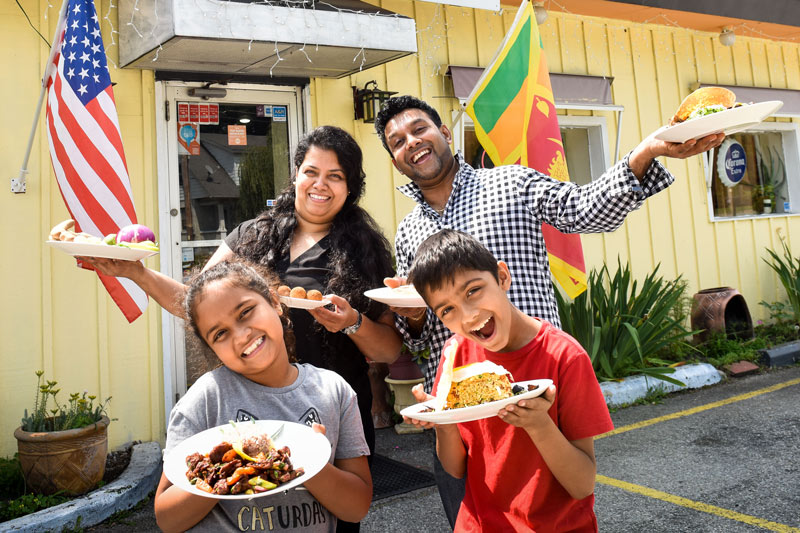 On a Friday night, 50-100 people take advantage of the bar area, restaurant, and outside patio, which is surrounded by spices and vegetables that are waiting to be harvested and used for dishes in the restaurant.
There are long beans and broccoli, chiles and tomatoes, grown organically on-site and at the family's nearby home, or purchased from nearby Stony Kill Organic Farm.
Restaurant diners love the deviled pork or nasi goreng with their choice of shrimp, calamari, or chicken.
For the true authentic flavors, Munaweera and his family return to Sri Lanka every year for ingredients that are difficult to source here like spices and Ceylon tea leaves.
Their success in the Hudson Valley has not been lost on the immigrant family, who came here in 2008.
"I never expected my life to be in upstate New York, or even in America," Munaweera says. "This is the greatest place and New York is the best part of the world. We see all nationalities and all the people and they accept us in the Hudson Valley."