Do Good Spirits, formerly Prohibition Distillery, crafts award-winning vodkas, gins, and tasty liqueurs.
In the early days, Brian Facquet shared a space with Tuthilltown Spirits Distillery, which had extra room in one of its spare barns. When Tuthilltown's team finished for the day, Facquet took over at night.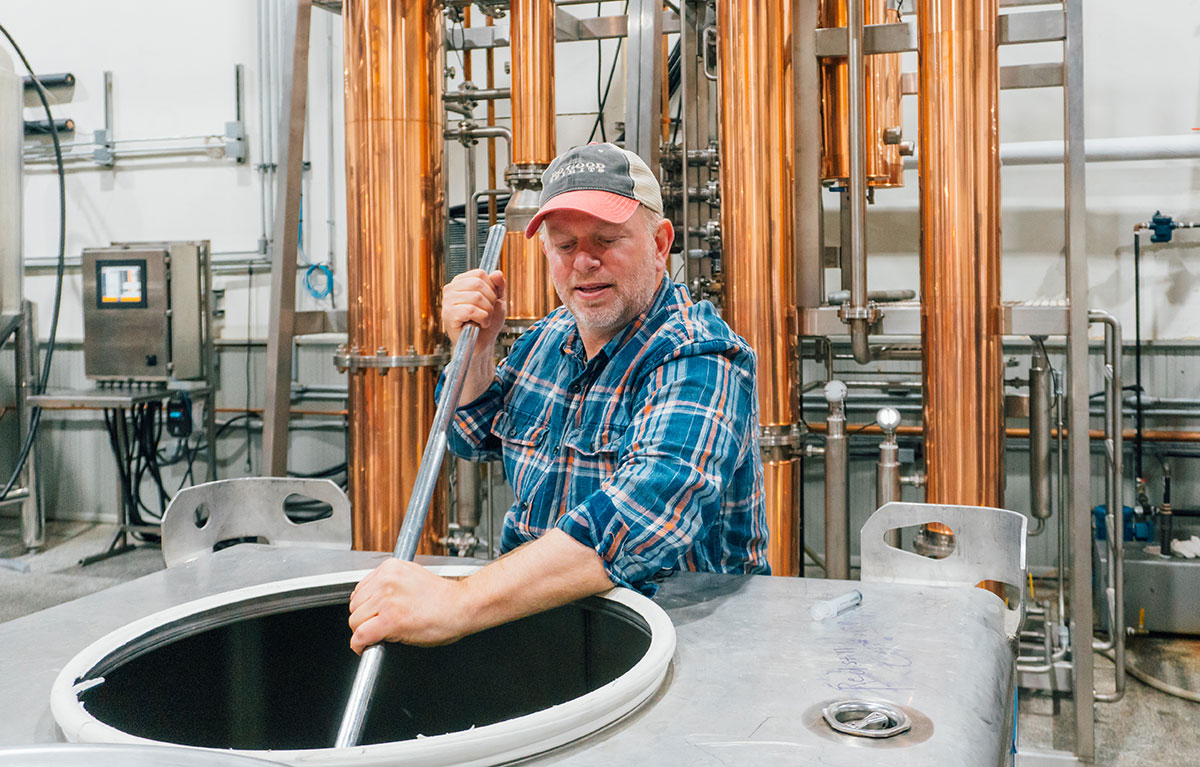 "Well, I've been doing this since 2008, before craft distilling was really a thing. I had this view that I wanted to make a vodka that represented New York on the world stage," Facquet says.
His dream for a New York vodka came to fruition through Bootlegger Vodka. Facquet, a distilling autodidact, named his distillery "Prohibition" due to the rarity of craft spirits. Recently, he renamed the business Do Good in honor of a Navy Seal's heartfelt toast. In 2012, Facquet moved his operation to Roscoe after he found an old firehouse and fell in love with the space. While he continued producing his flagship spirit, eventually it was time for a change.
In the years that followed, he produced gins, whiskeys, and the ever-popular Beaverkill Bourbon Cream. Here's a rundown of the flagship offerings at Do Good Spirits in Roscoe:

"A lot of folks will look at vodka, and say that vodka's the easy one because it doesn't have to be aged. Vodka is the hardest to make because you have to be able to drink it right out of the still. Everything else gets treated with either wood or berries and botanicals. When you go through and you add flavor to the spirit, you get to cover up the impurities. With vodka, everything is removed," Facquet says.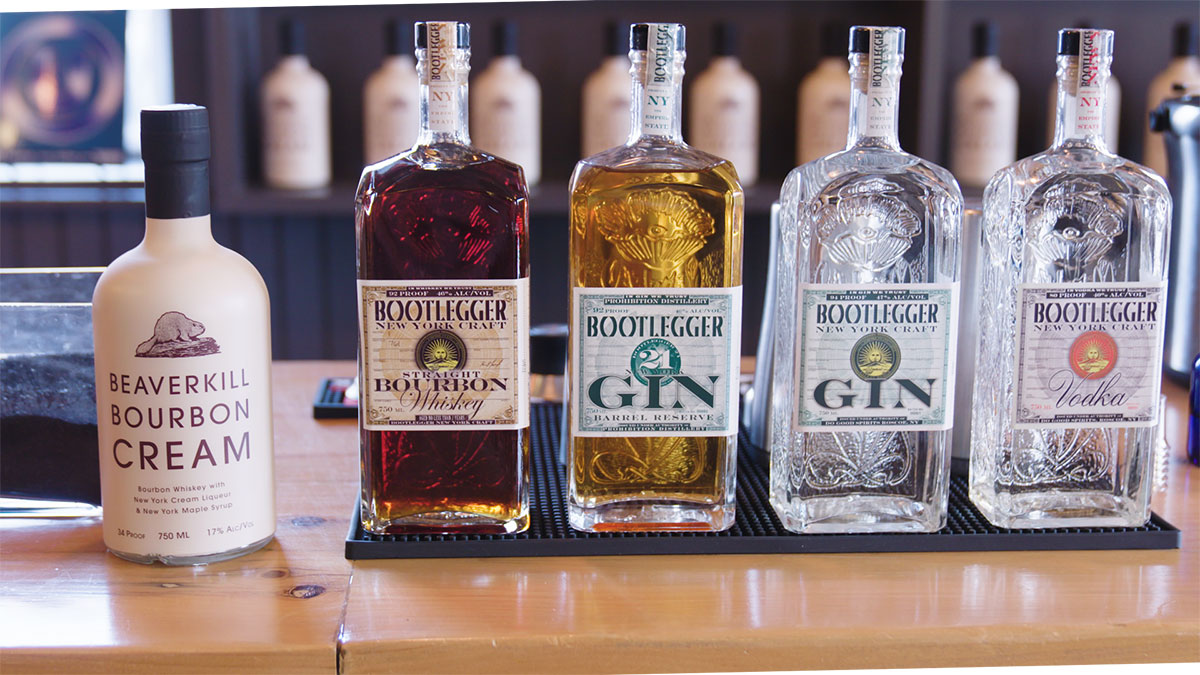 Facquet softened the typically harsh aroma of vodka through charcoal filtration so it has a completely neutral nose. It actually has body and mimics the mouthfeel of a whiskey. One sip yields tasting notes of sweet corn and creamy custard. It finishes bright and light.

Facquet studied classic gins from the U.K., namely, Beefeater, Bombay, Hendrick's, and Tanqueray.
"I didn't want to produce an 'American style' gin; that means a ton of citrus and less jumper," Facquet says. He wanted to craft a London Dry-style gin right here in the Catskills. In his research, he discovered four botanicals common to every renowned style of London Dry gin: juniper, coriander, bitter orange peel, and orris root.
Facquet searched for a fifth botanical for nearly two years. He never conducted distilling tests, but rather chewed on botanicals and soaked them to evaluate the smell. Finally, he landed on lemon verbena—which reminded him of fruit stripe bubble gum.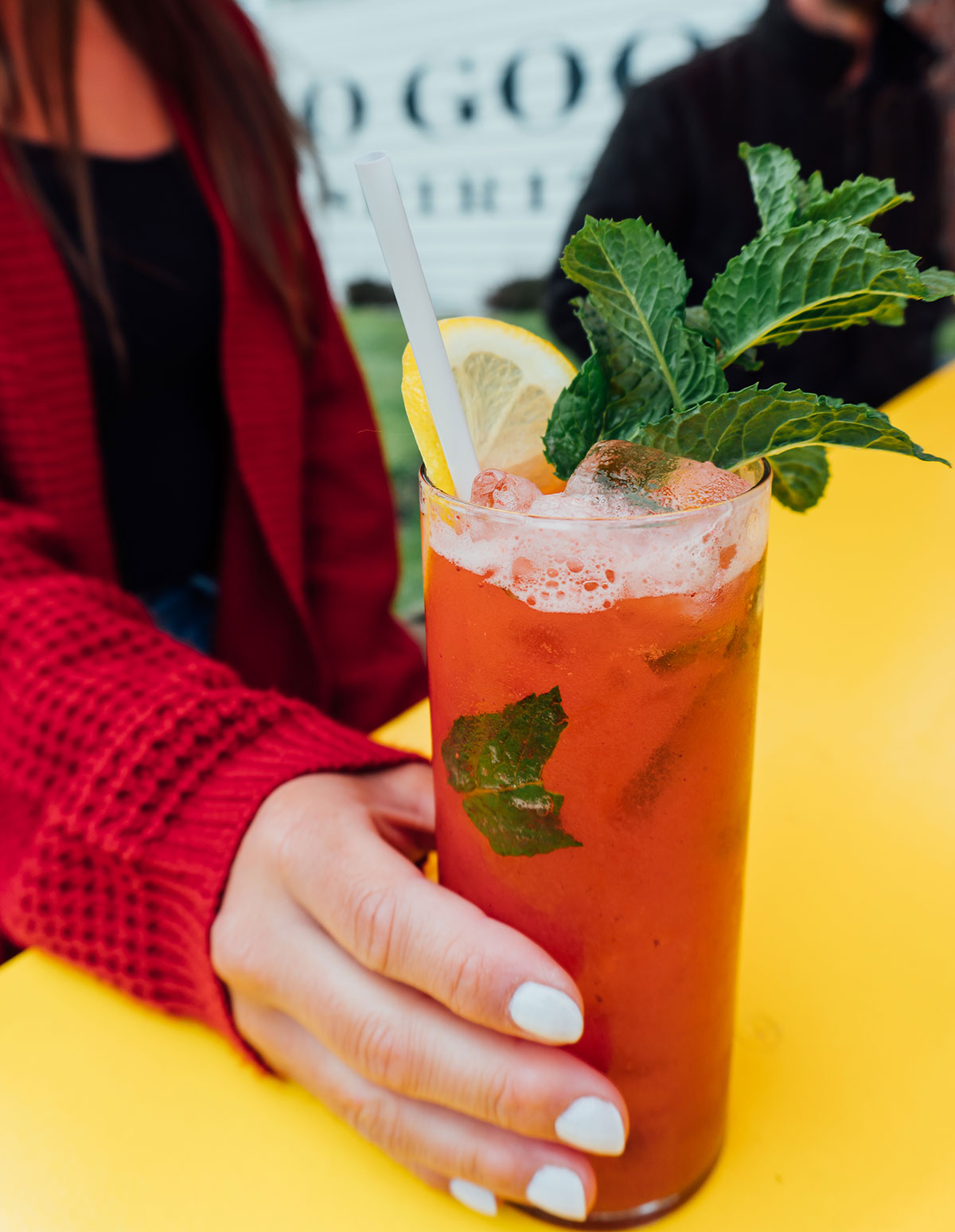 Bootlegger Gin was born from one 230-gallon batch, and the recipe stuck.
"I couldn't afford to do it again. If we failed I think we would have been out of business at the time, because that was all the vodka I had," Facquet says.
Though his gin and vodka come from the same source, that does not make gin "flavored vodka." All aperitifs, liqueurs, etc. begin as neutral spirits, or spirits distilled at over 190 proof or 95-percent alcohol.
"So if you filter it and water down to 80 proof, you got vodka. If you macerate botanicals in the neutral spirit and redistill it, you've got gin. If you macerate fruit in the neutral spirit and redistill it, there's your liqueurs. Our gin is uniquely made from our finished vodka, because I didn't know any better," Facquet laughs. The result is a gin without an overly harsh nose of juniper. Coriander brings an Indian influence, and the lemon plays well off burnt orange notes.
Facquet released a bourbon years ago made from 100-percent corn that was so popular he couldn't keep it on the shelves. Do Good continues to produce it every so often, but it's a rarity. Yet one day, his team was cleaning up the space and came across the bourbon barrels.
"I needed space. So I said, 'You know what? We got all these barrels piled up. Let's just put in the gin.' It was almost like the chocolate and peanut butter moment," Facquet says. He let the gin rest in the barrels for over a year and didn't change the recipe at all. When he poured out the barrels, the room was filled with the smell of mulling spices.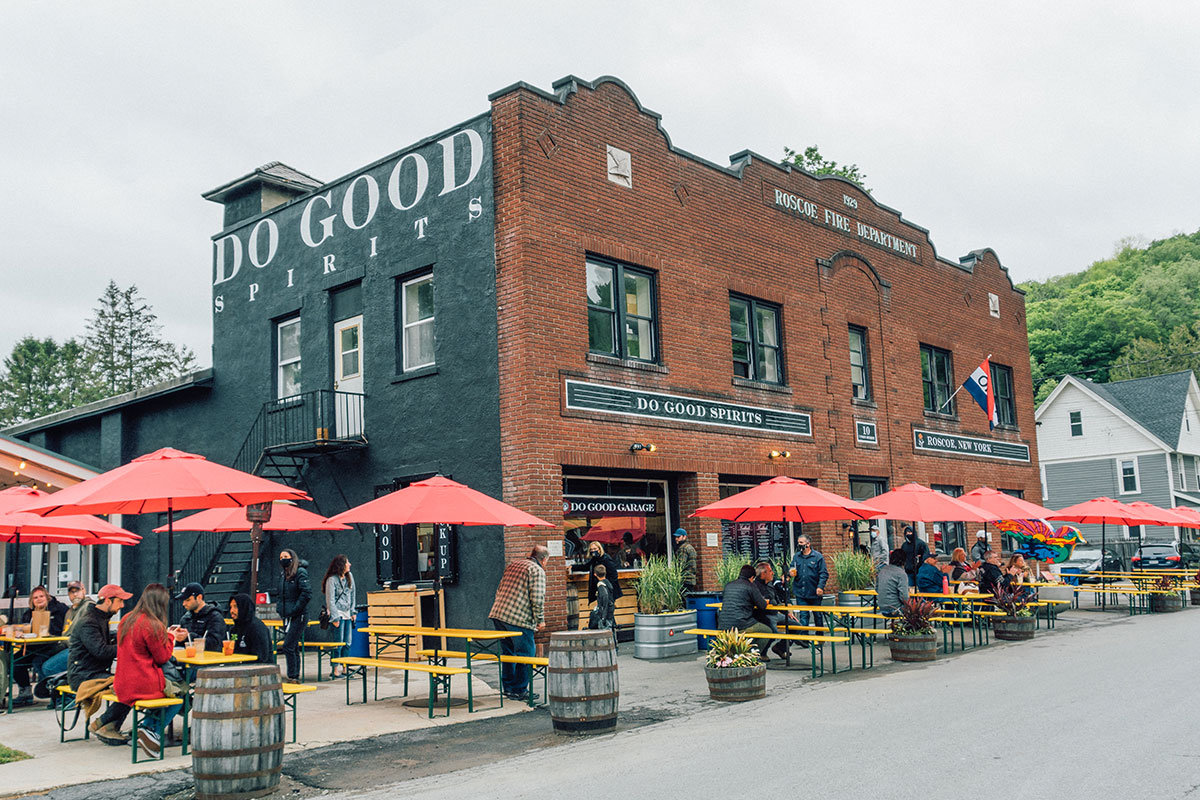 "It reminded me of a German Christmas market. It smelled like the holidays," he recalls. When aged, the lemon verbena took on characteristics of cassia bark and cinnamon. The bitter orange peel warmed and the once clear gin took on a deep shade of amber. Juniper didn't dominate the nose, giving way to orange cream notes.
Facquet recommends adding a bit of water to this gin to unlock the full spectrum of flavors. He leaves all the fats and oils in this gin, so it works well in an old fashioned or a bee's knees. It even goes well with rum babka.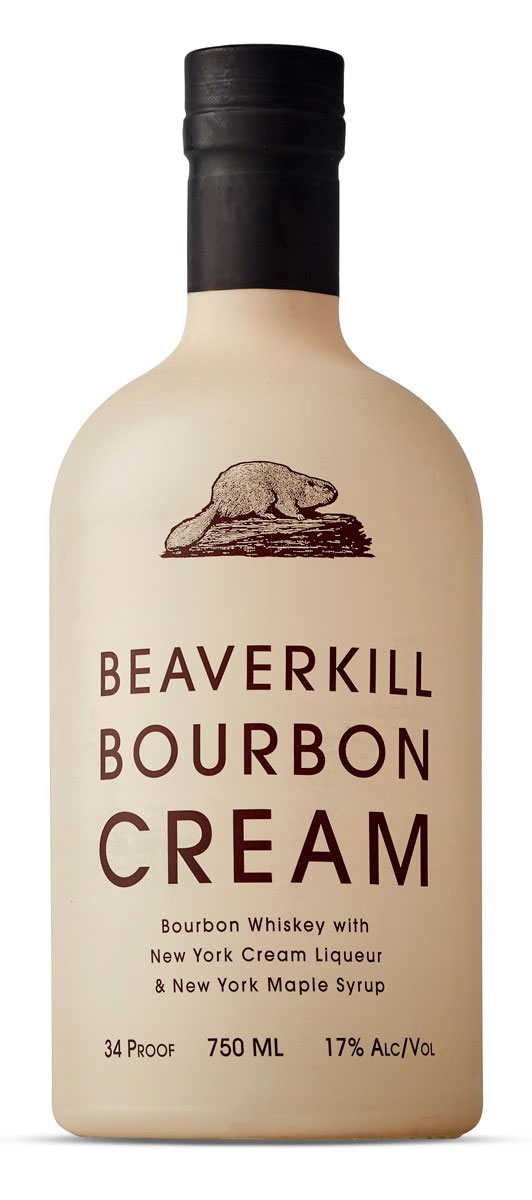 Western Catskills Cream. Do Good Bourbon. Crown Maple Syrup. These three ingredients came together to form Beaverkill Bourbon Cream, a decadent tribute to the pure waters of New York's premiere fly-fishing region.
Vanilla, wood, and cinnamon flavor the impossibly light liqueur. It was born as a gift for family and friends for the holidays, and has turned into a local specialty.
During the height of the COVID-19 pandemic, however, Do Good shut down to produce hand sanitizer.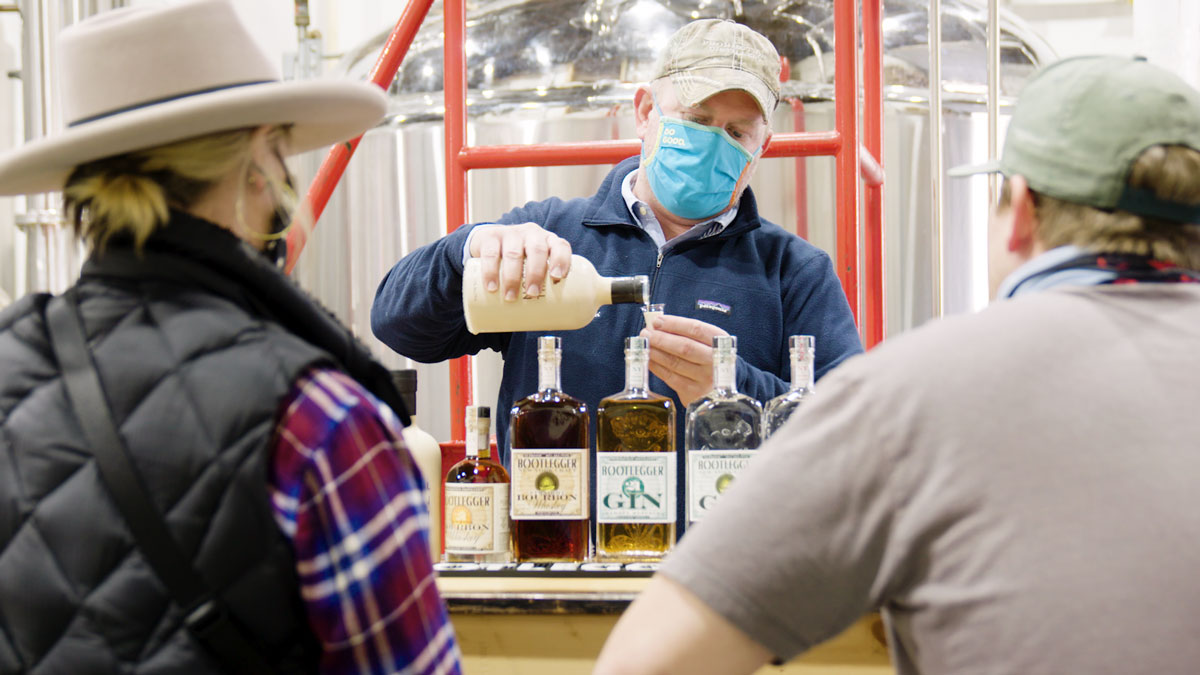 "There was this really nice nurse that came up from New York City. She knew we were making hand sanitizer and she said, 'I want 100 bottles of hand sanitizer.' And I said, 'Okay, not a problem,' and she said, 'but I need 26 bottles of bourbon cream.'"
The nurse was picking up an order for her entire ER team. The sweet liqueur was an end-of-the-day treat for them, after working long, difficult hours.
"That really meant a lot to hear, that our spirits resonated with people and gave them a little comfort," Facquet says.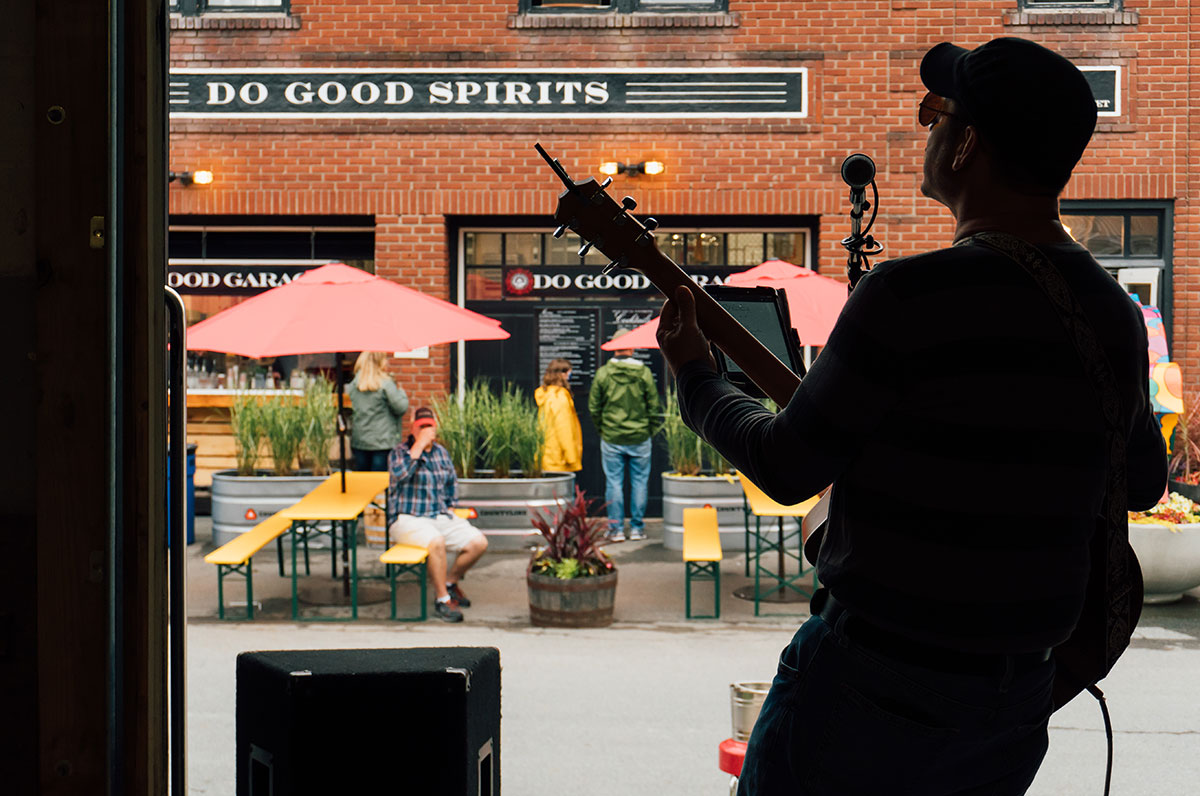 Now that Do Good is fully open once again, tables line the streets and musicians perform live from a stage across the street. Visit Do Good for inventive cocktails, comfort food, and a definitively welcoming environment in the Catskills.