JEFF O'NEIL, FOUNDER AND PROPRIETOR of the recently opened Industrial Arts Brewing Company, in Garnerville (Rockland County), has spent most of his adult life swimming in beer. As the former head brewer of Peekskill Brewery, he previously ran the Ithaca Beer Company for a decade, and before that, he was brewing beer in the San Francisco Bay area. He has brewed every type of beer imaginable, yet he has always favored hoppier beers such as IPAs and pale ales.
Now, O'Neil, a pioneer in the craft beer revolution in the Hudson Valley is putting all his experience to work at Industrial Arts, where he is creating the fresh, hoppy beers he's always wanted to make. "Our mission is to make really nice beers that are stable and can really satisfy people who are into IPAs and pale ales and other hoppy beers," he says.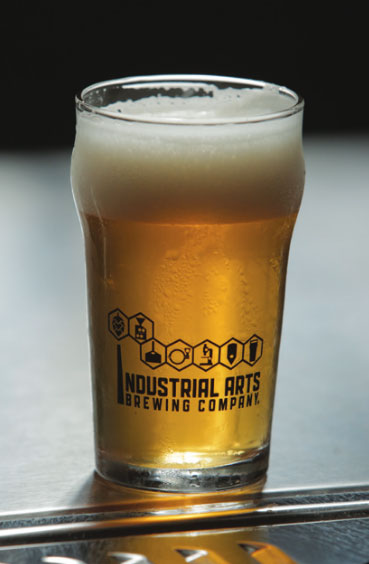 Located in the Garnerville Arts and Industrial Complex, a landmark, pre-Civil War era factory group, O'Neil's brewery is an imposing brick building topped with a huge smokestack. Despite the historic nature of the site, O'Neil invested heavily in modern process and automation equipment and spent the better part of a year renovating the space. "What you can expect to see," he notes, "is a really cool juxtaposition of antique historic construction with state-of-the-art brewing technology."
The best equipment in the world won't make a good beer out of bad ingredients, though, and O'Neil care-fully sources the ingredients for his beers. The secret is to keep the brew-ing process simple and clean, altering the ingredients as little as possible, he says. "We try not to muddle up the ingredients that we spend so much time and energy tracking down."
Industrial Arts currently is producing three main beers: Tools of the Trade, the company's flagship product, is a low-gravity, single malt, hop-focused, very drinkable pale ale; Power Tools, a bolder IPA, essentially is a double version of Tools of the Trade; State of the Art is an IPA, but its exact makeup differs each time it is brewed. "The idea [with State of the Art] is that we're exploring the breadth of style that IPA encompasses," O'Neil says. The beer hall is open Wednesday through Sunday.