JUST INSIDE THE DOORS TO Dottie Audrey's Bakery Kitchen in Tuxedo, Jennifer Jenkins, who co-owns the eatery with her husband Patrick, buzzes away at the baker's station behind a wall of refurbished, mismatched windows. Over headlights made from old tea kettles shine down on the bakery case and a fire-engine red espresso machine. The blue-gray main counter, crafted from old doors, stretches across the front, seamlessly joining the clusters of barn wood tables in the dining area. Family heirlooms and old photographs cover the walls.
Dottie and Audrey would approve.
"That's my mother, shaking her butcher knife at us!" Patrick laughs, pointing to a photo of Dottie. "This is sort of a way of them staying with us everyday."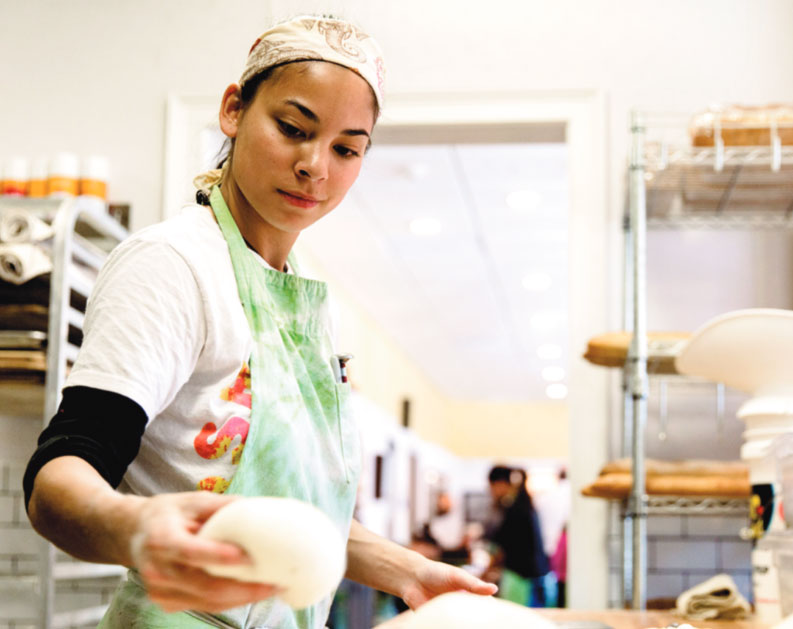 Jennifer and Patrick moved to the area from Philadelphia 11 years ago, settling into an old farm house in Highland Mills, from where Patrick commuted every day to his job as an executive with the Manhattan branch of Belgium's famed Le Pain Quotidien. (The commuting ordeal eventually took its toll, however: Patrick retired before turning 50. "There's a point of diminishing return," he says, then admits, "I was itching to get back into the kitchen.")
Patrick's mother was well known for having a seat at the table for every stray there was, human or animal.
The couple recognized the need for good, wholesome food in Tuxedo, a high-traffic area with only a handful of dining options, none of them offering farm-fresh, home-style fare. They set their eyes on the newly built Duck Cedar Plaza, just north of Tuxedo Park on Route 17. "The biggest leap of faith for us was whether people would want to eat the way we eat," Jennifer, a Cornell School of Hotel Management graduate, says. "People told us that since there wasn't much else around, everyone would just fly by us at 65 miles per hour. We gave them a reason to hit the brakes. "Business at Dottie Audrey's quickly bustled soon after it opened in October 2015. Two months later, the couple unveiled Keystone Hoagies, a retro, Pennsylvania-inspired hoagie and grinder joint right next door.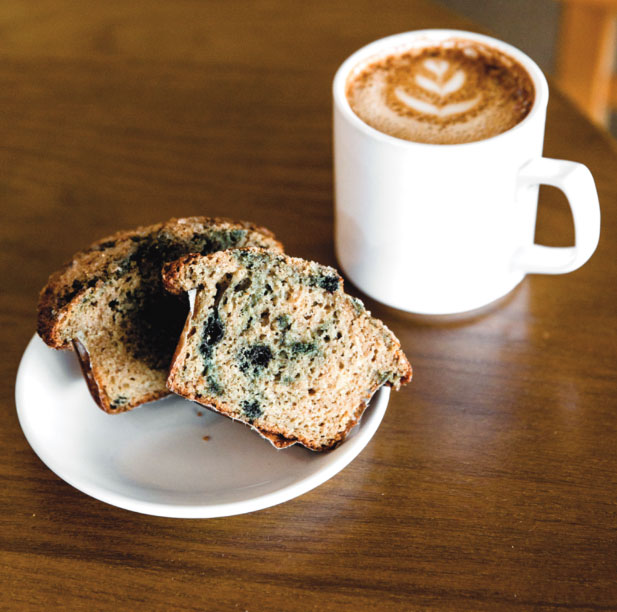 The husband-wife duo blended their strong suits (he cooks, she bakes) to create a well-thought, bistro-style menu centered around good, fresh, simple ingredients. Local eggs and seasonal produce from Blooming Hill Farm are featured throughout the always-evolving menu. Aromatic spreads of scratch-made muffins, scones and cookies are daily features, as are the house-made beverages (assorted teas, lime-and lemonades and kombucha). Dottie Audrey's offers a balanced mix of health and comfort food; at Keystone, diners can get their fill of piled-high, meaty hoagies with fresh-cut fries. Both spots enforce the legacy of Dottie and Audrey: good meals made from equal parts love and muscle.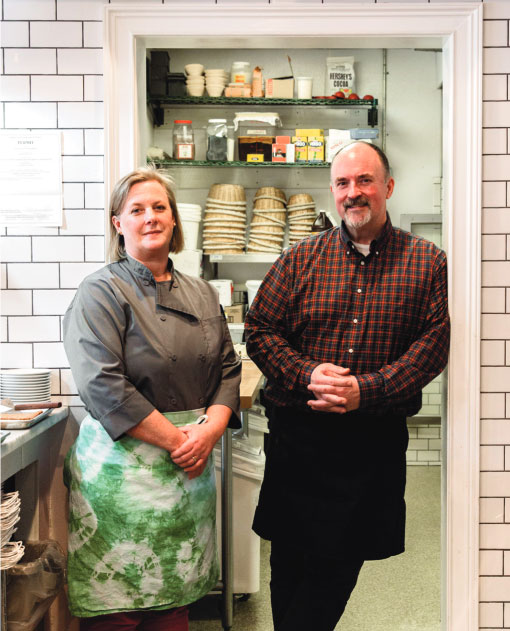 Growing up in western Pennsylvania, Patrick says he was constantly surrounded by good food, and a lot of it. His mother was well known for having a seat at the table for every stray there was, human or animal. The mother of seven children (23 grand kids), she was always cooking for a full house. "Dottie never cooked for less than 20 people at once," Patrick says. "That's just who she was—right up until her passing, she was cooking that much." (A love for hosting seems to run in the family: Patrick fondly remembers his tiny grandmother, Violet, who could "cook like a Viking.")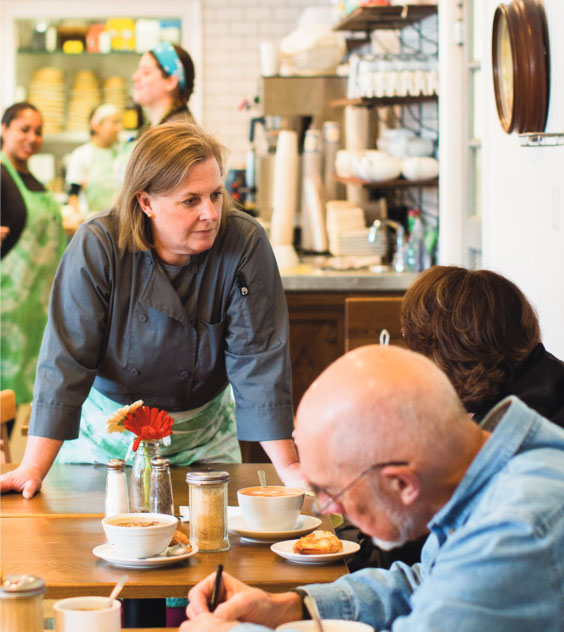 Jennifer, born and raised on Long Island, had a similarly talented home chef in her life. Audrey, her mother, was a full-time teacher raised in England, had a knack for baking bread, scones and other treats and found joy in having a house filled with people to feed and entertain. Jennifer remembers the special, scratch-made birthday cakes her mother made each year. "For my mom, it was just as much about the good food as it was about getting people together around the table," she says. "[At Dottie Audrey's], we're doing the same thing." All the food at Dottie Audrey's is scratch made, straight down to each salad dressing—"simple goodness," Jennifer calls it. Limited ingredients, with unlimited flavor and ease, make for food and a sense of place wrapped in familiarity and warmth.
Inspired by family bread-making talents and Patrick's experience, it seems only natural that house-made bread be featured in nearly every dish, as well. Wholesome and crisp, the breads are naturally leavened and baked with King Arthur's organic flour. The malted wheat bread (a family recipe) hosts many sandwiches and toasts; a sliced baguette accompanies soups, salads and omelets.
Simple but meaningful touches emit charm and comfort, and are central to making Dottie Audrey's feel like home.
"Traditionally, sourdough rye pairs well with a Reuben, but we really love it with our wild mushroom toast," Patrick says. "You get this really delicious, crunchy, mushroom-y sandwich. And that all started from wondering, 'What does this bread taste like it wants to be?' "The breakfast menu is both meaningful and rich, from the seasonally available shishito pepper scramble to Piper's Pancakes (named after their 13-year-old daughter)—fluffy, homemade buttermilk pancakes served with maple syrup, house-made caramel butter and house-cured Irish bacon. The Gardener's Wife, a best seller for both breakfast and brunch, is a clean vegetarian trio of seasoned ricotta, herbed egg salad and avocado mash served with house-made bread and greens.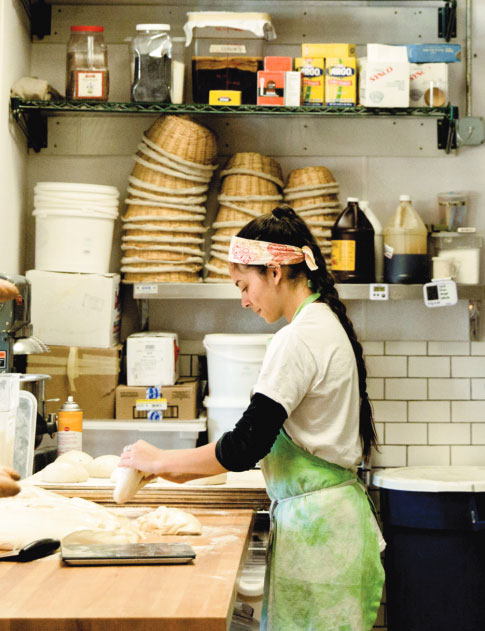 Classic lunch combos of soup, salad and sandwich range from vegan chickpea, barley and mushroom stew to hot, shaved Angus beef on a brioche roll. "One thing you won't find here, though, are heaps of fried potatoes, "Patrick stresses. "A nice side of greens with most dishes keeps you from feeling like you need to take a nap afterwards."
Simple but meaningful touches, like the rack of Etch-a-Sketches in the dining room and the small cartoons lacquered onto the undersides of tables, emit charm and comfort, and are central to making Dottie Audrey's feel like home—something the family matriarchs always did for others.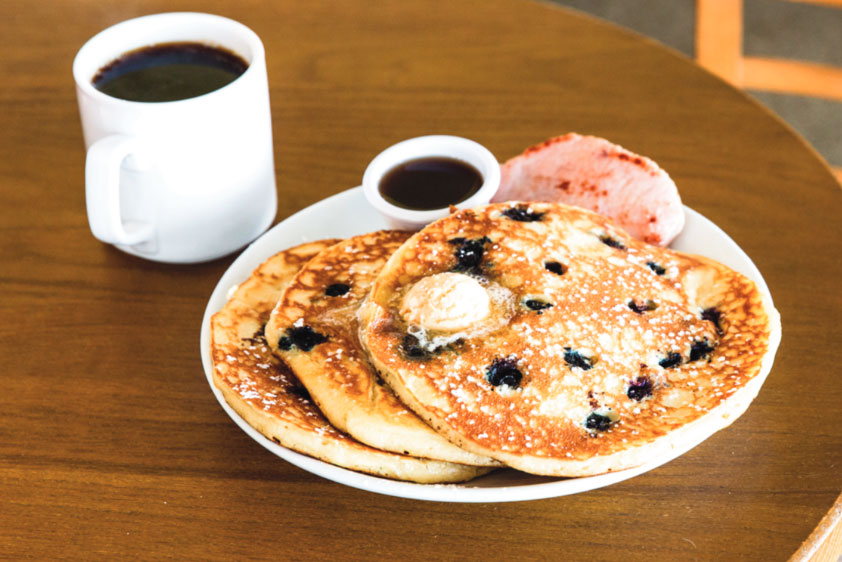 "We love the feeling of having people around," Jennifer says. "This morning, I walked into see customers—strangers before we opened—just chatting and getting along. I thought how nice it is to have created this place where people can gather and enjoy food." When asked what Dottie and Audrey would think of the restaurant if they could see it today, Patrick grins. "I'm sure they would have pointers," he says.