Farmers are the backbone that make Dutchess County one of the richest agricultural experiences in the Northeast. We're excited about our series of monthly blogs where we share recipes that showcase seasonal flavors. We continue this month with some inspiration for your holiday menu! Holidays may look a little different this year, given the current pandemic, but don't let that stop you from making something special at home. Shop local products and create memories with loved ones while cooking holiday meals submitted by some of our local farms, businesses and restaurants.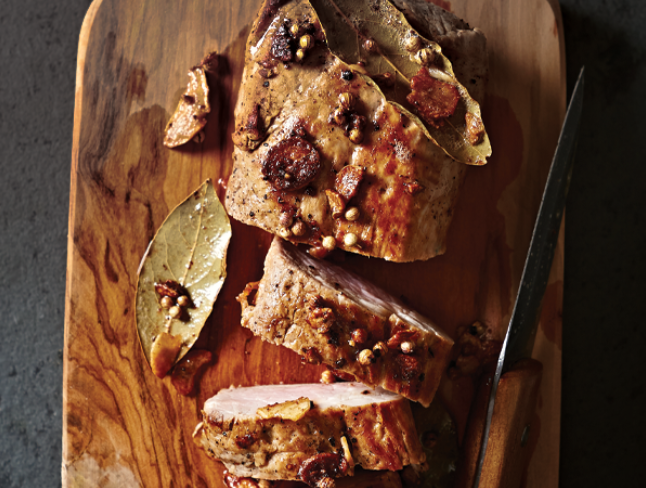 Original Spice Rub & Maple Glazed Pork Tenderloin
Submitted by Crown Maple
Mix things up this holiday season! Instead of the traditional turkey or ham dinner, try out this delicious pork tenderloin from Crown Maple. Shop their website for these ingredients, plus a variety of other maple syrup and gourmet products! From flavored maple syrup and hot sauce, to glazed nuts and beef jerky, it's the perfect place to stock up on holiday gifts!
INGREDIENTS
DIRECTIONS
Preheat oven to 400 degrees for roasting.
Trim tenderloin of fat and any silver skin and pat dry with a paper towel. Pierce pork loin all over with a fork and rub with 1 Tbsp of Canola Oil.
Use Crown Maple Original Spice Rub and rub to cover the entire pork loin.
Heat 1 Tbsp oil over med-high heat in a large oven-safe pan (cast iron or a dutch oven will work). Once oil is hot, add pork and brown on all sides (6 minutes total).Place in the oven and bake uncovered at 400˚F for 13-15 min, glaze with Crown Maple syrup and flip the tenderloin over halfway through baking. Bake until center of pork registers at least 150˚F then transfer to a cutting board and let meat rest 5-10 min. Slice into rings and serve.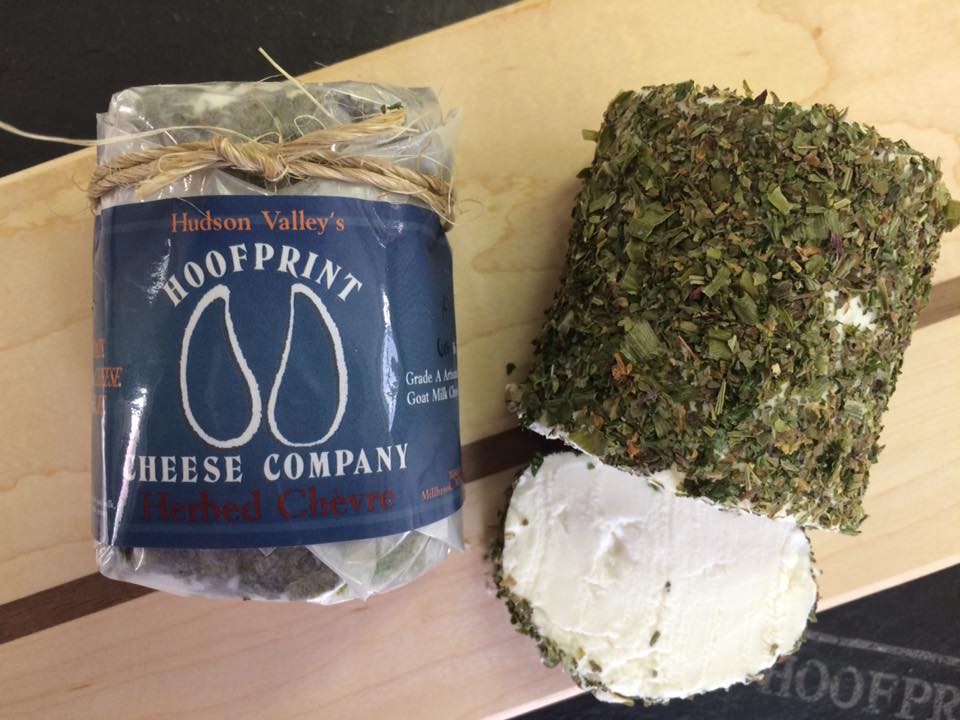 Herbed Goat Cheese and Truffle Mashed Potatoes
Using local ingredients from Hudson Valley Cold Pressed Oils and Hoofprint Cheese Company
Give your classic mashed potato recipe a local twist by adding creamy goat cheese and finish with a drizzle of truffle sunflower oil – perfect for a special holiday occasion!
INGREDIENTS
3 pounds of boiling potatoes (such a Yukon Gold or Russett)
1 1/2 cups whole milk
6 tbsp unsalted butter
1/2 cup Hoofprint Cheese Company Herbed Chevre (goat cheese) – plain goat cheese would work too!
1/2 tsp pepper
Salt to taste
DIRECTIONS
Peel potatoes and cut into cubes.
In large pot boil salted water. Add potatoes and simmer for 12 minutes, until the potatoes are fork tender.
Drain the potatoes and return to the hot pot.
With a handheld mixer on low, start to mix up the potatoes, adding milk and butter.
Once mixed well, add in goat cheese, salt and pepper.
Serve in large bowl, drizzle with truffle sunflower oil and garnish with fresh parsley. Enjoy!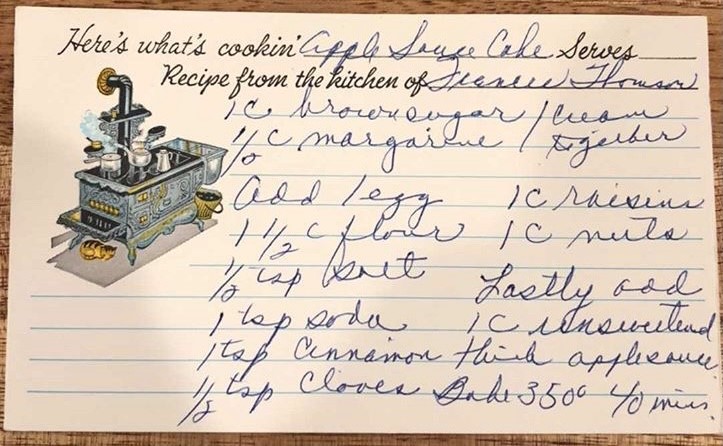 Apple Sauce Cake
Submitted by Greig Farm
Greig Farm has passed along some of the Greig family's favorite recipes. This is one of grandmother, Marion Greig's favorites that the whole family enjoys. Take a break from classic apple pie this year and make this Apple Sauce Cake!
Visit Greig Farm and shop their market curated with a collection of local goods and produce from around the Hudson Valley. Their stocked shelves feature favorites like Chaseholm Farm cheeses, J.B. Peel coffee, Northwind Farms beef, poultry and eggs, and more!
INGREDIENTS
1 cup brown sugar
1/2 cup margarine
1 egg
1 1/2 cup flour
1 tsp baking soda
1 tsp cinnamon
1/2 tsp cloves
1/2 tsp salt
1 cup unsweetened applesauce
1 cup raisins
1 cup nuts of choice (optional – walnuts or pecans work nicely!)
DIRECTIONS
Preheat oven to 350 degrees
Cream together brown sugar and margarine
Add egg and mix until just combined
Mix in flour, baking soda, salt, cinnamon, cloves
Stir in raisins and nuts
Lastly add applesauce
Pour into 8-inch square pan and bake for 40 minutes
Let cool. Enjoy!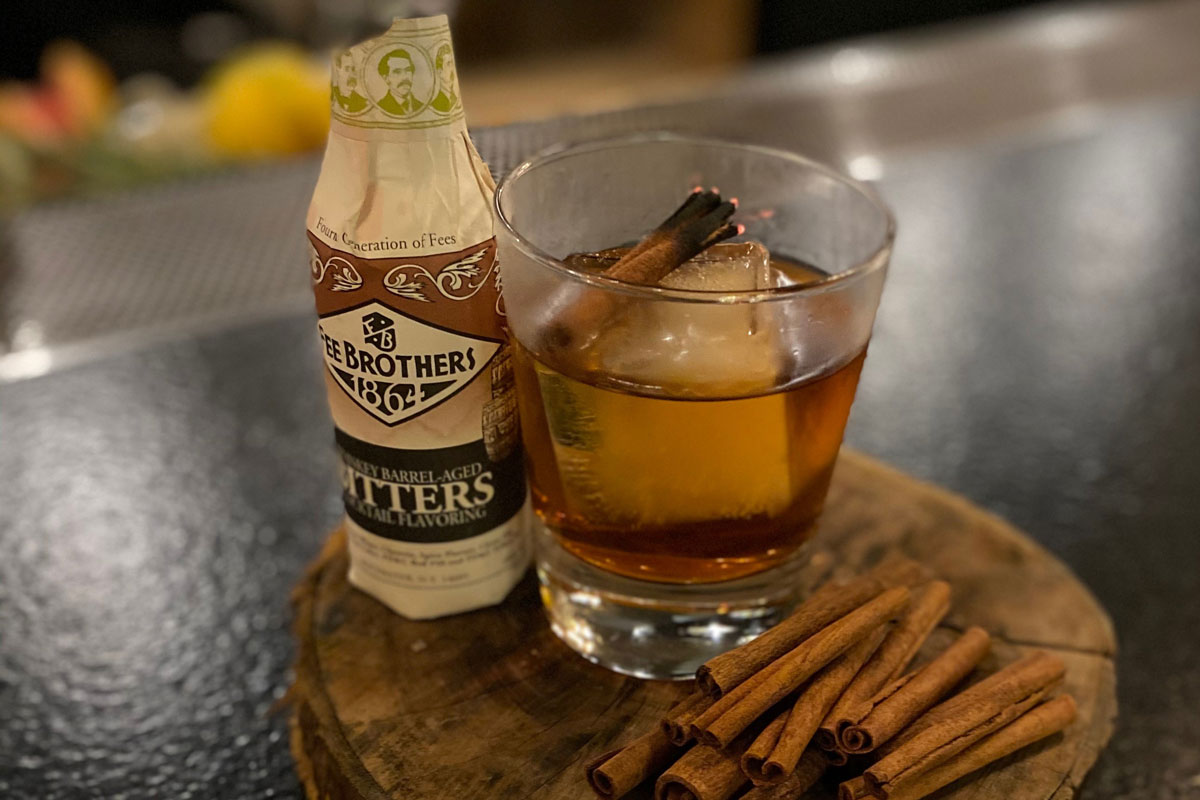 Fall Fashioned
Submitted by Heritage Food + Drink
This farm-to-table restaurant offers a menu featuring a mix of classics and new dishes, inspired by the local, in-season ingredients of the Hudson Valley. Make a reservation and visit them in Wappingers Falls.
INGREDIENTS
Cinnamon Syrup
2 Cups Sugar
2 Cups Hot water
1 Cinnamon Sticks
DIRECTIONS
To make Cinnamon Syrup, in a pot combine sugar, water, and cinnamon stick. Bring to boil. Reduce heat to low and simmer for 30 minutes. Strain and cool before using in cocktail.
To assemble cocktail, combine bitters, cinnamon syrup and bourbon in mixing glass with ice. Stir until chilled then strain over fresh ice. Garnish with cinnamon stick.
Find more holiday menu inspiriation with last month's farm fresh recipes.
Come for a winter farm experience and cut-your-own tree this season. Learn more here.
For more information about Dutchess County farms, click here.
For a list of Dutchess County restaurants currently offering heated outdoor dining, click here.
---
What's this?
This content is made possible by our sponsor. It is not written by and does not necessarily reflect the attitude, views, or opinions of the Valley Table editorial staff.​