Farmers are the backbone that make Dutchess County one of the richest agricultural experiences in the Northeast. We're excited about our series of monthly spotlights where we share recipes that showcase in-season, farm-fresh ingredients. This month we're hoping to inspire your holiday menu! Shop local products and create memories with loved ones while cooking holiday meals at home with fresh ingredients.
Butternut Squash Soup
Submitted by Brookby Farm in Dover Plains
Farms across Dutchess County have adapted to offer residents and visitors safe agritourism experiences. Brookby Farm is no exception, offering online shopping of their market for pick-up only. Their market features local dairy products, protein, vegetables, bread, drinks and pantry items, and when you arrive at your selected pick-up time, they'll deliver it right to your vehicle.
Ingredients
2 tablespoons olive oil
4 tablespoons butter
2 large yellow onions
2 1/2 cups cooked butternut squash
2 large carrots, diced
1 potato, peeled and chopped
1 large apple of choice, peeled, cored, diced
1-quart chicken or vegetable broth
1/2 cup dry white wine
2/3 cup cream
1/4 tsp nutmeg
Pinch of cinnamon
Pinch of salt & white pepper
1 tablespoon sour cream
1 tablespoon chopped chives
Directions
Prep:
Split butternut squash and scoop out the seeds.
Rub olive oil, lightly salt and pepper each half.
Place center down on cookie sheet and roast with chopped potatoes in oven for 50 minutes until tender.
Once roasted and cooled, scoop out squash, store and refrigerate until ready.
Chop onions, carrots, apple and set aside.
Cook:
In pot, melt butter, add onions and sauté until translucent on medium heat.
Add chopped carrots, potatoes and apple, then stir for 2 minutes.
Add broth/stock and cook until tender.
Use an immersion blender to blend until smooth. Alternatively, cool and blend in small batches in a blender until smooth.
Once blended, add nutmeg, cinnamon, white wine and cream. Cook for an additional 5 minutes.
Garnish with sour cream, chives, salt and white pepper to taste then serve. Most of all, enjoy!
Find farms, farmers markets and stands to purchase fresh produce for this recipe here.
---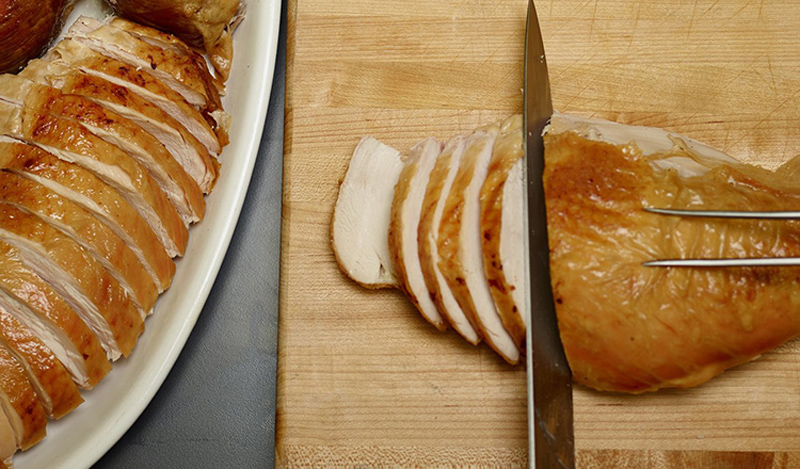 Roast Turkey with Chestnut Dressing and Pan Gravy
Submitted by The Culinary Institute of America in Hyde Park
Original recipe can be found here.
Although The Culinary Institute of America's Hyde Park campus is not currently offering classes or public tours, and its on-campus restaurants are closed until further notice, there is plenty of virtual content to whet your appetite. Around the Kitchen Table, a new series on Sunday evenings featuring four incredible chefs, begins on October 18! A cocktail using Poughkeepsie's The Vale Fox Distillery's Tod & Vixen's Dry Gin 1651 will be featured alongside each dish!
Chestnut Dressing
Ingredients
1 turkey (about 15 lb)
1 apple, quartered
1 bay leaf
1 large sprig thyme
1/2 bunch flat-leaf parsley
1 to 2 tbsp fresh lemon juice
Kosher salt, as needed
Freshly ground black pepper, as needed
Chestnut Dressing
INGREDIENTS
1/2 cup (8 tablespoons/1 stick) unsalted butter
3/4 cup minced yellow onion
1 1/2 lb day-old bread, cubed
1 cup chicken stock, warm
1 egg
2 tablespoons chopped parsley
1 teaspoon chopped sage
2 1/4 cups shelled, peeled and roasted chestnuts, chopped (about 8 oz)
1 teaspoon Kosher salt
1/2 teaspoon freshly ground black pepper
Pan Gravy
Ingredients
3/4 cup small-dice yellow onion
1/2 cup small-dice carrot
1/2 cup small-dice celery
5 cups chicken broth
Cornstarch slurry: 1/3 cup cornstarch combined with 1/3 cup cold water
Kosher salt, as needed
Freshly ground black pepper, as needed
Directions
Preheat the oven to 450°F.
Stuff the turkey with the apple, bay leaf, thyme, and parsley. Rub the lemon juice over the entire surface of the bird and season with salt and pepper.
Place the turkey, breast side up, in a roasting pan fitted with a roasting rack. Transfer to the oven and immediately reduce the oven temperature to 350°F. Roast, basting occasionally with the drippings that accumulate in the bottom of the pan, until an instant-read thermometer inserted in the thickest part of the thigh registers 180°F, 3 1/2 to 4 hours.
Meanwhile, to prepare the chestnut dressing, melt the butter in a sauté pan over medium heat. Add the onion and cook until tender, about 3 minutes.
Combine the bread cubes, stock, and egg and add to the pan with the onion. Add the parsley, sage, chestnuts, salt, and pepper and mix well.
Transfer the dressing to a buttered baking dish and cover with parchment paper. Bake until browned and heated through, about 45 minutes. Reserve in a warm place until ready to serve.
Remove the turkey and the rack from the roasting pan, cover the bird with aluminum foil, and allow it to rest for 45 minutes.
While the turkey is resting, make the pan gravy: Skim the fat from the top of the pan drippings, and combine the pan drippings with the onion, carrot, and celery in a saucepan. Add 1/2 cup of the broth to the roasting pan and stir to deglaze the pan, scraping up any browned bits from the bottom of the pan. Add to the saucepan along with the remaining 4 1/2 cups broth. Simmer over medium heat until flavorful and slightly reduced, skimming away any fat that rises to the surface, 20 to 25 minutes. Gradually add the slurry to the simmering broth, whisking constantly, until the gravy has a sauce-like consistency. Simmer for 2 minutes more and then strain through a fine-mesh sieve. Season with salt and pepper, if needed.
Remove and discard the apple, bay leaf, thyme, and parsley from inside the turkey. Carve the turkey and serve with the pan gravy and dressing.
Find farms, farmers markets and stands to purchase fresh produce for this recipe here.
---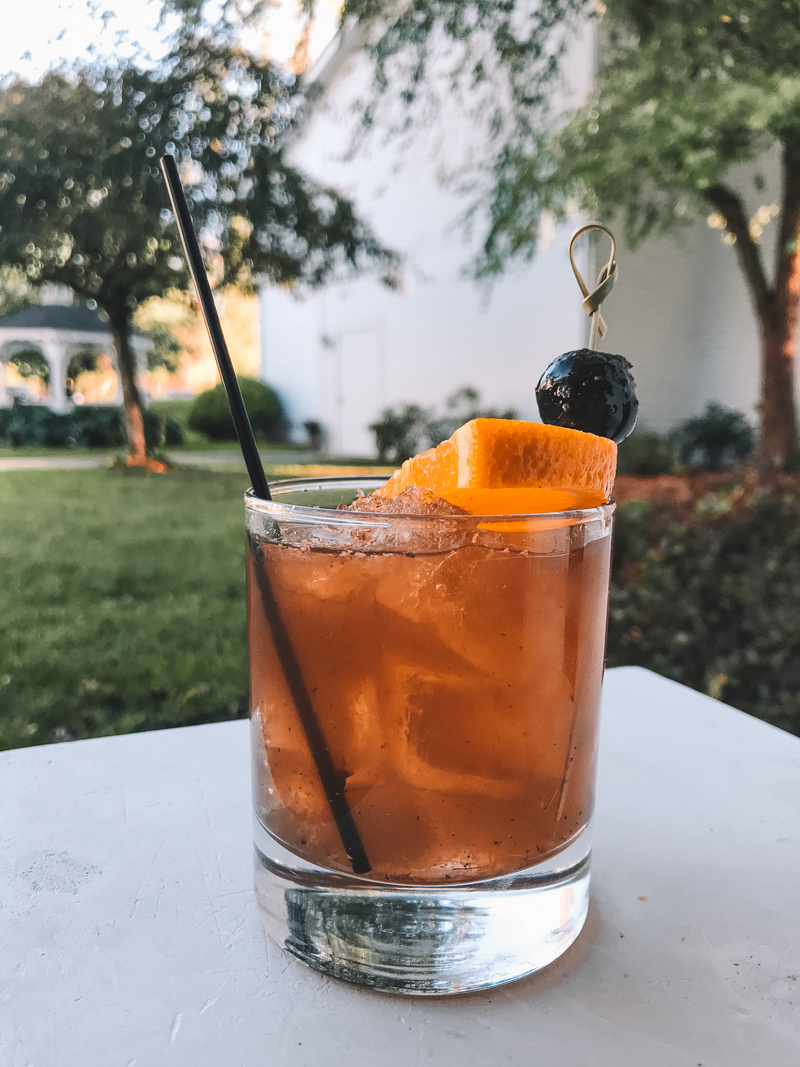 Honey Old Fashioned
Submitted by Le Chambord at Curry Estate in Hopewell Junction
Sneak away for a private, peaceful retreat in Southern Dutchess at this beautiful hotel. From elegant weddings, romantic weekend getaways, and local staycations, the Curry Girls know how to show their guests a good time! Cozy up around the fire this Saturday, October 17 at their Bourbon and Bonfire Evening, or recreate this cocktail at home for a special night in.
Ingredients
2 oz whiskey or bourbon (We suggest local products from Denning's Point Distillery or Taconic Distillery)
1/2 oz honey simple syrup
2-3 dashes of orange bitters
Pinch of ground nutmeg
Luxardo cherries and orange slices for garnish
Directions
Muddle one cherry, orange peel, syrup and bitters in a glass shaker.
Add bourbon and ice, stir ingredients and strain into a rocks glass over a large ice cube.
Garnish with another cherry and orange slice.
Shave nutmeg over top to finish.
---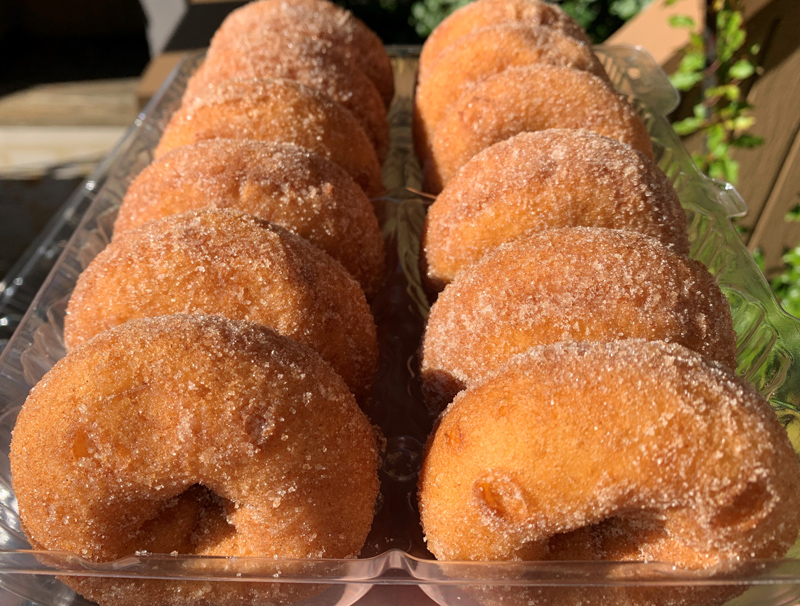 Cider Doughnut Bread Pudding
Submitted by Dutchess Tourism's own Digital Media Manager, baker extraordinaire, and cider-doughnut lover Kacie Vassari!
There's not much better than a farm fresh cider doughnut in the fall. Or is there?! Take your day-old cider doughnuts to the next level by turning them into a new dessert with this delicious bread pudding recipe. This time we used doughnuts from Meadowbrook Farm, but also frequent Fishkill Farms. Find out where else you can purchase some of the best cider doughnuts in Dutchess here!
Ingredients
6-8 day old cider doughnuts (depending on size), torn into bite-size pieces
1 large apple, peeled, cored, and chopped
1 1/2 cups heavy cream (we used Hudson Valley Fresh!)
1/4 cup white sugar
2 eggs, beaten
1 teaspoon vanilla extract
1 teaspoon ground cinnamon
2-3 tablespoons real maple syrup (we used Soukup Farms!)
Directions
Preheat oven to 350 degrees F. Butter an 8×8-inch baking dish.
Mix doughnuts and apple together in the prepared baking dish.
Whisk heavy cream, sugar, eggs, vanilla, and cinnamon together in a bowl. Pour half-and-half mixture over donuts and apples in the baking dish. Let sit until liquid is absorbed, stirring occasionally, about 15 minutes.
Bake in the preheated oven until golden, about 30 minutes. Cool and drizzle with maple syrup.
---
What's this? This content is made possible by our sponsor. It is not written by and does not necessarily reflect the attitude, views, or opinions of the Valley Table editorial staff.​