IT'S ABOUT 10PM ON A WEDNESDAY NIGHT. Chef Michael Cutney has just finished cooking for a packed house at The Twisted Oak on Main Street in Tarrytown. He's sitting down for the first time since early morning, still wearing his chef's apron and one of his signature hats. He's dipping chips into red salsa at Taqueria La Perla Poblanita, a Mexican restaurant a few doors uphill from his own restaurant. He's waiting for an order of soft flour tacos, in front of a cold case with brightly colored sodas.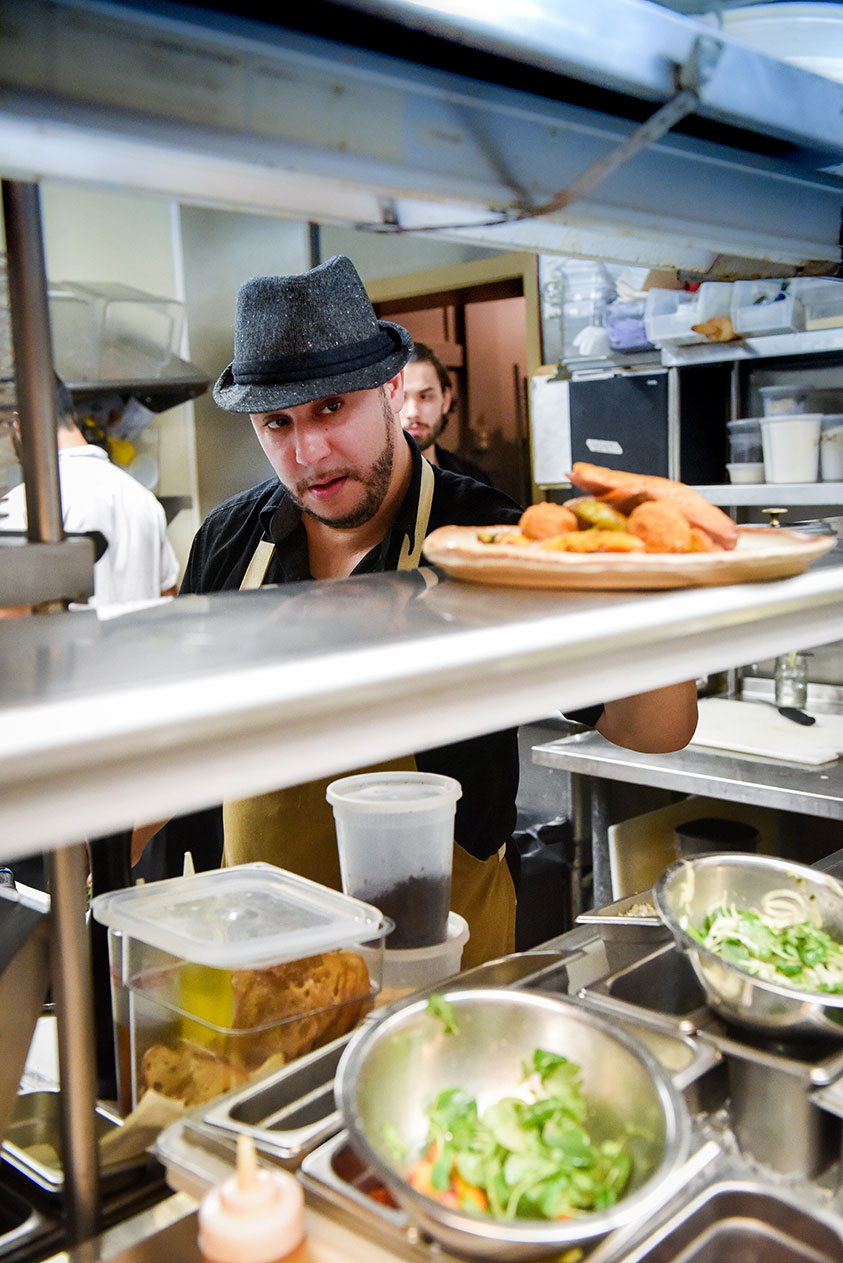 I'm sitting with him after having one of the most memorable meals in my life and I'm thinking to myself, "I'm kidnapping him. He's coming with me." My plan is to bring Cutney and his lifelong friend Jacob Parenti (Twisted Oak's co-owner and bartender) back to their Hudson Valley roots near the Wallkill pizzeria where, as teens, the two learned to schmooze and to cook and to deliver meals to their customers.
Just then, the waitress, who's used to feeding this young culinary dean of Tarrytown cuisine, arrives with his order of tacos. Cutney leaves $20 for the $12 order, because that's what people in the restaurant business do for other people who toil over a stove, trying hard to keep their front doors open and their lights on. The aroma of the fresh tacos snaps me back to reality.
The Twisted Oak brings the eat-local, farm-to-table movement to a whole new level. "We've been able to source our ingredients as close as possible to the time that they are harvested," Cutney says, sitting at the bar one afternoon. "This is a crucial, crucial part of the cooking here."
For that reason, there's no online menu at The Twisted Oak's website. Menu selections are determined each morning by what's fresh, what vegetables were picked the day before, which fish is selected that day, which meats were delivered that morning. Twisted Oak's website says, "Our commitment to using only the freshest ingredients available drives an ever-changing menu determined by what is in season and what our Hudson Valley partners determine is ready for your table."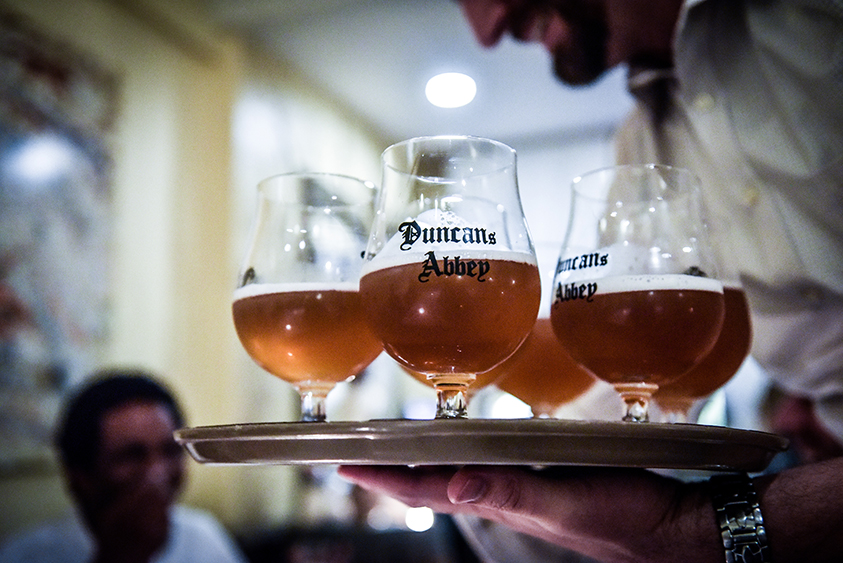 But the eat local mantra of this comfortably designed restaurant goes beyond food. On tap are the upscale brews of Duncan's Abbey, a nanobrewery on Storm Street, walking distance from Twisted Oak. The brewery and restaurant have partnered for seven beer dinners over the last four years. Owner/brewer Justin DiNino first met the Twisted Oak crew when both businesses were just starting out. "We were both focused on honoring European traditions but wanted to showcase locally sourced ingredients," DiNino says.
DiNino grows the hops for Duncan's Abbey Belgian-style ales and beers right in Tarrytown (Cutney uses them in his apple-cheddar risotto); the wild yeast used in the brewing of Duncan's Abbey sour ale is gathered from around town and along the Hudson River, giving the beer a unique flavor. "Depending on the style and time of year," DiNino notes, "we may barrel-age some of the wort to naturally inoculate it with a known blend of Tarrytown wild yeast to ensure a full fermentation."
Even the plates on which the food is served are produced by a local craftsman. Connor McGinn bartended, served and occasionally cooked in the kitchen at Twisted Oak from 2015 to 2018 before becoming a full-time production potter. "Knowing that I was just starting out and trying to start the business, Michael took a chance on me and placed an order for new plates for the restaurant," McGinn notes. He says his colorful, freeform pottery is "a canvas for the chef to showcase his own works of art."
Your food is only as good as the ingredients.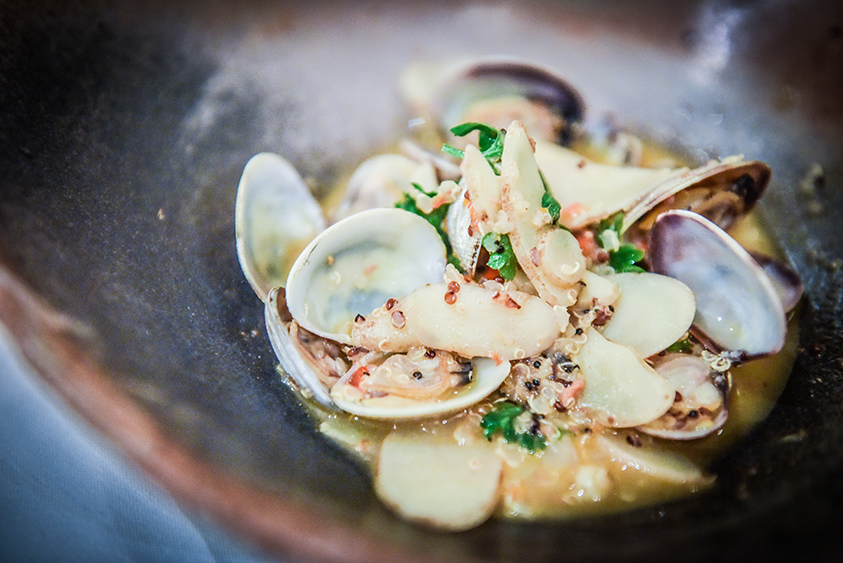 McGinn sees his working relationship with Twisted Oak as a unique opportunity that allows him to test the design of the plates in the actual environment where they are used. "It's one thing to make them look nice," he stresses, "but if they don't stack properly, sit flat on the table or fit into the dishwasher, then they don't work. Twisted Oak has been the testing ground for pretty much all of it."
The benefits run both ways. Originally working out of a small studio space in the Clay Art Center in Port Chester, McGinn recently opened a new studio in Tarrytown—right around the corner from the Twisted Oak. That geography worked to everyone's benefit during a recent dinner, when the restaurant was packed and 30 diners were sitting down for a five-course meal—with not enough plates for service. McGinn ran to his car, popped the trunk and returned with an armful of just-out-of-the-kiln plates.
The restaurant, too, could be considered a work of art. Credits for its design and construction go to family and friends, who pitched in five years ago and did the labor. Parenti proudly notes, "We hired a staff, created a menu, renovated and opened the front door in two months from lease signing to opening." He teamed with his father, a cabinetmaker and woodworker, to do all the construction work in the space, originally built in 1900 and previously home to Isabella's Italian Bistro.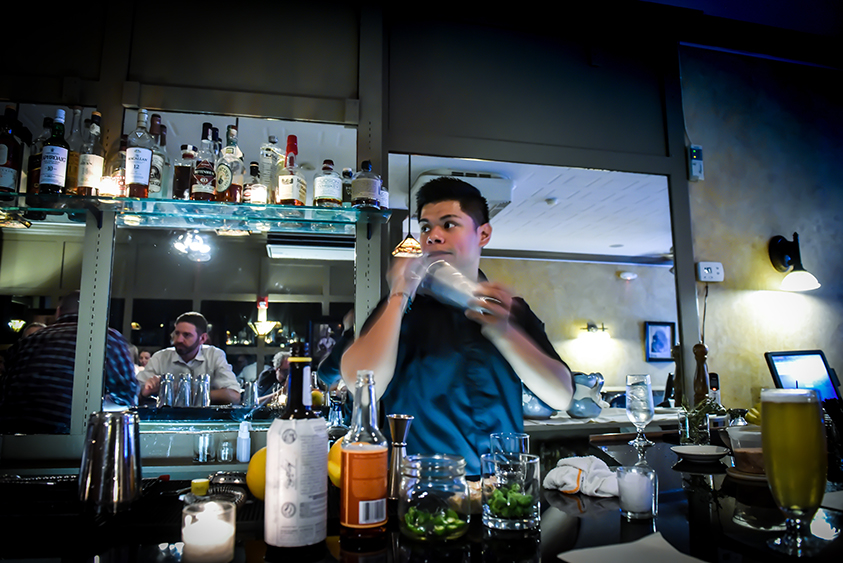 It was not the first time the two worked together. "I worked for my dad since I was old enough to push a broom around," Parenti says. At 19, he was a bartender in Newburgh at night but spent his days working alongside his dad. "Sanding wood during the day and making drinks at night—the jobs couldn't be more different," he recalls. Yet, one lesson crossed disciplines: "Dad would use only the best wood for his projects—he'd only use mahogany from Africa," a higher-quality wood than South American mahogany. Parenti says he eventually realized that fine cabinetry and fine food both are born of "love, respect and passion."
It seems only natural, too, that two boyhood friends from the Hudson Valley, with matching philosophies on food and life, should gravitate toward each other when they decided to open a restaurant. Each brought childhood experiences of cooking with grandparents, working in kitchens in Newburgh and Wallkill and learning at the Culinary Institute of America to their own restaurant venture.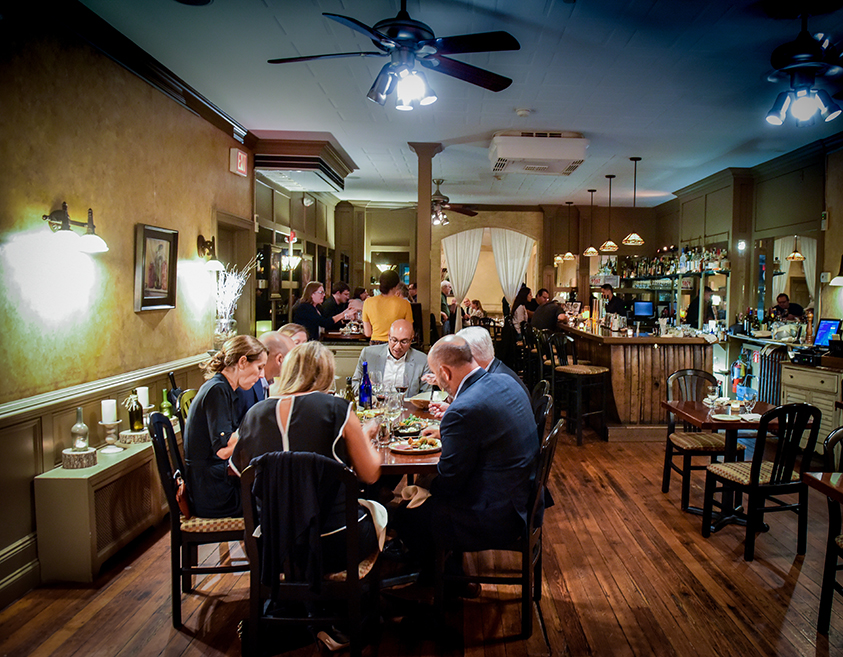 As a kid, Cutney would often cook alongside his mom, but every other Sunday meant family dinner at his grandparents' home. "Everyone in the family was a great cook—my parents' and grandparents' homes were where everyone came to eat," he recalls. "Grandma did the cooking, but my grandfather micromanaged her. He'd be standing there, saying, 'You're burning this. You're doing that all wrong,'" Cutney smiles.
In the fields of Marlboro and Milton, Cutney learned a few important lessons about food. "Your food is only as good as the ingredients," he says.
"It's crucial to be able to source your ingredients as close to the time they are harvested. It's important to know your farmer. It's important to know who raises your meat and how they take care of it." Cutney firmly believes animals that don't live a decent life don't make for tasty food. "Happy bees make better honey," he says. "We use Fazio Farms' ducks, hens, eggs, rabbits—they have the best flavor. They have actual free-range hens that actually run around. The ducks actually swim in water rather than live in a cage."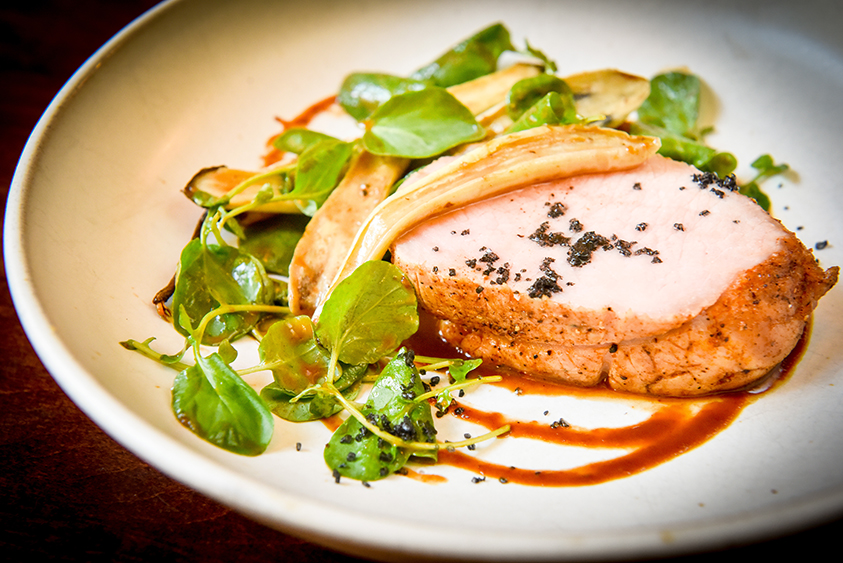 The happy meats and the cheerful chickens and vegetables that farmers drop off in Tarrytown on the way to greenmarkets in the city become some of the best meals that Westchester County has to offer. Or the Berkshire pork loin with greenmarket watercress and a barbecue cherry sauce (on the menu at a recent beer dinner). Or the very popular chickpea bar snack/appetizer. ("People will kill for them," Cutney says about the lovingly prepared morsels.)
When you stop in at The Twisted Oak, sit down at the bar, have a local brew and chat for a while with Jake Parenti. Or thank chef Michael Cutney for your dinner—he's the guy in the apron and Yankees cap who might be heading to the Mexican joint next door for a late night taco.
The Twisted Oak
61 Main St, Tarrytown
(914) 332-1992
thetwistedoakny.com