NO MATTER HOW YOU slice—or fillet—it, trout is a favorite fish of anglers, wildlife lovers and chefs alike. Barring a late season blizzard or flood, April through June in these parts is the season for ramps, morels and trout.
In the Hudson Valley and up into the adjoining Catskills, trout, whether locally caught or locally bought, will generally translate into one of three fish: rainbow, brown or brook. Because trout, more than most other animals, have distinct and limited environmental preferences (and requirements), they will only be found in the wild where conditions are suitable. The state, too, has a strict and limited policy when it comes to size limits, season schedules, restricted streams and other regs designed to keep both the sport and fish sustainable.
On the other hand, an extensive stocking and restocking program assures that most of the "wild" trout caught in these parts originated in a hatchery. What this means is that trout are there for the taking in many parts of the region—if you know where and when to look for them.
Of course, not everyone has the access or the means to stalk one of these beautiful fish for dinner—luckily, local farm-raised fish are readily available in shops and on menus both in and out of season (which, in this part of the state, runs from April 1 through October 15 for most waters).
The good thing about both wild and market trout is that the flesh, which can run from creamy white to bright pink, depending on the environment and food source, is sweet and lean. (Despite having some of the cleanest waters in the country, the New Y ork City stream/reservoir system of the Catskills, home to all three species, nevertheless is the subject of a health advisory—fish taken in these waters should be eaten only once a week, and pregnant women should eat none at all according to the DEC.)
But there's plenty of good news about trout: it is low in sodium and it's a good source of Niacin, Vitamin B6, phosphorous and selenium, and a very good source of protein and Vitamin B12. It's not so good on the cholesterol chart, however, and larger fish caught anywhere in the state may have elevated levels of mercury (hence the health advisory). Farm-raised fish are free from the mercury warning, however.
The brook trout, New York's official state fish, is smaller than the brown or rainbow, and rarely reaches bragging weight in our waters. Some small, isolated wild stock can still be found in the upper reaches of some Catskill streams, but the majority of those caught down below are stocked.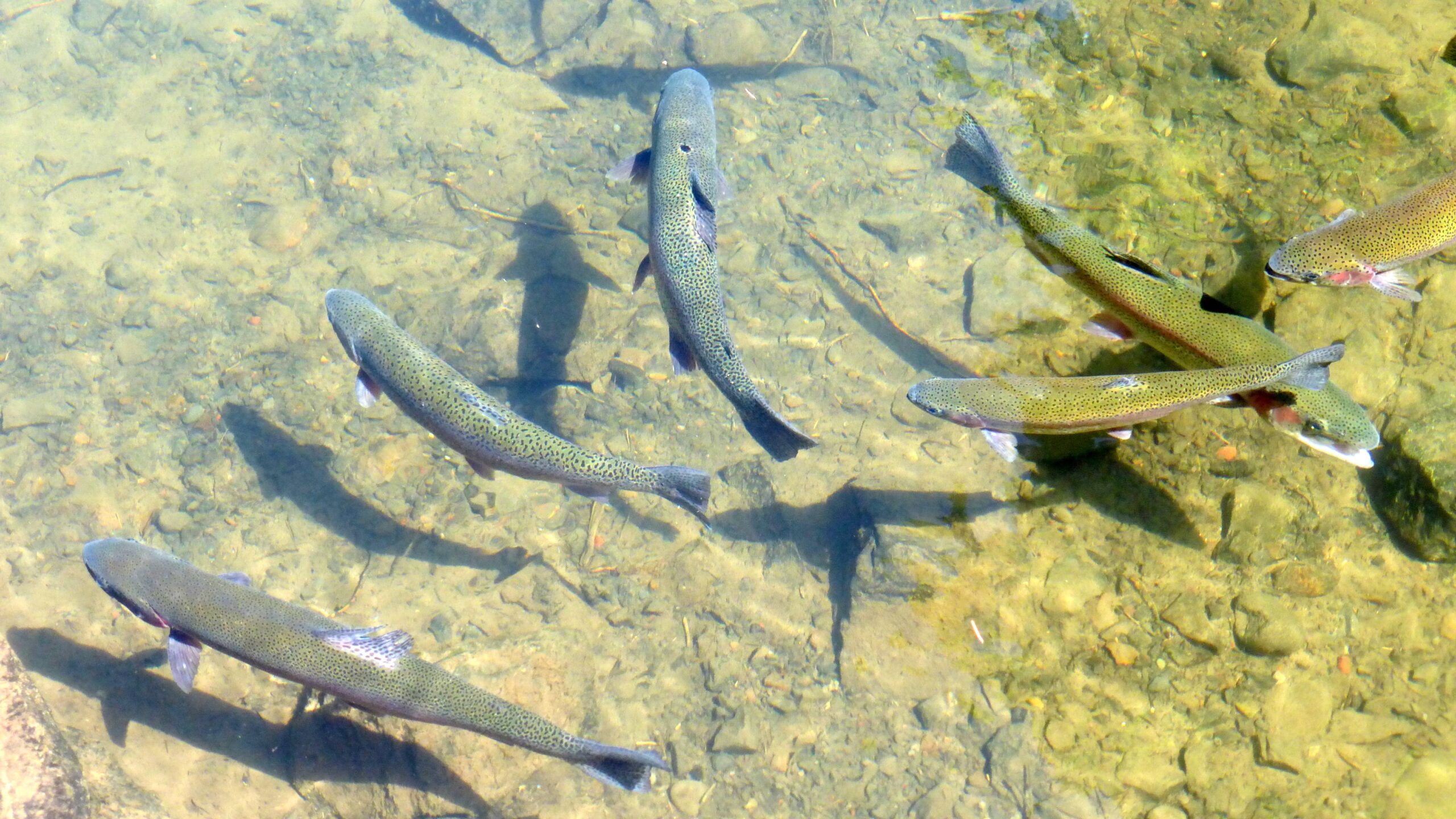 Neither brown nor rainbow trout are native fish (rainbows were brought in from west of the Rockies, browns from Europe), but both have found hospitable environments and have developed stable populations in the city's Catskill reservoirs (the Ashokan is well known for its "native" rainbows while browns favor the Pepacton—both waters can produce tackle-busting fish.) Both brown and rainbow trout are more tolerant of warmer water and environmental changes than are brook trout, whose wild populations have severely declined because of habitat degradation.
When regional chefs are looking for fresh trout, their first stop is Eden Brook Fish Company in Monticello. The 20-year-old company started as a small hatchery but now, owner Jon Wallach notes, serves chefs throughout the tri-state area. It is particularly well known for its trout. Prepared trout is very versatile, and can be used in everything from salads to pastas—but by far, most chefs prefer to simply grill or sauté it, with little fuss. Outdoors, there is nothing quite like the aroma of fresh-caught trout on a grill or in a frying pan over an open fire. For many, it is the definition of a perfect meal.
"The golden trout [a rainbow subspecies] from Eden Brook is one of my favorites," says Chef Michael DiMartino of The Landmark Inn, in Warwick. DiMartino varies the fish on his menu on a weekly basis but his favorite preparation is grilling. He butterflies the fish, puts fresh sage leaves between the filets, folds it and wraps it in prosciutto before grilling. Lemon, extra-virgin olive oil, salt, pepper and more fresh sage finish the dish.
"We've used Eden Brook trout on and off forever," says Rickie Tamayo, who runs the front of house at Café Tamayo, in Saugerties. "It's so fresh. It's just lovely." Her husband, chef James Tamayo, butterflies the fish and sautés it head off, tail on. "It has a beautiful, crisp skin. We serve it fresh and tender with some fresh lemon," he notes.
The mere mention of trout to Chef John Novi of the Depuy Canal House conjures a longed-for memory of a family vacation where he enjoyed a perfectly grilled trout served for breakfast at a country inn. Pan-fried is still his preferred preparation, though on his menu i's likely to be dressed with a macadamia nut sauce or served with a peppery green sauce of watercress—the essence of spring.
Avid angler and devout foodie (not to mention wine maker), Michael Migliore of Whitecliff Vineyards welcomes each spring with a fish fest at the vineyard. Last year it was striped bass, fresh-caught off Long Island. This year, it will be trout fish tacos, following a fishing jaunt in the Finger Lakes. So, whether you catch it yourself, pick one up at the market or order an entrée, trout—the fresher the better—are definitely "in" this season.