"RUSSIA'S A COUNTRY of smokers," my tour guide tells me. Though she means cigarettes (Russians smoke a staggering 390 billion a year), I'm starting to think they smoke more food than Marlboros. While visiting Moscow and St. Petersburg, I enjoyed smoked salmon, as well as smoked sturgeon, whitefish and trout. With more time, I could have tried smoked turbot, sea bass, eel and mackerel. If I ate meat, there was smoked chicken, pork, salami and goose. What Russians don't smoke, they pickle, including cucumbers, cabbage, tomatoes, garlic, beets, asparagus, carrots, mushrooms, elk hearts, fish heads and, of course, Lenin.
I get to my hotel in Moscow during breakfast and my first meal is honeydew—some of the best honeydew I've ever eaten, in January, no less. Through a jet-lagged haze, I imagine that this sweet melon hails from Iran or Syria, but later, after a stroll across Red Square to Gastronom No.1 in GUM, the former state-run department store, I'm relieved to see that Russia's winter honeydew hails from the dictator-free country of Brazil. (Melons, it turns out, are believed to have powerful cleansing properties and are highly prized throughout Russia. In Turkmenistan, a former Soviet republic, the second Sunday in August is Melon Day—a national holiday.)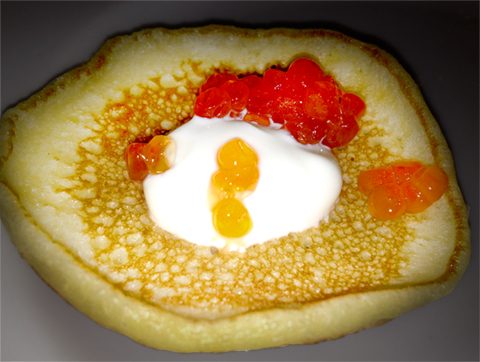 GUM is an abbreviation that translates as Main Universal Store. Located on a centuries-old mercantile block, the steel-and-glass-roofed trading site opened in 1893 only to be closed and converted to offices by Stalin in 1930. It was then refurbished and reopened by Premier Malenkov in 1953 to include the Gastronom, the state's version of a grocery store. In the 1980s, GUM was a sparsely stocked arcade where customers queued for hours on end to buy the few goods offered. (At that time, the Gastronom offered three kinds of cheese: round, square, and Roquefort.) Today, GUM is a collection of luxury boutiques featuring Louis Vuitton, Christian Dior and Burberry. Gastronom No.1, with its marble columns and crystal chandeliers, fits right in—its epicurean offerings of caviar, vodka, fresh meat, fish, produce and baked goods are joined by foodstuffs popular in Soviet times, including the legendary processed cheese Druzhba (friendship), which has been memorialized by (I'm guessing) the world's only Monument to Processed Cheese (in front of the cheese factory in northern Moscow).
All this food gazing at the Gastronom piques my appetite, so I stop for a bite at Stolovaya 57, a Soviet-style canteen on GUM's top floor. The canteen's dishes are based on recipes from The Book of Tasty and Healthy Food, published in 1952 to replace A Gift to Young Housewives, which had been condemned as bourgeois and decadent because it taught newly married middle- and upper-class young women how to cook, run a household and manage servants.
I queue up and choose a mushroom salad, a typical zakuski (appetizer). The refreshing mushrooms are lightly pickled and sprinkled with dill. I also try a tarragon-flavored fizzy water from a Soviet-era water dispenser. The scary, malachite-green liquid is delicious, with a mild licorice taste. (Once ubiquitous throughout the Soviet Union, the water dispensers had only one communal glass that was rinsed in cold water between uses—imagine how short the Cold War could have been had the CIA tapped into this potential health hazard. Fortunately, the canteen now provides clean glasses.)
My lunch starts with Moroccan tomato soup flavored with onions, cumin seeds and basil oil, followed by warm smoked trout stuffed with eggplant gratin on potato pesto drizzled with a creamy beurre blanc.
The next day, I start my morning as I do almost every morning—with eggs and smoked salmon. (For variety, I'll add some earthy smoked sturgeon or a buckwheat pancake with mouth-popping salmon roe.) After breakfast, I set out to visit Eliseevskiy, an elaborately decorated grocery store once called the "Temple of the Gluttons," in reference to the elite who patronized it. The store was founded in 1901 by Grigiry Eliseev, a wealthy merchant whose first store, "The Eliseev Store and Russian, Foreign Wine Cellars" was in St. Petersburg. Eliseev established relationships with European purveyors and offered an international range of products in glittering surroundings. Essayist Vladimir Gilyarovsky described the store's early days: "Passersby stared at the mountains of imported fruits which looked like cannonballs, a pyramid of coconuts each the size of a child's head, bunches of tropical bananas so large you could not get your arms around them, and unknown inhabitants of the ocean depths." I take one photograph and get called out by the stern saleswoman, a legacy of Soviet times when photography represented a threat to national security.
Eliseevskiy was in the press after the 1982 death of Communist Party General Secretary Leonid Brezhnev. The market was managed at that time by Yuri Sokolov, who had collected bribes from Soviet elites in exchange for supplying them with scarce alcoholic beverages, imported cigarettes, caviar and other delicacies. To show that he was serious about cracking down on corruption, Brezhnev's replacement, Yuri Andropov, had Sokolov arrested and executed by firing squad. While the sentence to us may seem a bit harsh, some Muscovites were nonplussed. A Wall Street Journal article cited a 58-year-old doctor who declared, "He needed to answer for it. You can't allow corruption to live. It must be stopped." Today, in happier times, the store sells a fantastic array of pre-made foods as well as international foods and wines.
Lunch is at Ragout, one of Moscow's trendiest, best and least-touristy eateries. Unlike many gourmet restaurants owned by restaurant "groups" (Novikov in Moscow and Ginza in St. Petersburg), independent Ragout is relaxed and reasonable. The restaurant is also a pick-up point for customers of Lavka-Lavka, a hip new food supplier that sells food from local farmers to both Muscovites and restaurants. My lunch starts with Moroccan tomato soup flavored with onions, cumin seeds and basil oil, followed by warm smoked trout stuffed with eggplant gratin on potato pesto drizzled with a creamy beurre blanc. Everything is fresh and delicious. For dessert, I order beetroot and brown bread ice cream. The beetroot tastes (not shockingly) like beets (not my favorite, which is why you won't see borscht mentioned here—besides, borscht is from Ukraine). The black bread, on the other hand, is a revelation—the spicy clove-andvanilla ice cream with chewy bits of black bread is a Russian improvement on cookies and cream.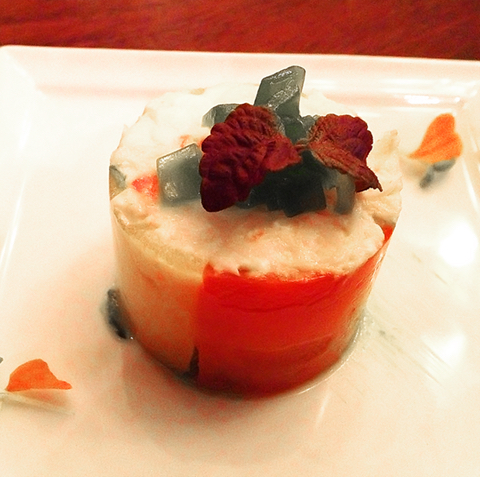 The next day, I'm invited to a preview tasting at the Ritz Carlton's new Cafe Russe. My first course is Kamchatka crab salad with cucumber, bell pepper, parsley sauce and a quail egg. (The back story: Stalin introduced Kamchatka's massive, sweet-tasting king crabs from the Bering Sea to the Barents Sea in order to improve the region's food supply. Thousands of the crabs were loaded onto trains for the seven-day journey from Vladivostok to Murmansk, where they were dumped into the Arctic waters. It took 30 years, but the crabs have taken over the sea and even spread westward to neighboring Norway. Environmentalists have raised concerns that the crabs, which have no natural predators, could spread as far south as Gibraltar, decimating fish populations in their wake. In any case, if you see Norwegian red king crab on a menu today at, say, Nobu, you can thank Stalin.)
To help stem any hint of guilt about contributing to this looming environmental disaster, I have one of Ivan the Terrible's favorite foods—ukha (fish broth) with salmon, pike perch, vegetables and a shot of vodka (which gives the soup a peppery burn). My main course is pike perch with more of Stalin's Kamchatka crab; dessert is a chocolate-cranberry cake (cranberry is a traditional Russian berry) accompanied by a chocolate-covered ice cream ball that Russians call an "Eskimo." Fortified, I visit the Kremlin museums and the seventeenth-century House of Romanov Boyars, where Mikhail I, the first Romanov tsar, was born.
That night, I have dinner at the new Baltschug Grill in the Kempinski Baltschug Hotel. The Baltschug, opened in 1983, was Moscow's first "international hotel," and a Who's Who of visitors to Moscow have stayed there (including Tina Turner and Elton John). My dinner companion is the Baltschug's sommelier, Ksenia Karpenko, a beautiful, young blonde woman. She asks if I'd like a glass of Billecart- Salmon Brut Rose, the house champagne, to accompany my market salad with poached farm egg, more of Stalin's crab, and a lemon vinaigrette. (I like her at once.) She has her wine list on an iPad, with a section called "Ksenia's Favorites" so her fans can follow her recommendations even if she's not present. For now, Russians limit themselves to well-known (and prestigious) vintages—none of the Russian wine lists I saw had wines from countries like Slovenia or Hungary. (I ask Ksenia about Slovenian wines. "Slovenian wine?" she asks. "Is it good?")
To accompany my buffalo mozzarella with baku tomatoes (Azerbaijan), Ksenia pours a minerally Greywacke Sauvignon Blanc, a new label from Kevin Judd, the New Zealand winemaker who put Cloudy Bay on the map. I later learn that Wine Spectator declared it one of the top wines of 2012.
Only four hours away by high-speed train, St. Petersburg is Russia's most European city (though my heart will always belong to Moscow, Russia's true heart and soul). I check into the Astoria Hotel, just across from St. Isaac's Cathedral and currently celebrating its centennial (it opened in 1912, just in time to celebrate the tricentennial of the Romanov Dynasty). During WWII, Hitler was so confident of victory over the city (then Leningrad) that he planned to hold a celebratory banquet in the hotel's Winter Garden and even had invitations printed. But the Russians proved impressively resilient, prevailing in the devastating but ultimately triumphant 900-day Siege of Leningrad. As I sit in the Winter Garden thinking about what might have been, I order the justly famed pelmeni (juicy dumplings filled with earthy, wild mushrooms). Pelmeni originated in Siberia, where they were made by the thousands and stored outside during the long, cold winter. They're usually just boiled, but these were fried for more texture. I follow this first course with a winter classic—fish soyinka, a thick, sweet-and-sour tomato soup laced with salmon, pickles and sour cream.
For my last night in Russia, the concierge recommends Teplo, a cozy cafe popular with locals. Teplo means warm in Russian, and the moniker fits: Menus are tucked into photo albums; tchotchke-filled bookshelves line the walls. I order mushroom julienne, a traditional (and brilliant) Russian dish with three kinds of mushrooms and sour cream, topped with melted cheddar cheese. Although I don't really need anything more to eat after this luscious appetizer, I have a few bites of spicy Asian noodles before conceding defeat.
The restaurant scene in Moscow and St. Petersburg is in transition—in a good way. Avoiding the impossibly posh, mortgage-the-house tourist magnets like Cafe Pushkin and Turandot reveals a trend toward more relaxed and reasonable restaurants, like Ragout, and the success of Lavka-Lavka points to a desire for farm-to-table fare comparable to the currently popular offerings here in the U.S.
An old Russian proverb, transliterated as shchi da kasha pisha nasha, means "cabbage soup and porridge are all we need." Fortunately, cuisine in Russia is thriving—and that's not all they have.