ERIC GABRYNOWICZ, FROM RESTAURANT NORTH, in Armonk, made the semifinalists list for Rising Star Chef of the Year, a national category in the "Oscars®" of food. According to the rules, a rising star "displays an impressive talent" and "is likely to make a significant impact on the industry in years to come." Gabrynowicz displays the kind of ease and confidence of someone who's been around a kitchen for a long time (and indeed he has, even though he's just turned 30), the kind of confidence that allows him to be quick and sincere with his praise of others—local farmers and fellow chefs alike. The menu at North is peppered with the names of his favorite local sources—Rainbeau Ridge, Madura Farm, Guy Jones. Even his butcher gets billing. Both he and his business partner Stephen Mancini cut their teeth in the New York restaurant scene—both were nourished by Danny Meyer, the Manhattan restaurateur who wrote the book on customer care.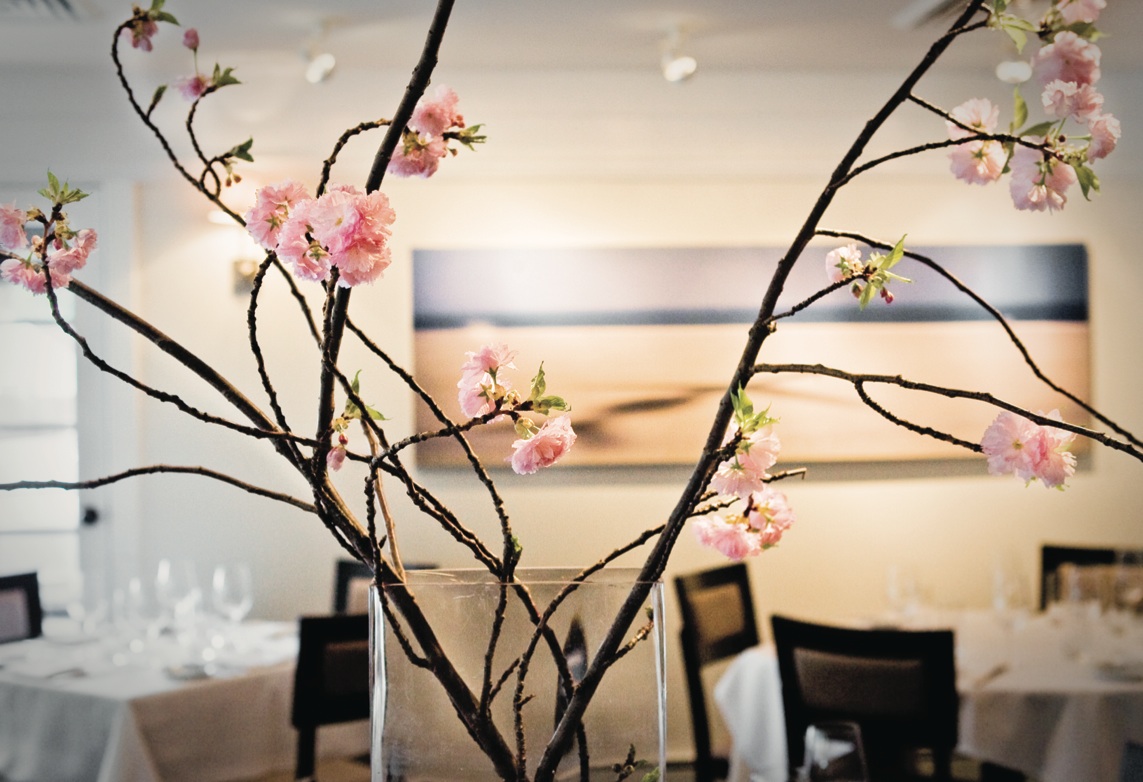 EG: I get too much credit for the start up of North. Stephen and I worked together—we had a great rapport in the restaurants. We were kind of the young guns of Danny [Meyer's] group at one point—everyone was pegging for each of us to take on the next restaurant or the next this or next that.
[Stephen] came into Tavern to taste my food but he came in under the guise of coming up to see a buddy, and then he brought in his parents and then I was like, Mancini, what's going on? He said to me at one of our first meetings, "It's going to be one of the most stressful, most crazy, most pull- your-hair-out things we've every done in our lives, but when we're sitting across the table at the P&L meeting and it's either good or it's bad and we've lost $100,000, I still want to know that I trust the person across the room and that he can make me laugh." And that's what we do for each other. Our friendship created why we are here together, but his vision created North.
I designed the whole kitchen. It's a smaller-style kitchen: two dishwashers, one station, five, six, seven people. (Peter [Kelly] has four stations on his hot line; Union Square has three and always worked five men on the hot line. The problem is when they set up to do a seven-man station and then their payroll is out of control and they try to figure out how they can stretch this guy from here to here.) The toughest part of designing a kitchen was forecasting the balance of business. I wanted to go smaller and then have to expand.
Within six months of opening, the restaurant had been reviewed (with applause) by Journal News Food Editor Liz Johnson, Westchester Magazine's Julia Sexton, and The New York Times' Alice Gabriel. Martha Stewart, Regis Philbin, Al Roker and a host of other celebrities came to dine, too. (Just check out the Facebook page to see who's dining tonight.) They've hosted a dinner for Krug and in May presented a biodynamic dinner for the much sought-after Littorai Winery (not to mention the James Beard thing).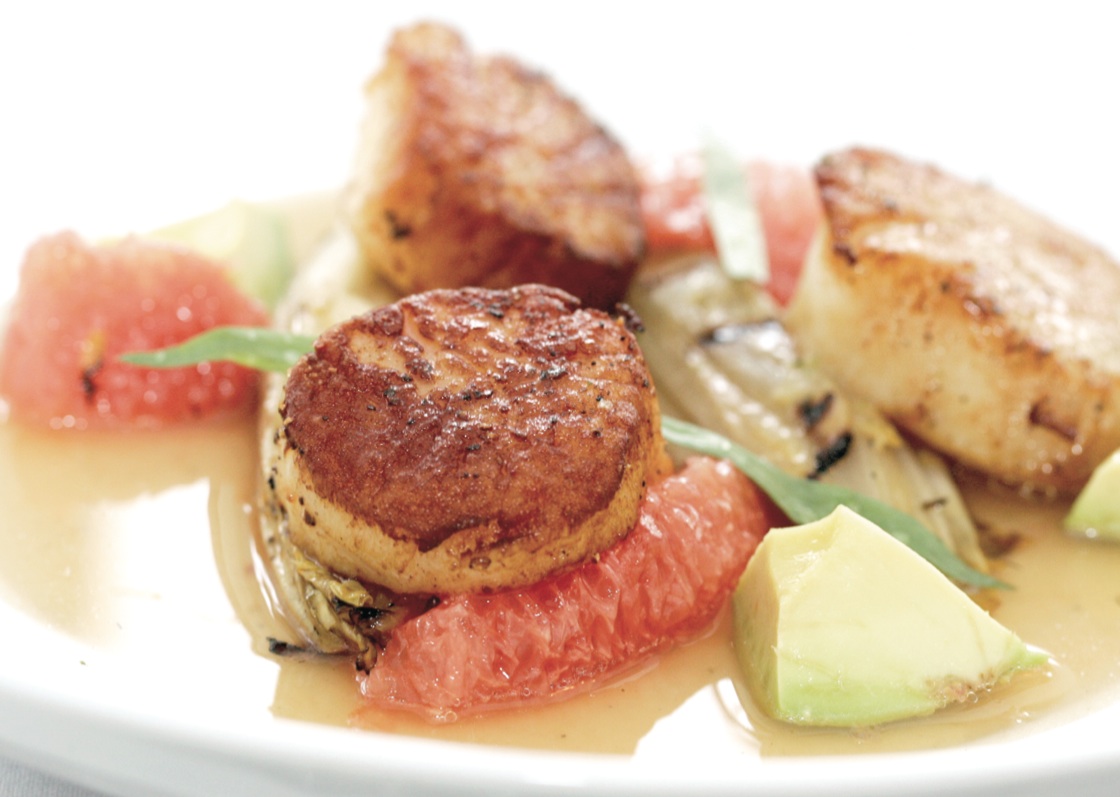 EG: Basically, North is an educated, hospitality-driven dining approach—bringing really good, locally sourced, wonderful food in an educated manner to Westchester diners. The goal was to get the people of Westchester to not feel like they have to drive to the city to get that dining experience. That's what the vision was. I don't think we ever set out to be Stone Barns (as much as we love what they do and who they are), but we wanted to bring a little bit of what their vision, or the Chez Panisse vision, in our own way.
Stephen and I, we're both very soulful people, we're very passionate, no matter if it's food, wine, dining, playing poker, playing baseball—whatever it is, we're passionate. If we could get our soul into the restaurant, it would find its identity. We aren't Blue Hill, but we're also not "just another restaurant."
I think "farm to table" is kind of a cliché that I hope never goes anywhere. That's how our grandparents did it, and that's how we should do it. I don't want to have to say our next restaurant is farm to table, I just want it to be known that way.
We brought ramps in from West Virginia last week. I was kind of against it, but I also saw the beauty of kick-starting the season. By next week, ramps will be around here, so I'm not concerned about it. A guy at the bar said to me, "Ramps? It's not ramp season—some farm to table you are." I said, "Sir, I know the farmer, I know how he is growing it. What does it matter that it came a few states away?"
The Dan Barber quote that's best is: "Being farm to table and being a locavore are two different things." He is both. He is a locavore and farm to table driven. "Know thy farmer" is almost more important than being a locavore. We've used a couple of farms that don't have good produce—the toughest thing in the world is to come to the realization that their products aren't good enough. Sometimes you just get some not-so-well-cared for, not-so-well-tended things. I don't want to use them just because they're close. It's always a fine line and a balance.
I'm making it sound like I don't support the local movement—I do, more than anything. I just think that sustainability is more important than being a locavore—to me, even though I'm all of those things and passionate about all of those things. Making sure the land is cared for and that things are done right—that's more important than buying not-great produce from a town away.
Tracking down available local farm products is no easy task for any restaurateur, but Gabrynowicz has his own ways of finding who's got what: hooking up with the local land trust and following "the right" chefs on Twitter. One day, he noted a chef at the Greenmarket tweeted about the first arrival of local asparagus. Gabrynowicz was on the horn immediately to his purveyor and had asparagus by that evening.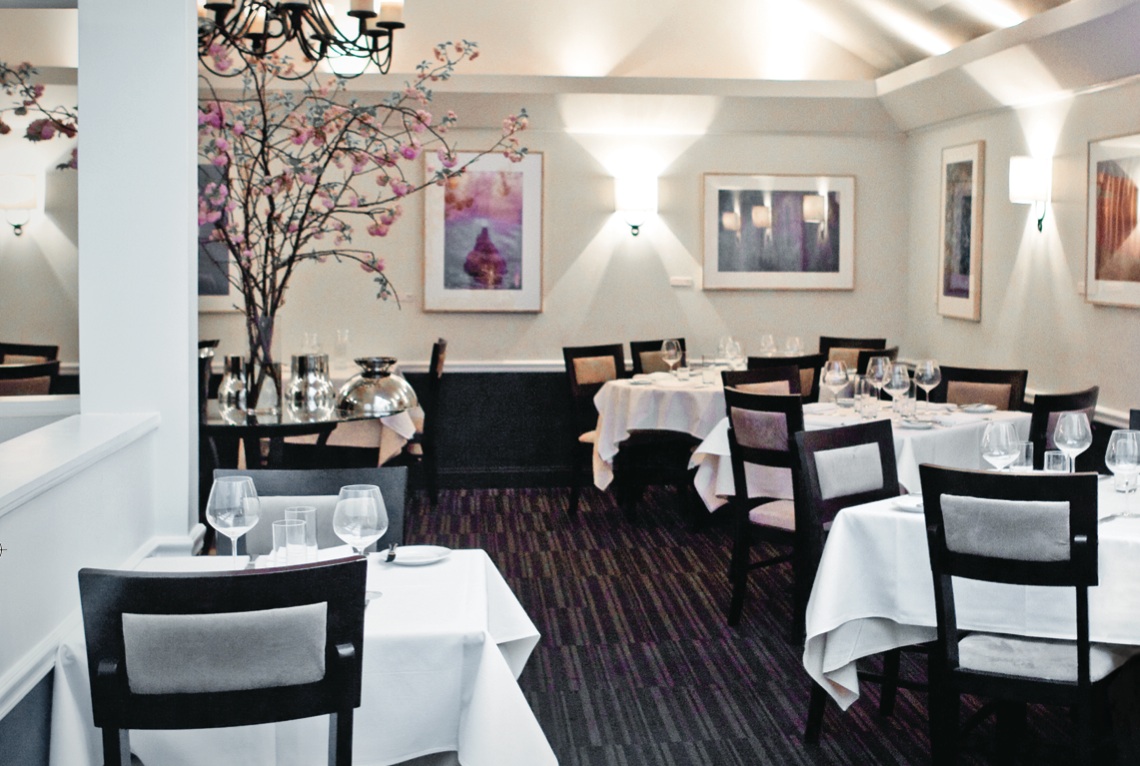 EG: Stephen and I have started to go to Westchester Land Trust meetings, which are doing farmer / chef get-togethers. The farmers are all getting along—I think better than the chefs get along. They're creating their own community, where one farmer knows the other farmers really well and they're not going to grow the same thing—but if they do, they'll do different varieties because they know they're tapping into the same market. They know it's the Blue Hills and the Norths and the Cookeries that are buying their stuff. They want to be different enough to where we can get this type of tomato from one and another tomato from another. I think it's great.
Food—it's social, it's financial, it's every aspect of our lives. The financial aspect of it, the humanitarian part of supporting small farms, all of those things made me happy. I don't think there was any one defining moment that galvan- ized the thought process of how important food was, but I realized it from a young age and continue to realize it and still learn about it.
In the beginning stages, [there was] a local farmers' market in Armonk, right across the street from the restaurant, so we latched on to the farmers there because it was the easiest thing—we knew there would always be farm-fresh produce, once a week, right across the street. It was a great thing to get us going. We're really taking the initiative to talk crop schedules with farmers and build relationships now, while they're planting, so that come next month they know they can sell it. There's, like, five or six different farms that are in. We kept our relationship with Vivian at Madura, who I love—her stuff is incredible.
Stephen and I decided Guy [Jones] is our favorite farmer in the world. We decided the first food to ever be cooked at Restaurant North would be all Blooming Hills Farm's food. So the first day the kitchen was installed and the next day we cleaned it and the next day I went to Guy. My sous chef and I cooked all veggies—all Guy's stuff. He knew from my days at Tavern that I would do whatever I could possibly do to use his produce. I think it's amazing, it's incredible what he has. He knows where his limitations are in the farm, so he also gets stuff from other farmers.
We have an evolving relationship with Rainbeau Ridge— they've changed the way they do business three times in the 10 months we've been open. Last year they had a farmer and a CSA and they did a lot of produce, but they didn't sell it anywhere, but they sold their cheese. Their cheese program was separate from their produce program. She'll send me a text message and say I have five pounds of this five pounds of that, 10 pounds of this, 10 pounds of that. She had mache ready to go and no one to sell it to—she called me and I went over and picked it with her and we had a mache salad on for dinner and then lunch the next day. Because we write our menus everyday, I can throw it on for the day. It's great. And then it was gone. I'd like to have that relationship with more people. We're getting there.
We're not just talking [local] produce. When we were in the beginning process of the beer/beverage program, it was, like, what are we going to put on tap? I don't want Budweiser. Before we made any decisions the two of us drove over to Captain Lawrence Brewery. We just showed up and said 'We're opening a restaurant, can we taste your beers?' That was it. My God—it was one minute from the restaurant—there's nothing more local than that.
It was an easy decision. We left there going, which five are we going to have on tap? Well, we're only going to have three beer lines —all three are Captain Lawrence. Great. Done. I've been a big sup- porter of Captain Lawrence from the Tavern days. The ones that have been my favorites are all limited production. He did this beer called Golden Delicious made with local apples. It was unbelievable. And it was 11 percent alcohol, so it was a sipping beer.
And then they did a beer called Five Years Later—they picked something like five hops, five grains, five barrels and they wanted to crack it on their fifth anniversary— and they did. It was this dark, rich, beautiful beer. We took the Golden Delicious and we made a harvest cocktail. We called it the Scotty V, and then we took the dark beer— the Five Years Later—and made a Dark and Scottie. It was awesome.
Before he purchased a single pot or pan for the kitchen, Gabrynowicz picked up a novelty sign to hang above the door–on the kitchen-side of the door to the dining room. It's a call to service Notre Dame fans will recognize, "Play like a Champion." He had good coaches.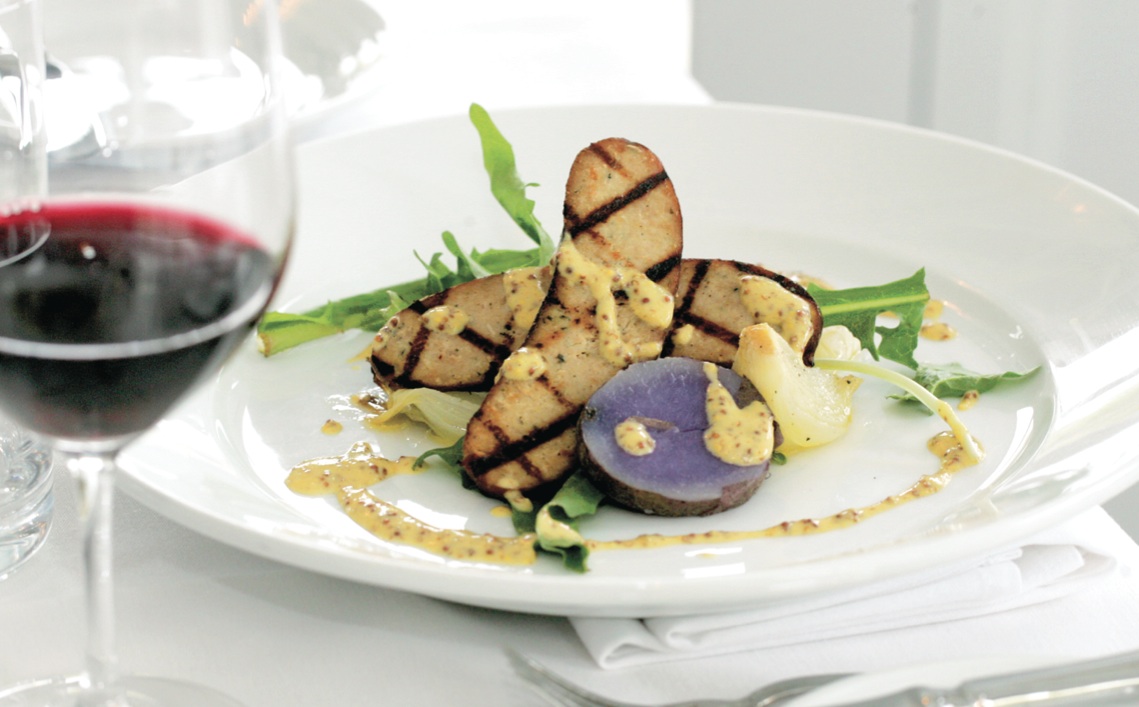 EG: I was always galvanized by my grandfather's cooking. He was the quintessential Italian immigrant. You don't do anything but cook on Sunday—you sit at the table from 1 o'clock in the afternoon til 9 o'clock at night. That's what you do. We would go down and eat his food in Queens—even when we moved up to Montgomery, we went down one or two Sundays a month. You sit at the table, course by course by course. It was a beautiful thing. How can you get a child to sit at a table for 8 hours? You can do it with great food. I was always impressed and empowered by that.
I worked at Copperfields in Montgomery when I was 12. I took the prospective student tour at the Culinary Institute at 14 years old. And then I went to work at Empire House when it reopened in the Ward's Bridge Inn. When I was 15, I was working on the line. I've been cooking for a long time.
I did my externship at Union Square Café. The reason I did it there was because when I was a senior in high school I was working at the Union Square Greenmarket for Sue and Henry at Sycamore Farms. They called me when they found out I was interested in going to the CIA— "Come work for us for the summer. Sell produce at the stand. We'll introduce you to everyone who walks by." I would go down with them twice a week and sell produce. Sure enough, I met Mario Batali, Wayne Nish, Michael Romano, Danny Meyer, Bobby Flay (when he opened Mesa). I don't think they remember who the hell I am, but I met each one, person by person, introduced myself. It got me amped up. I was 17, I had just finished high school and was on my way to the CIA.
I weaseled my way into Union Square Café for an externship because Michael Romano and Dan Silverman were always in the market. I got accepted to Union Square and never looked back.
Just months into the project, they're thinking "How do we reinvent ourselves?" Enter a $20,000 renovation of the basement to accommodate whole animal butchering—and now they're eyeing the lot across the way for a restaurant garden. The seeds are already started.
EG: Stephen and I want to make our mark and do things right and be respected in our business because we do things the right way and strive for excellence. I want people to know when Stephen and Eric open a restaurant we don't have to say it's farm to table anymore—it's just what it is.
Eric on food
My grandfather is from Genoa, my grandmother on my mother's side is from Naples. My father's side is Polish. We do a dish on the brunch menu—one is called the red-headed Italian and one is called the Pole, an homage to the weirdness of my Italian and my Polish background. They're both baked eggs. The Pollack is with kielbasa; the other is with really spicy San Marizano tomatoes—like a fra diavolo egg.
Italian comfort food—porchetta—that's what I love to eat.
My influences are really from what that region has to offer—garlic, chili flakes, basil.
This is a peasant ragout—using the tongue, heart, liver, kidney and then the backs of the legs for my bolognese sauce. Everything is ground. Before I went on this diet I'd have this with a fried egg on top. Not how I serve it, but how I ate it.