As a child in Italy, Fabio Chizzola went to the mountains each summer with his father, who cultivated a small plot of land there. "I never paid much attention to what he was doing," Chizzola says. He grew up, became a photographer and moved to the United States; in 2002, he and his wife, fashion stylist Laura Ferrara, purchased a weekend home in the Ulster County hamlet of Accord that reminded them of Italy. The purchase included a 32-acre abandoned apple orchard that was in bad shape. Chizzola couldn't find anyone to rent and revive the orchard, so he learned pruning and other farm skills with the help of neighbors. "I was so naïve—I made a lot of mistakes," he admits. "I still make mistakes."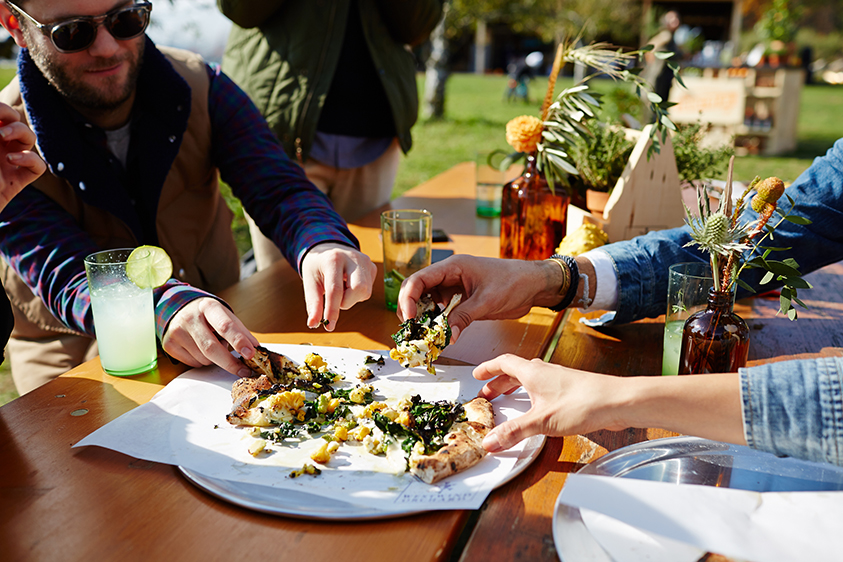 It's no mistake, nor is it an accident, that now, Chizzola's successful Westwind Orchard caters to an eclectic clientele of long-time local residents, second homeowners and those transitioning to local status. It offers pick-your-own apples and other fruit in season, homemade wood-fired pizza, cider and Italian dishes in a new tasting room, open to the public Thursdays through Sundays, starting in June. Monday nights will feature Rosendale's Dojo Dance Company for a Monday Tango and Salsa night.
Westwind Orchard exemplifies the growing trend of "agritourism" in the Hudson Valley. Falling right in step with the European tradition of farmhouse hospitality, agritourism combines elements of tourism against a backdrop of agriculture—farmers open their gates and provide onsite education, entertainment and/or recreation to the general public. An increasing number of farmers are benefitting from these new and increased revenue streams. They are entertaining children, selling their products directly to visitors, offering farm dinners, tastings and concerts and renting out their scenic properties for weddings and other private events.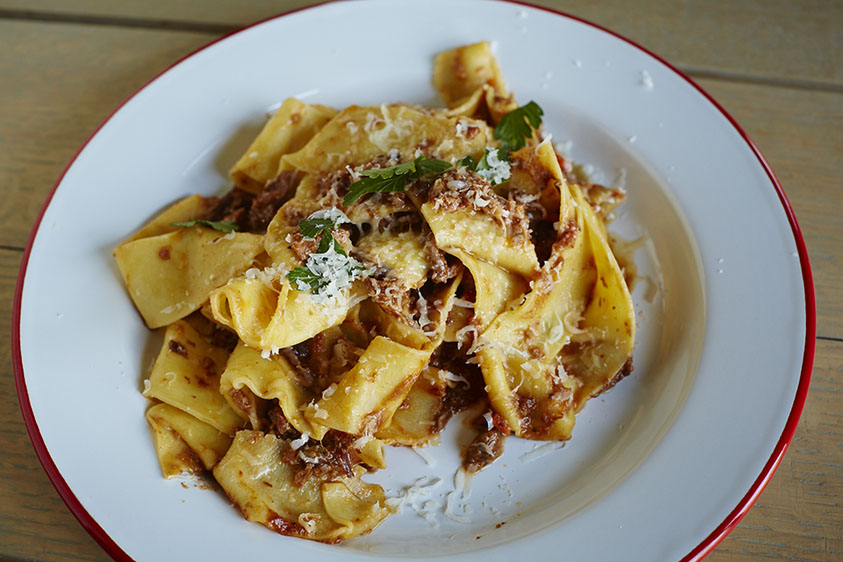 Blooming Hill Farm, near Monroe (Orange County), established in the 1980s by a former lawyer, sells produce to restaurants in the Hudson Valley, Manhattan, Brooklyn and New Jersey—but it also will stage more than 30 weddings this year, and serve weekend dinners and a Sunday brunch in a new restaurant and kitchen. This August, Chaseholm Farm, a dairy farm and creamery in Pine Plains (Dutchess County), will host for the fourth time Huichica East, the local incarnation of a popular California music-food-wine boutique festival to go along with its own, homegrown burger nights.
Tourism directors agree that agriculture is a major tourist draw in the region.
Some farms even rent out rooms to guests who are eager to get a closer look at how their food is made. At Kinderhook Farm (Columbia County), for example, Lee Ranney has been renting rooms for up to four adults and two children during summer and fall since 2011. "They're very nice," Ranney says of his guests. "They don't expect a lounge or concierge service." Some return year after year, and the renovated FarmStay barn on his 1,200-acre farm is booked solid again this year. Participation in farm chores is optional.
On-farm weddings, concerts and other events are becoming more frequent and common as more farmers look for innovative ways to satisfy visitors' thirst for a unique experience.
New York State Agriculture Commissioner Richard Ball credits the local food movement with stimulating tourists' interest in local agriculture. "We're seeing more and more of it every year—almost every day," Ball notes. "Everybody wants to know what their grandmother knew."
The 826 New York farmers who reported engaging in agritourism and offering recreation to the public in the 2017 Census of Agriculture, released in April, earned income of $36,847,000, up from $31,250,000 in 2012 and $17,985,000 in 2007.
Tourism directors in three major mid-Hudson counties agree that agriculture is a major tourist draw in the region. Visitors "crave a farm experience," claims Orange County Tourism Director Amanda Dana; her Ulster County counterpart, Rick Remsnyder, says that agritourism is increasingly an "economic engine" for the region. Dutchess Tourism Director Mary Kay Vrba observes that "the chefs are into it," and predicts, "it will continue for a while."
Visitors really want to have a full day's experience.
In a 2015 survey and report by Glynwood, a nonprofit organization that promotes sustainable agriculture, community action and economic development projects, concluded that the Hudson Valley has the potential to be a leader in agritourism. But the group, based in Cold Spring (Putnam County), argued that "the paradigm for agritourism in the Hudson Valley is shifting away from 'agri-tainment' to more participatory experiences that are more directly related to the actual work of food production."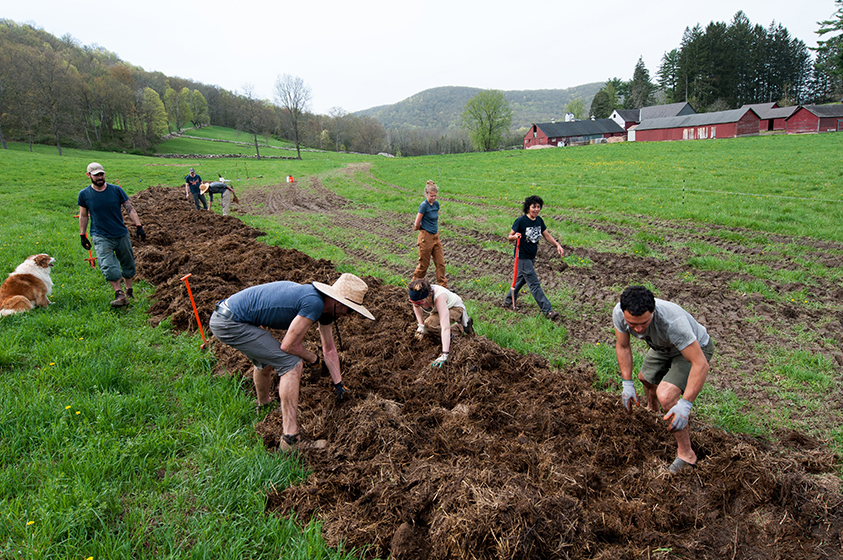 "People want to know where their food comes from," says Megan Larmer, regional food program director at Glynwood, who notes that the organization has experienced "an uptick" in attendance for its public programs.
Other nonprofits, like the Stone Barns Center for Food and Agriculture, in Pocantico Hills (Westchester County),
the Rockland Farm Alliance, and Sprout Creek Farm, near Poughkeepsie (Dutchess County), have been using working farms as a lens through which visitors can view the food system and reconnect with the state's agricultural legacy. Their public tours, school programs and workshops are tapping into the same growing interest as the commercial farmers'.
In fact, the renowned education and research programs and public events at Stone Barns draw visitors from around the globe as well as from down the street. Stone Barns Senior Communications Manager Jessica Galen says 25,000 people attend its public programs annually, while 300 young farmers participate in its hands-on training programs.
This summer, the center will work with 120 teachers from around the country who want to teach its high school-level food studies course. Galen says the goal of the program is to "inspire people to reckon more critically with the food system, to take ownership in what they eat." She stresses that the type of programs offered by Stone Barns make it less an agritourism site and more of a "farm-based education" center.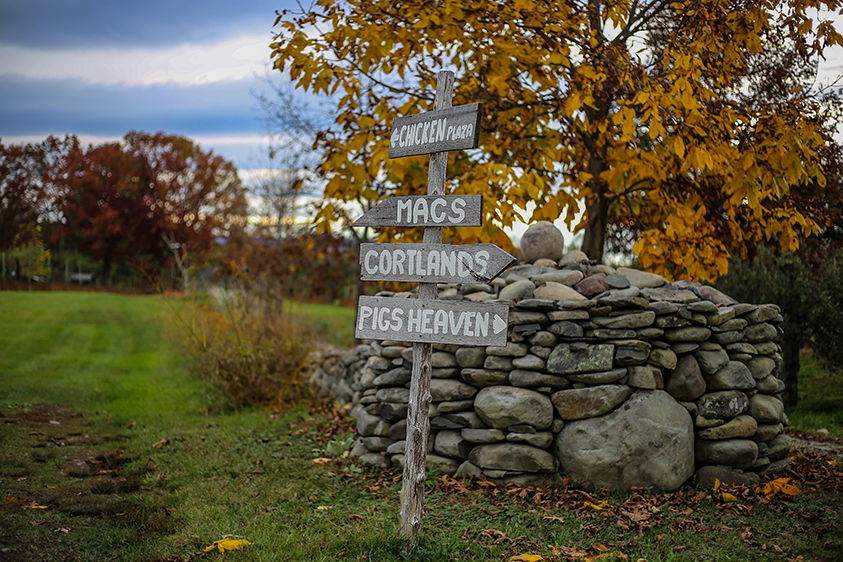 The increasing interest in tourism many farmers are showing dovetails with the explosive growth in the craft beverage industry—wineries, distilleries, breweries and cideries—promoted by changes in state laws and regulations. The number of farm-based beverage manufacturers in New York has grown by 174 percent since 2012, with 359 farm wineries, 232 farm breweries, 140 farm distilleries and 42 farm cideries now operating statewide. As of a year ago, 106 of these producers were based in the mid-Hudson region. Many farmers with on-farm production businesses (and those nearby) see an added economic stimulus from regulations that require using a specified threshold of state-grown ingredients in their products.
Hillrock Estate Distillery in Ancram (Columbia County), for example, makes premium whiskey with rye and barley grown on its own 100 acres. In Orange County, the Westtown Brew Works produces small-batch beer with its own hops and ingredients provided by neighboring farms; Orange County Distillery is located on a fifth-generation farm in the rich Black Dirt region, which provides the required ingredients for its vodka, gin and whiskey.
One of Westwind's neighbors in Accord is the Arrowood Farm Brewery, which has enjoyed steady growth since it opened in 2013. "There have been a lot of challenges, but the response has been pretty incredible," says cofounder Blake Arrowood, a former English teacher. Arrowood Farm grows all the required hops and grain for its beer, which can be sampled at its tasting room in New Paltz. Arrowood says his goal is to tap the "rich terroir" of the Hudson Valley, "brewing the best beer that expresses the times and the people."
According to local tourism promoters, as of mid-April there were 25 craft beverage producers in Orange County (both farm and non-farm), 35 in Ulster, 22 in Dutchess and 15 in Columbia. New operations seem to appear almost weekly, and many existing businesses are expanding. The craft beverage industry is a "huge" tourism draw, Dana stresses; Columbia County Tourism Administrator Ann Cooper says it's the "hot spot" in her county, too.
Interest is so high that Orange County developed a free computer app to help visitors plan craft beverage tours. Private "craft beverage" bus tours also are becoming available.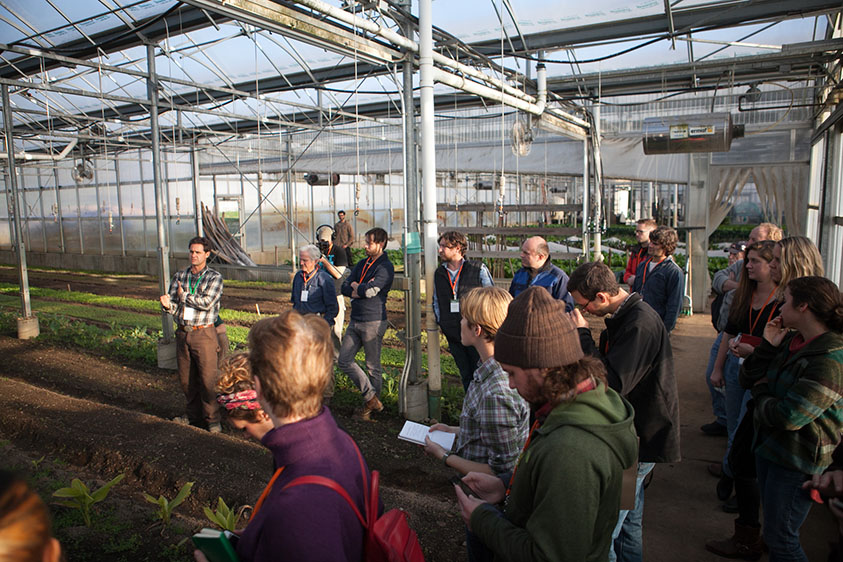 The plethora of farms and orchards in the region where local residents can pick apples and vegetables and otherwise experience life on a farm clearly fits the definition of "agriculture" for most people (as do the growing number of on-farm distilleries and breweries). While corn mazes and hayrides also fit the general profile, some question what relationship activities like jumping pillows, miniature golf, petting zoos, playgrounds, trivia competitions, field trips, concerts and other activities have with agriculture. (By these standards, the 1969 Woodstock Festival, held on Max Yasgur's Farm in Bethel, could be considered the mother of all "agritourism" events.)
"You have to do stuff to get people to come out of their houses, away from all the binge TV we're competing with," Sharon Soons, chief operating officer of Soons Orchards in New Hampton (Orange County), says. Soons runs a monthly farm dinner on site, and Soons Orchard is host to the Orchard Hill Cider Mill and its tasting room. Soons is skeptical about mixing animals with food and scorns the "jumping, bouncy pillows" as "not farming."
David DuBois, who bought a defunct orchard in Highland 11 years ago and turned it into DuBois Farms, a successful pick-your-own business that employs 40 people and draws 4,000 people a day during the busy season, agrees. "I don't want a carnival," he notes.
Clearly, no hard and straight rules govern the agritourism market. Peter Hall, who presides over both Apple Dave's Orchards in Warwick (where Labor Day marks the start of the season), and Apple Dave's Distillery, where he has begun making applejack, declares that orchard owners "all do things differently." He notes that the scenic vistas on his property recently have been attracting "hipsters" from Brooklyn and Kingston, yet his website announces that the orchards are only 20 minutes from Woodbury Common Premium Outlets (New York's busiest tourist attraction).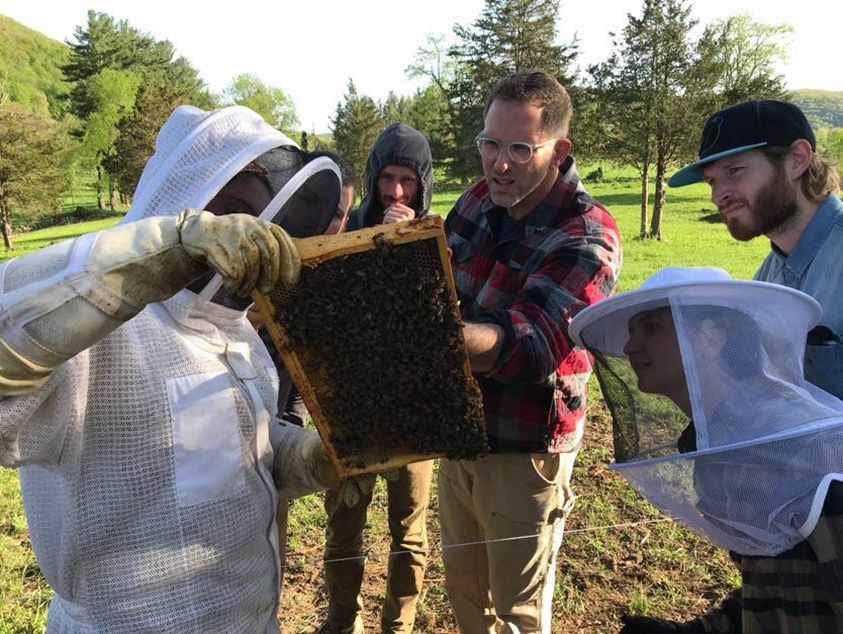 Barton Orchards in Poughquag (Dutchess County) quit the wholesale produce market 27 years ago to concentrate on pick-your-own produce and family entertainment. Last year, the orchard attracted a couple of hundred thousand visitors, according to Peter Barton, who touts the business on its website as "more than just a farm; we are a destination." With this in mind, Barton, recipient of a Business Excellence Award from the Think Dutchess Alliance for Business, has come up with a number of activities to keep people busy on the farm, including hayrides, a 5-acre corn maze, music, and an elaborate ropes-and-ladders obstacle course called "Tree Top Adventure." Why? Because when you pick apples, "you're done in 20 minutes," Barton says, "but visitors really want to have a full day's experience."
At Josh Morgenthau's 270-acre Fishkill Farms in Hopewell Junction (Dutchess County) 5,000 people a day—almost 100,000 yearly—line up just to pick the farm's fruits and vegetables in season. According to a recent survey of Fishkill Farms' customers, visitors regard the farm's growing practices (organic for vegetables, eco-certified for fruits), produce quality and variety and customer service as the most important reasons for their visits, less so food and activities. Individual respondents applauded the fact that the farm wasn't "commercialized" or an "amusement park for kids."
While a new tasting room for the farm's cidery, a new porch, kitchen (with a pizza oven), restrooms and larger farm store are currently in the works, the working farm is still subject to the vagaries of the weather and climate change. The operations have been hit by drought and fire, and last spring, a microburst (akin to a tornado) destroyed 2,500 apple trees. "Extreme weather events have caused more devastation in the past seven years to our orchard than ever before," Morgenthau notes.
Legislation approved in Albany last year aims to protect farmers from liability.
And, despite the economic boost that agritourism has brought to many locations in the region, it apparently is possible to have too much of good thing. Increasing emphasis by some local farms on hosting private events, particularly weddings, has brought complaints from neighbors about noise and traffic. The town of Warwick amended its zoning laws in February to reduce allowable noise levels at outdoor farm events, clarify the number of outdoor events permitted at any single location and specify the time for "lights out."
In Montgomery (Orange County), town officials had welcomed the Angry Orchard Hard Cider Research and Development Center at the former Crist Bros. Orchard, but they were nonplused by the crowds that lined up for the festivals, tastings and workshops offered by the cidery, owned by the Boston Beer Company, maker of Samuel Adams beer. (According to Dana, Angry Orchard is one of the top three most popular agritourism sites in Orange County—the other two are Brotherhood Winery, in Washingtonville, and Warwick Valley Winery and Distillery, in Warwick.)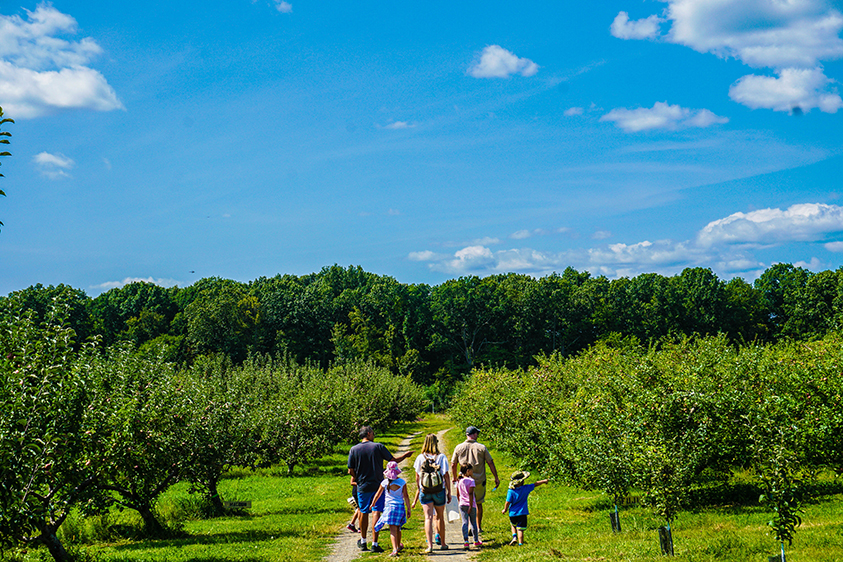 Nonetheless, Jamie Corrao, general manager at Angry Orchard, said in a statement that the company has plans to expand its parking lot by approximately 140 spots at the former site of the Walden Lanes Bowling Center, and "there are also future plans to rework the inside space of the cidery in order to best accommodate our guests."
For its part, the state has taken steps to facilitate agritourism and to help farmers and tourists alike have a successful (and nonlitigious) experience. Legislation approved in Albany last year—the so-called "Safety in Agricultural Tourism Act"—aims to protect farmers from liability for the "inherent risk" of visitors stepping onto a farm and to curb farmers' high insurance costs. Ball says the new laws "will take the shackles off farmers."
The legislation requires farmers to post warning signs in conspicuous locations about the potential risks of on-farm activities and the responsibilities of visitors; to distribute written information to visitors directing them to the signs; to post directional signs; to take reasonable care to prevent foreseeable risks; and to provide safety training for employees.
In all, agritourism has become a bona fide and significant segment of the mid-Hudson economy, and will likely continues as long as agriculture remains important in the region. While some exploit the concept strictly for profit, for many more it is simply a continuation of a tradition that extends as far back as farming itself.