Founded by three Blue Hill at Stone Barns alums, Feel Good Booch crafts gut-friendly kombucha from Peekskill.
We have to say it: If you haven't hopped on the kombucha bandwagon yet, you're missing out. While the gut health benefits that this drink packs are no small thing, the taste is worth a mention, too. In fact, kombucha's fizzy, fermented nature makes it just as great of a swap for soda as for cocktails. (Kombucha mocktail, anyone?)
So, when we saw that three Blue Hill at Stone Barns alums recently banded together to form their own kombucha brand, we were more than a little excited. Aptly dubbed Feel Good Booch, the business is a passion project for founders Julio Enriquez, Alanna Ledesma, and Ronald Rufino.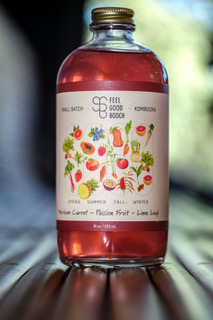 "Having all worked together for many years at a restaurant that celebrates fermentation and, given our shared experience in bartending, kombucha was a very logical next creative step for us to work on together," they explain.
While the brand itself was born in summer 2020, at the height of the pandemic, its early days trace back to when Enriquez began brewing kombucha for Blue Hill back in 2017. An accomplished bartender, restaurant consultant, and the former bar manager at Blue Hill at Stone Barns, Enriquez had been tinkering with ferments at the Blue Hill bar already, but it wasn't until Blue Hill's Chef Dan Barber began to highlight the kombucha as a welcome beverage on the tasting menu that he began to take it seriously.
Today, Enriquez serves as the creative director for Feel Good Booch. (Did we mention he's also the beverage consultant for two Westchester restaurants?) He works alongside Ledesma, a Culinary Institute of America grad with experience cooking in multiple NYC restaurants, and Rufino, a hospitality pro with over 18 years of experience who also happens to be a certified sommelier and restaurant consultant.
With Feel Good Booch, the trio focuses on quality above all else. They launched the brand slowly, with awareness largely based on word of mouth and direct-to-consumer sales. In spring 2021, they added a handful of retail locations to their offerings and purchased more equipment to increase supply. Currently, the brand can be found in more than 25 retail locations and boasts a strong subscription program as well.
"We decided to focus on flavor, applying the same principles of building a great cocktail to fermenting a delicious kombucha," the founders explain. "We blend our kombucha with freshly pressed juices and cold-steeped infusions until the balance of acidity and natural sweetness is just right."
So what is it that makes Feel Good Booch so, well, good?
To start, there's the fact that the team behind it boasts a wide variety of food and beverage experience at some of the top restaurants in the region. And, speaking of the region, the fact that the brand sources local produce for its flavors certainly helps. Farms like Stone Barns Center, Hilltop Hanover, Lancaster Farms, Migliorelli, and Norwich Meadows Farm are all resources for Feel Good Booch, which turns the produce from these suppliers into enticing kombucha varieties that locals crave. As for the tea, the founders love In Pursuit of Tea, which they came across during their time in the restaurant industry, for its high-quality, small-farm teas, many of which are packed and processed by hand.
"Julio developed a delicious blend of Assam, Oolong, and green teas that form the base of all of our kombucha flavors," they note. Using that base, they concoct kombuchas that are just as good for your gut as they are for your taste buds.
Currently, Feel Good Booch offers three year-round flavors: Turmeric & Ginger; Heirloom Carrots, Passion Fruit, Lime Leaf; and Peruvian Purple Corn, Pineapple, Hard Spices. Depending on the season, kombucha lovers can sip on everything from Quince, Sumac, Honey in winter to Strawberry, Rhubarb, Chamomile in spring.
Speaking of those kombucha lovers, they're an ever-growing breed, if Feel Good Booch's production schedule is any indication. The brand currently produces around 500 bottles per week, although that number will soon change. The founders are expanding their warehouse space at the Atrium at Charles Point in Peekskill this winter and, once moved in, will be able to produce 10 times their standard production load.
Looking ahead, in addition to settling into their new space, the founders are looking forward to testing out different styles of kombucha, including a CBD-infused kombucha that's currently in trial stages and a hard kombucha. As Feel Good Booch expands, the trio hopes to continue sourcing locally as well.
"As people of color, it's truly important to us that we also utilize ingredients and flavors that remind us of our roots and resonate with people of similar backgrounds," they explain. "We'd love nothing more than to ensure the money we spend will have a direct impact for farms in those communities."
Interested in trying Feel Good Booch? Visit its website to learn more or stop by any of these Hudson Valley spots to sample the kombucha for yourself.
Glynwood Farmstand, Cold Spring
Cold Spring Coffee House
Blue Hill Cafe & Grain Bar, Tarrytown
Root2Rise, Pleasantville
Grassroots Kitchen, Tarrytown
First Village Coffee Roasters, Ossining
Fable Farms, Ossining
Green & Tonic, Chappaqua 
Primal Bowls, Yorktown
Hemlock Hill Farm & Market, Cortlandt Manor 
Migliorelli Farm Stands, Rhinebeck, Red Hook + Mount Tremper
Adams Fairacre Farms, Poughkeepsie
Sunflower Markets in Rhinebeck and Woodstock
West Taghkanic Diner, Ancram