WHEN ERIK ANDRUS, A VISIONARY farmer with a love of water, sets sail on September 15, the low-cost wooden boat he and other volunteers constructed will be hauling products of Champlain Valley farms and forests down to the lower Hudson Valley. As a carbon-neutral transport company, the Vermont Sail Freight Project will show that food miles (the distance foodstuffs travel from farm to plate) don't have to generate greenhouse gases. Climate activist and environmentalist Bill McKibben (The End of Nature; Deep Economy) finds the grassroots project significant enough to have repeatedly expressed interest in being on board for a leg of the first trip.
Ceres, named after the Roman goddess of grains and agriculture, is designed to do the job of a land-based tractor-trailer at a far lower cost. The vessel measures 39.5 feet long by 10 feet wide and will hold 12 to 15 tons of cargo—only half of what a tractor-railer can haul (though trucks frequently travel with partial loads and often make their return trips empty). The boat's system of ropes and pulleys will allow whole pallets of goods to be hoisted using only muscle power—a further demonstration of the potential of a hand-powered economy. The mast folds down horizontally to allow the boat to pass through locks, under bridges and for road travel. Ceres is scheduled to make seven round trips downriver each year.
Andrus (who also plays accordion and sings sea chanteys) has a keen interest in salvaging working traditions "that have been thrown into the dumpster" of history. Rather than merely reenacting the past, he aspires to reinvent discarded technologies and ways of life for the future.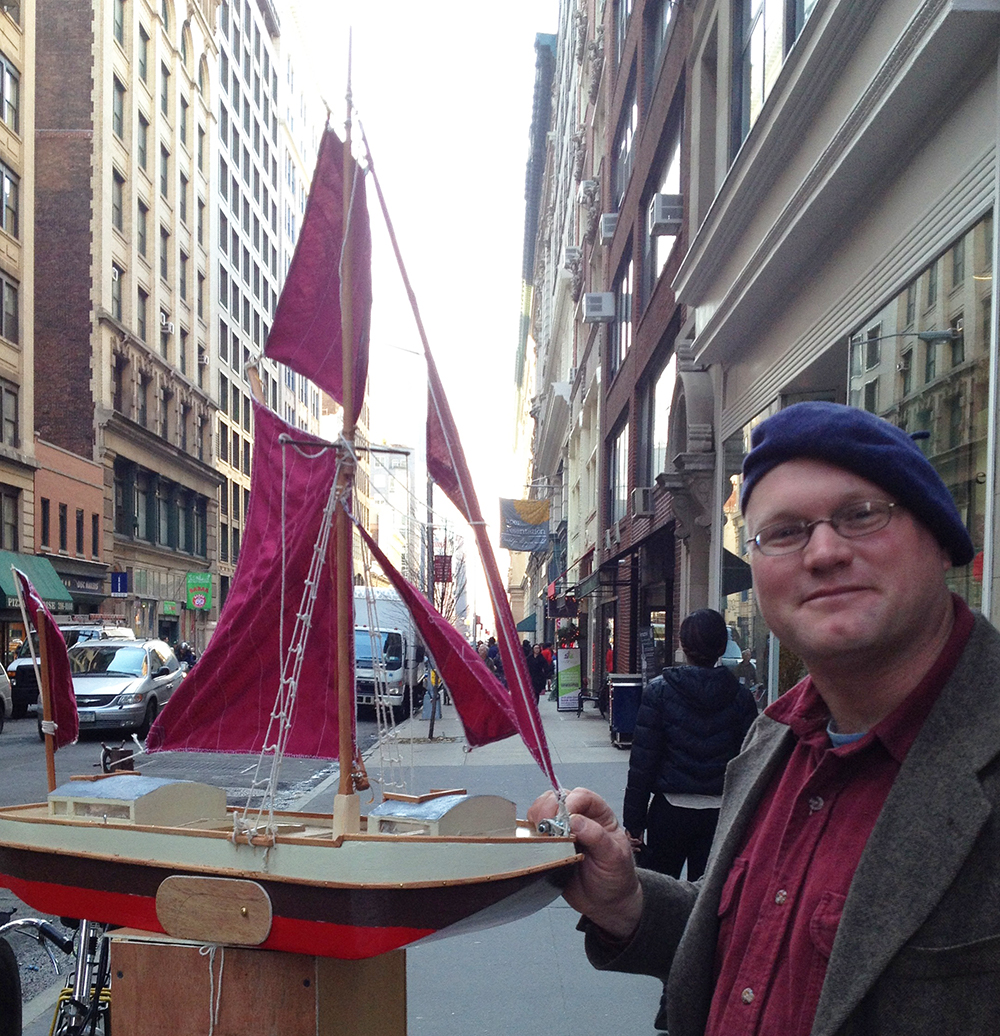 Though the wind- and human-powered vessel lacks an engine, the project selectively embraces twenty-first century technologies such as GPS and electronic communications. Its website will track the sail barge's movement in real time and offer online ordering. Anyone who indicates interest will receive electronic alerts of docking schedules. Andrus is fascinated by the idea of people carrying out commercial transactions without using any fossil fuel. "My calculation is that 9 million people live within walking or bicycling distance of the Hudson River," Andrus says. With a barebones budget of only $30,000, his partnership with the Willowell Foundation, a Vermont nonprofit, provides an "organizational home" so he can turn his idea into a financially viable working model. As soon as Andrus had the idea "half formed out of his mouth, I saw all the potential," says Willowell Executive Director Matt Schlein. Willowell Administrative Director Hannah Mueller concurs. "More than any other climate change solution that I'm aware of," she says, "the Vermont Sail Freight Project has the potential to galvanize people of all political persuasions because of its very hopeful message."
For its part, Willowell is maximizing the project's educational dimension. Several high school students in Willowell's nationally acclaimed outdoor Walden Project helped Andrus build the boat. When elementary school classes visited the project, they got hands-on lessons in marine knot tying and sail dynamics. Fourth graders helped build scale models of Ceres for Kickstarter donors (and afterwards they made the pizza).
Ceres requires a crew of only two and has bunks for four. Besides Andrus, Jordan Finklestein, a Willowell intern working with all phases of the project (he's even become interested in getting his captain's license), and Vermont Folklife Center's Andy Kolovos will be on board. When Ceres enters the federal waters beyond the Troy locks, a licensed river pilot with traditional boat background will join them.
The 300-mile cargo route runs south from Ferrisburgh, Vermont, on Lake Champlain, through the Champlain Barge Canal, then down the Hudson River. Ceres will reach Brooklyn around October 1. A normal trip takes 10 days, but for its maiden voyage Andrus is allowing for additional stops, fanfare and contingencies. On the return trip north, Ceres will backhaul Fair Trade cacao beans grown by a farmers' cooperative in the Dominican Republic. In mid- summer, the itinerary was still fluid with "a half-dozen or more permutations" in the docking schedule. Projected stops currently include Whitehall, Mechanicville, Troy, Albany, Hudson, Kingston, Poughkeepsie, Beacon and Croton, and Andrus has been offered docking at four sites in Brooklyn and Manhattan.
Maple syrup (the Green Mountain State's signature product) will be a prominent cargo item. Farmers also have committed honey, dry beans, popcorn, wheat berries, flour, cornmeal, pancake mix, apple butter, onions, garlic, dried apples and other apple products. Additionally, carrots and cabbage will be stored in a foam-lined compartment cooled with block ice. Vermont hard cider makers are "on fire" about the project, Andrus says, and that supplied the impetus for him to seek a federal permit for interstate alcohol transport. Additionally, Ceres could transport 600 bundled Christmas trees, with maple syrup as ballast. Winter sailing is out—the canal system shuts down for the season.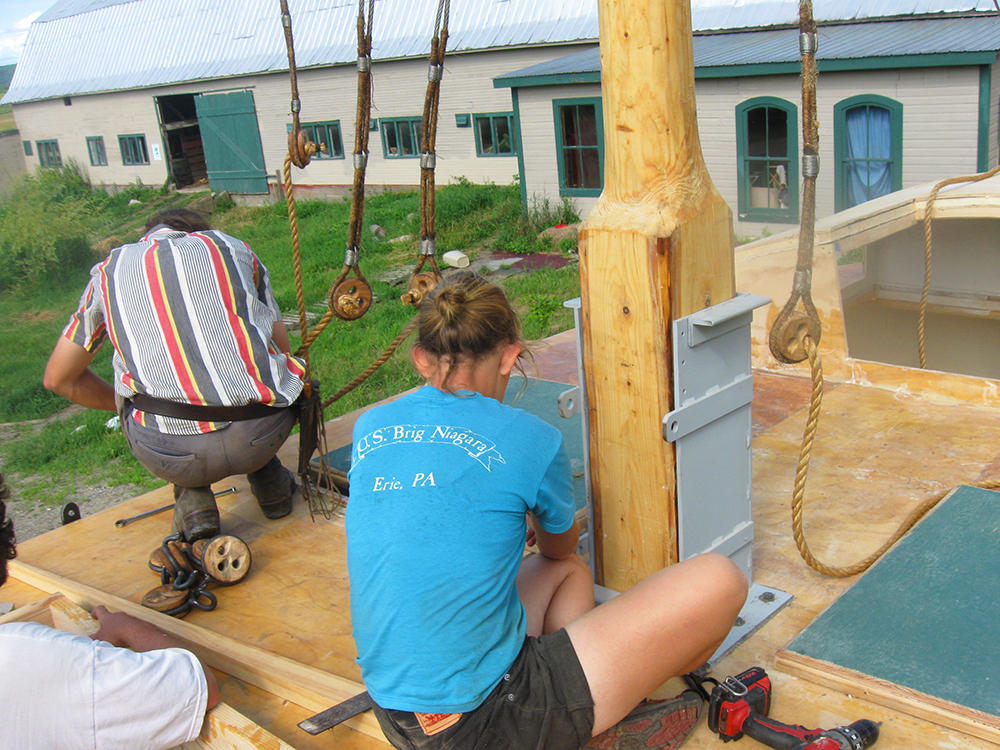 The Vermont Sail Freight Project isn't the first unusual challenge that Andrus has tackled. He farms the largest rice paddy in the Northeast—"That's what the land told us to do," he claims. In 2005, Andrus and his wife Erica purchased a 110-acre failed dairy farm outside of Vergennes. Andrus started a European artisanal bread bakery with a wood-fired brick oven, intending to supply it with his own homegrown grain. Heavy soil, poor drainage and excessive rainfall conspired to make that dream impossible, but Andrus persevered: His experiments with rice production turned the farm's constraints into advantages, and now, four years into it, he's growing five- and-a-half acres of rice (the same land area as the average Japanese rice farm). "Now there are more frogs and the land's more productive," he says. Ducks are an integral part of his system—they're used for weed control but they won't eat rice plants because of their high silica content. Boats and waterways have always fascinated Andrus, who grew up in Binghamton with the Susquehanna River as his playground. He has taken many extended canoe trips and has always planned to embark on a big, meaningful river journey.
As a budding boat builder at age 19, Andrus moved to Rockport, Massachusetts, as an apprentice, but became disenchanted with a vocation that he felt had been relegated to producing luxury items. In college he majored in Arabic and Anthropology—but declined the de rigueur career with the Defense Department and instead went to work with his hands. For the 12 years he spent as a carpenter, he completed projects that seemed more socially redeeming to him: "Not everyone needs a wooden boat, but everyone needs a bathroom," he quips.
The Ceres venture has given Andrus a new outlet for his love of tinkering and aptitude for building. (Before he came up with the sail barge project, in fact he had imagined building a raft to transport his rice down the Hudson.) His design for Ceres is strictly utilitarian, not aesthetic—he borrowed elements from the classic working vessels of New England, England and Asia, and sought guidance from naval architect and friend Geoff Uttmark. He also sought input for the open-sourced project from experienced traditional boat builders and sailors. The unique project attracted an impressive group of people with invaluable expertise: Will Young and Carrie Glessner—who spend their winters working on tall ships—designed all the moving parts, coordinated the rigging and determined the size and shape of the sails; Massachusetts artist Brian Goblik carved and turned wood; Brattleboro boat builder Matthew Wright sewed the sails; timber framer Will Gusakov harvested fir and spruce trees for the masts and spars.
The decision to use everyday materials in construction (like plywood, epoxy and fiberglass) greatly reduced expenses—Ceres cost under $18,000 to build, a sum Andrus raised on Kickstarter this spring. (If the in-kind and donated labor were all compensated, he estimates the total cost would still have been a modest $40,000.) With an estimated working life of 10 years, the ship could pay for itself many times over.
When Andrus began networking around sail freight, he encountered considerable interest. "I've had conversations with fairly well-connected people in New York who think [sail-powered cargo vessels] might have a future," he says. Indeed, there are pending institutional proposals to increase cargo transport on New York waterways, but they have been slow to progress. The Hudson River Foodway Corridor Initiative aims to bring upstate produce to the greater metropolitan area in truck trailers on river barges to reduce traffic congestion, fuel consumption and diesel emissions. Earlier this year, its two-year feasibility study (funded with a $50,000 NYSERDA grant) concluded that the economics for waterborne produce transport remain "very challenging" and a "significant backhaul" needs to be developed.
However, other sail-powered transport initiatives are unfolding around the globe. The 105-foot Dutch clipper Tres Hombres has run sustainable freight service between Europe, the Caribbean and America since December 2009. Jorne Langelann, who hails from a family of shipbrokers and is one of the venture's partners, has called for a "transport revolution" utilizing modern, hybrid sailing ships with backup engines. In his 2010 TEDx Amsterdam talk, Langelann presented startling facts to illustrate the imperative of rethinking the economics and sustainability of transoceanic shipping:
— 50 cargo ships produce emissions equivalent to all the cars in the world put together;
— a 5,000-ton cargo ship uses 70 barrels of oil each day;
— approximately 50,000 ships carry goods around the world.
As the New York/New Jersey Baykeeper for two decades, Andy Willner and his staff patrolled the Hudson/ Raritan estuary in wooden boats. In retirement, the former professional boat builder advocates for sustainability. Several years ago, he laid out his own plan for sail freight on the Hudson. Though it generated some momentum, Willner had hoped to find an enterprising younger person to bring the concept to fruition. He's an enthusiastic supporter of the Ceres project and admires Andrus's "relentless" determination and abilities. "I've had enough conversations with Erik to know that he knows what he's doing," Willner says. "We're at a point where someone needs to take the first step—a lot of people have been waiting for [someone like him] to come along. That puts a lot of weight on his shoulders."
This winter, after Andrus and his sailing companions have taken Ceres on one or perhaps two commercial voyages, he'll be ready to take stock of the project and make adjustments for 2014. If Ceres proves economically feasible, Schlein says within two years they'd want to transition ownership of the boat to a farmer-owned cooperative. In the best-case scenario, Ceres would serve as the prototype for an entire fleet.
Toward that end, Andrus already has received a credible offer of funding sufficient to construct a second vessel. And for the record—for building that boat, everyone would get paid.