Click here for an updated list of CSA programs in your area.
Community is hard to build during a global pandemic. From masked identities in public spaces to the insular nature of working or learning from home, the past year has made it nearly impossible to establish kinship beyond socially distanced solidarity. Many independent Hudson Valley businesses have suffered due to this abrupt loss of personal connection. However, one industry has actually seen a large rise in popularity due to COVID-19: Community Supported Agriculture.
Community Supported Agriculture (CSA) is a membership-based agricultural model. In exchange for an upfront payment or series of installments, CSA members regularly receive a "share" of their farm's bounty — whether it be an assortment of fresh vegetables and/or fruit, herbs, mushrooms, flowers, eggs, dairy, and/or meat — over the course of the growing season.
CSA is expected to remain an invaluable resource as the pandemic continues into 2021. Most CSA farms offer their share pick-up outside, meaning social distancing is a natural fit and the process is inherently safer than shopping indoors. It's an affordable way to eat locally and support sustainable farming. While shares often have a high upfront cost, CSAs are typically much cheaper than equivalent items at farmers' markets and are competitive with prices at the grocery store. Finally, CSAs offer the freshest food around, with farmers often harvesting your produce the very same day you pick it up.
Grown by kind, hardworking farmers just down the road, CSA shares are an incredible way to invest in your health and in your community alike. Browse farms from the Hudson Valley CSA Coalition's directory, starting on page 42, to find the perfect farm for you.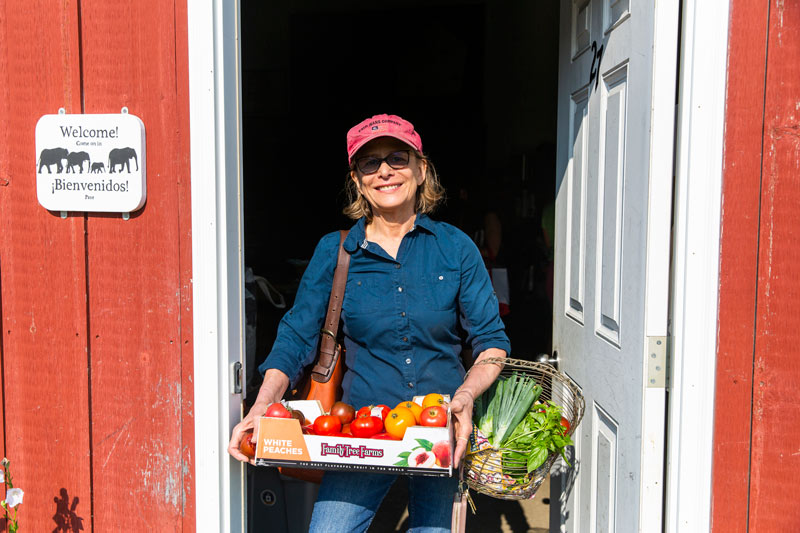 Find the right CSA
Not all CSA farms operate the same — there's often flexibility in terms of cost, pick-up schedule or location, contents, and more. If you don't see what you're looking for, ask the farmer. Getting in touch via email or phone will give the farm the opportunity to let you know if they can offer what you seek. Here are a few options to consider when choosing your CSA.
Payment Plans
Some CSAs offer payment plans, sliding-scale or income-based pricing, working shares (in which you volunteer at the farm for a partial or full discount), or even debit plans that allow you to add to your account during the season. If you don't see an option like this on their website, ask — many farms are willing to arrange a payment plan. An increasing number of Hudson Valley CSA farms accept SNAP/EBT.
Pick-up Location and Timing
Choose a CSA that best suits your schedule and location. Many CSA farms offer on-farm pick-up within a set window of time. To accommodate busy work schedules, some farms offer after-hours or honor-system pick-up. There are also farms that have off-farm distribution sites at schools, worksites, community centers, farmer's markets, or churches.
Share Contents and Size
Due to COVID-19, most CSAs are offering pre-bagged shares based on what's in season and available at the farm. That said, some farms still allow members to customize their share using a "free choice" model. Many CSAs offer specialized shares or share add-ons, including eggs, meat, dairy, flowers, herbs, and/or value-added items.
Pick Your Own
Some farms allow members to pick their own vegetables, fruit, herbs, and/or flowers.
About the Hudson Valley CSA Coalition
Since 2016, the Hudson Valley CSA Coalition has worked hard to support, expand, and diversify our region's CSA community. Its network of more than 110 CSA farms, spanning 15 counties, is committed to recruiting first-time CSA members, expanding the local CSA member bases of area farms, and making CSA a familiar and accessible option for everyone in the Hudson Valley.
Visit hudsonvalleycsa.org to learn more about the Coalition and to find the perfect CSA for your needs. Use the "Find a Farm" function to search for farms by ZIP code, county, share types, and payment options. Each farm has its own webpage where you can learn more about its unique pricing models, pick-up times and locations, share sizes and contents, growing certifications, and season duration. Once you have purchased a CSA membership, visit the "Use Your CSA" section for culinary inspiration, storage tips, and more.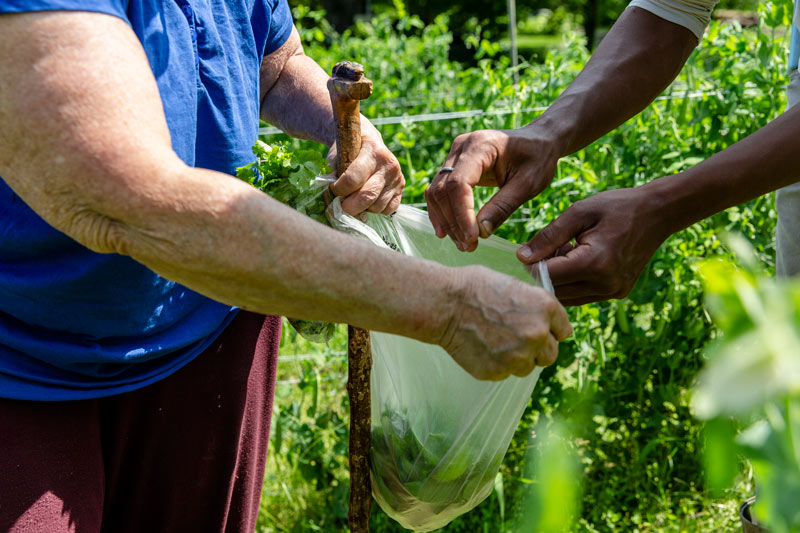 2021 Hudson Valley CSA Shares
Columbia
Abode Farm CSA
10 Chair Factory Rd, New Lebanon
abodefarm.com
herbs, vegetables
Common Hands Farm
257 Stevers Crossing Rd, Hudson
commonhandscsa.com
meat, vegetables
Deep Roots Farm NY
1639 Columbia County Rte 7A, Copake
deeprootsfarmny.com
dairy, flowers, fruit, mushrooms, vegetables
Dog Wood Farm
85 Hartigan Rd, Old Chatham
dogwoodfarmny.com
meat, mushrooms, vegetables
FarmOn! Foundation
548 Empire Rd, Copake
farmon.org
flowers, vegetables
Field Apothecary & Herb Farm
245 Main St, Germantown
fieldapothecary.com
herbs
Hawk Dance Farm
362 Rodman Rd, Hillsdale
hawkdancefarm.com
herbs, vegetables
Hawthorne Valley Farm
327 County Rte 21C, Ghent
farm.hawthornevalley.org
dairy, eggs, fruit, meat, vegetables
Hearty Roots Community Farm
1822 Rte 9, Germantown
heartyroots.com
eggs, meat, vegetables
Highland Farm 
283 County Rte 6, Germantown
eat-better-meat.com
eggs, meat
Ironwood Farm
103 County Rte 9, Ghent
ironwood.farm
vegetables
Kinderhook Farm
1958 County Rd 21, Valatie
kinderhookfarm.square.site
eggs, meat
Letterbox Farm
4161 U.S. 9, Hudson
letterboxfarm.com
eggs, flowers, herbs, meat, vegetables
Liberty Farms
114 Ostrander Rd, Ghent
libertyfarmsny.com
eggs, meat, vegetables
Little Seed Gardens
541 White Mills Rd, Valatie
littleseedgardens.com
vegetables
Lu-Na Blooms & Herbs
1016 NY-82, Ancram
lu-nabloomsherbs.com
flowers
Miracle Springs Farm
709 County Rte 11, Ancram
miraclespringsfarm.com
dairy
MX Morningstar Farm
5956 NY-9H, Hudson
mxmorningstarfarm.com
vegetables
Red Oak Farm
1921 U.S. Rte 9, Stuyvesant
redoakfarmny.com
vegetables
Rockefeller Ranch
440 County Rte 6, Clermont
rockefellerranch.square.site
herbs, flowers, vegetables
Roxbury Farm
2501 Rte 9H, Kinderhook
roxburyfarm.com
fruit, meat, vegetables
Sparrowbush Farm
2409 Rte 9, Hudson
sparrowbushfarm.com
dairy, eggs, herbs, meat, vegetables
Ten Barn Farm
1142 County Rte 22, Ghent
tenbarnfarm.com
flowers, fruit, vegetables
The Farm at Miller's Crossing
170 Rte 217, Hudson
farmatmillerscrossing.com
meat, vegetables
Threshold Farm
16 Summit St, Philmont
hudsonvalleybounty.com/threshold-farm
fruit
Tiny Hearts Farm
1649 County Rd 7A, Copake
tinyheartsfarm.com
flowers
Trusted Roots Farm
402 County Rte 34, East Chatham
trustedrootsfarm.com
eggs, vegetables
Woven Stars Farm
52 Winter Hill Rd, Ghent
wovenstarsfarm.com
eggs, meat
Dutchess
Bear Creek Farm
6187 NY-82, Stanfordville
bearcreekfarm.com
flowers
Breezy Hill Orchard
828 Centre Rd, Staatsburg
breezyhillorchard.com
eggs, fruit, pasta
Common Ground Farm
79 Farmstead Ln, Wappingers Falls
commongroundfarm.org
flowers, herbs, vegetables
Diana Mae Flowers
Beacon
dianamaeflowers.com
flowers
Dreamland Harvest
789 Salisbury Tpke, Milan
dreamlandharvest.com
flowers, herbs, vegetables
Fishkill Farms
9 Fishkill Farm Rd, Hopewell Junction
fishkillfarms.com
dairy, eggs, fruit, meat, vegetables
Full Circus Farm
27 Mils Path, Pine Plains
fullcircusfarm.wordpress.com
flowers, herbs, vegetables
Great Song Farm
475 Milan Hill Rd, Red Hook
greatsongfarm.com
flowers, fruit, vegetables
Growing Heart Farm
25 Jeans Dr, Pawling
growingheartfarm.com
vegetables
Harlem Valley Homestead
147 Old Forge Rd, Wingdale
harlemvalleyhomestead.com
vegetables
Maitri Farm
143 Amenia Union Rd, Amenia
maitrifarmny.com
meat, vegetables
Meadowland Farm
689 Schultzville Rd, Clinton Corners
meadowlandfarmny.com
flowers, fruit, herbs, vegetables
Northwind Farms
185 W Kerley Corners Rd, Tivoli
northwindfarmsallnatural.com
meat
Obercreek Farm
59 Marlorville Rd, Wappingers Falls
obercreekfarm.com
eggs, flowers, fruit, herbs, meat, vegetables
Poughkeepsie Farm Project
51 Vassar Farm Ln, Poughkeepsie
farmproject.org
eggs, fruit, vegetables
Premier Pastures
689 Schultzville Rd, Clinton Corners
premierpastures.com
meat
Rock Steady Farm & Flowers
41 Kaye Rd, Millerton
rocksteadyfarm.com
eggs, flowers, fruit, herbs, meat, vegetables
Sawkill Farm
7782 Albany Post Rd, Red Hook
sawkillfarm.com
meat
Shoving Leopard Farm
Barrytown
shovingleopardfarm.org
flowers
Sisters Hill Farm
127 Sisters Hill Rd, Stanfordville
sistershillfarm.org
vegetables
Orange
Bialas Farms
75 Celery Ave, New Hampton
bialasfarms.com
fruit, herbs, vegetables
Blooming Hill Farm
1251 Rte 208, Monroe
bloominghill.farm
fruit, vegetables
Choy Division
8 Greycourt Ave, Chester
choydivision.com
vegetables
Field and Larder
168 Meadow Ave, Chester
fieldandlarder.com
vegetables
Fresh Meadow Farm
407 Ingrassia Rd, Middletown
freshmeadowfarm.com
herbs, vegetables
Gray Family Farm
261 Otterkill Rd, New Windsor
grayfamilyfarm.com
eggs, meat, vegetables
J&A Farm
12 Indiana Rd, Goshen
jafarm.org 
vegetables
John Lupinski Farms
1 Houston Rd, Goshen
vegetables
Peace and Carrots Farm
153 Johnson Rd, Chester
peaceandcarrotsdelivery.com
flowers, herbs, vegetables
Pine Hill Farm Vegetables
3298 Rte 94, Chester
pinehillfarmvegetables.com
fruit, vegetables
Rogowski Farm
341 Glenwood Rd, Pine Island
rogowskifarm.com
vegetables
Royal Acres Farm and CSA
621 Scotchtown Collabar Rd, Middletown
fb.com/royalacresfarmandcsa 
vegetables
Putnam
Glynwood Center for Regional Food and Farming
362 Glynwood Rd, Cold Spring
glynwood.org
meat, vegetables
Hudson Valley Mushrooms
Patterson
hudsonvalleymushrooms.com
mushrooms
Longhaul Farm
69 S Mountain Pass, Garrison
longhaulny.com
vegetables
SPACE on Ryder Farm
406 Starr Ridge Rd, Brewster
spaceonryderfarm.org
vegetables
The Parcel Flower Co.
3091 Rte 9, Cold Spring
theparcelflower.co
flowers
Rockland
Cropsey Community Farm
220 S Little Tor Rd, New City
rocklandfarm.org
flowers, herbs, vegetables
Pfeiffer Center
260 Hungry Hollow Rd, Chestnut Ridge
pfeiffercenter.org
vegetables
Ulster
Deer Creek Collective Herb Farm
810 Queens Hwy, Accord
deercreekcollective.com
herbs
Evolutionary Organics
283 Springtown Rd, New Paltz
evolutionaryorganics.com
eggs, fruit, vegetables
Gopal Farm
332 Springtown Rd, New Paltz
gopal.farm
dairy, herbs, vegetables
Grassroots Farm
Old Kings Hwy, Stone Ridge
grassroots-farm.com
meat
Huguenot St Farm
205 Huguenot St, New Paltz
huguenotfarm.com
fruit, vegetables
Kelder's Farm
5755 Rte 209, Kerhonkson
keldersfarm.com
flowers, fruit, herbs, meat, vegetables
Phillies Bridge Farm Project
45 Phillies Bridge Rd, New Paltz
philliesbridge.org
vegetables
Rondout Valley Organics
331 Dowe Rd, Ellenville
rustyploughfarm.com 
eggs, flowers, fruit, herbs, meat, vegetables
Sea Change Farm & Flower
221 Marcott Rd, Stone Ridge
seachange.farm
flowers
Seed Song Farm
160 Esopus Ave, Kingston
seedsongfarm.org
vegetables
Solid Ground Farm
205 Hidden Valley Rd, Kingston
solidground.farm
eggs, flowers, fruit, vegetables
Spruce Run & Stony Ridge Farm
42 Union Center Rd, Ulster Park
sr-srfarm.com
flowers, fruit, herbs, vegetables
Sugarshack Mushrooms
New Paltz
mushrooms
The Farm Bridge Shares
750 Enterprise Dr, Kingston
thefarmbridge.com
fruit, vegetables
Tributary Farm
531 County Rte 6, High Falls
tributary-farm.com
flowers, herbs, vegetables
White Feather Farm
1389 Rte 212, Saugerties
whitefeatherfarm.org
vegetables
Westchester
Fable: From Farm to Table
1311 Kitchawan Rd, Ossining
fablefoods.com
dairy, eggs, fruit, herbs, meat, vegetables
Harvest Moon Farm and Orchard
130 Hardscrabble Rd, North Salem
harvestmoonfarmandorchard.com
flowers, fruit, meat, vegetables
Hemlock Hill Farm
500 Croton Ave, Cortlandt Manor
hemlockhillfarm.com
eggs, meat, vegetables
Hilltop Hanover Farm & Environmental Center
1271 Hanover St, Yorktown Heights
hilltophanoverfarm.org
vegetables
Our New Way Garden
10 New King St, Ste 209, West Harrison
ournewwaygarden.com
vegetables
Pound Ridge Organics
22 Westchester Ave, Pound Ridge
poundridgeorganics.com
dairy, eggs, flowers, fruit, herbs, meat, vegetables
Sweet Earth Co.
20A Salem Rd, Pound Ridge
sweetearthco.com
flowers, herbs