Most food influencers start their social media journey because they love to cook, or love to eat—or both. Instagrammer and Kingston resident Philippe Trinh is definitely passionate about food, cocktails, and kombucha—but Whiskey & Booch, his culinary brand born in 2020, goes beyond the basics by exploring both tradition and experimentation.
Trinh, a first-generation Vietnamese American, shares recipes passed down from his mom and dad, who fled Laos and Vietnam during the Vietnam War. "The heart of my project is to honor my parents and our culture, to tell our stories and preserve our memories through food," says Trinh. His "stories" include delicious, authentic recipes for crispy pork belly, kimchi fried rice, beef pho, and much more. His parents even make cameo appearances on his cooking videos (@whiskeyandbooch, whiskeyandbooch.com) and they are quite the cute bunch.
Trinh has garnered over 15,000 followers on Instagram (check it out!) and has launched a successful, Valley-based kombucha brand, Seek North, with his partner Julian Lesser. We chatted with him to learn more about his business, favorite foods, and go-to ingredients.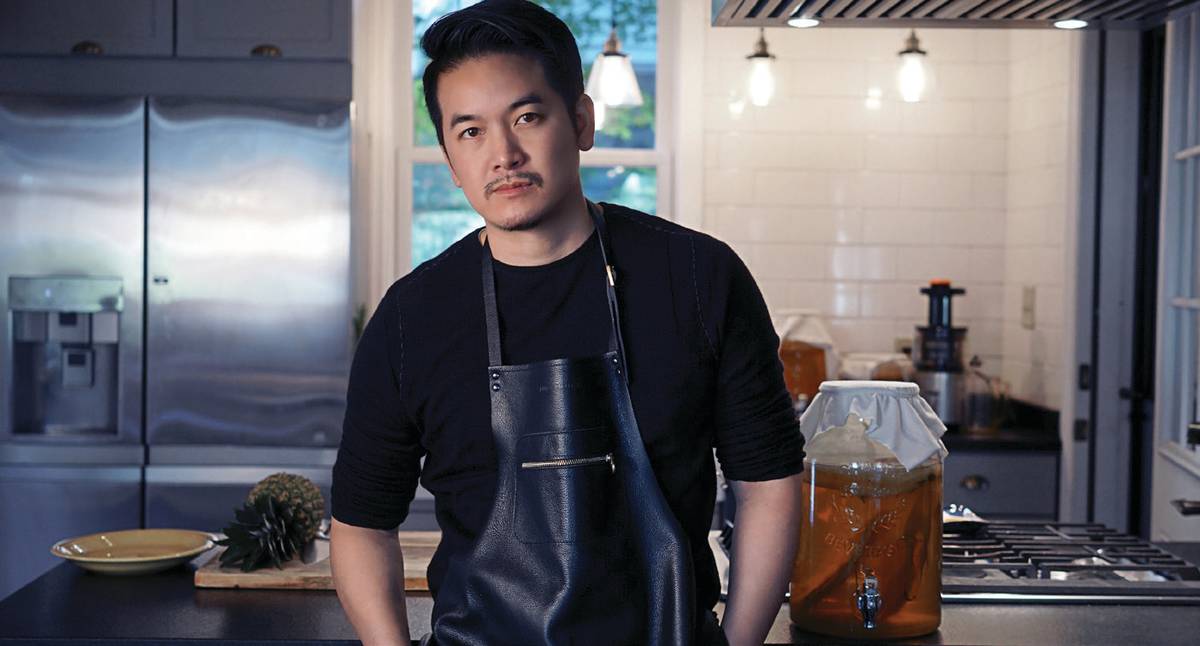 You used to be a fashion designer, how'd you get into food?
I designed for Joseph Abboud, Phillip Lim, Perry Ellis International, and many others for nearly 15 years. Building my career involved long hours at the office and a lot of networking, and I found myself dining out frequently. A month before the pandemic hit, I was laid off and I decided to take the leap and move from NYC to our Kingston home full time. During lockdown we were forced to cook multiple meals a day. I can cook, but I wasn't used to that much cooking.
It was a tough time, but it awarded me the space to reflect on my life and my relationship with my parents. I started to miss them and all the Vietnamese comfort foods I grew up with. And as I thought more and more about them, something hit me: What if my parents passed? Did I know all their stories? Did I know any of their recipes? The answers were all no. I decided that there was no better time than the present to learn more about their (and my) origins and start cooking all the traditional dishes they used to make for me.
What's the inspiration behind the name "Whiskey & Booch?"
The name was inspired by two of my favorite things: whiskey and kombucha.
Tell us about Seek North.
My dad taught me how to ferment food when I was young, and it's something that has stuck with me. I love fermenting so much that I enrolled in The Master Food Preserver program at Cornell Cooperative Extension in 2014 with the goal of improving my pickling, canning, and fermenting game while also learning about proper food safety. It wasn't until 2016—after Julian contracted Lyme disease—that kombucha became part of our story. I was doing extensive research to try to find healing solutions for him, and I learned that over 70 percent of our immune tissue is in our gut. I knew we had to start there to get Julian on the right path to recovery.
He was taking so many antibiotics that I knew his gut was being stripped of all bacteria, both bad and good. We needed to replenish his gut biome with natural probiotics, and I knew kombucha was a great option to accomplish this. After all, you can only eat so much kimchi or sauerkraut. Essentially, that's how Seek North Kombucha was born—by trying to create a different, healthier, and smoother kombucha.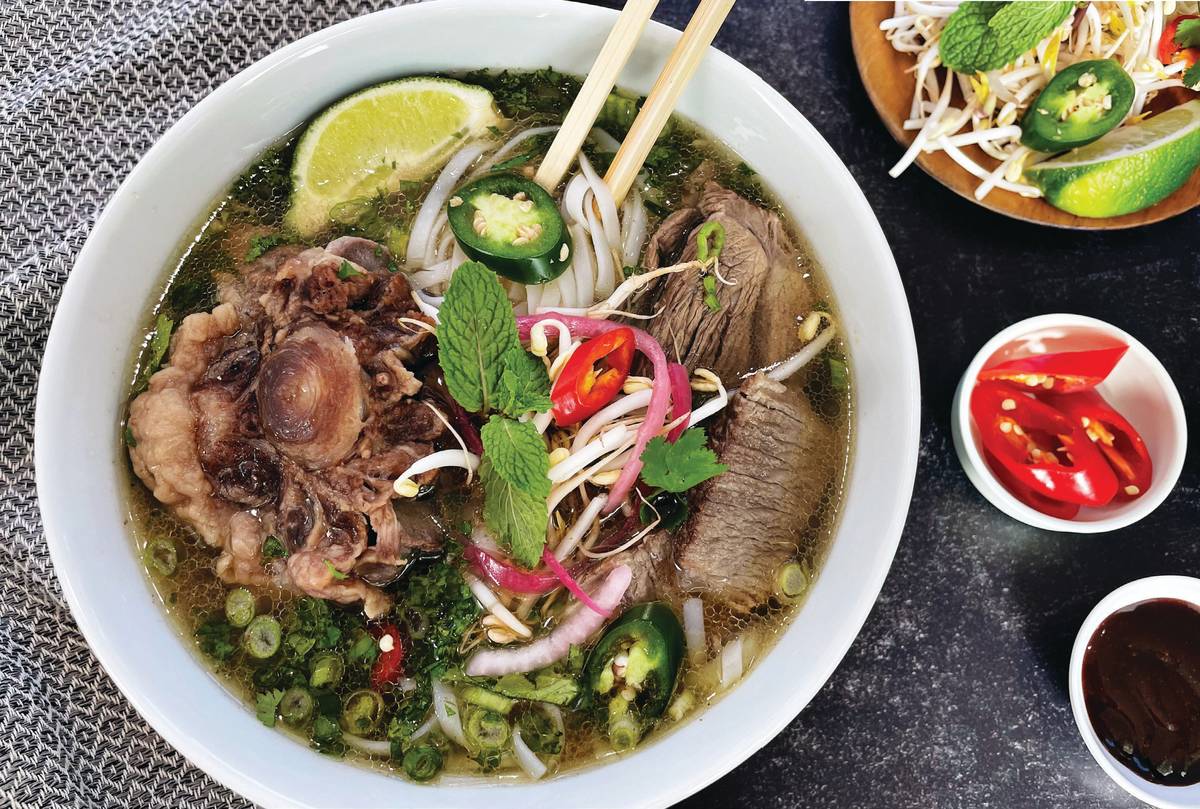 How does a novice fermenter get started?
Start off with something easy like kombucha or sauerkraut. For kraut, you only need cabbage and salt. Kombucha also has only two ingredients: sweetened tea and a SCOBY (symbiotic culture of bacteria and yeast). From there, you can learn about more complicated ferments like lacto-fermented kimchi, lacto-fermented cucumbers, and yogurt.
When you're not cooking for yourself, where do you like to eat?
I live in Uptown Kingston, so you'll often find me having dinner and drinks at Boitson's and Hotel Kinsley. I also love Pakt for brunch and grabbing a sandwich at Lunch Nightly or the Lunchbox. When I get cravings for Asian cuisine, I'll order Japanese from Yasuda or Kyoto.
What's a staple Vietnamese dish that's perfect for winter?
Beef pho. To prepare it properly, you simmer a rich broth with oxtail and beef bones and add flavor with charred aromatics like shallots, ginger, anise, peppercorns, and coriander. The broth is velvety smooth with a thin layer of fat skimming the surface. It's served piping hot with fresh herbs like Thai basil, bean sprouts, cilantro, and scallions. On a wintry day, it warms your entire body and soul, because there's a lot of love needed to make authentic pho.
What are your top three ingredients to cook with?
No Asian kitchen is complete without fish sauce, soy sauce, and Maggi Seasoning (a food flavor enhancer similar to soy or tamari, that comes in liquid, powder, or cube form). With those three seasonings, you can cook almost any Vietnamese dish.
What's the one utensil you can't live without?
Chopsticks. You can use them to stir-fry meats or veggies, as tongs, or even instead of a whisk to stir sauces and marinades. You'll always see my parents cooking in the kitchen with a pair in their hands.