Cousins to food trucks, these pop-ups are the latest darlings of the culinary world throughout the Hudson Valley.
Part of the fun is the sheer randomness of them: menus change frequently, locations can vary, and the offerings are often limited—creating a frenzy of demand. With the combined power of Instagram and word-of-mouth, these four self-made chefs have gained cult followings—many of whom will track them down across the region just to have another bite.
Gab's Veg Table
In 2020, Gabrielle Grigoli noticed there weren't any full-fledged vegan joints in Kingston. After long talks and brainstorm sessions with her partner, Ted Griese, Gab's Veg Table was born. On weekends, select from three or four plant-based sandwiches and sides that are as delicious as they are Instagram-worthy. Most ingredients are local: the focaccia is from Kingston Bread + Bar, the polenta is milled in Clinton Corners, and the tofu hails from Rochester. "I aim to offer dishes that…support our environment and to support local economies," says Grigoli.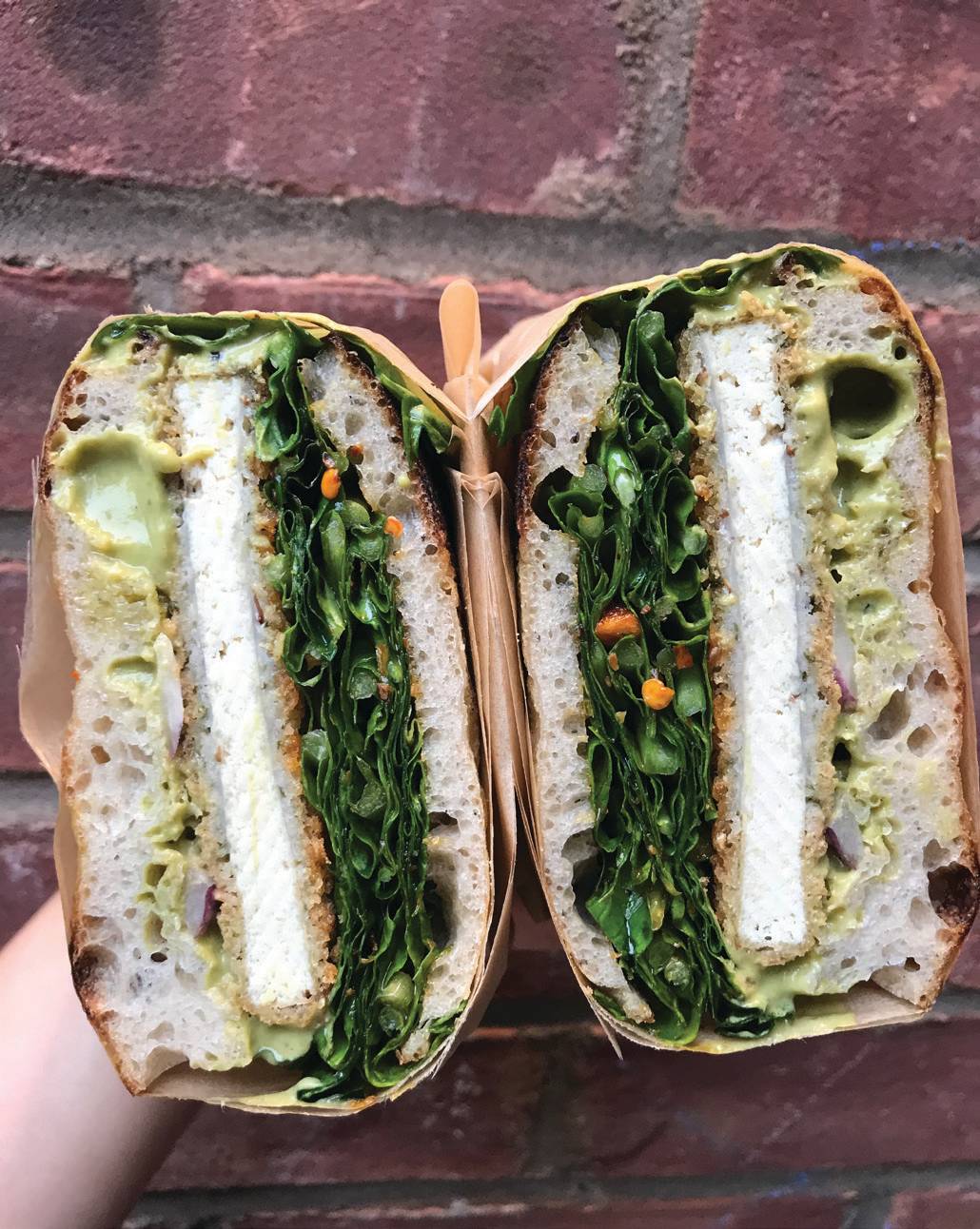 Don't miss: The tofu piccata (fried panko-crusted tofu, roasted garlic and caper aioli, red onion, arugula, and fried chili oil on focaccia) is a huge hit and sells out quick. For deli meat lovers, check out the Phony Bologna—house-made vegan bologna on focaccia with lettuce, vegan cheddar, pepperoncini, spread with a mix of mayo, mustard, oil, and vinegar.
Food for thought: During the holiday season, keep an eye out for Grigoli's Feast of the Seven Funghi—a veganized version of the Italian fish classic.
Popping up: Fridays and Saturdays, 11 a.m.–3 p.m. at The Old Dutch Church in Kingston. Other locations are announced on Instagram. Pre-order via email; otherwise, first come, first served.
Hibino Day By Day
There's one thing that Yasuyo "Fish" Hibino misses about Japan: onigiri. These triangular-shaped rice balls are the lifeblood of Japanese takeout culture—they're easily transportable, come in tons of varieties, and are super filling. "I've always dreamed about doing 'onigiri' food carts," says Hibino, "I wanted Hibino Day by Day to be an experience—not just a take-out place. I can be creative and fun." All onigiri bento boxes come with homemade miso soup, marinated soft-boiled eggs, daikon radish, and edamame. There are also seasonal lunch favorites like curry, soba salad, and gyoza.
Don't miss: The traditional onigiri box, which includes six or eight rice balls packed with fish, vegetables, or other mixed ingredients. Top sellers are ume (plum) shiso, salmon flakes, and tuna mayo onigiri. For dessert, get the yuzu mushi pan, a steamed bread with citrus notes that is both vegan and gluten free.
Food for thought: Hibino is planning to explore wintry staples, like nabe (a hot pot dish with broth and various ingredients like meat and veg) and yakitori (grilled, skewered meat). There's also a community dinner (with partners at Lodger) in the works.
Popping up: Mondays, 12–2:30 p.m., at Lodger in Newburgh. Pre-order through Instagram is preferred.
Potato Bar
Polish and Slovak comfort food • @potatobarhv
While Aga Lorenz was rediscovering dishes of her childhood in Poland, Danny Stokes was serving up Slovak delicacies at a local gastropub. One thing led to another, and a Polish pop-up was soon established, with a "goal to spread the passion for tasty comfort food from our unique cuisines among the local community," says Stokes. Since February, the duo has been churning out a "medley of the best Polish and Slovak comfort foods," says Lorenz. The pierogi and kielbasa are far better than anything you'll find at your local grocery chain: everything is made with traditional techniques and ingredients.
Don't miss: Classic potato items, like pierogi, are always top picks for customers. The pierogi is filled with farmer's cheese, potatoes, and onions, garnished with scallions or chives, and then given a side of dill sour cream. Try new arrivals, too, such as the lokše, a Slovak potato pancake filled with items like beans or even broiled oysters.
Food for thought: Frequent pop-ups at the Poughkeepsie Underwear Factory, where Potato Bar is a member of their open kitchen. Since there's a kitchen and seating there, the menu and experience may be more intensive versus other HV venues.
Popping up: Select venues, like cideries and vineyards, on weekends. Schedules announced via Instagram. First come, first served.
Two Five
Korean and Japanese street food • @eattwofive
Despite the Hudson Valley being a bona fide culinary capital, Michelle Chui felt the area lacked authentic Asian delicacies. "After moving upstate, I started cooking more Asian food at home since driving to Flushing or K-Town was no longer an option," she says. When Chui began posting her dishes to Instagram, her followers asked where she bought the food. So, she launched a pop-up. Chiu has since collaborated with nearby Ulster County restaurants "to share our love of Asian food" and show off dishes from her and her husband's Korean-American and Japanese-Taiwanese-American upbringings.
Don't miss: Korean comfort foods are clear favorites. If you're looking for a filling meal, the bulgogi beef bowl and kimchi fried rice topped with a sunny-side egg are perfect. If you want to be transported to Seoul markets without paying for airfare, go for pork and chive mandu, pajeon (savory pancakes), or Korean potato hot dogs.
Food for thought: Chiu does guest chef pop-ups at restaurants throughout the year. We're excited about her launching Korean cooking classes in the winter (location TBD), where you can learn to cook the very meals that have you hooked.
Popping up: Select venues, including community centers and hotels, throughout the week. Schedules announced via Instagram. First come, first served.
---