With outdoor dining all the rage, more and more chefs are trading in brick-and-mortar kitchens for meals on wheels.
Even before COVID wreaked havoc on the food industry, working in a restaurant was not for the faint of heart. "It's a lot of late nights, little time off, and no holidays with family," remembers John Castrovillari, who toiled away in the kitchens of The Iron Forge and Warwick Valley Winery & Distillery in Warwick and Café Luxembourg in New York City. So, what's a passionate yet stressed out chef to do? Open a food truck, of course.
Castrovillari, now the co-owner of Pitchfork Barbecue & Biscuits in Pine Island, describes a food truck as being "financially accessible at an entry level." After all, there's no lease to sign or investors to entice to literally get rolling. Plus, mobile meals have come a long way from the grilled grub (think basic burgers and hotdogs) that once characterized the genre. With more and more trained chefs taking their craft to the streets, customers have their choice of everything from classic American comfort food like fried chicken and biscuits to ethnic options such as Venezuelan cachapas (corn pancakes). The Hudson Valley is home to many high-end food trucks. Here are three worth a stop.
THE BUS AT SALINGER'S ORCHARD
Brewster • @thebus_atsalingersorchard
When Tim Salinger took over his family's century-old orchard four years ago, he knew he wanted to up the outdoor food game. "We wanted fun food that fit our setting," says Salinger, a former general manager at The Cookery in Dobbs Ferry. When he heard about a vintage bus for sale with a full-scale professional kitchen inside, he enlisted his friend and celebrated chef David DiBari (The Cookery, The Parlor), and the two opened The Bus at Salinger's Orchard in September 2020. "We take deli classics and just go over the top," says Salinger of the menu, which includes a bacon, egg, and cheese topped with hash browns and homemade ketchup with gochujang sauce, and a fried eggplant cutlet served on a hard roll with lemon chili aioli. There's also a fried chicken sandwich with spicy maple sauce, porchetta with apple chutney, Japanese mayo, and their famous potato wedges, which are tossed in rendered beef fat to give them an "umami burst of flavor," says Salinger. This spring, DiBari and Salinger are hoping to utilize their new smoker (they make their own bacon), add a pizza truck, and expand their alcohol offerings. "We want to build an outdoor dining experience here," says Salinger, "having fun with what we like."
PITCHFORK BARBECUE & BISCUITS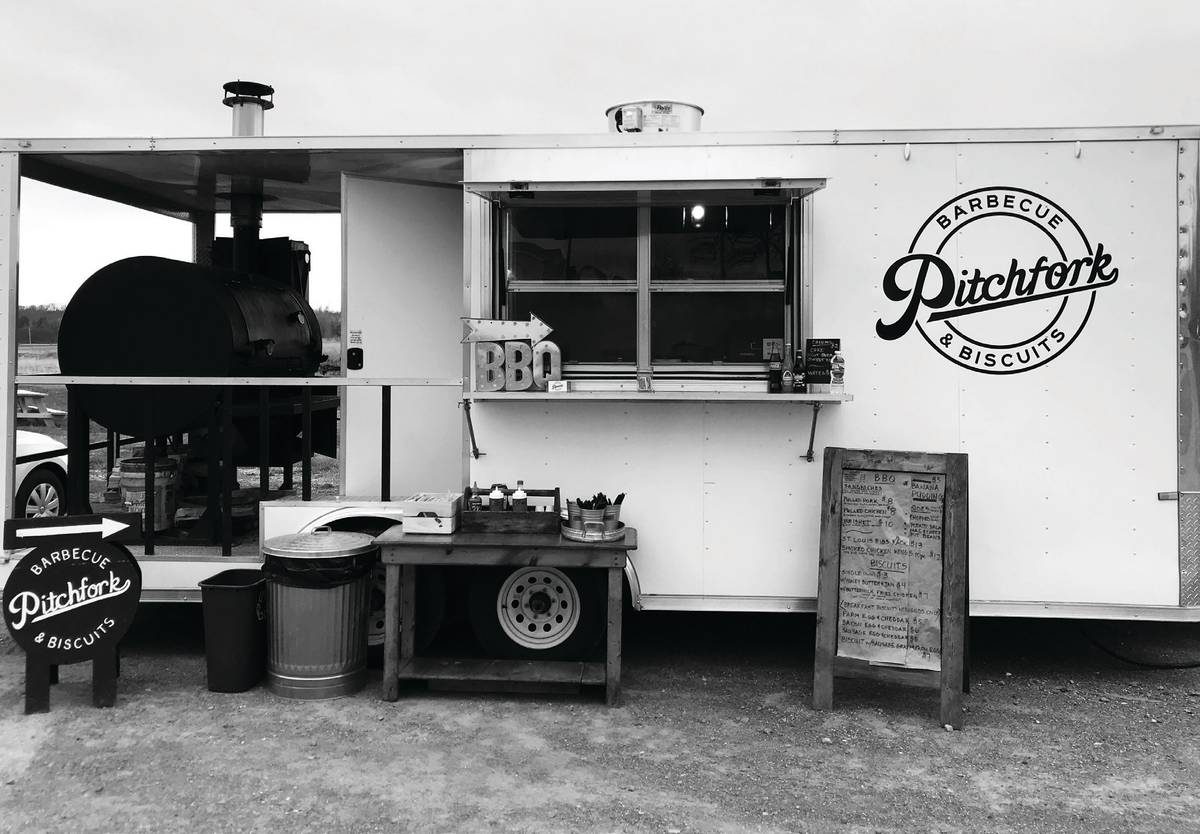 Pine Island • pitchforkbarbecueandbiscuits.com
Valley natives John Castrovillari and Lauren Grace have always had an appreciation for wood-fired barbecue, but it was a stint living and working in Wilmington, NC, that inspired them to share their passion with smoked meat lovers up north. "Few places around here cook in this style," says Grace, which involves using an offset smoker—the fire is alongside the cooking chamber rather than directly under the food—to prepare mouthwateringly tender ribs, brisket, and chicken. And then there are the biscuits, which Grace crafts by hand, often cutting 200 in one day. The biscuits serve as the base for both fried chicken and, on weekends, a killer egg sandwich. The homemade sides are stellar, too: think hand cut coleslaw and, in summer, a watermelon salad with lime vinaigrette, herbs, pickled red onions, and cotija cheese. "We try to make everything the best we can, within the confines of the trailer," says Castrovillari, which includes all their jams, pickles, and condiments, often with local and seasonal ingredients. If you know you'll be in the area—their trailer is set up in an open field in Pine Island from April–September, before moving to The Warwick Valley Winery & Distillery during apple picking season—it's a good idea to place an order the day before on Pitchfork's website. They often sell out, well before closing time.
PIZZA VITALE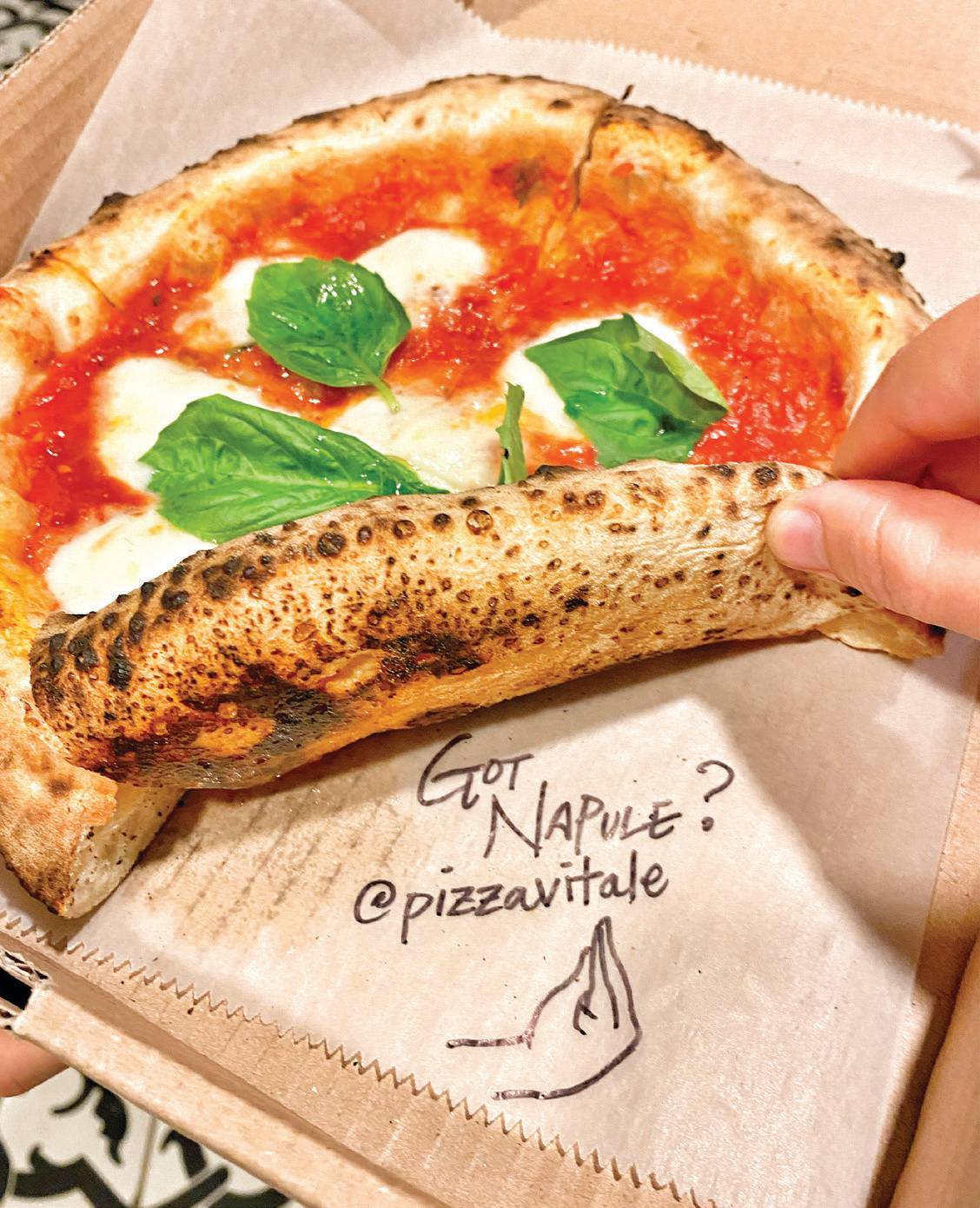 Mamaroneck • pizzavitale.com
For pizza purists, Neapolitan-style pies, with their simple ingredients and days-long dough rise, are the gold standard. Which is exactly what Naples, Italy native and pizzaiolo Francesco Vitale was banking on when he left the NYC pizzeria world to open a wood-fired oven on wheels. In 2019, Vitale and his wife Lili Chu arrived on the food truck scene with Pizza Vitale, "a little silver box" that can churn out 70 pizzas an hour. His pies are made with 00 flour from Mulino Caputo, and the dough takes three days to rise—which yields a light, airy crust—before being topped with crushed tomato and an assortment of add-ons ranging from pesto to spicy pork soppressata. In the beginning, Pizza Vitale was often parked in the alleyway outside of Industrial Arts Brewery in Garnerville, but as word spread, they began popping up at farmers markets in Chappaqua, Hastings, Bronxville, and Pelham, as well as booking private events. "We really found our demographic at farmers markets," says Chu. "Some people just don't get [spending] $15 for a pizza. They want a slice of pizza—and that's cool. But people who have had Napoli pizza understand, and they come from all over." For Pizza Vitale's weekly schedule follow them on Instagram @pizzavitale.