COFFEE LOVERS ARE a committed—and sometimes eccentric—bunch. "Without my morning coffee I'm just like a dried-up piece of roast goat," wrote Johann Sebastian Bach in his 1732 Coffee Cantata (BWV 211). In the movie No Man of Her Own, Clark Gable announces to Carole Lombard, "I never laugh until I've had my coffee." And Albert Camus, always the life of the party, once pondered, "Should I kill myself, or have a cup of coffee?"
Coffee, in fact, is the second-most-consumed beverage in the world (after water), and the U.S. is at the top of the consumer list: 83 percent of American adults drink coffee; 63 percent drink coffee every day (and one-third of that number drink "gourmet" coffee). According to researchers at the National Cancer Institute and AARP, older adults who drink coffee—caffeinated or decaffeinated— are less likely to die from heart disease, respiratory disease, stroke, injuries and accidents, diabetes and infections than those who do not drink it.
Let's face it—life is too short to drink bad coffee. Thanks to Irving Farm Coffee Roasters, the Hudson Valley now has its own exquisite coffee, freshly roasted, coming straight from the company's farm, just up the road from Millerton, right smack in the middle of nowhere.
"Without my morning coffee I'm just like a dried-up piece of roast goat." —Johann Sebastian Bach
Irving Farm's founding owners, David Elwell and Stephen Leven, were frat brothers at Syracuse University, where Elwell studied architecture and Leven majored in fi lm. After college, both returned home (Elwell to Maine, Leven to Washington, D.C.) and set up successful irrigation businesses. At the time, Elwell says, "No one had irrigation. Steve grew up in D.C., where there was also a big demand. Essentially, we were plumbers for people's yards. I think I watered most of Maine." Both sold their businesses and in 1996 moved to New York City, where they shared a tiny place in Gramercy Park.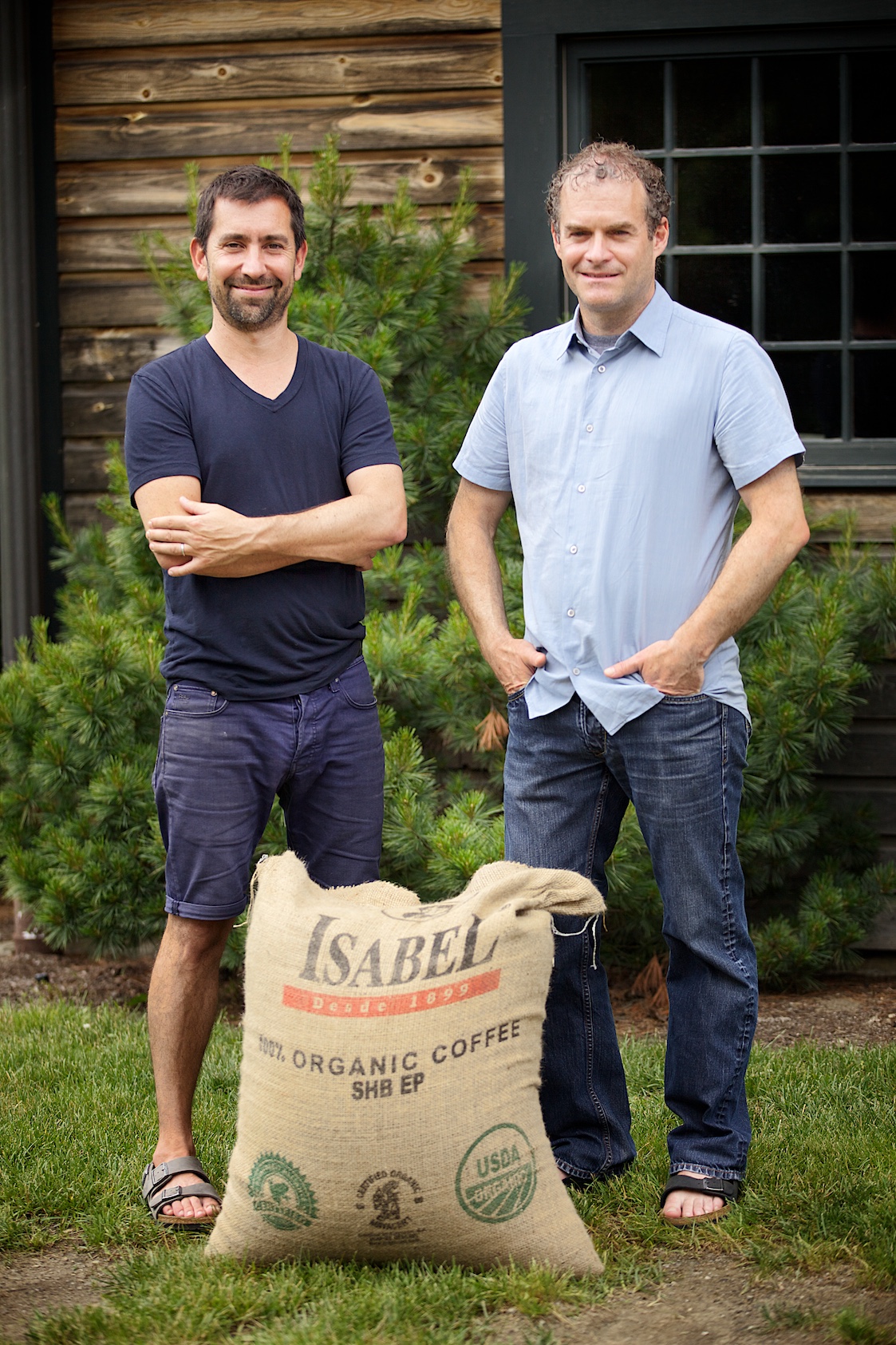 Starbucks had opened its first store in New York City in 1994, and when Elwell learned through a friend what the now-ubiquitous franchise had planned for the future, the two friends decided it might be a good time to jump on the artisanal coffee bandwagon. (Starbucks, founded in 1971, had about 165 shops in the U.S. when it went public in 1992; it now has more than 18,000 shops worldwide— 13,000 of them in the U.S.)
Their small coffee café quickly outgrew the space at 52 Irving Place and the pair moved it a few doors down to 71 Irving Place (where it still operates as a bona fide neighborhood hangout). Soon after they started the café, they knew they wanted to roast their own coffee, and in 1999 the two men bought and renovated a farm in Millerton and eventually began roasting coffee in the corner of their current storage barn. The first year, they roasted about 100 pounds a week; today, they roast roughly 5,000 pounds a week. They also expanded throughout the city, opening a café in the West Village and another on the Upper West Side.
Irving Farm's original packaging was designed by legendary graphic designer Louise Fili, known for her exquisite decorative style. She was asked for a design that would make it look "as if the company had been around for 100 years," Elwell says. The firm's new, crow-dominated vintage-look packaging is from Black Rose, a fi rm known for its Ralph Lauren and J.Crew branding. Another source of corporate pride are the eco-friendly, compostable, foil-lined paper coffee bags used for the Rainforest Foundation Project coffee blend. Irving Farm donates a dollar from the purchase of each bag to the Rainforest Foundation, founded by the musician Sting and his actress wife, Trudie Styler.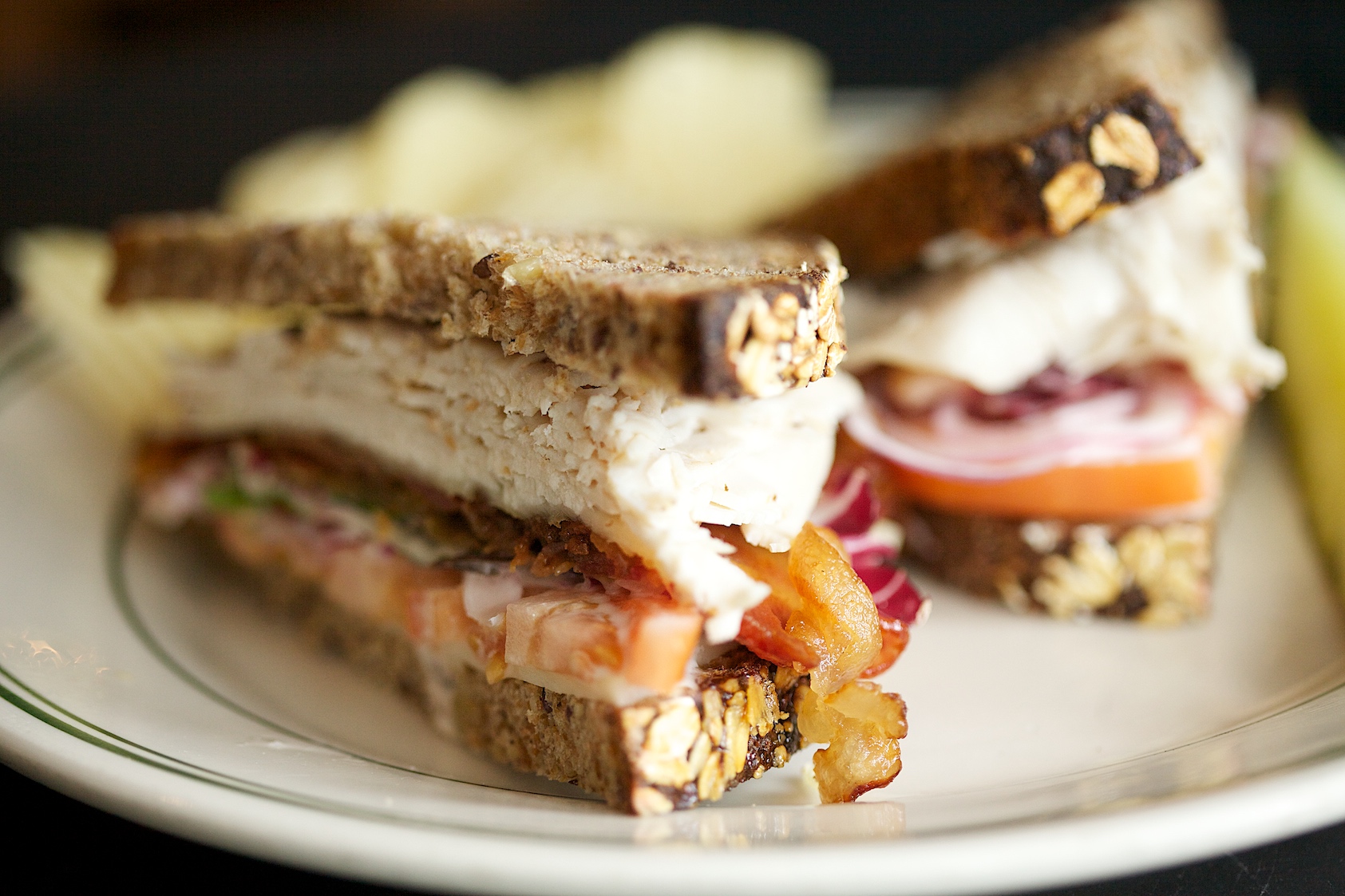 In May, Elwell and Leven opened a new café in Grand Central Station, and in October they plan to open a new roasting/tasting facility on Route 22, just north of Millerton. Though they sold the original café in Millerton in 2006 because of the difficulties involved in running it so far from their other locations, they resurrected it in June 2011. The first thing they did was to retrain the baristas to become true coffee-brewing experts. Unlike the city cafés, the Millerton café has a full kitchen, so it has a larger menu— including pot pies, an Evil Moo Wrap (scrambled eggs, goat cheese and hot sauce), the Barista sandwich (grilled chicken, cheddar, pesto and tomato), and the Roaster sandwich (about which Dan Streetman, Irving Farm's green coffee buyer and vice president of wholesale, says: "You can't go wrong with turkey, bacon, and ranch dressing").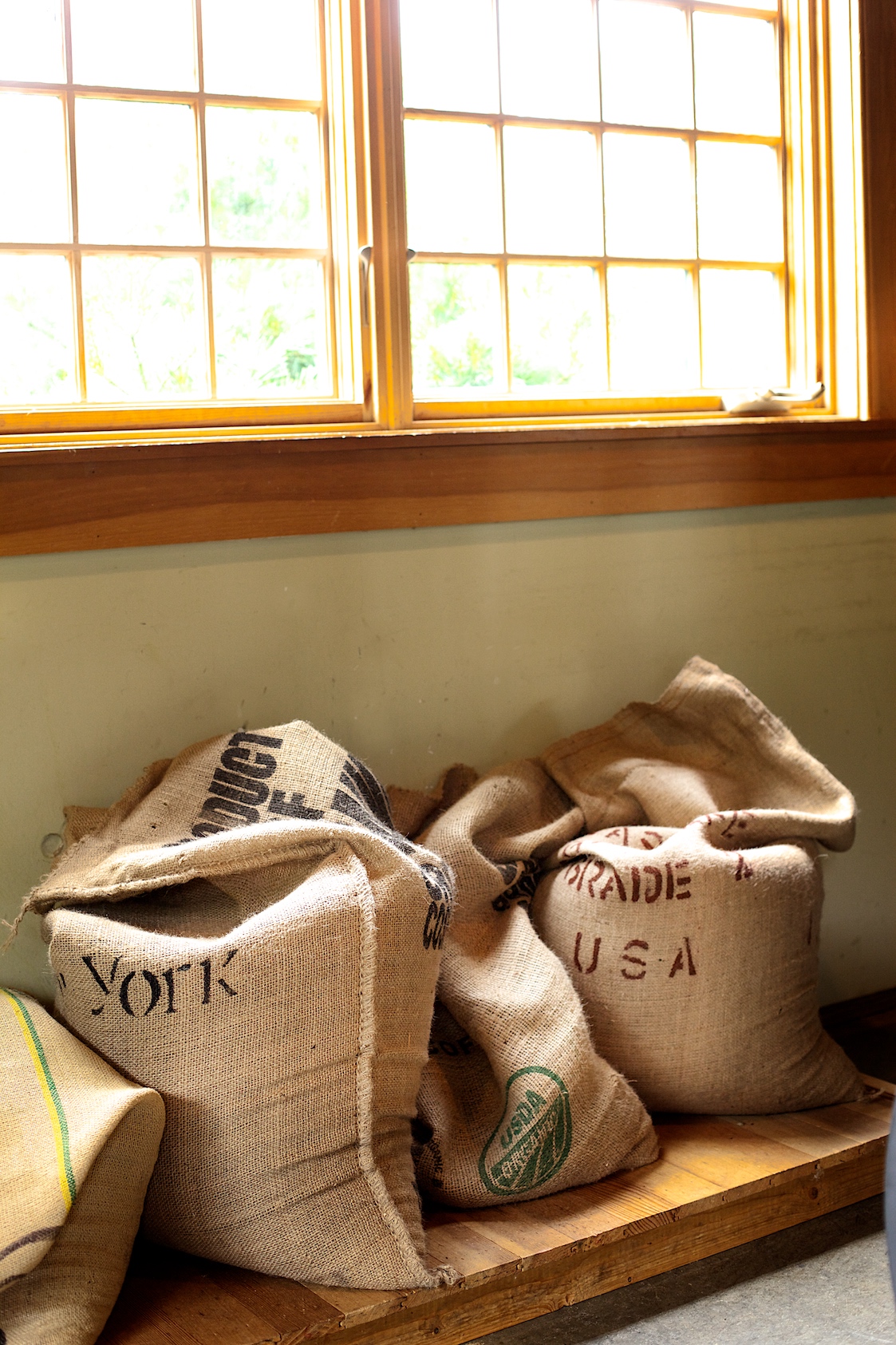 ​Streetman is the company's resident coffee nerd. While attending Texas A&M, the small-town Texas native became a barista, and, as he puts it, "became a bit too enamored of it." He became a member of the Barista Guild of America in 2004 and a member of the guild's Executive Council four years later. He worked for Cuvee Coffee, near Austin, and at Dallis Brothers Coffee, in the Ozone Park section of Queens, before joining Irving Farm in 2011. Streetman has the enviable task of traveling throughout the world to meet the company's coffee growers. (The company's five-year plan is to use coffee exclusively from growers Streetman has met.) His travels have brought him to 70 percent of Irving Farm's suppliers, including those in Central America and Ethiopia. High up on the to-visit list: Indonesia and Rwanda. The only crimp in Streetman's travel itinerary comes from his responsibilities overseeing quality assurance. Since arriving at Irving Farm, he has "implemented a new buying system and improved the quality of the coffee at every level."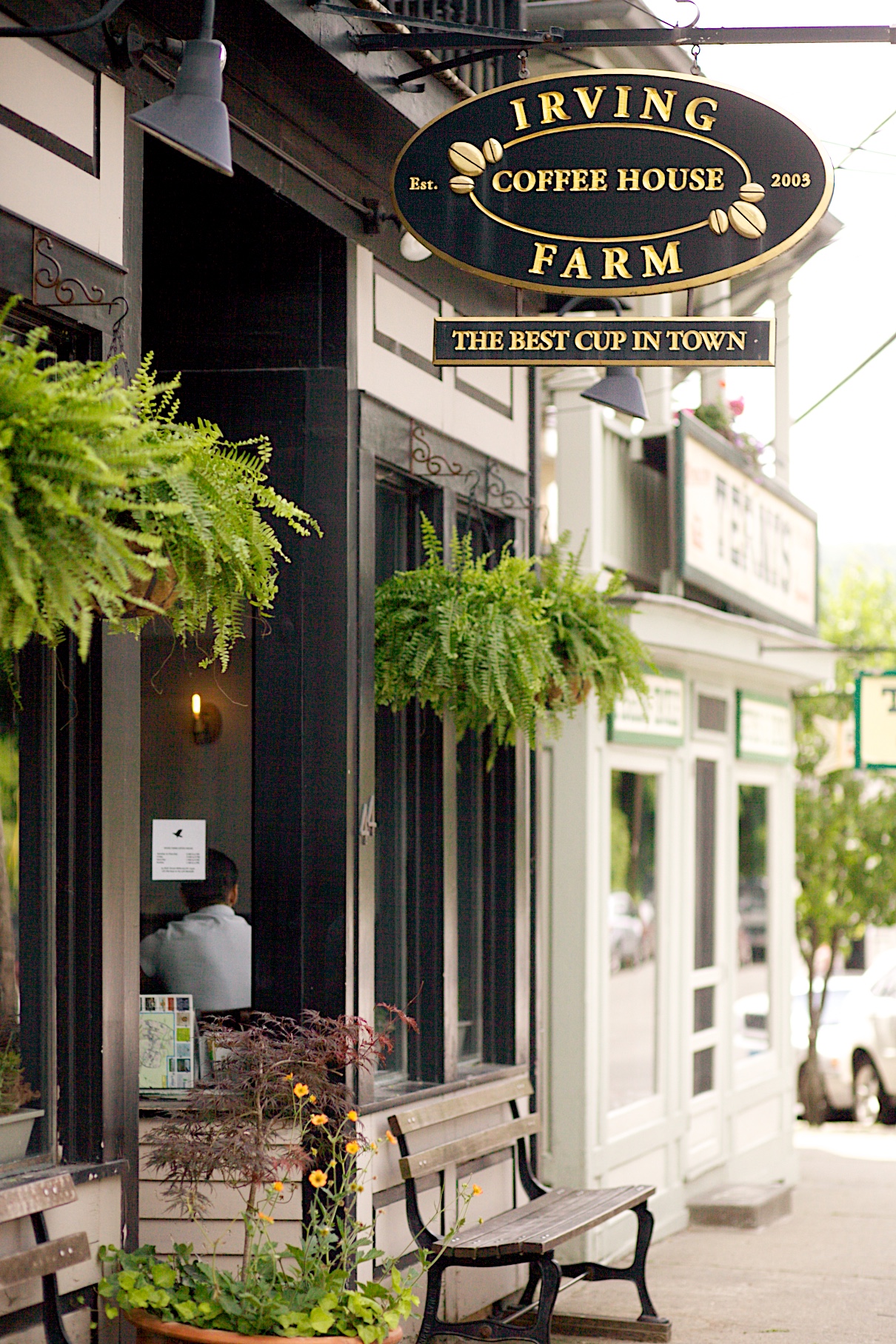 The coffee company's training lab, in New York City's Flatiron District, boasts a competition-certified espresso machine as well as state-of-the-art brewing and "cupping" equipment. ("Cupping" is the formalized process of tasting coffee, a process that would be familiar to any practiced wine taster. It begins with a lineup of small white bowls filled with two tablespoons of freshly ground coffee. The coffee is examined for aroma and flavor, and then six ounces of boiling water is poured into each bowl and allowed to steep for four minutes. The taster uses a spoon to break the "crust" of the coffee, releasing the coffee's most intense aroma, and then removes the crust, which contains proteins and oils that coffee filters would have screened out. Once the coffee has cooled a bit—Streetman insists that most Americans drink their coffee too hot—the taster slurps the coffee so that it coats the entire tongue evenly, then evaluates it for taste, acidity, aftertaste and body. The whole process looks, and sounds, like a wine tasting, and its formality assures that the coffee Streetman samples in Colombia will taste the same when it's sampled in Millerton.)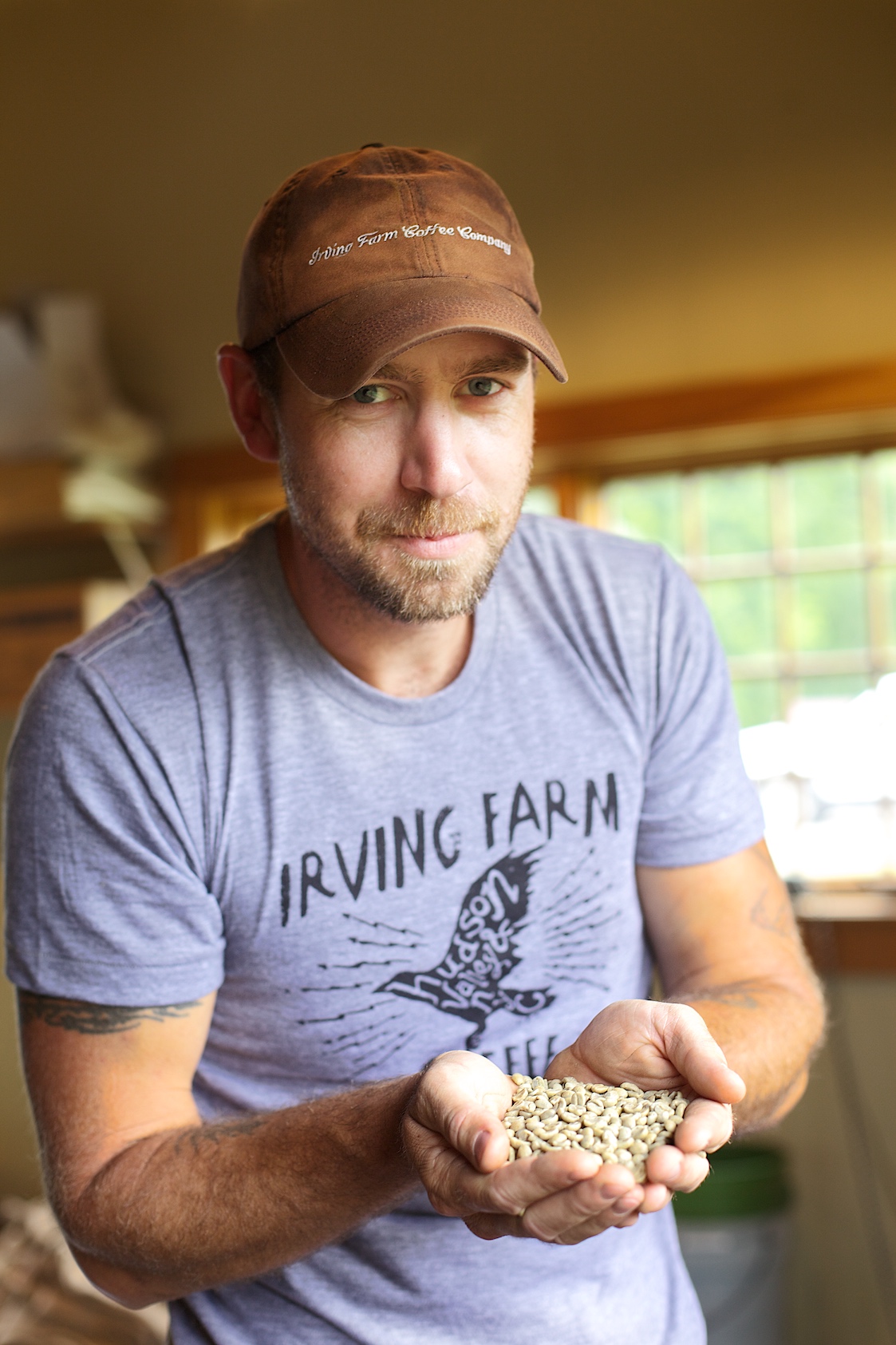 Irving Farm's coffee is roasted by Clyde Miller, who started out making sandwiches in the café kitchen before being tapped to supervise the roasting. Using computerized Diedrich roasters, coffee goes from green to roasted in only 12 minutes (give or take a few minutes depending on the depth of the roast). Stephan Diedrich, head of the Idaho-based, family-run manufacturing company that makes the machines, also builds and restores his own airplanes, and he's adapted some of their sophisticated technology to Irving Farm's high-tech roasters.
All these goings on haven't gone unnoticed in the industry: In April, the Specialty Coffee Association of America presented Streetman with its Special Recognition Award, citing his "contributions to the industry, resulting in the development and promotion of coffee excellence and sustainability."
"Should I kill myself, or have a cup of coffee?" —Albert Camus
There are plenty of feathers in other hats at Irving Farm, as well. Teresa von Fuchs (Director of Wholesale) and Tamara Vigil (Director of Education) were invited by the Barista Guild to pour coffee for the TED (Technology, Entertainment, Design) Conference in Long Beach, California. In addition, the Roasters Guild selected Irving Farm's organic Rwandan coffee as one of fi ve single-origin coffees to be served at the conference. (The Rwandan coffee is grown by a co-op that has grown from 100 members in 2001 to over 2,000 members today—Irving Farm has been buying coffee from the co-op for five years in support of its efforts.)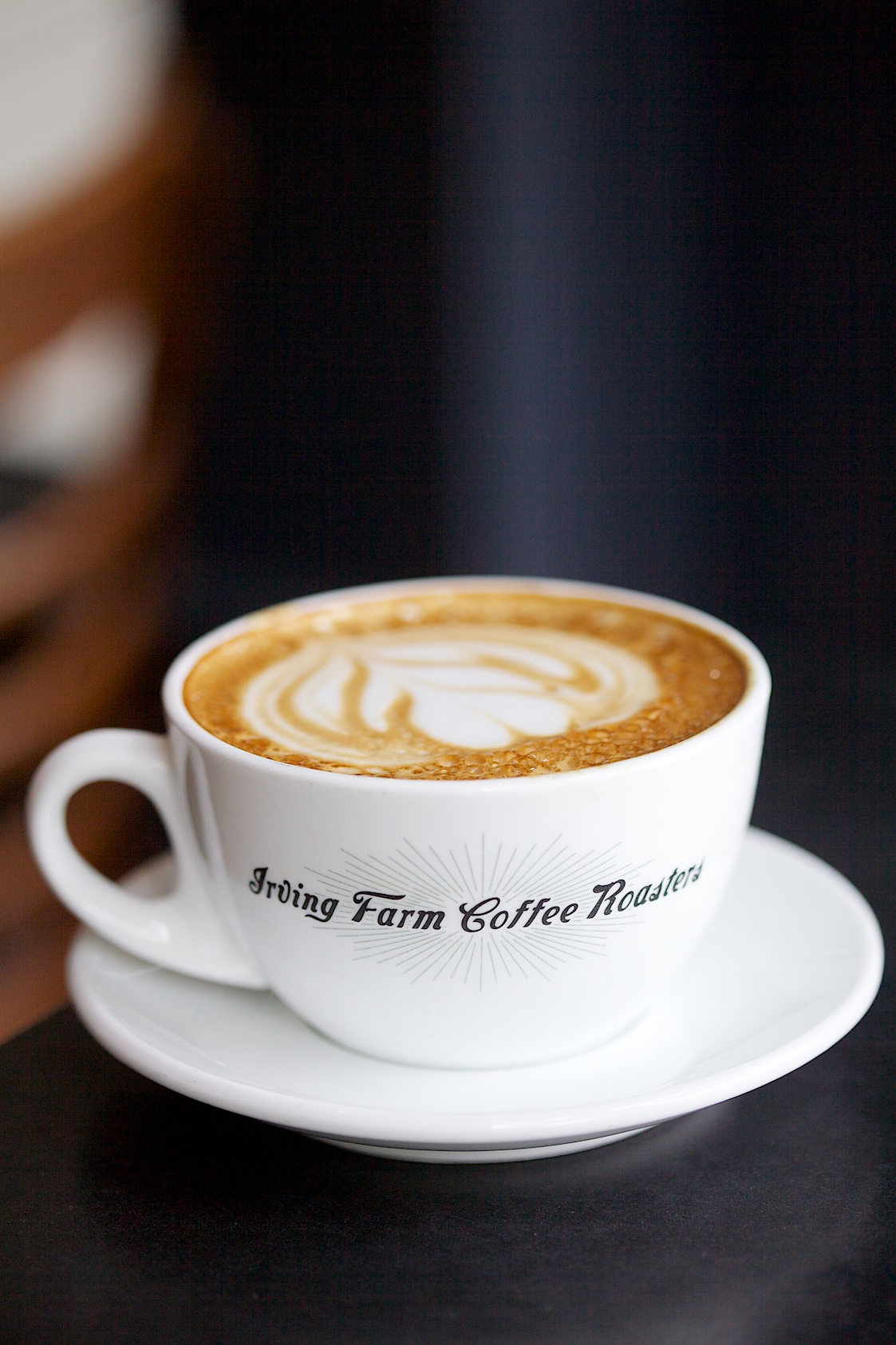 So, if you want a venti, non-fat, no-foam, vanilla soy, double-shot, decaf, extra hot, caramel, white mocha macchiato with a buttery caramel drizzle crosshatch, you know where to go. While you're there, pause a moment to savor the dried cherry, milk chocolate and almond flavors of La Pena Miel, from Nicaragua, or the robust, herbaceous flavor (with notes of oregano and green tomato) of Blue Batak, from Sumatra, or any of the other carefully sourced, single-origin coffees and blends. Coffee has the power to enhance our lives, Ric Rhinehart, Executive Director of the Specialty Coffee Association of America, said to the Irving Farm baristas at TED, "not because we need it, but because we love it."