Culinary creatives have an immense bounty of inspiration in the Hudson Valley. Eclectic farmers' markets, dependable CSAs, and natural grocery stores provide ample opportunities to work with the highest quality local ingredients, a.k.a. the starting point for any chef when creating a dish or menu.
For Anthony Marušić, founder of Forage Pizza in Forestburgh, it all begins in nature.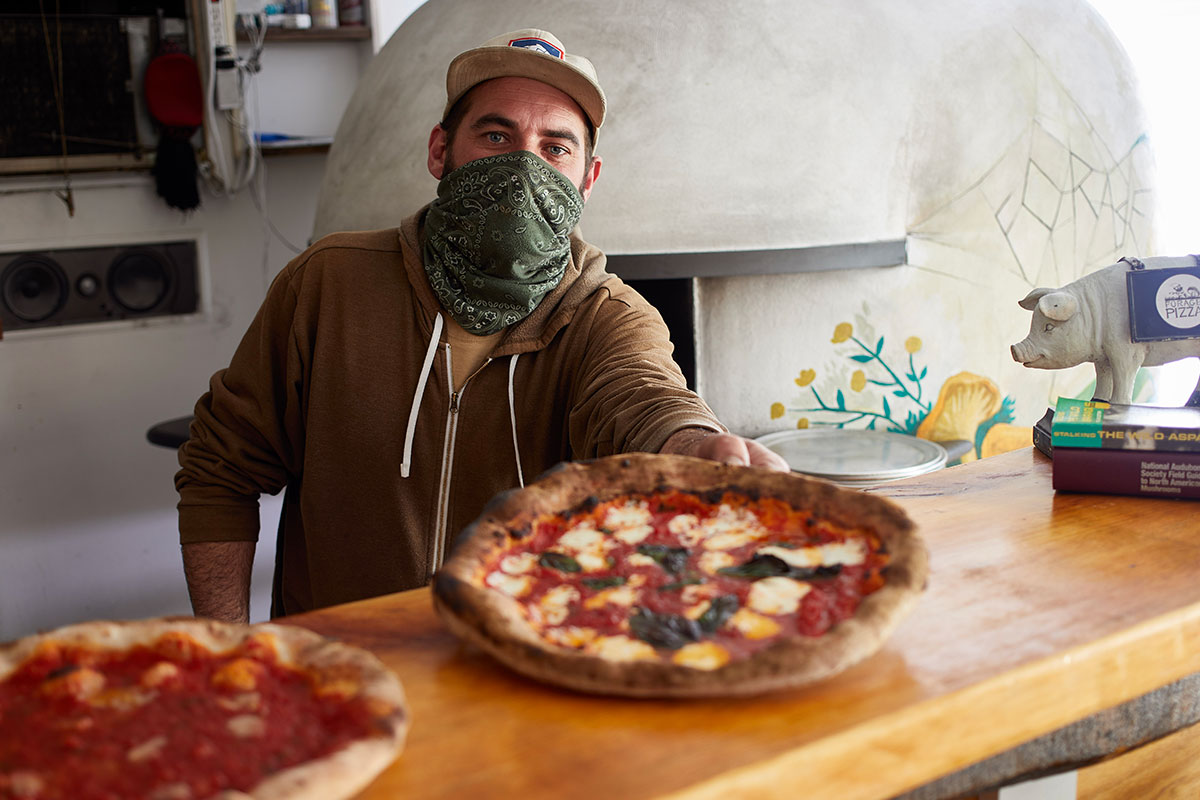 "Oftentimes, Monday, Tuesday, Wednesday is when I go foraging, and it supplies Thursday through Sunday's menu. I don't get lucky all the time, but if I can get everything hyper-locally like in my backyard, I will," he says. Marušić gathers black trumpet, maitake, hen of the woods, and a myriad of other mushrooms for the fan-favorite funghi pie. Flavors of the forest top wood-fired pizzas in a rustic setting.
Marušić fell in love with the outdoors at an early age. Since childhood, he explored the wilderness of the Catskills in search of his next meal. His grandfather taught him how to hunt and fish near Cuddebackville. Though he had ambitions of studying culinary techniques in two of the world's foremost epicenters of cuisine—Italy and New York City—Marušić promised to return to the Catskills.
Foraging was a new practice that he learned at culinary school. He attended ALMA, right outside of Parma, Italy, and Michelin-star chefs came to the institution up to three times a week. They prepared elaborate five-course meals, and Marušić tried everything. To this day, he has all of the recipes from his favorite dishes discovered on this culinary odyssey. On travels even further north, he discovered the true magic of Italian mushrooms.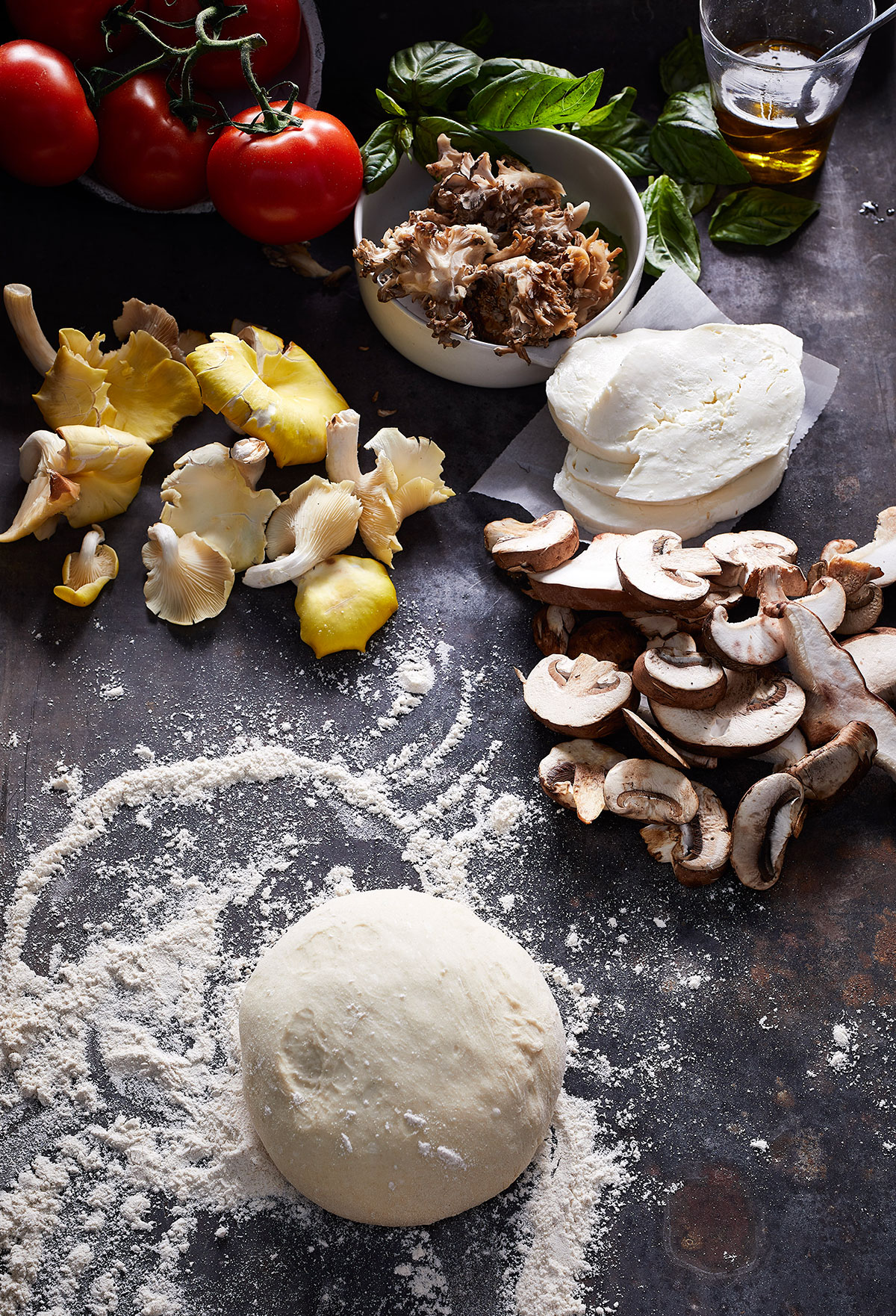 "We were right outside Alba in Piemonte, the region most famous for truffles. I would see this guy coming in with porcinis and a few other things, and he wouldn't tell us where he went to go find them. I said to myself, 'I gotta find out where he gets his take.' I started looking for truffles everywhere after that," he recalls. "My family is from Croatia, so I went to Istria [and several other areas] searching and talking to people about foraging. You know, you meet crazy people who are into witchcraft that want to put exotic tinctures in everything….I stuck to cooking."
While in Croatia, he noticed that the cuisine there was very similar to Italian cooking. The techniques he perfected in the classroom now reached greater heights with even fresher ingredients, like fish. Marušić remembers watching No Reservations and hearing Anthony Bourdain say, "If you like Italian food and you've never had Croatian food, you're an idiot."
After culinary school and his travels abroad, Marušić worked several food industry jobs in NYC. From Roman trattorias and creative tapas joints to down-home barbecue and elegant bistros, he's done it all. On a stint in Queens, he mastered Neapolitan-style pizza. He jumped at every chance to work with wood-fired foods.
"Croatian food is all about the fire. When I got the Stefano Ferrara, it was like buying the Ferrari of pizza ovens. It's only wood. There's no gases," he explains.
This 8,000-lb wood-burning oven was the tool he needed to open a business of his own, one that combined all of his experiences and passions. Forage Pizza opened in the summer of 2020, amid the global pandemic. However, outdoor cooking and seating made this forest destination the perfect spot for adventurous foodies.
Dishes like giant puffball mushrooms, roasted foraged greens, and homemade 24-month Dalmatinski pršut celebrated the flavors of the Catskills and the sensibilities of Croatia. Salads combine wild greens, zucchini and yellow squash, and Hudson Valley apples and pears. However, as expected, the pizza is the true star of the show.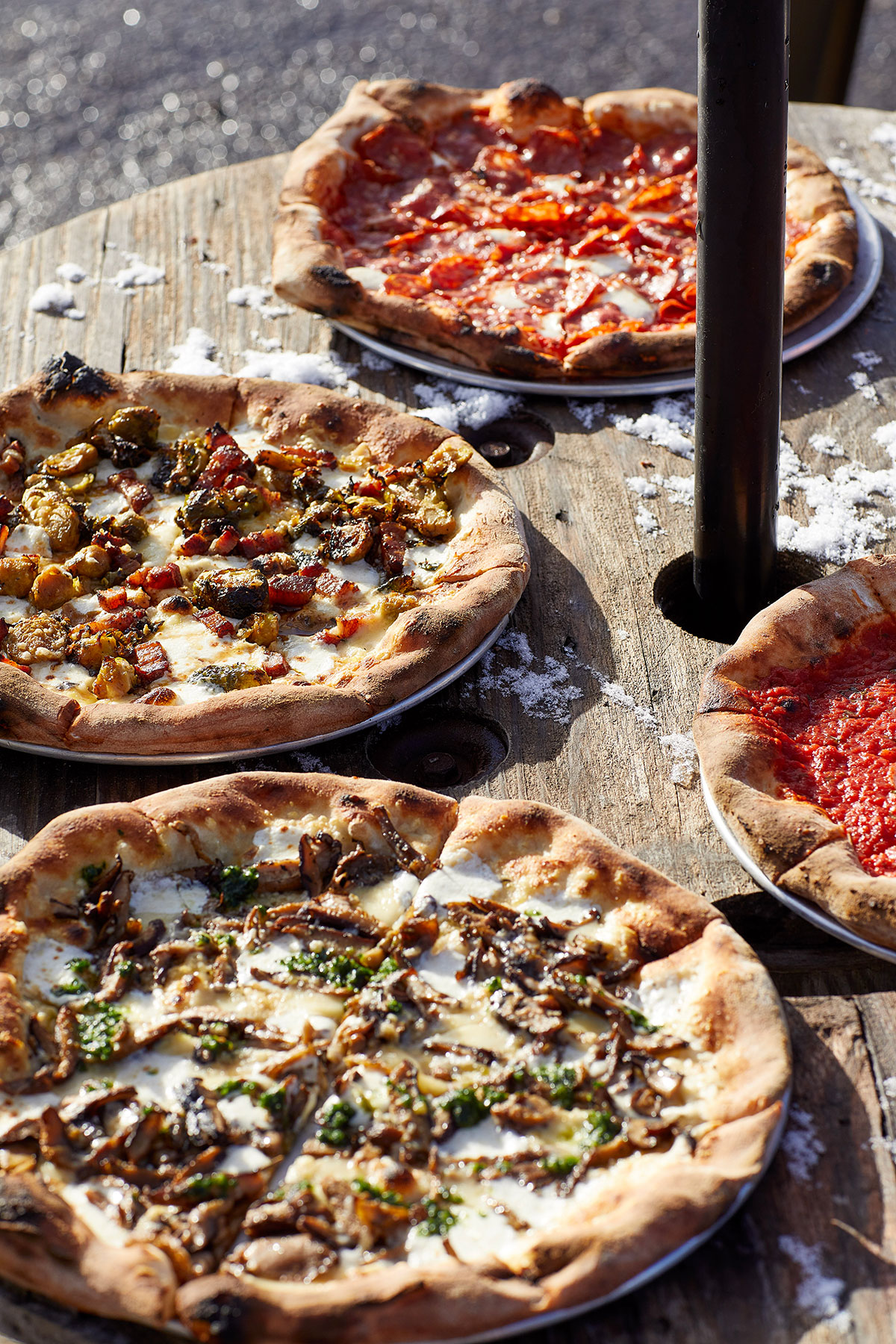 "Every morning [in peak season], I'm out hunting. On my way to my hunting stand, if I see something, I pick it up, and it goes in the funghi pie usually," he says. Forage Pizza is a must-follow on Instagram, as it's the only way to keep up with the ever-changing menu. Seasonality is extremely important, as Marušić is limited to what he can source hyper-locally. If he strikes out foraging, he'll work with Marley's Organic Mushrooms to stock wild flavors. "He's like the only one within 250 miles that's allowed to sell foraged mushrooms."
Marušić lets his creativity run wild in the woods, combining unique flavors. His bianca pie is topped with hazelnuts, hot honey, yellow squash, and other ingredients typically unknown to a standard white pie. Hot soppressata and mortadella top hearty red pies. He stuffs arancini with all sorts of mushrooms, and uses everything from lions mane, grey oyster, and chestnut to porcini, brown beech, and maitake on specialty white pizzas.
The experience at Forage Pizza is heightened by the setting. At the bar, there are only six or seven seats. Outside, picnic tables line the property. Certain days bring events like pig roasts and movie parties (like a screening of Godzilla for Halloween). Down the road, Marušić wants to expand the menu and start a supper club. He plans on developing sushi, Croatian pasta, ramen, crudo platters, and wild game dinners. Of course, these meals will feature catches from fishing trips and hunting excursions.
"My regulars keep asking me when I'll have this or that. I tell them, when you see a picture of me with big fish on Instagram, then you'll know I'll have fish," he says. Give Forage Pizza a follow, and head out to the Catskills when one of Marušić's posts strikes your foodie fancy.