Serves 1 or 2
Ingredients
Apple-Bacon Chutney
1 quart Thompson's Cider Mill apple cider
1 pound bacon, small dice
2 tablespoons minced shallots
3/4 pound Granny Smith apples, small dice
1 cup apple cider vinegar
3/4 cup packed dark brown sugar
pinch of ground black pepper
Method
Apple-Bacon Chutney
This chutney can be made ahead of time, and keeps several weeks refrigerated.
Heat a large, heavy-bottomed skillet over medium flame.
Add the bacon and render until crispy. Strain the bacon, reserving the fat.
Return 2 tablespoons of the bacon fat to the pan and lightly sauté the shallots and apples.
After a few minutes, deglaze the skillet with cider vinegar, then add the rendered bacon, sugar, and pepper to the mixture.
Reduce the flame to low and simmer the mixture, stirring occasionally, until just thickened, about 30 minutes.
Makes 2 cups
Oysters
Preheat a deep fryer to 350° F.
Mix together flour, salt, pimentón and pepper.
Toss oysters in the flour mixture. Allow the oysters to sit in the dredge for a minute or so to help the coating adhere.
Shake off excess flour, then fry the oysters for 60 seconds, or until just crispy on the outside. Transfer the fried oysters to a plate covered with a paper towel to drain.
To plate, spread a few spoonfuls of the chutney on a small plate or bowl. Arrange the fried oysters on top, and finish with some thinly sliced scallions and grated horseradish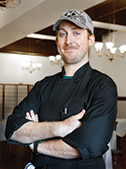 Don Clark, sous chef at Kingston's Frogmore Tavern, says this fried oyster dish is one of the most popular appetizers at the restaurant. Pairing oysters and bacon may seem like an unlikely combination, but the tangy, smoky, apple-bacon chutney holds its own against the rich, briny, fried oysters. "We source local apples from many orchards here in the Hudson Valley," Clark says. "Getting bacon with plenty of smoke and fat to soak it up is also crucial to making this work." The kitchen at Frogmore uses shucked oysters from the North Atlantic. "They should smell sweet and briny, be of uniform size and have no discolorations," Clark recommends. When he's not at Frogmore, Clark can sometimes be found whipping up seasonal bites for visitors during chef demos at the Kingston Farmers' Market.