BECAUSE GENERAL GEORGE WASHINGTON IS one of the most-well known and most beloved personalities in United States' history, both the facts and the fictions about him fill volumes. He had wooden teeth; he threw a coin across the Potomac; and, of course, for some reason he cut down a cherry tree.
Well, if Washington did cut down a cherry tree it was most likely to make room for planting a walnut tree, and if he did have wooden teeth his real teeth likely were ruined breaking walnuts. One thing is true, confirmed by sources both foreign and domestic: General Washington, whether at home in Mount Vernon or at his headquarters in Newburgh, always had plenty of walnuts on hand.
Washington's personal papers are littered with references regarding purchases of "almonds, filberts"—he was, in fact, fond of nuts of all kind. Walnuts, however, were his favorite. He "planted several varieties," including black and English walnuts, on his Virginia plantation, Mount Vernon. Black walnut (Juglans nigra), prized for its color and grain, was, and still is, used for gunstocks as well as furniture. (Later in his life, Washington complained in letters that "poachers" were stealing the valuable trees not for nuts, but for the wood.) English walnuts (Juglans regia, also called the common, Persian or French walnut), were primarily cultivated for their flavor—their taste is superior to black walnuts for cooking or just snacking. English walnuts seemed to be a particular favorite of Washington—he planted some 30 trees at Mount Vernon in just 1763 alone; between 1790 and 1799 he planted at least eight more that we know of from his writings.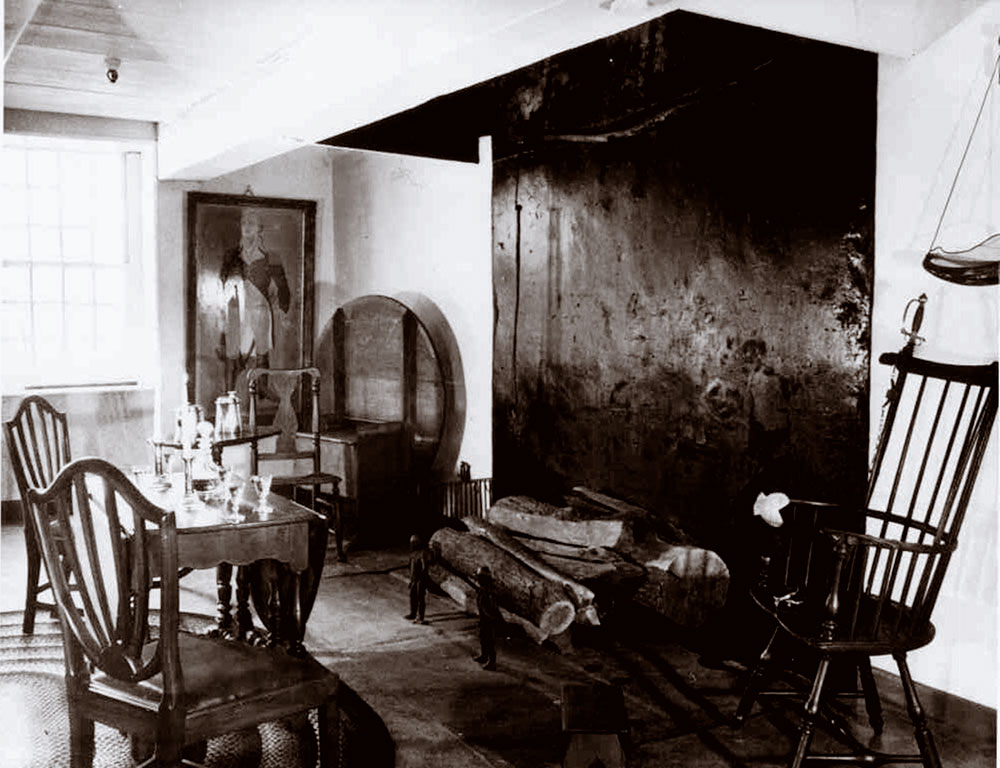 Like his boss, Washington's future vice president, John Adams, also loved walnuts, and attributed the poor state of his teeth to the same mistake Washington made: "cracking of walnuts [with his teeth] in his youth." (The speculations about how Washington ruined his teeth assume it was not English walnuts but black walnuts, which have a much tougher inner shell, that did the damage. Some historians and doctors have noted that, because Washington was sickly much of his life, medicines used to treat small pox may have destroyed his teeth.)
Accounts of Washington's appetite for walnuts come generally from descriptions written by guests. (It seems that diaries in the eighteenth century were as ubiquitous as Facebook postings are today.) The Washingtons, who were Virginia gentry, often had a dinner at 3PM, followed by a later supper at 9. A typical three-course dinner lasted two hours, and frequently included meat, fish, poultry, as well as vegetables. (If vegetables were not in season, "pickled vegetables might be served.") Main courses were followed shortly afterwards by dessert, which usually included pastries and cheeses. Once dessert was served, an additional snack of "fruits and nuts" was placed on the table, most likely for Washington. Nelly Custis Lewis, in a letter to Elizabeth Bordley Gibson, remembered that Washington (her step-grandfather) was quite fond of snacking on nuts. She wrote that he would "drink three glasses of Madeira and had a small plate of Indian walnuts." The later supper usually was made up of "lighter fare," but by some accounts once again included more walnuts, which Washington consumed in great quantities.
The General not only enjoyed walnuts by the handful, he also enjoyed them prepared in other ways. He loved fish and ice cream—he ate fish, if allowed, at every dinner. Sometimes the table at Mount Vernon included walnut ketchup ("catsup"), made from a combination of green walnuts, wine, anchovies, horseradish and spices. He quite often enjoyed "pickled walnuts," often packed in half-gallon bottles called "pottles" that he purchased from England and Philadelphia.
By 1775, Washington found himself the Commander-in-Chief of the Continental Army. Away from Mount Vernon during the war, his choice of foods became limited, but procurement officers made sure he still had his nuts. Diary entries from guests note that Washington had barrels of walnuts readily available.
At dessert he eats an enormous quantity of walnuts and when the conversation is entertaining he keeps eating through a couple of hours.
Washington's dinners and later suppers could be crowded affairs, depending on where he was headquartered. Sometimes he, his aides and up to 20 or 30 guests sat on little more than campstools at a table. Dinner remained at 3, and later a supper at 9. Joining Washington for supper on October 24, 1780, at his Preakness, New Jersey, headquarters, was Francois Jean De Beauvoir, Marquis De Chastellux, who was serving with General Jean-Baptiste Donatien de Vimeur, comte de Rochambeau, sent to command the French allied troops in North America after the Battle of Saratoga. When the Marquis de Chastellux returned to France after the American Revolution, he published his observations in a book, Travels in North America During the Years 1780, 1781 and 1782 (2 vols., rpt. Chapel Hill, University of North Carolina Press, 1963). Of his dining experience with General Washington, he writes, "[T]he supper consisted of three or four light dishes, and above all of a great abundance of walnuts, which were as well received in the evening as at dinner." He remembered, years later, that the general consumed a "tremendous amount of nuts eating them for some two hours."
In September 1782, Charles-Louis-Victor, prince de Broglie, also dined with Washington at Washington's Verplanck's Point headquarters on the Hudson. He, too, remembered how much the general loved walnuts: "[A]t dessert he eats an enormous quantity of walnuts and when the conversation is entertaining he keeps eating through a couple of hours." Consistent with other visitors' accounts, he noted that from "time to time," General Washington offered a toast of Madeira to the health of different individuals.
In addition to purchasing nuts and walnuts, there is ample evidence in Washington's personal papers that he also planted walnut trees. Jean Baptiste, Baron de Secondat, sent Washington some walnuts in 1785. In a thank-you letter dated August 20, 1785, Washington wrote, "[T]hanks are due also in a particular manner to you, Sir, for the walnuts you sent me, which are very fine; and I shall endeavor to propagate them in the manner directed by you."
Today, most, if not all, of the walnut trees from Washington's time are gone, and though we hear little of it any more, his love of the trees and their fruit has not been totally forgotten. In 1919, to commemorate the World War I dead, a Mount Vernon walnut tree was planted in the Niles cemetery in Ohio, and as late as 1931, the Boy Scouts of America gathered walnuts from the remaining trees at Mount Vernon in order to plant them on the grounds of the U.S. Capitol and at all the United States embassies around the world. Finally, perhaps as one last, but fitting, legend about the Founding Father, one book on historic trees notes that Washington was buried in the shade of a walnut tree.
The author would like to thank Dr. Dennis Pogue and Mary V. Thompson of Mount Vernon for their assistance.